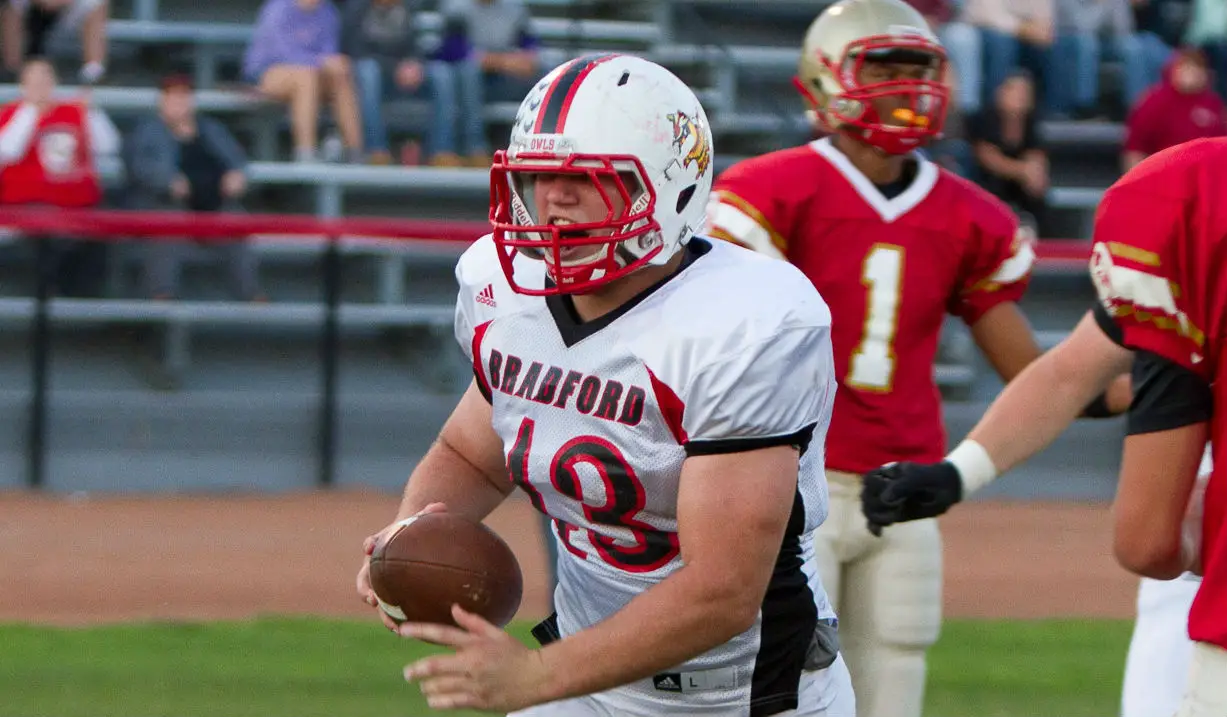 PHOTO: Bradford's Kyle Langdon
Updated Sunday, 4:45 p.m. – All games updated
ELK COUNTY CATHOLIC 19, BROCKWAY 17
ST. MARYS – Noah Werner scored two touchdowns, Elk County Catholic's defense stopped a Brockway two-point conversion midway through the fourth quarter and the Crusaders offense did the rest in a 19-17 ECC win over the visiting Rovers Saturday night in St. Marys.
Werner ran 19 times for 93 yards and a touchdown and returned a Brockway fumble 70 yards for a score to help give ECC (8-1 overall, 3-1 AML South) a 19-3 lead in the second half.
Brockway (5-4, 1-3) tried to rally getting a 1-yard Anthony Isabella touchdown run and a 16-yard touchdown pass from Braden Martini to Jack Glasl, the latter coming with 6:38 to play. But the ECC defense stopped the Rover two-point conversion, and the ECC offense did the rest.
Taking over after the kickoff following the touchdown pass, the Crusaders survived a Werner fumble at midfield that was recovered by teammate Ryan Seelye and were able to kill the remainder of the clock in sealing the win.
Mitchell Smith had a first-half touchdown for ECC, which led 7-3 at the break. Smith ran 14 times for 29 yards and the score and was 3 of 8 passing for 42 yards. '
Joe Kucenski led ECC's defense with 13 tackles and two sacks, while Werner had nine tackles and the fumble recovery for a touchdown.
Martini was 9 of 16 passing for 85 yards and the score for ECC with Isabella rushing seven times for 50 yards and the score while catching two passes for 10 yards. Benson had 87 yards rushing on 11 carries and 37 yards receiving in five catches.
PORT ALLEGANY 20, SHEFFIELD 0
SHEFFIELD – Behind the play of Tre Garzell, Port Allegany closed out the 2014 season on a high note with a 20-0 win at Sheffield Saturday afternoon.
Garzell accounted for all three Gators' touchdowns rushing for two and throwing for a third while going over 100 yards on the ground and through the air. He also intercepted a pair of Sheffield passes on defense.
Scoring on rushing touchdowns of 2 and 23 yards, Garzell ran 17 times for 148 yards. He also was 9 of 16 passing for 147 yards, a touchdown and an interception. He threw a 24-yard touchdown pass to Chris Lashway, who had five grabs for 115 yards.
Ja'Sani Marlow led Sheffield with 80 yards rushing on 15 carries.
Port Allegany finishes the season 3-6 overall, 3-2 in the AML North, while Sheffield, who closes out the year next week at Eisenhower, is 1-8, 1-4.
CLARION 58, REDBANK VALLEY 46
NEW BETHLEHEM — Over 1,200 yards later, the Clarion Bobcats won their fifth straight KSAC Small School Division title and 25th straight Small School conference game (25-0) in a hard-fought 58-46 shootout against the Redbank Valley Bulldogs.
Ian Corbett ran for 397 yards on 31 carries, the second most yards ever in District 9 behind Alex Holland's 417 in 2010 for Curwensville, and scored six touchdowns, five of them on runs of 82, 11, 2, 4 and 94 yards. His 94-yarder sealed the game for the Bobcats (8-1 overall, 5-0 KSAC-Small)  and set the final score with 3:30 left in the fourth quarter. Corbett also returned a kick 76 yards for a touchdown in the third quarter.
Corbett's heroics held off the Bulldogs (7-1, 4-1) and Redbank Valley quarterback Jake Dougherty's record-breaking performance. Dougherty passed for 614 yards, completing 40 of 69 attempts with seven touchdowns and one interception.
Brockway's Derek Buganza's 594 yards from 2009 was the state's single-game record going into the season, so at the very least. He threw four TD passes to Korbin Hornberger covering 26, 23, 6 and 3 yards and one each to Nick Shoemaker for 14 yards, Connor Shoemaker for 16 yards and Wyatt Hetrick for 10 yards.
Hetrick caught a D9-record tying 18 passes for 242 yards, which is the second-most receiving yards in a game in district history behind Keystone's Ben Black's 272 yards on a district-record 18 catches. Hornberger caught 10 balls for 158 yards and Shoemaker had four catches for 138 yards.
Redbank Valley led 25-14 on Dougherty's 6-yarder to Hornberger at the 8:06 mark of the second quarter. The teams alternated touchdowns until halftime. In addition to Corbett's kick return and 11-yarder with 2:22 left before halftime, the Bobcats, who have won 27 conference games in a row overall dating back to 2009 when the KSAC was still one big conference, also scored on Taylor Smith's 52-yard pass to Adrian Weber. The Bulldogs led the Bobcats, 39-36, at halftime.
Corbett's 2-yarder was the only score of the third quarter and put the Bobcats up 42-39. Dougherty's TD pass to Hetrick less than two minutes into the fourth quarter gave the Bulldogs their last lead at 46-42 before Corbett's final two TD runs, including the back-breaking 94-yarder.
The Bulldogs outgained the Bobcats, 626-611, despite just 12 yards rushing on 20 carries.
Destin Strauser ran for 60 yards on six carries while Thomas Plummer scored on an 11-yard run for the Bobcats in the first quarter. Smith completed 4 of 9 passes for 89 yards.
OTTO-ELDRED 32, CAMERON COUNTY 26
DUKE CENTER – Behind a pair of second-half touchdown runs by Seth Drummond, Otto-Eldred delevired a severe blow to Cameron County's playoff hopes to a 32-26 win over the visiting Red Raiders Friday night.
Otto (3-6 overall, 3-2 AML North) trailed 20-16 at halftime before Drummond, who ran 19 times for 82 yards while catching three passes for 46 yards,  scored on runs of 30 and nine yards in the third and fourth quarters respectively to give the Terrors a 32-20 lead.
Cameron County (4-5, 4-1), which would have clinched a District 9 Class A playoff spot with a win, tried to rally getting within six, 32-26, on a 7-yard Keith Spehalski to Erin Garrigan touchdown pass with 9:19 to play. But that was the last score of the game, as Otto's defense came up with a big stop late in the game.
Heath Stewart (39-yard run) and Nick Appleby (55-yard run) scored the other Otto touchdowns, while Spehalski had a strong game for Cameron County with a pair of touchdown passes – he also hit Cory Clinger on a 2-yard pass in the second quarter – while also running on an 8-yard run to start the scoring. Rusty Setzer also scored on a 5-yard run for the Red Raiders.
With the loss, Cameron County needs to beat Ridgway in the AML Title game Friday or have Union lose to Moniteau Friday or have Brockway lose twice – the Rovers play Elk County Catholic Saturday and Mercer Friday.
Appleby was 6 of 8 passing for 86 yards while adding 71 yards rushing and the touchdown on 10 carries for the Terrors. Stewart had three grabs for 40 yards and ran nine times for 46 yards and the score while making five tackles on defense.
Spehalski was 11 of 22 passing for 151 yards and the two scores for Cameron County while adding seven carries for 24 yards an the touchdown. Garrigan had four catches for 47 yards and the touchdown with Brandon Saline adding three catches for 52 yards. Jack Karsten made 18 tackles and Setzer had 12 stops, including a sack, to go with 24 yards rushing and 31 receiving.
BRADFORD 47, BROOKVILLE 34
BROOKVILLE — Kyle Langdon's big night spurred a 500-yard rushing performance by the Bradford Owls in their 47-34 win over Brookville Friday night.
Langdon , one of three 100-yard Owls backs, ran for 231 yards on 21 carries with two 1-yard runs to start the game's scoring. Justin Fishkin ran for 168 yards on 13 carries with three touchdowns on runs of 39, 13 and 21 yards, and Alex Colosimo needed just nine carries to rush for 116 yards and scored twice on runs of 38 and 6 yards.
The Owls piled up 514 yards on the ground, their first 500-yard effort since doing it twice in 2010.
Bradford (2-7) led 19-0 at halftime and built a 40-6 lead before Brookville (2-7) scored 28 points in the fourth quarter to make things respectable. Jonah Sampson ran for 152 yards on 28 carried with four touchdowns, three of them on runs of 11, 7 and 1 yards. He also finished off a 39-yard hook-and-lateral play that started with Seth Ray's 6-yard pass to Brandon Bietz. John Frank also ran for 109 yards on nine carries with a 26-yard TD run to set the final score.
UNION 42, CLARION-LIMESTONE 6
RIMERSBURG — Dugan Gallagher ran for 149 yards on 23 carries and scored four touchdowns covering 46, 3, 13 and 5 yards in the Union Knights' 42-6 win over Clarion-Limestone on Homecoming.
The Knights (4-5), with the help of Cameron County's loss to Otto-Eldred, remained very much alive for a berth in the Class A playoffs. With a win over Moniteau next week and a Cameron County loss to Ridgway in the AML Championship game, the Knights are in.
Lane Cicciarelli completed 10 of 19 passes for 175 yards, tossing an 8-yard TD pass to Cole Morris. Morris broke the team's single-season reception record with six catches for 105 yards. Union's other score came on Casey Confer's fumble recovery in the end zone at the end of a Brett Kriebel interception return.
C-L (1-8) scored on Mike Macefe's 5-yard run in the second quarter.
It was a father-son matchup as Knights head coach Dave Louder was coaching against his two sons Anthony and Ryan from C-L.
DuBOIS 50, GENERAL McLANE 30
DuBOIS — Trailing 23-21 at halftime, the DuBois Beavers scored 29 unanswered points to start the second half to beat visiting General McLane, 50-30, Friday night.
Quarterback Gabe French completed 19 of 27 passes for 438 yards and four touchdowns, including two strikes to Cole Kriner covering 48 in the second quarter and 49 yards in the third quarter. He also hit Dante Dawson for a 77-yarder, Kevin Foley on a 15-yarder and Nick Labrasca on a 31-yarder during the second-half run.
Derek Clark ran for 110 yards on 15 carries with an 11-yard TD in the second quarter.
After a scoreless first quarter, McLane outscored the Beavers (7-2), 23-21, in a busy second quarter as Evan Dillen kicked a 20-yard field goal with four seconds left. DuBois scored five unanswered touchdowns to build a 50-23 lead before McLane (4-5) closed the scoring. Quarterback Kyle Sult ran for 139 yards on 20 carries.
CLEARFIELD 50, PHILIPSBURG-OSCEOLA 3
HYDE — Erik Sellers ran for three touchdowns and Corey Shimmel added two running scores to lead the Clearfield Bison to a 50-3 rout of Philipsburg-Osceola Friday night.
Sellers scored on runs of 8, 1 and 24 yards, all in the first half and finished with 72 yards on seven carries. Shimmel scored from 4 yards out in the second quarter and 15 yards in the third quarter and wound up leading the Bison (7-2) with 96 yards on 13 carries. Cody Spaid also threw a 24-yard TD pass to Ryan Lezzer.
The Bison clinched at least a share of the Mountain League title while the visiting Mounties, who were held to 44 yards of offense, dropped to 0-9.
RIDGWAY 40, CURWENSVILLE 28
CURWENSVILLE — Trailing 28-21 early in the third quarter, the Ridgway Elkers closed the game with 19 unanswered points and beat the Curwensville Golden Tide, 40-28, Friday night.
Ridgway (8-1) got another big game from Ben MacDonald, who ran for 144 yards on 15 carries with three touchdown runs while throwing a scoring pass. He ran for scores of 23, 3 and 15 yards, the last two coming in the 19-0 run that finished with his 15-yarder with 1:20 left in the game. He threw a 30-yard pass to J.P. Cerroni to break a 28-28 with 8:17 left in the fourth quarter. MacDonald finished the game 4 of 11 passing for 64 yards, the touchdown and an interception.
Cole Myers ran for 106 yards on 15 carries with TD runs of 20 and 21 yards in the first half. Cerroni added 96 yards on 15 carries as the Elkers piled up 367 yards rushing and also had three catches for 49 yards.
Curwensville (6-3) got 129 yards on 18 carries from Nick Stewart, who ran for TDs of 2 and 75 yards. His 75 yarder gave the Tide a 28-21 lead two minutes into the second half. Hunter Johnson ran for 89 yards on 16 carries with a 2-yard TD run in the second quarter.
KARNS CITY 43, PUNXSUTAWNEY 16
KARNS CITY — Collin Dunmyre and Tristan Rhoades each scored two touchdowns as the Karns City Gremlins improved to 9-0 with a 43-16 romp over visiting Punxsutawney Friday night.
Dunmyre returned an interception 61 yards for a touchdown at the end of the first quarter and put the Gremlins up 22-0 at the end of the first half with a 1-yard run. Rhoades scored on two 1-yard runs in the second half, finishing with 63 yards on eight carries. Christian Turner led the Gremlins with 83 yards on 11 carries. Colton Hawk started the game's scoring with a 10-yard run and Caleb King, who completed 9 of 17 passes for 166 yards, connected with Evan Stitt on a 12-yard TD pass in the fourth quarter.
Quarterback Dakota Thomas led Punxsutawney (6-3) with 72 yards on 18 carries while Perry Arrington ran for 63 yards on 16 carries. Thomas completed 7 of 16 passes for 77 yards with three interceptions. Ryan Jones threw a 10-yard TD pass to Ryan Jones for the Chucks' final score with nine seconds left in the game.
ST. MARYS 35, MONITEAU 6
ST. MARYS — Kyle Glatt ran for 130 yards on 11 carries and four touchdowns as the St. Marys Flying Dutchmen took care of the Moniteau Warriors in a 35-6 rout Friday night.
Glatt ran for touchdowns of 4, 18, 12 and 75 yards as the Dutch ended a two-game losing streak and improved to 6-3. T.J. Hogan added a 4-yard TD run in the first quarter as the Dutch ran up a 28-0 lead after Glatt's 12-yarder with 5:37 left in the third quarter.
St. Marys held Moniteau (5-4) to just 60 yards of offense. The Warriors' lone score came on Derek Boben's 79-yard kick return after Glatt made it 28-0.
KEYSTONE 49, A-C VALLEY 0
FOXBURG — Jacob Weaver ran for three touchdowns as the Keystone Panthers blanked A-C Valley, 49-0, Friday night.
Weaver ran for 72 yards on 16 carries. Logan Means ran for a touchdown while Bryce Altman completed 6 of 9 passes for 62 yards with TD passes to Zach Stiglitz and Nick Baughman. Stiglitz also ran for 63 yards on nine carries and scored on a punt return.
The Panthers improved to 3-6 while the Falcons dropped to 0-9.
SMETHPORT 22, COUDERSPORT 7
COUDERSPORT – Adam Shunk scored three touchdowns to lead visiting Smethport to a 22-7 win over Coudersport Friday night.
Shunk scored on runs of 25, 19 and five yards for the Hubbers (4-5 overall, 3-2 AML North).
Aaron Wolfinger scored on a 2-yard run for Coudersport (1-8, 1-4).
No other information is available on this game.