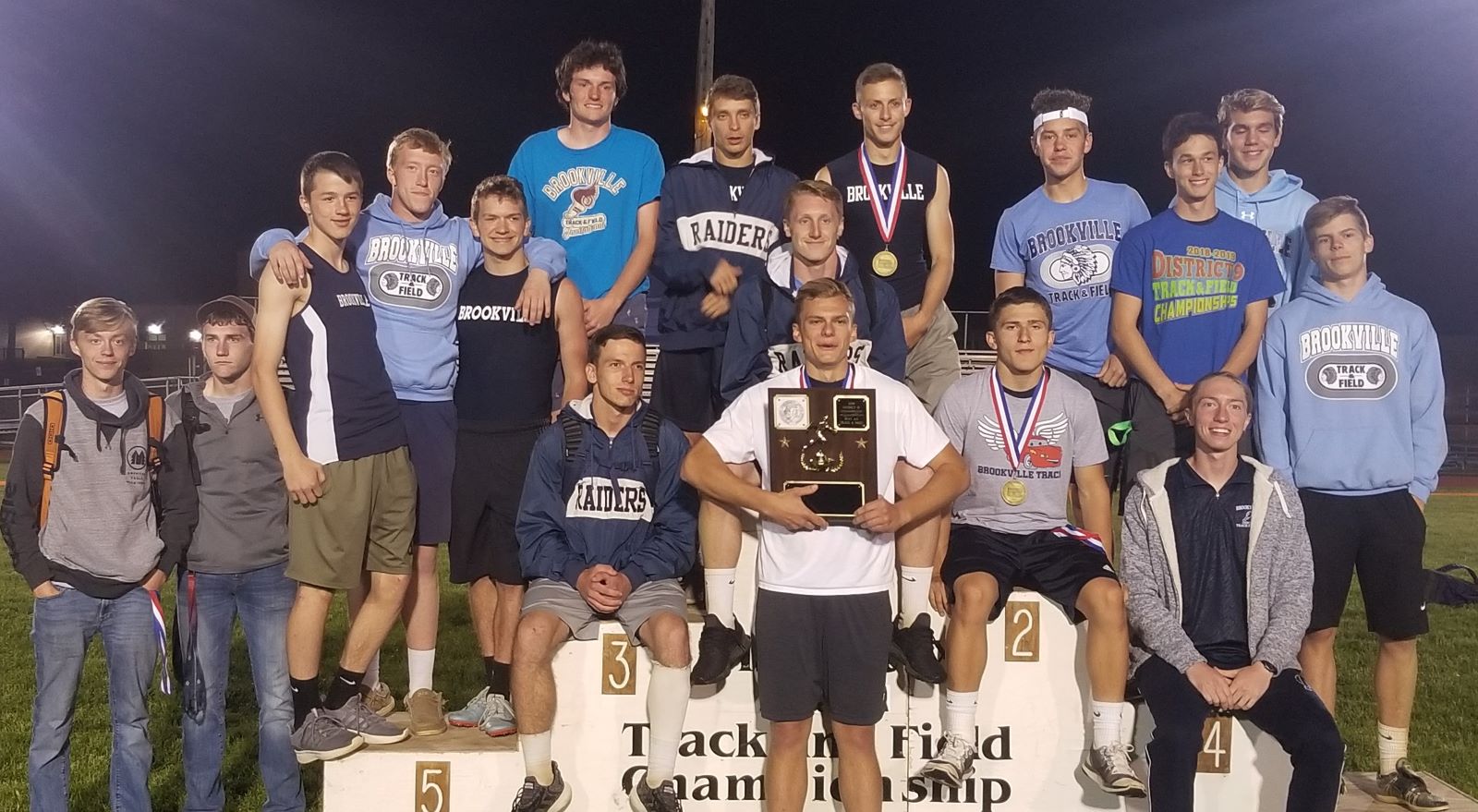 BROOKVILLE, Pa. – Led by record-setting performances from Ian Thrush and the 4×100-meter relay team, Brookville cruised to its third straight District 9 Class 2A boys' track & field title Friday on its home track in Brookville.
The Raiders more than doubled up the second-place finisher, Elk County Catholic, beating the Crusaders, 131-62. Smethport was third with 52 points.
Keystone's Brody Coleman won the James Manner Award as the meet's MVP.
Coleman won the 300-meter hurdles (39.34) and the triple jump (45-feet, 5 inches) and took second in the long jump (21-11) and fourth in the 110-meter hurdles (15.32) while qualifying for the PIAA meet in the 110. His triple jump set the meet record topping the previous mark of 44-11 set by Smethport's Matt Bango in 2004.
Coleman talked after his 300 hurdles victory.
Thrush was also dominate in the meet setting meet records in the 100-meter dash (10.81) and the 200-meter dash (21.48) while winning both events.
His 100 time bettered a mark of 10.84 set by Clarion-Limestone's Dan Alderson in 2001, while his 200 time topped the previous mark of 21.70 set in 2012 by Sheffield's Kalil Slaughter.
Thrush led a sweep of the top three spots in the both the 100 and 200 for the Raiders, as Bryan Dworek finished second in the 100 (10.88) followed by Cabe Park in third (11.05), and Dworek took second in the 200 (27.79) followed by Jack Krug in third (22.36).
While the top two qualified automatically in each event for the PIAA meet next weekend, Park's third-place finish and Krug's third-place finish also were PIAA qualifying times.
In fact, five D9 runners qualified in the 100 with Elk County Catholic's Jacob Koss taking fourth in a time of 11.27 and Redbank Valley's Keaton Kahle fifth in a time of 11.29.
Watch the ending of the ultra-fast 100.
Thrush, Krug, Dworek and Park also teamed up to smash the District 9-meet record in the 4×100 while setting a team-best as well in a blistering time of 42.02 seconds. The previous mark of 42.62 was set 18 years ago by the Clarion team of Mike Cornett, Taylor Sessions, Kyle Cathcart and Dan Patton.
ECC took second in the event a distant second at that in a time of 44.58. That team was comprised of Steven Bobby, John Wittman, Regis Wortman and Jacob Koss.
Thrush also had a hand in helping Brookville win the 4×400-meter title in a time of 3:26.63. He was joined on that team by Krug, Dillon Olson and Kyle MacBeth. Karns City finished second in a time of 3:30.06 with a team of Ryan Truax, Erik Pfeifer, Kaden Scherer and Hunter Jones.
Olson and Jones each tasted individual gold.
Olson won a 110 hurdles race that had four state qualifiers in the time of 14.74. In addition to Olson and Coleman qualifying for states in the 110 hurdles, Johnsonburg's Ethan Kemmer (2nd place, 14.90) and Brookville's Addison Singleton (3rd place, 15.04) also reached qualifying times.
Olson was also second to Coleman in the 300 hurdles in a time of 39.81 with Moniteau's Ethan McDeavitt also qualifying for the PIAA meet taking third in a time of 40.52.
Jones, meanwhile, edged Krug in the 400-meter dash, 49.71 to 51.53.
Dworek had a gold medal of his own in the long jump leaping 22-05 to beat Coleman.
Moniteau's James Parenti also had a meet record in the discus with a throw of 171-10 topping the previous mark of 171-6 set in 2003 by Clarion's Dave Larson. Kane's Bailey Blint was second in the event with a toss of 153-7.
Blint and Parenti switched spots in the shot put with Blint winning the D9 title with a throw of 51-10 ¼ to Parenti's 48-6.
Clarion-Limestone's Ian Callen won the javelin tossing the spear 179-8 with Kane's Aaron Hottel taking second with a throw of 166-7.
Callen talked about winning the javelin.
Kane also had a second-place finisher in the pole vault with Teddy Race's vault of 13-6 coming in second to Moniteau's Kyle Norling (14-0).
Redbank Valley's Sam Hetrick took home gold in the high jump with a leap of 6-5 two inches more than Smethport's Brandon Peterson (6-3).
Hetrick talked about his title.
Smethport had a pair of champions and another second-place finisher.
Christian Turner won the 800-meter run in a time of 2:00.17, while Darion Gregory won the 1,600-meter run in a time of 4:33.78. Gregory was also second in the 3,200-meter run in a time of 9:54.69.
Elk County Catholic's Ben Hoffman won the 3,200 in a time of 9:51.47, and Hoffman was also a part of the winning 4×800-meter relay team that won in a time of 8:11.26. He was joined on the squad by Jacob Carnovale, Joe Wolfe and John Wittman.
Smethport was second in the 4×800 in a time of 8:13.36 with Gregory joined on the team by Ethan Nannen, Jordan Pavlock and Eric Szarowicz.
Carnovale was second in the 1,600 in a time of 4:37.55 just edging Cranberry's Daniel Fisher (4:37.97) for the second PIAA spot.
Cranberry did get a PIAA qualifier in the triple jump, as Cameron Russell finished second with a leap of 44-0 ½.
DuBois Central Catholic had a PIAA qualifier in the 800 when Linkin Nichols finished second in a time of 2:01.12 just ahead of Clarion's Noah Schill (2:01.49).