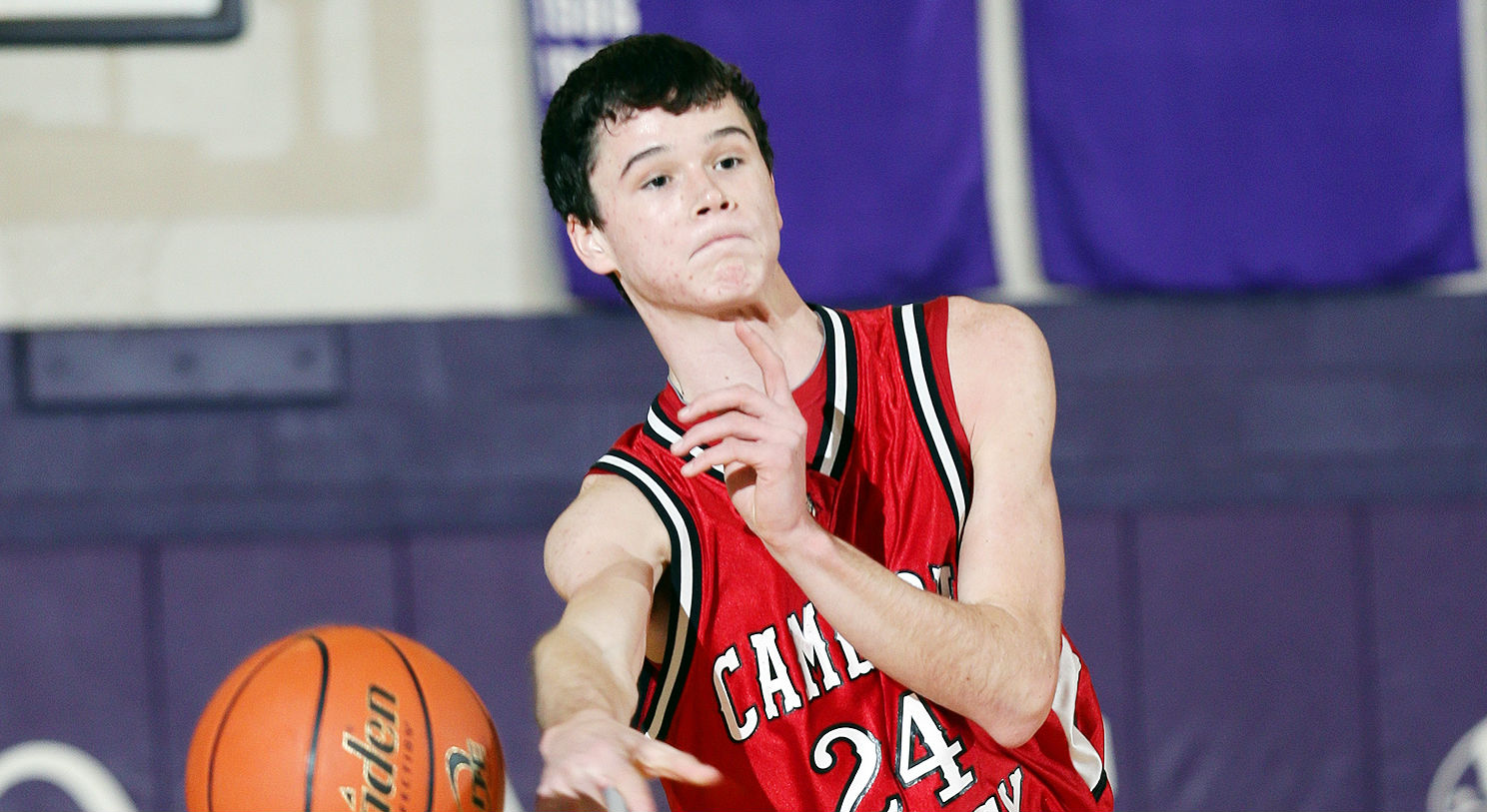 Check out the WJAC-TV highlights of this game
By Andy Close
ST. MARYS, Pa. — Cameron County has become a basketball hotbed in 2015!
Just one day after its girls team clinched a state berth with an upset win over Port Allegany, the boys team followed suit, beating a talented DuBois Central Catholic team 41-30 on Friday at St. Marys.
It's the first time since 1999 that the Red Raiders have advanced to the District 9 semifinals.
In order to beat the Cardinals, Cameron had to rally from a 26-20 halftime deficit. They did so by holding DCC to just four second half points, a remarkable defensive effort by any stretch.
It didn't take long — just two minutes in fact — for Cameron County to erase the halftime margin.
Trae Smith hit a 3-pointer from the top of the key, followed by a hook shot by Sestina and a runner by Keith Spehalski on their first three possessions of the half, and all of a sudden they were back out in front, 27-26.
DuBois Central Catholic didn't score in the second half until a layup by Dallas Gray with 1:40 to go in the third quarter.
From that point, it became a methodical, half-court game.
Ryan Anderson made a pair of free throws to start the fourth quarter, but those were the last points DCC would score.
Sestina and Mike Slusarick followed with back-to-back buckets and the Red Raiders scored their final five points from the free throw line, four of which came from Spehalski.
That finished off a game that was fast and furious in the early going but was the polar opposite at the finish.
The Cardinals (19-6) came out hot, with senior guard Dane Aucker doing most of the damage.
His second 3-pointer of the quarter gave DCC a 17-12 lead that grew to as many as 10, 26-16 after a floater from Christian LaParne.
Cameron County scored the final four points of the half, as that turned out to be the start of a 25-4 run.
It's a run that now has them in the D-9 semis.
The Red Raiders will play Venango Catholic, which beat defending D-9 champ Ridgway in the quarterfinal round.
It presents an intriguing matchup, with Sestina at 6-9 going up against VC's 6-10 Devin Zagar.
CAMERON COUNTY 41, VENANGO CATHOLIC 30
By Quarters
DuBois CC     17  9  2    2 — 30
Cameron Co. 12  8  12  9 — 41
DuBOIS CENTRAL CATHOLIC (30)
Dane Aucker 4-1-2-11, Ryan Anderson 2-2-2-7, Christian LaParne 1-0-0-2, Dallas Gray 4-0-0-8, Neil Fitzpatrick 1-0-0-2, Matt Fassnacht 0-0-2-0, NIck Szczerba 0-0-0-0, Joey Varischetti 0-0-0-0, Totals 12-3-6-30
CAMERON COUNTY (41)
James Guisto 1-0-0-2, Keith Spehalski 3-4-4-10, Mike Slusarick 3-0-0-6, Trae Smith 2-2-3-8, Nate Sestina 6-2-5-15, Adam Shaffer 0-0-0-0, Dominic Nellis 0-0-0-0, Totals 15-8-12-41
Three-point FGs: DCC (3) — Aucker 2, Anderson; Cameron County (3) — Smith 2, Sestina