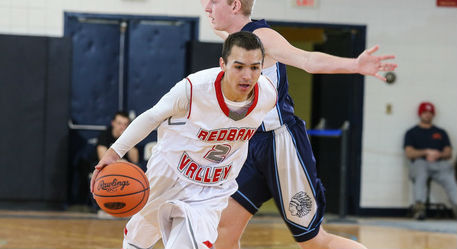 By Chris Rossetti
CLARION, Pa. – Redbank Valley built a 13-point fourth-quarter lead and then held off a furious comeback from defending champion Brookville to knock the Raiders from the postseason with a 54-46 win in the District 9 Class AA quarterfinals Thursday night at Clarion University's Tippin Gym.
The second-seeded Bulldogs (18-6) used an 8-0 run midway through the third quarter to take a 39-25 lead, and still led by 11, 39-28, going to the fourth quarter. They then got the lead back to 13, 43-30, on a Jake Dougherty layup with 5:57 to play.
Seventh-seeded Brookville, though, wasn't about to let its championship go without a fight. The Raiders went on an 8-0 run of their own fueled by four points from Taite Truman to cut the Redbank lead to five, 43-38, on a Truman jumper in the lane with 2:09 left.
The Bulldogs appeared in decent shape when they got the lead back to nine, 49-40, on a Devin Shumaker free throw with 1;)1 left, but Brookville had one last spurt in it going on a 6-1 run to close within four, 50-46, on a Kurt Schindler 3-pointer with 35 seconds to play.
The Raiders defense then came up with a steal, as Schindler took the ball away from Jake Dougherty. Truman missed a jumper, but the rebound went off a Redbank player out of bounds to Brookville. Schindler then missed a 3-pointer but got his own rebound before Jordon Tosh's 3-pointer with 13 seconds to play was also off the mark. This time, Redbank Valley's Sam Heeter got the rebound and was fouled with nine ticks left on the clock.
Heeter, who was just 3 of 10 up to that point from the line, calmly sank both free throws to all but seal the victory.
Redbank, which led by 10, 27-17, at halftime thanks to eight second-quarter points from Dalton Dougherty, Jake's cousin, saw Brookville close within six twice in the first three-plus minutes of the second half before using the 8-0 run that saw Heeter score four points to take its biggest lead of the game, 39-25.
Jake Dougherty had a double-double with 16 points and 12 rebounds, although he struggled in the first half from the field and ended up 5 of 15 shooting. Zach Westover just missed a double-double with nine points and 11 rebounds while adding three blocked shots. Dalton Dougherty chipped in with 11 points and five rebounds, while Heeter had 13 points and three boards.
Schindler led Brookville with 13 points, while Tate Canavan had nine points and 13 rebounds. Truman had eight points with six coming in the fourth quarter, and Tosh had seven tallies.
Brookville struggled from the floor going 33.3 percent (18 of 54) for the game including 7 of 24 (29.2 percent) in the first half. The Raiders really struggled from outside going 3 of 17 from 3-point range.
Redbank Valley shot 41.5 percent (17 of 41) but only 36.8 percent (7 of 19) after halftime. The Bulldogs were also just 18 of 29 from the free-throw line with Brookville going 7 of 10.
Redbank Valley will take on the sixth seed, Moniteau, in the semifinals at a time, place and location to be announced. It will be the third meeting of the year between the teams with Redbank Valley winning the first two.
REDBANK VALLEY 54, BROOKVILLE 46
Score by Quarters
Brookville 7 10 11 18 – 46
Redbank 12 15 12 15 – 54
Brookville – 46
Taite Truman 4-9 0-0 8, Jordon Tosh 2-7 3-4 7, Kurt Schindler 5-12 0-0 13, Ben Cudworth 3-11 3-4 9, Tate Canavan 4-14 1-2 9, David Neeman 0-1 0-0 0, Cole Cable 0-0 0-0 0. Totals 18-54 7-10 46.
Redbank VAlley – 54
Devin Shumaker 1-3 3-5 5, Sam Heeter 4-6 5-12 13, Jake Dougherty 5-15 4-4 16, Zach Westover 3-6 3-3 9, Dalton Dougherty 4-7 3-5 11, Kaleb Reed 0-1 0-0 0, Khorey Neiswonger 0-3 0-0 0. Totals 17-41 18-29 54.
Three-pointers – Brookville 3-17 (Schindler 3-8, Tosh 0-4, Truman 0-2, Canavan 0-2, Neeman 0-1). Redbank Valley 2-7 (J. Dougherty 2-6, Reed 0-1).