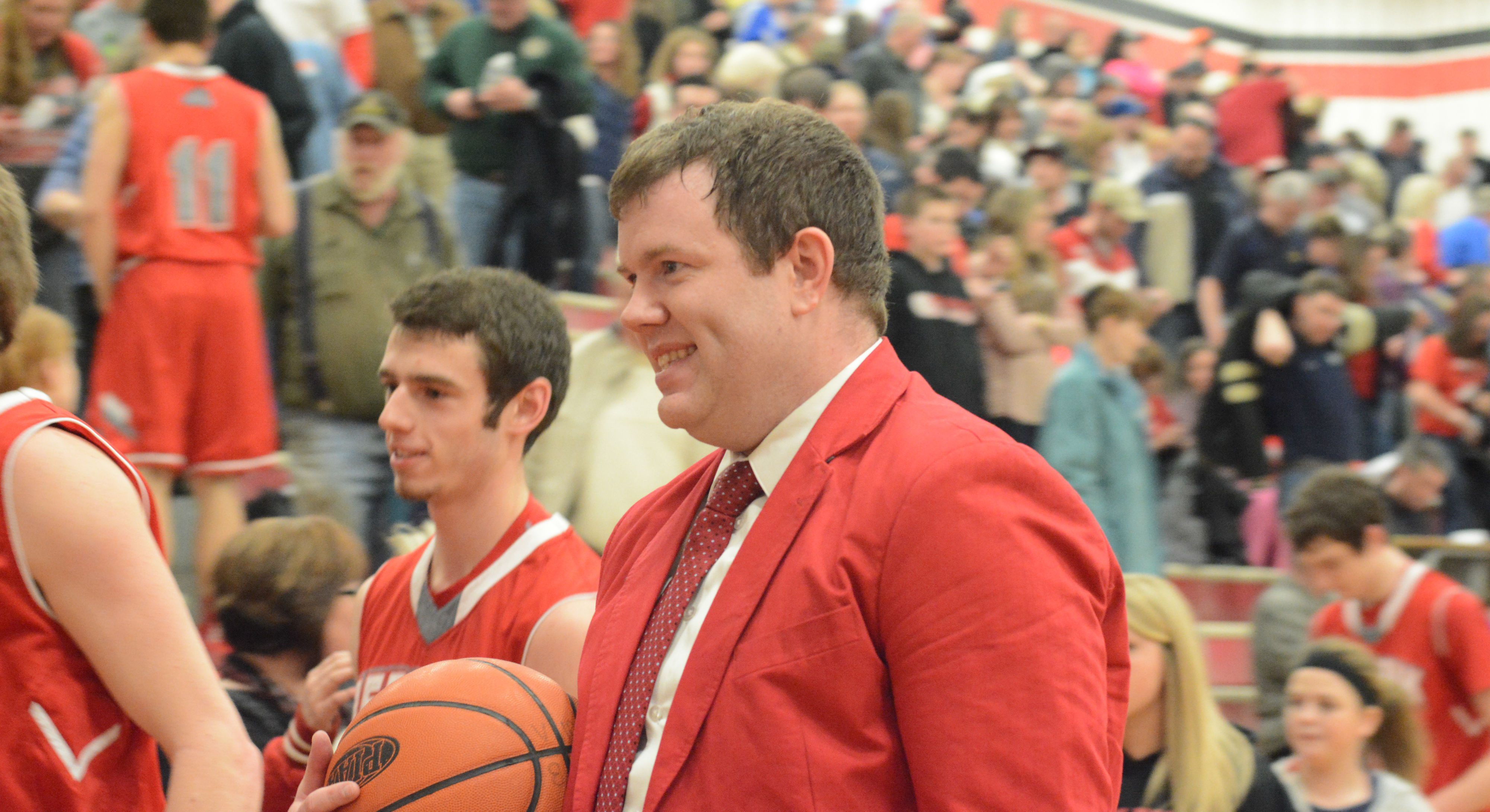 By Chris Rossetti
DUBOIS, Pa. – Four years ago Devin Shumaker and Jake Dougherty suffered through a 1-21 season as a freshmen on the Redbank Valley boys' basketball team.
Fast forward four years later, and Shumaker and Dougherty played keys role in getting the Bulldogs to PIAA Class AA Elite Eight with a 62-46 win over West Branch Wednesday night at DuBois Middle School.
"It means so much," Shumaker, who scored 11 points in the victory, one of five Bulldogs in double digits, said. "We all just worked so hard. Once you go 1-21 you have two choices. You either give up or you change it. We put forth the effort every offseason to get where we are now. It means so much. It feels so great. I love it. We help out with the elementary program now, and they look up to us. They want to do the same thing. It's great knowing we changed the program. The prospective of Redbank Valley basketball has changed."
Wednesday's game pretty much showed that metamorphosis.
In the first half, the Bulldogs settled for jump shots and 3-point attempts and trailed 33-29 at halftime.
But in the second half, Redbank Valley decided to start pounding the ball inside to 6-foot-7 senior Zach Westover and 6-foot-4 junior Dalton Dougherty, and the results were all positive as they outscored West Branch 33-13 in the half.
"I wrote one thing on the board (at halftime)," Redbank Valley head coach Greg Bean said. "And I just kept saying it over and over again. All it said was attack the basket. We tried to control the tempo in the second half, and I thought we did a great job of that."
Still trailing by four, 37-33, following a basket by Kody Trude 2 ½ minutes into the second half, Redbank Valley clamped down defensively allowing the Warriors just one basket over the next 10 minutes. That allowed the Bulldogs to go on an 18-3 run to take an 11-point lead, 51-40, on a pair of Westover free throws with 3:25 left.
"To hold them to 13 points in the second half, that was an unbelievable job defensively," Bean said. "I really think we executed well in the second half."
The key to the Redbank defense in the second half was the Bulldogs ability to go back to an old friend, the matchup zone, against West Branch after halftime.
"We ran that matchup zone all year," Bean said. "Then we went to man in the playoffs. We tried man (tonight) and it didn't work. They got too many open looks in the first half. They really did. I wanted to change defenses early, but I thought if we went into that matchup zone they might have had halftime adjustments and seen it. I really wanted to hold on to it. So it was hanging on for dear life and hoping to keep it close and take a risk."
The opening 16 minutes was a shooting match with both teams firing on all cylinders.
West Branch hit three 3-pointers in the first quarter and built an 18-11 lead late in the quarter before Redbank, which also hit three triples in the quarter, closed within four, 18-14, at the end of the quarter on a 3-pointer by Shumaker.
Shumaker's triple started a 16-6 run over the next three or so minutes that allowed Redbank Valley to take a 27-24 lead on a Dalton Dougherty basket with three minutes into the second quarter. A pair of Sam Heeter 3-pointers and a three by Jake Dougherty were key to the run.
But West Branch answered with an Austin Krise bucket followed by a 3-pointer by Brandon Zwick, who had four first-half triples and scored 14 of his 15 points before halftime, to tie the game at 29 with just over four minutes to play. The Warriors then got back-to-back baskets by Trude, who finished with a game-high 16 points, six below his season average, to take the four-point halftime lead.
Four points in the first two-plus minutes of the second half by Trude helped keep West Branch in the lead before Redbank Valley's defense locked down and the Bulldog offense came to life.
A three by Jake Dougherty, who had a team-high tying 14 points, followed by a basket by Westover, who finished with 14 points of his own to go with 12 rebounds, that gave Redbank the lead lead at 38-37.
A Zwick free throw at 4:23 tied the game one last time at 38, but Westover, who was 6 of 8 from the floor, gave Redbank Valley the lead for good with 3:59 left in the quarter.
Still leading by just five, 45-40, heading to the fourth quarter, the Bulldogs quickly expanded the lead on back-to-back baskets by Dalton Dougherty, who had 12 points and 10 rebounds while shooting 6 of 9 from the floor, and Heeter, who ended with 10 points, to get the lead to nine, 49-40, a minute and a half into the quarter.
Neither team then scored again until the two Westover free throws made the lead 11 with 3:25 to.
A Trude basket, the first for West Branch since late in the third quarter, got the Warriors within single digits one last time, 51-42, with 3:12 to play. But Dalton Dougherty and Westover had back-to-back buckets to push the lead to 13, 55-42, with just over two minutes left.
Redbank Valley now plays WPIAL champion Aliquippa, the top-ranked team in the state by PennLive.com, in the quarterfinals Saturday at a site and time to be determined.
REDBANK VALLEY 62, WEST BRANCH 46
Score By Quarters
Redbank 14 15 16 17 – 62
West Branch 18 15 7 6 – 46
Redbank Valley – 62
Devin Shumaker 2-16 6-8 11, Sam Heeter 4-11 0-1 10, Jake Dougherty 4-10, 2-4 14, Zach Westover 6-8 2-3 14, Dalton Dougherty 6-9 0-0 12, Khorey Neiswonger 0-0 1-2 1, Kaleb Reed 0-0 0-0 0. Totals: 22-54 11-18 62.
West Branch – 46
Skyler Krise 0-4 0-0 0, Austin Krise 2-9 2-2 6, Brandon Zwick 5-14 1-2 15, Kody Trude 6-14 5-6 16, Trenton Ferguson 3-4 1-2 7, Justin Rothrock 1-2 0-0 2, Jesse Martin 0-0 0-0 0, Tyler McDonald 0-0 0-0 0, Cam Eboch 0-1 0-0 0. Totals: 17-48 9-12 46.
3-pointers: West Branch 5-23 (S. Krise 0-1, A. Krise 0-3, Zwick 4-12, Trude 1-6, Rothrock 0-1), Redbank Valley 7-24 (Shumaker 1-9, Heeter 2-6, J. Dougherty 4-9). Rebounds: Redbank Valley 44 (Westover 12, D. Dougherty 10), West Branch 27 (S. Krise 9). Turnovers: West Branch 11, Redbank Valley 9.