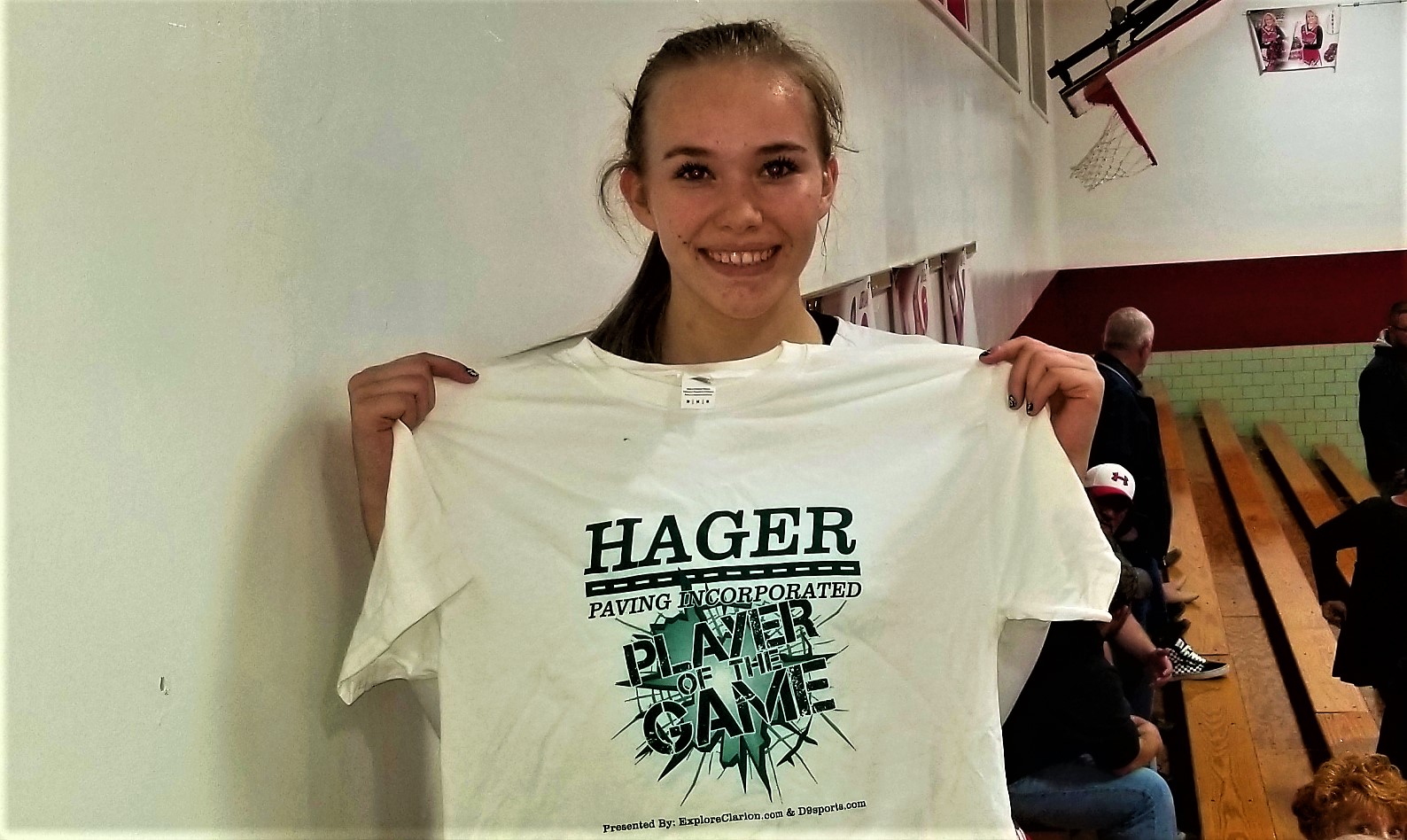 Oct. 31 volleyball playoff recaps.
(Photo Taylor King of Redbank Valley)
REDBANK VALLEY 3, KARNS CITY 0
NEW BETHLEHEM, Pa. – Josie Rupp and Taylor King combined for 25 kills to lead top-seeded Redbank Valley to a 3-0 (25-18, 25-10, 25-14) win over visiting and fourth-seeded Karns City in the District 9 Class 2A semifinals.
Re-listen to the audio broadcast of the game.

Rupp led the Lady Bulldogs with 13 kills, including six in the third set, while King, who had a monster second set with nine kills, finished with 12 on the night while adding three blocks.
King, who was named the Hager Paving Player of the Game, talked about the victory.
Carissa Rearick chipped in 32 assists, three kills and 1.5 blocks and Hope Spence had 19 digs in the win for Redbank Valley, which sends the Lady Bulldogs to the District 9 2A title game for the third straight season – they won the title over Kane in 2016 and lost to Kane in 2017 – where they will face Brookville, a 3-2 upset winner over Kane in the other semifinal Wednesday.
Redbank Valley head coach Matt Darr talked about the victory.
Rayna Miller paced Karns City with four kills with Emma Clark adding three.
The Lady Gremlins started strong in the first set and led 8-3 early and still held a 14-13 lead halfway through the set before a 10-2 Redbank Valley run turned the tide.
It was all Lady Bulldogs in the second set, as Redbank Valley raced to an 14-3 lead, thanks in part to four kills from Taylor.
Karns City started strong in the third set taking a 4-0 lead, but 10 straight Redbank Valley points, including two more Taylor kills, turned the tide. Rupp then took over with four kills during a 6-1 run that expanded a 12-7 lead into an all-but-insurmountable 18-8 advantage.
The title match with Brookville will be at 3 p.m. Saturday at St. Marys High School.
BROOKVILLE 3, KANE 2
KANE, Pa. – Mounting an improbable fifth-set comeback, third-seeded Brookville stunned defending champion Kane, 3-2 (18-25, 25-16, 22-25, 25-19, 15-12), in the District 9 Class 2A semifinals at Kane High School.
On a night of comebacks for the Lady Raiders, who trailed 1-0 and 2-1, the fifth-set comeback was their biggest.
After taking the fourth set 25-19, Brookville trailed 12-5 in the fifth set before going on a match-clinching 10-0 run to stun the home team.
Lexis Hatzinoklas led the Lady Raiders with nine kills with Maggie Mackins added eight kills. Madison Johnson paced a strong serving game for Brookville with six aces Leah Kammerdiener added five aces and was also the server for the final nine points of the match for the Lady Raiders.
Ella Marconi had a monster night for Kane with 26 kills with Audri Marconi and Sarri Swanson each adding five kills.
Brookville will face top-seeded Redbank Valley in the title match at 3 p.m. Saturday at St. Marys High School.
BRADFORD 3, PUNXSUTAWNEY 0
PUNXSUTAWNEY, Pa. – Alexis Huber had 18 kills to lead third-seeded Bradford to a 3-0 (25-18, 25-5, 25-19) win over second-seeded Punxsutawney in the District 9 Class 3A semifinals in Punxsutawney.
Laney Kahle ran the offense for the Lady Owls with 21 assists, while Morgan Tyger added three kills and four digs. Britney Rounsville and Erica Marshall each chipped in six digs.
Cassidy Reed led Punxsutawney with six kills. Bailey Jones had 10 assists and Emily Griebel 13 digs for the Lady Chucks.
Bradford will take on top-seeded DuBois in the title game at 11 a.m. Saturday at St. Marys High School.