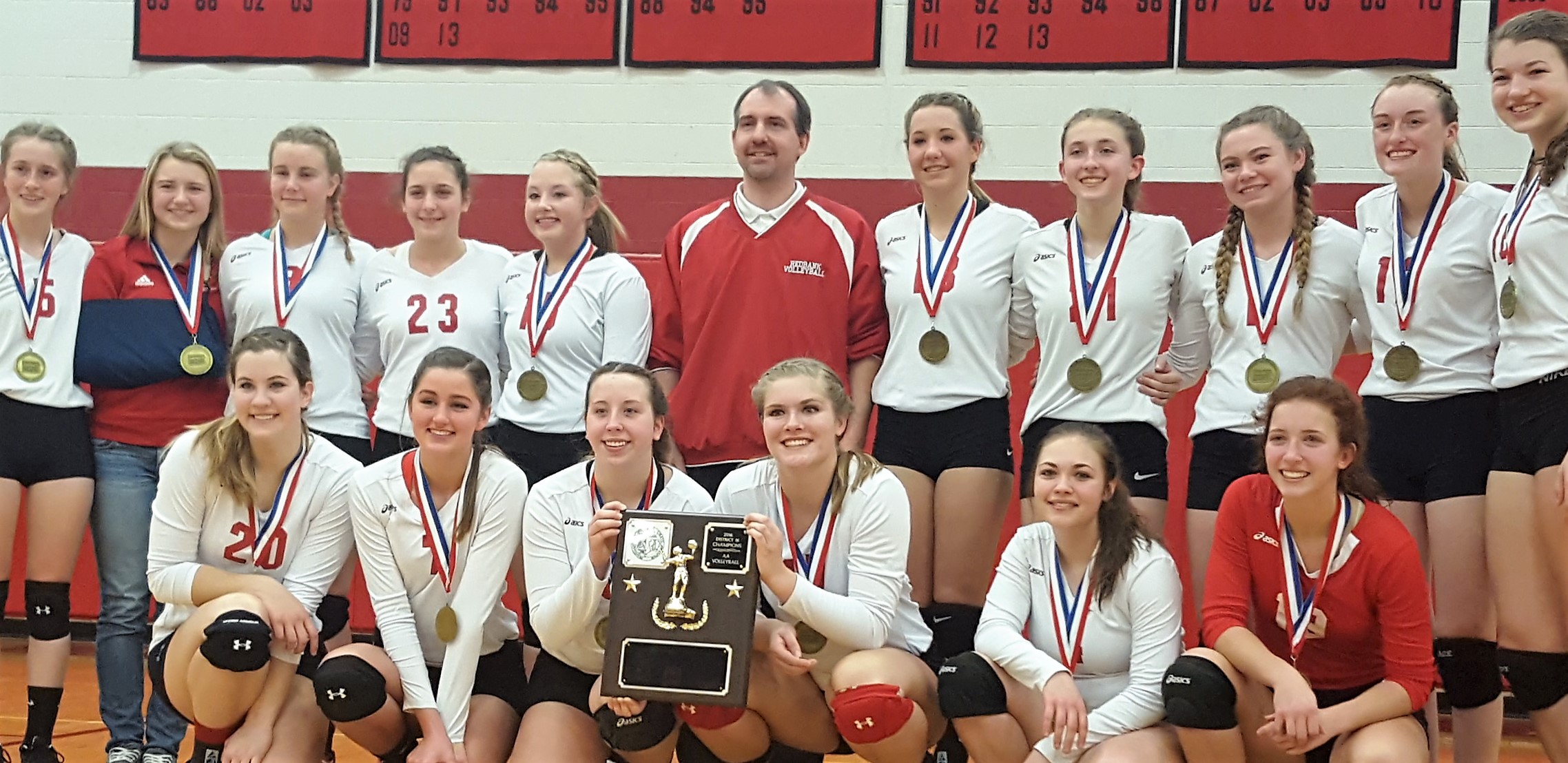 BROCKWAY, Pa. – Starring a potentially devastating loss in face, Redbank Valley dug deep and rallied from a two-point, fifth-set deficit to to grab a 15-13 win and its first District 9 volleyball title since 2009 with a 3-2 (25-13, 25-21, 17-25, 18-25, 15-13) win over Kane in the Class 2A championship match Saturday afternoon at Brockway High School.
Redbank Valley head coach Matt Darr reacts to the victory.
Through two sets, it looked like the top-seeded Lady Bulldogs (15-2) would roll to the title having little trouble with the second-seeded Lady Wolves (13-5) in winning the first set by 12 points behind four kills and three blocks from senior Heather Traister.
Redbank then got a strong effort from Macy King (six kills) to take the second set by four points.
But Kane behind Ella Marconi's three kills and two each from Alyssa Zampogna and Trinity Clark staved off elimination with the eight-point win in the third set.
The Lady Wolves kept rolling in the fourth set thanks to three more kills from Clark to force the fifth-and-deciding set.
And with the momentum behind it, Kane built the 13-11 lead in the fifth set thanks to three more Clark kills before a Traister kills got the Lady Bulldogs within one.
Sophomore Carissa Rearick then came up with the biggest ace of her young career to tie the score at 13, and when Traister blocked a Kane attack the Lady Bulldogs were within a point of the champion.
Rearick had another strong serve that went through Kane's Sadie Tunall to give the Lady Bulldogs their second District 9 title since 1990 and their third trip to the PIAA playoffs.
Traister and King led the way for Redbank Valley with King recording 11 kills and Traister nine. Traister added six blocks.
The duo talked about the win after the match.
Josie Rupp added seven kills for Redbank Valley, while Clark led Kane with 13 kills, Alyssa Zampogna added nine kills and Marconi seven.
A set-by-set look at the match.
FIRST SET – Redbank Valley 25-13
Redbank Valley raced to a 12-5 lead thanks in part to a pair of Traister kills and aces from Hannah Adams and Rearick. A couple of kills by Marconi helped Kane get back within four, 13-9, but two kills and three blocks from Traister put the set away for Redbank Valley.
SECOND SET – Redbank Valley 25-21
Kane came out strong and led 6-3 early and was still up 8-6 following a Redbank Valley service error. BUt thanks to three kills from King, the Lady Bulldogs grabbed an 11-9 lead. Kane fought back tying the match at 11 and again at 12 and 14 before taking a 15-14 lead on a Lady Bulldogs hitting error. A service error by Kane tied things back up at 15, and it was tied against at 16 when a Traister blocked put Redbank up for good at 17-16. But the match stayed within two points until another Kane hitting error made it 23-20, and King finished things off with back-to-back kills.
THIRD SET – Kane 25-17
Redbank Valley looked like it wanted to put the match away quickly jumping out to lead of 3-0 and 5-2 and still led 9-7 following three kills in four points by Rupp. But a Marconi kill and blocked helped Kane even things up at 10, and the Lady Wolves then went on a 5-1 run that saw three more kills from Marconi to go ahead 15-11. Redbank got it back to 15-13, but two errors followed by kills from Jordan Race and Clark quickly made it 19-13, and the Lady Wolves were still alive.
FOURTH SET – Kane 25-18
Again Redbank Valley jumped out quickly scoring four of the five points thanks in part to kills by Traister and King, but Kane stabilized things and used a kill by Zampogna to tie the set at five. A net violation on Redbank Valley followed by a Tunall kill and a Marconi block made it 8-5 Kane. Taking advantage of four Kane errors, Redbank tied things back up at 11, but a Clark kill spearheaded a 4-0 Lady Wolves run that ended in an ace from Hannah Buhl that made it 15-11. The lead grew to 21-14, and a block by Zampogna and Race pushed it to a deciding fifth set.
FIFTH SET – Redbank Valley 15-13
Two kills by Clark and a Zampogna block got Kane off to a 3-1 early lead before a kill and block by Traister tied it at three. Two errors by Redbank Valley gave the lead back to Kane, 5-3, but a Lady Wolves error followed by kills by Rupp and McKenna Shirley gave the lead to Redbank, 7-6. It was again Kane's turn to run with a Zampogna kill, followed by a Redbank error and a Marconi kill giving the Wolves a 9-7 lead. They still led 11-9 following an error, 12-10 following a Clark kill and 13-11 after the Zampogna kill before Traister kill and the ace by Rearick tied it up. Traister blocks and Rearick's serve then won it for the Lady Bulldogs.
STAT LEADERS
Kane: Trinity Clark 13 kills; Alyssa Zampogna 9 kills; Ella Marconi 7 kills.
Redbank Valley: Heather Traister 9 kills, 6 blocks; Macy King 11 kills; Josie Rupp 7 kills
THEY SAID IT
We knew at the beginning of the season it was probably going to be us, Karns City and Kane. We watched Kane last week against Bradford, and honestly, they didn't look great. We watched them against Karns City and they looked incredible. That's the way volleyball is, match-to-match and set-to-set, and we saw that today. Goals should be made where they're not easily attainable. We need to reach those goals and that's what they proved today. They wanted to win the Class 2A championship and knew it was going to be easy." – Redbank Valley head coach Matt Darr.
UP NEXT
Redbank Valley moves into the PIAA playoffs where it will play the WPIAL runner-up, Beaver Tuesday. That match is tentatively slated for 6 p.m. at DuBois.