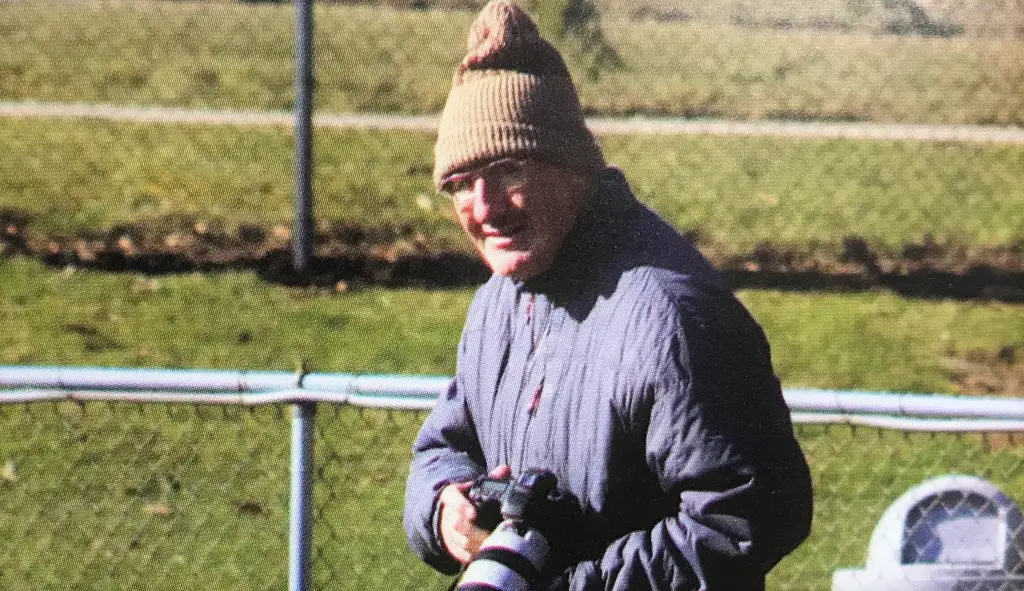 NEW BETHLEHEM, Pa. – For many, community service often refers to an act of service that is completed within a certain time frame. It could be an afternoon spent cleaning up a portion of a community or a week feeding the homeless in a poverty-stricken segment of a city. Often, the service has a beginning point and an ending point that signifies a return to normal activities in one's life.
For a select few, however, community service is completed over a lifetime. Providing unselfishly for others is simply woven into certain individuals' DNA.
Service to others is woven into Mike Maslar's DNA.
Maslar, a public education teacher for nearly 40 years, has used photography as a way to continue to serve students at Redbank Valley School District despite retiring from the school district in 2009.
American photojournalist, Eve Arnold, once said "If the photographer is interested in the people in front of his lens, and if he is compassionate, it's already a lot. The instrument is not the camera but the photographer."
While Mr. Maslar may use his camera as his instrument, he himself has undoubtedly been the instrument of impact for student-athletes who have passed throughout Redbank Valley. Maslar can be seen at nearly every Bulldog sporting event capturing memories for all those that take part in extra-curricular activities within the district.
It's a passion, hobby, and commitment to community that can be traced back to the beginning of Maslar's career.
Born in Morenci, Ariz., Maslar moved to Summerville, Pa., at the age of nine and went on to graduate from Brookville Area High School in 1967. From there Maslar completed his Bachelor's work at Muskingum University in Zanesville, Ohio, and his Masters work at Clarion University before accepting his first teaching job in Pique, Ohio. In 1983, he returned home to Summerville after accepting a job teaching seventh-grade science at Redbank Valley in 1983. Maslar also served as a cross country and track and field coach during his 27 years of service at Redbank Valley.
While you no longer see Maslar in the classrooms at Redbank Valley any longer, his presence is still felt in a profound way. Today, if you are looking for Mr. Maslar, you will find him at virtually every Redbank Valley sporting event with his camera in hand as he serves as the unofficial photographer for Redbank Valley athletics.
(Photo by Makayla Male.)
Maslar's hobby of photographing student-athletes was actually born out of the lack of teaching materials he had as a young teacher. He explained that he did not have the same resources that teachers have today such as Google and YouTube. Due to that fact, Maslar turned to photography to create his own classroom resources.
"I did a little bit of photography as a child but nothing serious until my first year of teaching," explained Maslar. "I was teaching earth science and geology and I needed material. So I got a camera and took off in the summer and spent six weeks traveling the country coast-to=coast taking pictures of geological formations and landforms and other things I could use in my classroom. When I began teaching life science at Redbank Valley it shifted from geological subjects to wildlife and nature."
While gathering resources marked the beginning of his photography hobby, it would be his work at athletic events that would really cement his legacy within the community. While many may consider his work as a photographer at these extra-curricular activities as going above and beyond the call of duty, Maslar actually argues that it is something that he considered to be within the realms of his job description.
"I went to the sporting events because I considered it part of my teaching," Maslar said. "To get involved in school events and community events. I considered that part of my teaching because it is part of one's responsibility as a teacher. Since I took a lot of pictures, I started to take pictures at sporting events. The kids liked them, so I continued.
"The main focus is because the kids enjoy seeing it. It gives them a feeling of doing something because when you see a picture of yourself carrying a football or making a tackle it really makes you think, 'I really did participate, and I did it well.' When I was teaching at Redbank, I very often had the pictures out in my room so that the kids could look through them. The kids could come down and they would often sit outside my room and look and in all the years I did it, nobody got in trouble for it."
While Maslar does not have a classroom to display the photos in anymore, he does have a display case outside of the cafeteria that is specifically reserved for his pictures. Maslar comes in to the school once a week to display new pictures in the display case, all of which he prints at his own cost. When it is time for the prior week's pictures to come down, he gives them to the coaches to distribute to the kids. At any given time of the day, it is a rarity not to see students gathered around Maslar's display case enjoying his work.
In addition to giving players hard copies of their photos, at the end of each athletic season, Maslar delivers to each senior a CD-ROM of all of the pictures he took of that particular athlete on the disk. A keepsake of captured memories that the athlete is able to keep forever. Again, this is done at no charge to the students.
(Photo: Seniors Blaney Brooks and Keaton Kahle check out Maslar's pictures from their playoff game.)
"It's part of my community service. Since I am retired I don't really do a lot for the community but this is one area in which I can contribute," Maslar said.
Maslar may think that he does not do a lot for the community, but a quick survey of people living within Redbank Valley School District will quickly reveal how much this man equipped with a camera truly does accomplish.
Sue Trimble serves as one of the high school secretaries. It is a position that she held while Maslar taught at the district and it is evident from her words that Maslar's contributions have not gone unnoticed.
"In the 15 plus years I have been at Redbank Valley High School, Mr. Maslar has been probably the most universally loved and respected teacher I have known," Trimble said. "Loved by the students as well as myself. This admiration continues among the students today, long after his retirement. I see it and hear it from the students continually."
The class of 2018 so strongly admired Maslar for the contributions that he made to the district that they voted to dedicate the yearbook to him. While yearbook dedications are typically reserved for teachers within the district, the class of 2018 shook it up a bit by bestowing the honor upon Maslar.
"Mr. Maslar has done a lot for our school district over the years, and I felt as though he does not get enough credit for what he does," explained Class of 2018 president, Kylee Miller. "He comes to every game for every sport to take pictures. He stands in the rain, snow, and scorching heat just to take pictures of our athletes. He then gives players countless pictures of them playing their sport. Being part of the yearbook staff, if it wasn't for him, we wouldn't have had enough pictures to fill the yearbook. I can't tell you how thankful and lucky we are as a school to have him and his dedication to the students. With all that being said, that is why our class switched it up and voted to have our yearbook dedicated to Mr. Maslar."
Maslar was not hesitant in admitting that last year's yearbook dedication meant more to him than the students may ever know.
"Coming from the kids it is special," Maslar said. "It is something that I consider a great honor and I appreciate greatly. It emotionally touched me."
Maslar traveled nearly 300 miles this past football season. He did not miss a single away game despite the Bulldogs away schedule consisting of games at Smethport, Sheffield and Curwensville. He will follow the same type of schedule for the extremely busy winter sports season. While the impact is evident within the community, Maslar also is quick to point out that the regular attendance at all of the sporting events also allows him to perfect his craft.
"To do photography you need to have that camera in your hands all the time," Maslar said. "It's just like a skill that you teach as a coach. You don't want to have a player practice something with you and not practice it again for two months. Photography is the same way."
For Maslar, there is certainly a sport that he enjoys working his craft at the most.
"I like track and field because I coached it," Maslar said. "It is always a sport I will love. I get a little homesick for the coaching. As far as challenge, volleyball is the toughest sport to do because it is so fast and so unpredictable. At least with football, you can focus on the quarterback and know approximately where the ball is going to go. Volleyball is much tougher."
(Photo: Maslar captures a moment during one of Redbank Valley's home game this past season.)
In between the countless sporting events he attends, Maslar also enjoys traveling the country continuing to capture the wildlife images that he began photographing as a young teacher in the 1970s. This past fall he traveled to Alaska to capture images of bears feasting on salmon. While he explains that he is always on the hunt for the perfect image in the wild, it's the kids that truly make his hobby special.
(Photo: One of the images captured by Maslar this past fall in Alaska.)
"It's enjoyment of seeing the kids," Maslar said. "I enjoy seeing them compete. I enjoy watching them mature and go on and accomplish. A lot of these current students' parents are my former students."
Adam Barret is one of the parents that fit that role today. A former student of Maslar and father to former Bulldog All-State defensive back Brock Barrett and current sophomore, Kolby Barrett, Barrett stresses that Masler's contributions to the community are irreplaceable.
"The smiles that he's put on my boys faces," Barrett answered as to what makes Maslar so special to the Redbank Valley community. "I hear about how the kids watch that showcase every week. Seeing my boys being captured in the paper and being able to fill their scrapbooks is special. He does that for the love of community and kids. He doesn't want anything for it. Rain, snow, sleet, he's out there. A true gem of a man that shows what kind of an impact you can make and what type of inspiration you can be by being a teacher."
EYT Media Sports Editor Chris Rossetti said that Maslar is willing to share his work with anyone.
"There have been times Mike has let me, us, use his work on our websites," Rossetti said. "I know he is pretty much the exclusive sports photographer for the weekly newspaper in New Bethlehem as well. And he doesn't want anything for this work. He does it because he knows it helps promote the kids. It is rare today to find someone as selfless as Mike. But I see him at all the events I am at. He never misses an event. Heck, this year, at a game at Clarion-Limestone, he was run into on the sideline and just got right back up and continued to snap away the photos. We were all concerned about him and wanted to make sure he was alright, but all he wanted to do was continue to take pictures."