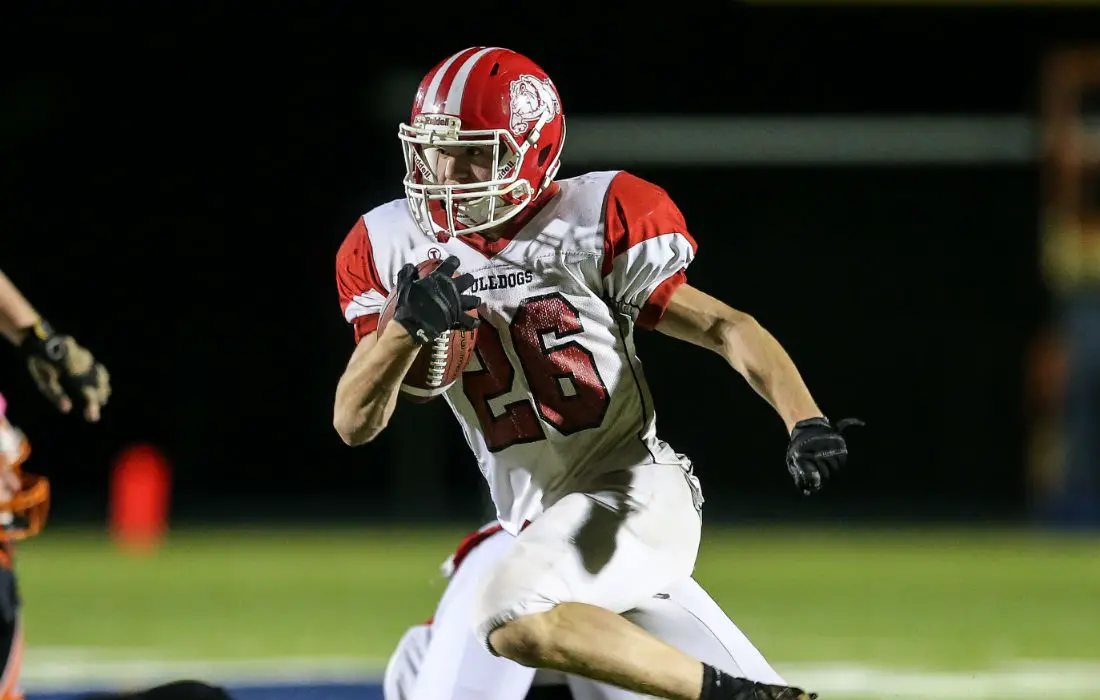 CLARION, Pa. – Redbank Valley's Wyatt Hetrick is considered one of the most explosive offensive players in District 9, and that explosiveness was on full display in the Bulldogs 34-10 KSAC Small School Division title-clinching win over Clarion Friday night.
The Redbank senior, who is the DSports.com District 9 Player of the Week for Week Nine of the 2015 season, amassed 300 yards of total offense and four touchdowns showing multiple dimensions in doing so. He ran a season-high 24 times for a season-best 148 yards and two scores and added five catches for a season-high 152 yards and two scores, as the Bulldogs clinched their first conference title since 1996 and with it the top seed in the District 9 Class A playoffs.  
Joining Hetrick in being honored on the Honor Roll are 15 additional players.
D9SPORTS.COM PLAYER OF THE WEEK
Wyatt Hetrick – Redbank Valley: 5 catches, 152 yards, 2 touchdowns; 24 carries, 148 yards, 2 touchdowns – Redbank Valley 34, Clarion 10
D9SPORTS.COM HONOR ROLL  
Alex Colosimo – Bradford: 12 carries, 192 yards, 2 touchdowns – Bradford 34, Brookville 7
John Eakin – Bradford: 12 carries, 219 yards, 2 touchdowns – Bradford 34, Brookville 7
Caleb Burnside – Cameron County: 41 carries, 241 yards, 2 touchdowns; Scored the game-winning touchdown with 3:47 to play – Cameron County 20, Otto-Eldred 14
Seth Caldwell – Clearfield: 5 carries, 106 yards, 3 touchdowns; 1 catch, 19 yards – Clearfield 56, Philipsburg-Osceola 17
Darren Keglovits – Coudersport: 10-for-19, 244 yards, 4 touchdowns; Made 7 tackles on defense  – Coudersport 42, Smethport 20
Navada Waterman – Coudersport: 5 catches, 191 yards, 4 touchdowns – Coudersport 42, Smethport 20
Nick Stewart – Curwensville: 29 carries, 160 yards, 3 touchdowns – Curwensville 26, Ridgway 20
Kyle Hopson – DuBois: 8 catches, 209 yards, 1 touchdown – General McLane 41, DuBois 19
Matt Miller – DuBois: 18-for-32, 444 yards, 2 touchdowns – General McLane 41, DuBois 19
Maverick Kelsea – Karns City: 10 carries, 90 yards, 4 touchdowns – Karns City 62, Punxsutawney 6
Dalton Anderson – Moniteau: 4 catches, 148 yards, 2 touchdowns; Caught game-winning 75-yard touchdown pass with 8:11 to play – Moniteau 29, St. Marys 28
Adam Shunk – Smethport: 30 carries, 243 yards, 2 touchdowns – Coudersport 42, Smethport 20
Brady Bauer – St. Marys: 9 catches, 201 yards, 1 touchdown – Moniteau 29, St. Marys 28
Pat Schlimm – St. Mars: 9-for-18 passing, 240 yards, 2 touchdowns; Ran for 2 touchdowns – Moniteau 29, St. Marys 28
Lucas Bowser – Union: 11-for-24 passing, 124 yards, 2 touchdowns, 1 interception; 6 carries, 16 yards, 2 touchdowns; Led Union on game-winning 70-yard drive that ended with him scoring on a 1-yard run with 33 seconds to play; Made 7 tackles on defense – Union 27, Clarion-Limestone 26
2015 PLAYERS OF THE WEEK
Week One: Zach Sloan, DuBois and Jake Weaver, Keystone
Week Two: Matt Miller, DuBois
Week Three: Anthony Isabella, Brockway
Week Four: Anthony Louder, Clarion-Limestone and Nick Stewart, Curwensville
Week Five: Adam Shunk, Smethport
Week Six: Noah Werner, Elk County Catholic
Week Seven: Maverick Kelsea, Karns City
Week Eight: Dylan Baumgarner, Port Allegany
Week Nine: Wyatt Hetrick – Redbank Valley