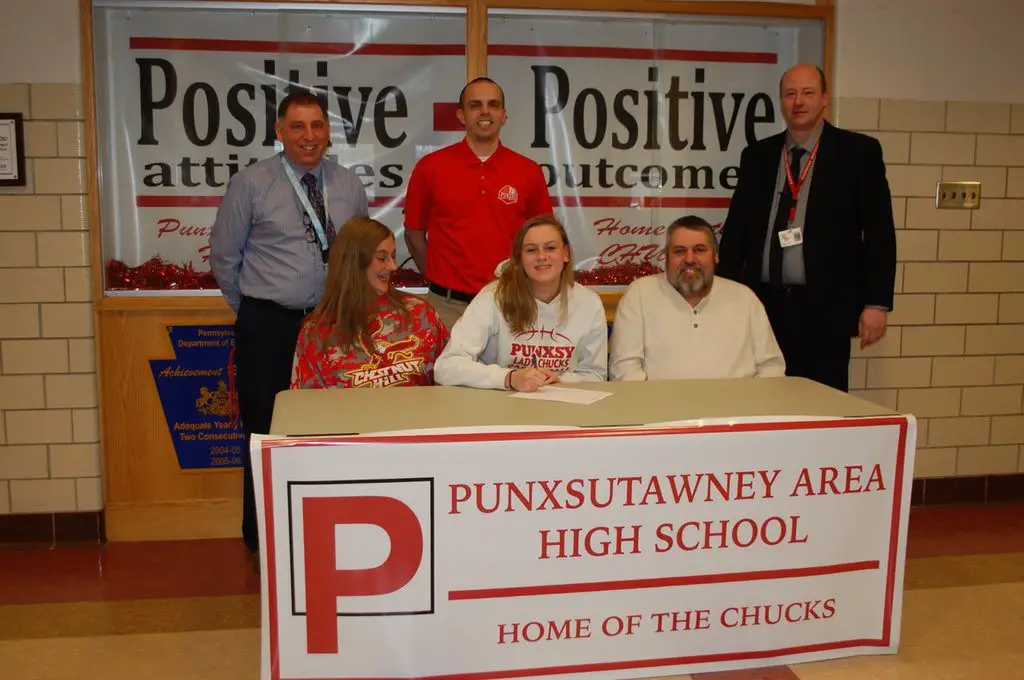 RIDGWAY, Pa. – Two new members were elected to the District 9 Committee at the April 9 committee meeting at Aiello's Cafe in Ridgway.
(Photo: Punxsutawney athletic director Randy Reitz (standing top left) seen here during Leah Miller's signing with Chestnut Hill to play basketball, was elected to serve on the District 9 committee next year.)
Clearfield athletic director Bob Gearhart and Punxsutawney's athletic director Randy Reitz will join the committee for the 2018-19 school year. They replace former DuBois athletic director Mike Erickson and Otto-Eldred superintendent Matt Splain.
See April 9 committee meeting minutes
In addition, former Clarion principal and coach Randy Cathcart, Brockway athletic director Pete Grecco, Oswayo Valley athletic director Bill Howard, former Brockway athletic director Jim Manners, Brookville athletic director Dave Osborne, Moniteau athletic director John Stoughton, Elk County Catholic athletic director Aaron Straub, St. Marys athletic director Terry Straub and former Bradford athletic director Tim Walter were all re-elected to the committee.
They are joined on the committee by Bud Brennen (male officials representative), Scott Daum (school board representative – North Clarion), Kevin Doverspike (male parent's representative), Melissa DeMatteis (female parent's representative), John Sherry (junior high representative and athletic director at Coudersport) and Bonnie Wolbert (female officials representative and athletic director at North Clarion). Bob Tonkin serves as the secretary-treasurer of the organization but does not have a vote.
In the reorganization meeting, Manners was re-elected chairman and Aaron Straub was re-elected vice-chairman.
DUBOIS CENTRAL CATHOLIC PUT ON ATHLETIC PROBATION
During the regular committee meeting, DuBois Central Catholic was placed on athletic probation to last from March 23, 2018, until December 31, 2019, for failing to submit PIAA transfer forms for several student-athletes. The violations occurred over a three-year period. The district committee may also place additional restrictions on the school.
No other information was provided.
OTHER BUSINESS
Possible changes in producing the District 9 championship programs will be an agenda item at the June meeting.
A surcharge may be added to the cost for additional championship award purchased by individual schools. The additional cost will be discussed at the June meeting.
Brennen shared information from the Official's council meeting held April 4. It is being recommended to the PIAA Board of Directors that anyone taking an online PIAA test to become a certified official to be given 120 minutes to complete the open-book test instead of the current 90 minutes. Another recommendation is to give one credit to current officials for watching one online rules meeting. This one online rules meeting would be accepted as one of the required six meetings officials must attend.
A meeting will be held between members of the District 9 Committee and certified athletic trainers will be scheduled concerning trainer coverage and possible insurance coverage for trainers at district and inter-district events as well as possibly other issues.
The District 9 2A/3A combined track and field meet will be held Friday, May 18, at Brookville High School. In case of unfavorable weather that would cause postponement of the meet, the rain date is Saturday, May 19, also at Brookville.
The 2018 District 9 baseball championship games will be played at Showers Field in DuBois and the softball championship games will most likely be played at the new challenger field in the DuBois City Park.
The 2019 District 9 Swimming and Diving Championships will be held at Clearfield Area High School.
The next District 9 committee meeting will be at 9:30 p.m. June 13 at Aiello's Cafe in Ridgway.
District 9 Committee Minutes Archives (Aug. 2015 to present)