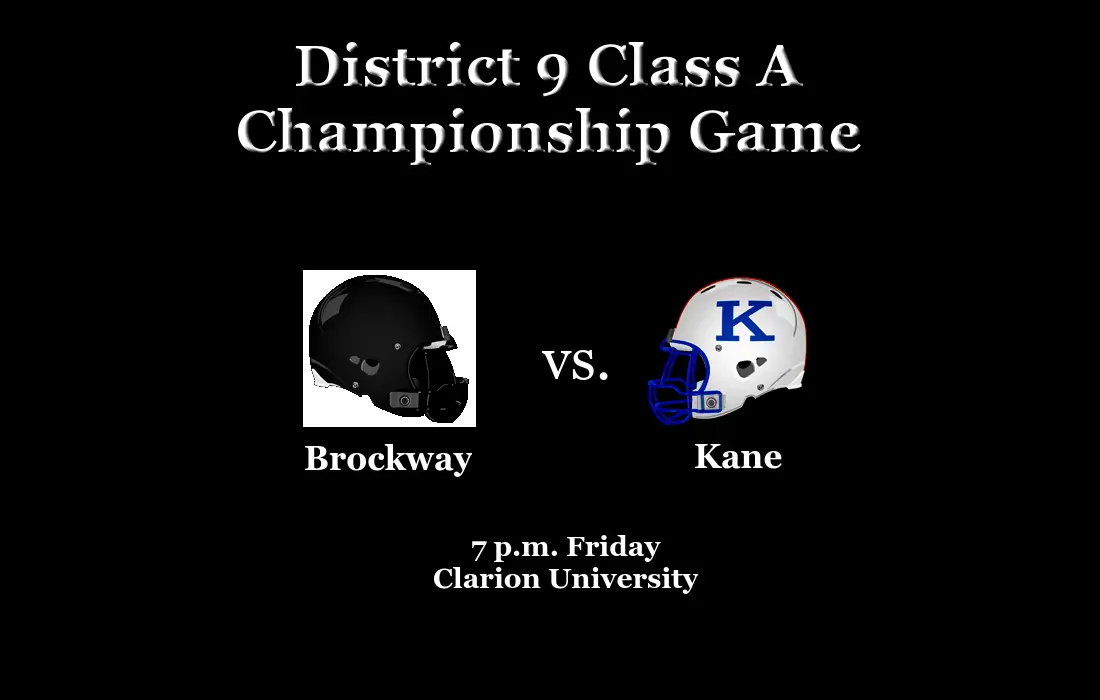 Starting lineup; Kane statistics; Brockway Statistics
Kane game-by-game; Brockway game-by-game
District 9 championship history
D9 Class A playoff bracket; State playoff bracket
By Rich Rhoades
CLARION — In an unanticipated matchup, it's an all-Allegheny Mountain League final in the District 9 Class A Championship game at Clarion University's Memorial Stadium Friday night at 7 p.m.
The fifth-seeded Brockway Rovers (7-5) take on the sixth-seeded Kane Wolves (8-3) in a final that's never had two seeds this low meet for the title. Since the eight-team format was instituted in 2004, only two teams seeded fifth or lower have gotten this far — Port Allegany (6) in 2010 and Clarion (7) in 2008 — and neither won the title.
Either way, this year's winner will become the lowest seed to ever win a Class A title.
Go figure.
It's the second time that the Rovers and Wolves meet this year. Back on a wet night in Week 6 in Kane, the Wolves edged the Rovers 9-7 as kicker Dillon Mattis kicked a short field goal with eight seconds left in the game.
The first encounter came during a stretch that saw the Rovers lose four out of five games to close the regular season while the Wolves managed to win the two-point game in a four-game swing that saw them lose three one-point decisions. No team in District 9 had played in three one-point games in a season since 2002 let alone lose all three in a four-week period.
"We've had up-and-down seasons," Rovers head coach Frank Zocco said. "They've had issues unique to them and they could have a lot better record right now. We've had different things go against us during the season."
"We didn't spin (the one-point losses) at all," Wolves head coach Todd Silfies said. "They all happened in different ways. We were behind late against Brockway before the field goal or it would have been four (losses) in a row. It was something that obviously you don't want to see happen and lose and it hurts, but credit our seniors, they never let it get us down or convince this team they couldn't overcome it."
Zocco and Silfies both came into the head coaching ranks at the same time in 2012 and have forged a close relationship. Silfies' squad has won the last two games in close decisions — the Wolves won 35-31 at Brockway last year after trailing 31-14 early in the third quarter — while Zocco's team won at Kane in 2012 in a 52-40 shootout that saw both teams rack up 900 yards of offense.
"We had four heart attackes and three strokes just on our side of the field in that 52-40 game," Zocco said. "That was nuts."
Along with their weekly conversations, both coaches were following each other's postseason success closely.
"We talk two, three times a week about what's going on and there for awhile we were sharing in each other's misery," Silfies said. "And in the last few weeks, we were sharing each other's joy. I'm sure my text was one of the first he got after their Redbank Valley and Union wins. It was the same thing with our wins over Elk County Catholic and Clarion.
"It's a high level of mutual respect between programs and coaches. We're happy with the opportunity to play against Brockway again. They're an extremely talented team. I'm happy for Frank because they rectified their season and got guys together to figure out the Xs and Os and off-field stuff to overcome tough losses."
Zocco wasn't surprised he's getting another crack at the Wolves.
"I thought Kane would beat them. I had a feeling they would," he said. "A lot of my thinking was predicated on (Ian) Corbett not playing as much, but again, it was a defensive struggle and I figured each would score a couple of touchdowns with a missed extra point being the difference and it almost came down to that."
Both teams share many traits, especially at this point in the season. The Rovers have transitioned into a run-oriented offense that's made good use of the wildcat — direct snap to running back — while mixing in an effective short passing game. Kane relies mostly on a power running game and plays solid defense.
The Wolves drove that point home directly in last week's win over Clarion, which went into the game as one of the highest scoring teams in the state averaging over 48 points per game. Their district-best 8.4 points allowed per game ranks eighth in the state.
"We knew we had some good guys coming back, especially at linebacker," Silfies said. "We replaced three starters on the line and two in the secondary. We had kids who bought into the program in the offseason and got busy. We have a great line coach in Jim Sirianni and he has the kids doing things the right way. We're fundamentally sound on defense and have some athletes in the secondary to allow us to be more aggressively defensively."
Senior middle linebacker James Lingenfelter, one of the top defenders in the district, leads the team with 14.4 tackles per game, along with two sacks, two interceptions, two fumble recoveries and a blocked punt.
"He's the core of the whole thing," Silfies said. "He was great as a sophomore and he does things you can't teach. He's an extremely physical kid and he's worked hard at becoming a fundamentally sound linebacker. His leadership is phenomenal."
Fellow linebackers in seniors Ryan Swanson (8.4 tpg.) and Logan Zuzek (5.2 tpg.) are second and third on the team in tackles while junior twin brothers Shane and Tyler Rolick each have three interceptions from their cornerback spots.
"We you play defense as well as they do, you have to find a way to break through that and score points," Zocco said. "That's the tough part. They're probably looking at how to stop us and we're doing the same with them."
The Rovers have been effective offensively in the playoffs, blending the wildcat setup with junior Anthony Isabella running the snaps. Isabella ran for 144 yards and scored three touchdowns in last week's win over Union while going for 70 yards against Redbank Valley. Senior Anthony Benson ran for 99 yards and three touchdowns against Redbank Valley while scoring a touchdown in the win over Union.
Isabella and Benson were featured receivers coming into the season. Last year with quarterback Alec Shaffer-Doan slinging passes all over the field for over 3,000 yards, the two combined for 165 receptions — Benson 90 and Isabella 75 — for over 2,300 yards.
This year, they've combined for 76 receptions and over 800 yards in an offense much more balanced as the Rovers worked in a new quarterback. Benson leads the team in rushing with 843 yards and 14 touchdowns with 35 receptions for 412 yards and four scores. Isabella has 333 yards rushing and f0ur touchdowns with a team-leading 41 receptions for 456 yards and five touchdowns.
During the season at quarterback, the Rovers moved from Braden Martini to Hunter Miller, who's completed 48 of 63 passes for 464 yards and two touchdowns. In the two playoff wins, Miller has completed 14 of 18 passes for 128 yards. He's run for 120 yards and three touchdowns.
Kane's offense centers around senior running back John English, who's rushed for 1,312 yards and 19 touchdowns while averaging over 21 carries a game. Lingenfelter, from his fullback spot, has 224 yards and a touchdown while Tyler Rolick, from his receiving spot, has run for 368 yards and four scores.
Senior quarterback Jack Kocjancic has thrown for 964 yards on just over 13 passes per game. The Rolicks — Shane (34 catches, 342 yards, 3 TDs) and Tyler (20 catches, 359 yards, 2 TDs) — are his top targets.
In the two postseason games, English has carried the ball 50 times for 246 yards. Kocjancic threw just five passes against Clarion, but completed 15 of 21 passes for 125 yards against Elk County Catholic.
All of the numbers leads one to expect another close battle between teams very familiar with each other.
"It's going to be cold, the ball is going to be hard and it's setting up for that type of game," Zocco said. "Who knows? Stranger things have happened, but it's going to be a dogfight.
"We're looking at a team that was in the Class AA final the last two years and they dropped down to Class A this year and are in the final. They have to be doing something well. They have a great group of kids with a great coaching staff. We have work cut out for ourselves."
"This week is about buttoning up game plan and making sure we're clear on assignments," Silfies said. "I don't expect weather be a factor for either one of us. It's going to be cold, but I don't think the players on the field will be concerned about the temperature.
"We had a lot of gut checks through the season and I've been reminded from many coaches that it's where you are at the end of the year. That's why both of us are where we are — in the finals."
NEXT UP — The winner advances to next week's state playoff around against the District 10 champion. Sharpsville (9-3) meets West Middlesex (10-2) Friday night at Slippery Rock University. Sharpsville beat West Middlesex, 14-7, in Week 5.
PLAYOFF HISTORY — The Rovers and Wolves have never met in the postseason. For Kane, it's the fourth title game appearance. The Wolves are 1-3 in finals, including losses in Class AA to Karns City the last two years and to C-L in the 2002 Class A final. In 2007, Kane won its only district title in a 14-6 win in the Class A final against Cameron County.
Lifetime, the Wolves are 7-8 in district playoff games.
Brockway, meanwhile, is playing for its sixth district title and first since topping Brookville for the 2010 Class AA crown. Other titles came in Class AA in 2005, 2003, 2002 and 1987. The Rovers have never played for a Class A championship, going 1-1 in the Class A postseason in 2011, 2012 and last year. Prior to that, the only Class A playoff game they played was in 1994 when they lost to Smethport in the semifinals.
The Rovers are 16-12 all-time in the district playoffs.
KANE-BROCKWAY HISTORY — Here is the series history since Brockway moved from the Keystone Shortway Athletic Conference and joined the Allegheny Mountain League in 1999. The Rovers own a 10-6 advantage:
2014-Kane 9-7
2013-Kane 35-31
2012-Brockway 52-40
2011-Brockway 44-7
2010-Brockway 21-7
2009-Brockway 24-7
2008-Kane 41-15
2007-Kane 51-0
2006-Brockway 20-0
2005-Kane 32-22
2004-Brockway 43-14
2003-Brockway 14-0
2002-Kane 30-13
2001-Brockway 31-8
2000-Brockway 38-8
1999-Brockway 46-40
AML VS. KSAC IN CLASS A — Since 1987, this is the eighth time that two teams from the Allegheny Mountain League will meet in the championship game. The KSAC has landed both teams in the final twice.
It's important to note that the postseason format has changed over the years and that there are more Class A teams in the AML. This year, the breakdown is 11-5 in favor of the AML.
From 1987 through 1993, the only postseason Class A game was the championship. Then from 1994 through 2003, four teams earned playoff berths — the exception being in 1999 when two teams, Ridgway and Coudersport, played an in-between round to decide the fourth seed.
From 1994 through 2003, the top seed in the AML played the second seed from the KSAC and the top seed from the KSAC met the AML second seed in the semifinals. During that span, the AML was 14-6 in that round and crowned 7 of 10 champions.
The field was expanded to as many as eight teams in 2004 and through this year, the AML owns a slight advantage of 22-19.