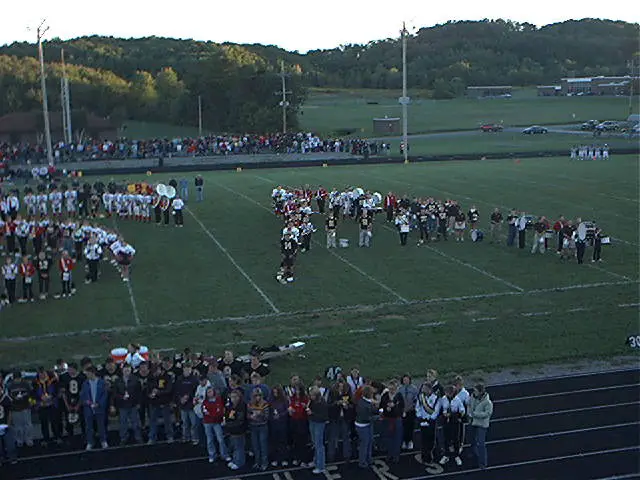 Fourteen years ago today, Sept. 11, 2001, the United States suffered an immeasurable tragedy with the Terrorist Attacks of 9/11.
In scouring the D9Sports.com archives, we see look back at how some schools, teams and fans in the district honored the event.
SIX SCHOOLS PPD FRIDAY NIGHT GAMES
Six District 9 football games scheduled for Friday Sept. 14, 2001, were postponed, four to Saturday and two to Monday. The games moved to Monday were Clarion at Union and A-C Valley at St. Marys, while DuBois at Brookville, West Shamokin at Clarion-Limestone, Karns City at Redbank Valley and ECC at Brockway were pushed to Saturday.  
MANY SCHOOLS HELD PRE-GAME CEREMONIES HONORING THE VICTIMS AND THE COUNTRY
At nearly all of the games played, special pre-game ceremonies were held honoring the victims and the country as a whole. One of the most stirring of these was held at Keystone High School prior to the Keystone-Moniteau game.
Both teams, cheerleaders and bands formed "USA" on the field, and the Keystone choir led fans in
renditions of "The Star Spangled Banner", "America the Beautiful" and "God Bless America". There were also a community and student-led prayers, and the local rescue squads honored the rescue workers by blaring their sirens and flashing their lights. The local American Legion post presented the colors, and all fans were given candles that were lit during the ceremony. Keystone also sold raffle tickets for American Flags with the proceeds being donated to the Red Cross with over $300 raised.  
Another special ceremony took place in Smethport, were a moment of silence was observed before the game followed by stirring renditions of the National Anthem and "God Bless America". Fans lit candles and sang along with the songs.  
In Emporium, prior to the Ridgway-Cameron County game, a moment of silence was followed by the "Star Spangled Banner" and then, as described by Pat Lewis, who covered the game for D9Sports.com, a "very touching and inspirational rendition" of "Amazing Grace" sung by the the Cameron County Marching Band with the entire crowd joining in.   
BROCKWAY HEAD COACH RAY RECKNER SUMS IT ALL UP BEST
In the week following the attacks, long-time Brockway head coach Ray Reckner probably summed up how the country as a whole was feeling following the Rovers Sept. 21 win over Ridgway.
Sports Show on WDBA-Radio  
"I think it has affected everyone," Reckner told WDBA-Radio's and D9Sports.com Rich Rhoades at the time on the WDBA's The Sports Show. "You have to go on, and it's going to be tough. These kids are very young, 17 and 18 years old. We don't know what is going to happen. If this war does go on, these kids could be over there in combat like Vietnam in the 1960s.
"I am sure it affects everyone, and everyone is a little bit more patriotic. I know in my classroom, kids are singing the national anthem. You don't have kids nibbing around anymore, and when we are saying the salute to the flag, no one is mumbling it. They are saying it very distinctive, and the whole school is aware of the situation that needs us to come to the aid of our country. Our kids realize it's a tough situation, but you still have to play the game."
CLEARFIELD HEAD COACH TIM JANOCKO REMEMBERS HOW CLEARFIELD HANDLED THE WEEK
Clearfield head coach Tim Janocko took a moment to reflect on how the Bison handled the week of the attacks.
"We had talked to the administration that week and decided we weren't going to have our lives dictated by terrorists," Janocko recalled. "We wanted to pay tribute to those who died by carrying as normal a routine as possible."
While wanting to keep things as normal as possible, Janocko also recalls that wasn't possible given the circumstances.
"I remembers kneeling down with the team and praying at practice," Janocko said. "At that point, we had to keep reassuring ourselves that things would be OK. We wanted to keep moving on, not allowing our lives to be dictated by terrorism"
Looking back at Sept. 11, 2001, Janocko had some powerful remembrances.
"The eerie thing being in the cafeteria as an assistant principal, it was like a dream," Janocko said. "Then we found out later that the plane that crashed in the Somerset area probably flew over this area. There were a lot of heroes that day. Right here over our heads there was mayhem, and heros helped take that plane down."   
FORMER CLARION-LIMESTONE PLAYER DAN ALDERTON HASN'T FORGOTTEN 
Dan Alderton, now a teacher at Clarion, was a senior star at Clarion-Limestone in 2001. The events of 9/11 had a great impact on him.
"My mom remember the day Kennedy was assassinated," Alderton said. "9/11 is that way for my generation.
"I remember being teary eyed at the moment of silence before the game. It didn't hit me and us until then. It was a game we cared about, but it didn't feel like a priority. It felt like something bigger was at hand, but we were too young to fully understand."
TELL US WHAT YOU REMEMBER
Tell us what you remember most from 9/11 and the weeks that followed. Send us a tweet or leave a message on Facebook.