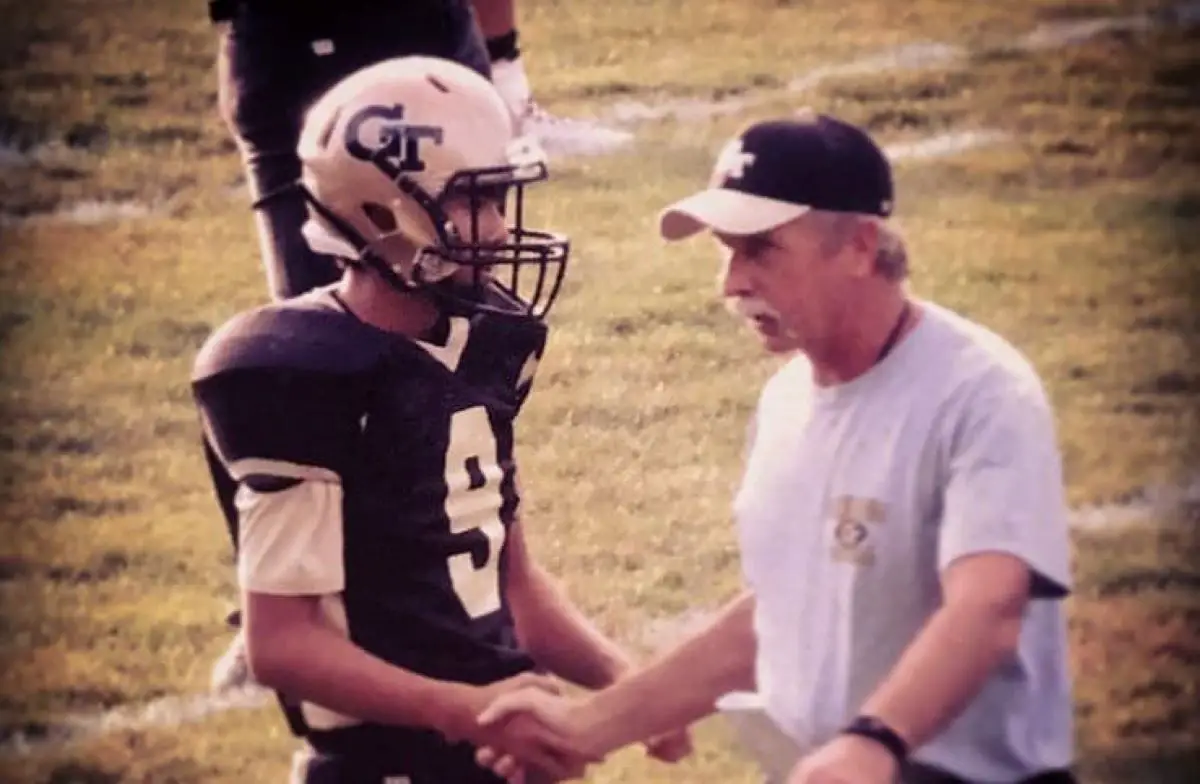 CURWENSVILLE, Pa. – When you think of Curwensville football, Coach Andy Evanko is usually the first thing that comes to mind.
(Photo of the author, Jared Bakaysa, with late Curwensville head coach Andy Evanko during Bakaysa's playing days for the Golden Tide)
Known for his intimidating old-school coaching style and aggressive play calling, Evanko, who passed away last week from ALS and was laid to rest Monday, June 10, never hesitated to show his passion for the game. He never failed to share his displeasure with the nearest official or anyone who was wearing Coudersport colors, but he believed in his players and would do whatever it takes to get the best out of them.
I was fortunate enough to play for Coach Evanko for three years (2013-2015) and even coach a couple with him (2017, 2018) and I always noticed his passion.
His pregame speeches were something special that had us all psyched up ready for the game no matter who we were playing. He always kept the intensity high during every practice and every game because he never wanted us to let up or take a play off.
Treating the team as a family was also a priority for him. After Saturday practices he always told us, "fellas, if you think your gonna do something stupid, give me a call and I will tell you if its stupid or not."
All his players would get Curwensville Football shirts and shorts during two-a-days and even snow cones after the first week. He tried to make film sessions fun (unless we lost of course) and thought it was fun to joke around with us the week before a Saturday game by telling us, "Tuesday is Monday, Wednesday is Tuesday, Thursday is Wednesday and Friday is Thursday."
After I got to know Evanko through coaching, he did all this stuff for the players to make sure they were in a comfortable environment.
Losing was never an option with Evanko, and he would do anything possible to win the game. He'd go for it on fourth down or run plays we never practiced all week, but only because he believed so much in his players to get the job done. Winning was the goal, but it wasn't for his own personal success. It was for his players. Seeing his players win and enjoy success on and off the field was his goal and that's what fueled him to continue coaching year after year even when he was diagnosed with ALS. No matter how bad his health was last season, he still managed to make it to every practice and be involved with his players.
There were never any secrets with Evanko. He knew what he wanted to do and had a special way of doing everything. We would option something to try during practice in the coaches room before going outside and a typical response would be, "Let's just practice. Line up and hit someone." He wanted our practices to be perfect. We would stay outside until dark running plays until they were ran correctly or we'd even practice in the gym with full pads. He also wouldn't hesitate to make us literally start practice over if we were messing around or threaten to make us "run until your ears fall off." But in the grand scheme of things, it helped us get better and it showed the kids he wanted to win and what it took to be the best.
Evanko was promoted to the head coach position for Curwensville in 2000 and immediately made an impact to the program. An undefeated regular season and an AML Championship was followed by a 21-0 victory over Clarion, who was ranked No. 1 in the state at the time, in the District 9 Class 1A Championship game.
The bar was set after that year and Curwensville football was the talk of the town. More kids were signing up for football and more people were starting to buy into the program. "Hard work pays off" was the motto Evanko went by and that hard work is what has made the program we see today. He made sure to get all his players in the weight room during both the season and off-season while also attending passing league events during the summer. To him, the season never stopped and he wanted everyone to have the mindset to be "all in or all out."
In 2004, Evanko led his team to the PIAA semifinals after another undefeated regular season, AML Championship and District 9 Class 1A Championship. While the Tide fell short, a 12-win season and being a win away from being in the state finals was enough to show future Golden Tide players that "hard work pays off."
Since then, Curwensville has not missed the District 9 playoffs. Evanko went on to win another AML title in 2009 and his final District 9 title in 2010. He claimed his 150th and final career win with a win over long-time rival Elk County Catholic in the 2018 District 9 quarterfinals playoff game.
Having Evanko as my coach throughout high school was a great experience where I learned more than just football. I learned a lot of mini-life lessons and how hard work will get me places in life. I would definitely 'start over' and do it all over again.
While Friday nights at Riverside Stadium will never be the same, he did leave a legacy down there that will be remembered throughout the community and the former players he has coached in his career. No matter what happens, the only thing Coach would want from future players would be to "hit…hard."
Editor's Note: The author was a former Curwensville football player and assistant coach. He is a frequent contributor to D9Sports.com after doing an internship with the website in the Fall of 2018.