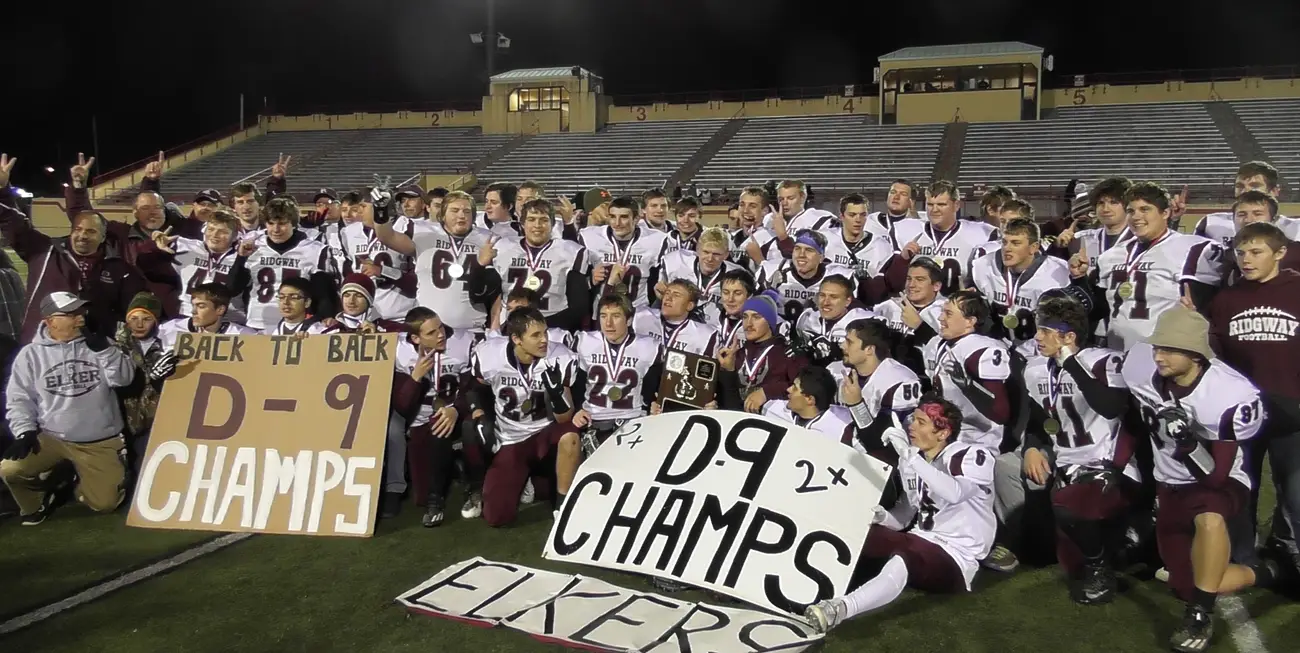 By Scott Shindledecker
DUBOIS, Pa. — Ridgway's Aaron Hinton kicked a 32-yard field goal in the fourth quarter and the Elkers defense made it stand up in a 9-7 win Friday night over Curwensville in the District 9 Class 1A championship game at E.J. Mansell Stadium.
The Elkers claimed their second straight district title as they made the big special teams play that they didn't when the two teams met earlier this season.
In that game, played Oct. 6 in Curwensville, the Golden Tide blocked a field goal attempt by Hinton and Nick Stewart returned it 77 yards for a touchdown in a 14-11 Curwensville win.
"It feels awesome," Elkers head coach Mark Heindl said. "When we first played them, we had four turnovers and the blocked field returned for a score. Tonight, we didn't have any turnovers and Aaron made the big kick."
For Hinton, a senior captain, he was nothing short of ecstatic after making just his second field goal of the season.
"After missing the first kick (point-after kick on first-half touchdown), I just tried to focus on what I had to do and it went through," Hinton said.
In a game that was expected to be a defensive slugfest, it proved to all that and more.
The Elkers (9-3) had just six first downs and finished with 153 yards, 131 of those rushing. Neil MacDonald led the way with 92 yards rushing on 20 carries, including 54 yards in the second half.
The Golden Tide (9-3) gained 188 total yards, led by Stewart's 161 yards on 26 carries. But 85 of those yards came on one play when Stewart evaded a host of Elkers tacklers and raced to paydirt early in the second quarter.
After that, the Elkers held Stewart in check and Curwensville ended up punting five times.
The biggest difference was the three turnovers the Golden Tide while the Elkers had none.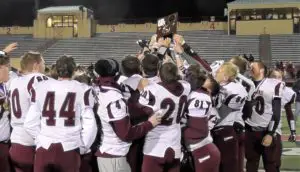 Ridgway also took advantage of a decision Curwensville made late in the first half that backfired.
Curwensville faced a third down at its 43-yard line and needed just two yards, but Stewart was stopped for a gain of one.
On fourth down, with less than two minutes left, Curwensville decided to go for it, but the Elkers defense stopped Avery Francisco for no gain.
Ridgway didn't have much time to work, just 1:20, but the Elkers only needed to travel 44 yards to score.
Two plays after taking over, Ridgway faced a third-and-5. Senior quarterback Johnny Mitchell hit senior split end Andy Breier for a gain of 17 yards to the 22.
Two plays later, Ridgway had another third down and needed five yards.
Heindl called timeout with 1:28 left.
Mitchell couldn't find a receiver but used his athleticism to run for an 18-yard touchdown. Hinton missed the kick to tie it, but in the end, he made the one he needed the most.
Neither team had much going offensively in the second half, but a Golden Tide turnover on the first play of the fourth quarter set the stage for Hinton's game-winning field goal.
Curwensville had a second-and-10 from its 25 when quarterback Bryce Timko fumbled and Elkers defensive back Bryce Barclay pounced on it.
The Elkers started off on the wrong foot with a five-yard false start penalty. A Jake Zimmerman run for one yard was followed by a Mitchell 8-yard run to the Tide 18. MacDonald's 3-yard run put the ball at the 15 and Hinton drilled the kick to make it 9-7.
Curwensville had the ball three more times, but only managed two punts and an interception with a minute left.
On Curwensville's next-to-last possession, the Elkers got back-to-back sacks from Max Cowan and Drew Kilhoffer that forced a punt.
The Golden Tide's last possession ended on a Timko interception that MacDonald ran back about 30 yards where Mitchell took a knee twice to start the celebration.
NOTES: Ridgway now has three District 9 championships. The Elkers won their first in 1989 with a 3-0 win over Johnsonburg, the school it has had a co-op with in football since 2013.
The Elkers will play District 10 champ Farrell in the state playoffs next week. The Steelers beat Northern Bedford 34-19 Friday. … For Curwensville's Stewart, he finished his senior year with 1,789 yards on 243 carries and 25 touchdowns. District 9's all-time leading running back concluded his career with 7,323 yards on 1,015 carries.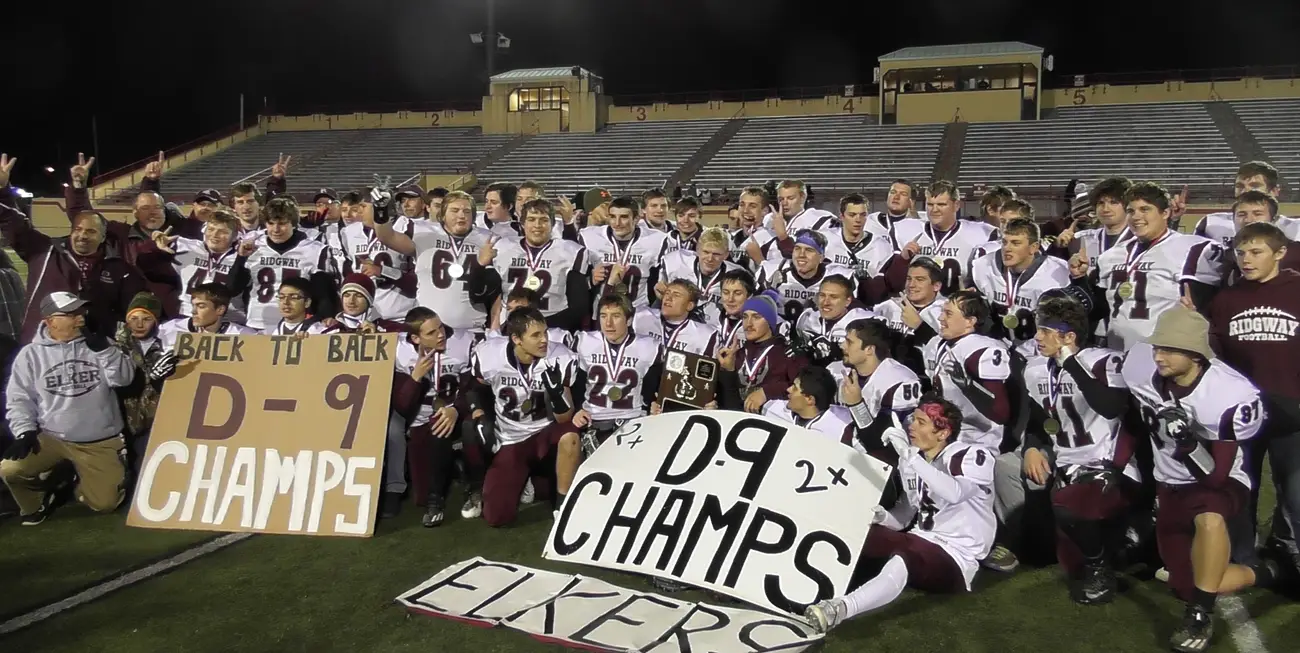 RIDGWAY 9, CURWENSVILLE  7
Score by Quarters
Curwensville – 0   7   0   0 – 7
Ridgway          – 0   6   0   3 – 9
Second Quarter
C – Nick Stewart 85 run (Madison Weber kick), 8:36.
R – Johnny Mitchell 18 run (kick failed), 1:20.
Fourth Quarter
R – Aaron Hinton 32 field goal, 9:49.
C                      R
First Downs           8                      6
Rushes-Yards        36-171            39-131
Passing Yards        17                    22
Comp-Att-Int         5-16-2           2-5-0
Total Yards             188                153
Fumbles-Lost        1-1                  0-0
Punts-Avg              5-34.2            5-33.4
Penalties-Yards    12-95              6-45
INDIVIDUAL STATISTICS
Rushing – Curwensville: Nick Stewart 26-161, Avery Francisco 4-13, Bryce Timko 5-(-10), Noah Van Gunden 1-7. Ridgway: Neil MacDonald 20-92, Johnny Mitchell 10-24, Jake Zimmerman 2-0, Aaron Hinton 6-16, Evan Furlong 1-(-1).
Passing – Curwensville: Bryce Timko 5-of-16, 17 yards, 2 Int. Ridgway: Johnny Mitchell 2-of-5, 22 yards.
Receiving – Curwensville: Josh Terry 3-11, Noah Von Gunden 1-9, Nick Stewart 1-(-3). Ridgway: Neil MacDonald 1-5, Andy Breier 1-17.
Interceptions – Ridgway: Andy Breier, Neil MacDonald.