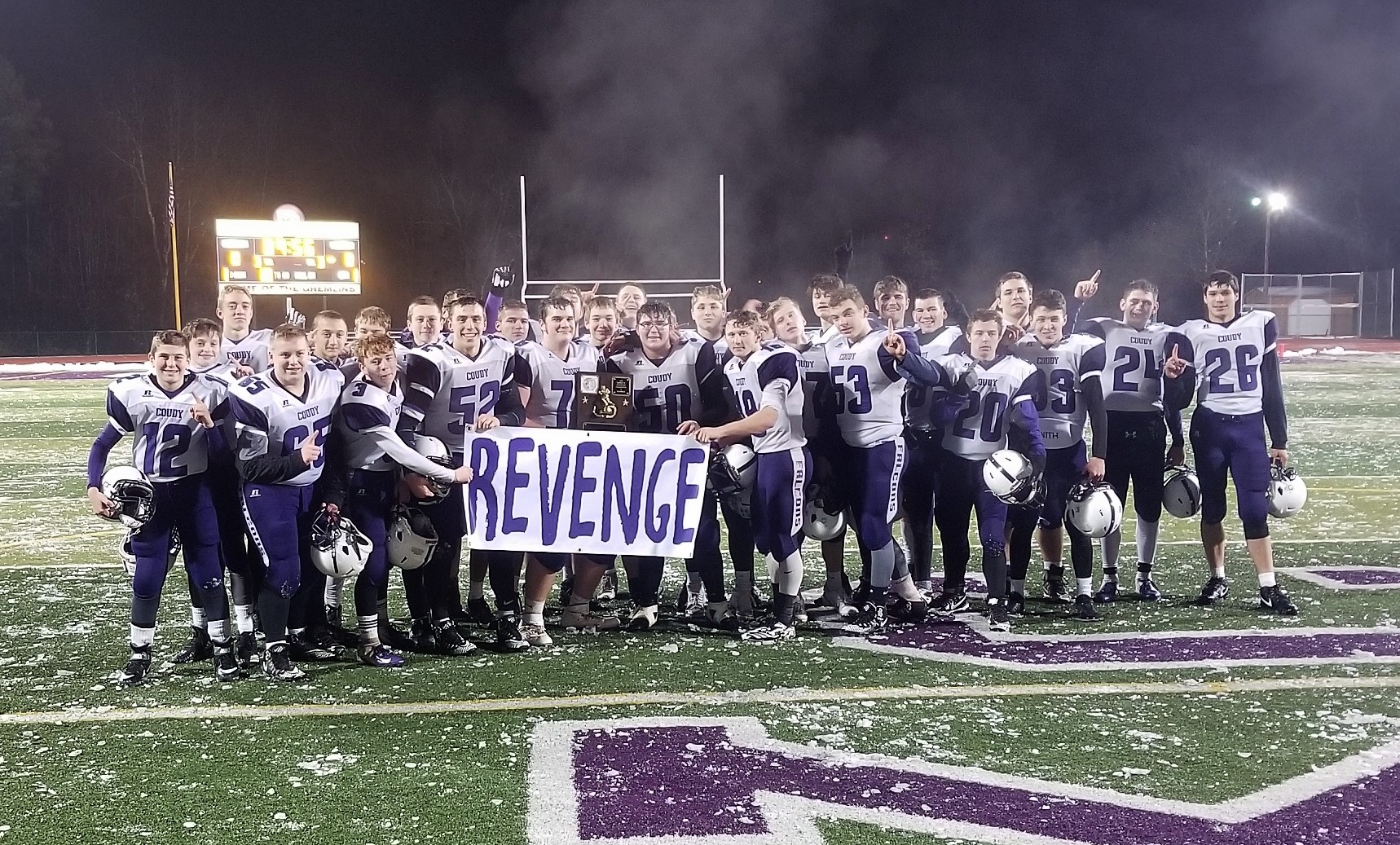 KARNS CITY, Pa. – Revenge tour complete.
Coudersport rolled to the District 9 Class 1A title by beating three teams it had lost to during the regular season culminating in a 44-7 destruction of rival Smethport in the title game Monday afternoon at Karns City's Diehl Stadium.
"After the regular-season game with Smethport (a 21-20 loss) that is what we kind of talked to the guys about," Coudersport head coach Tom Storey said. "That is what we told them. We are 5-4 at the end of the regular season. You guys are much better than that. They took hold of that themselves and brought us to where we are."
Listen to more of what Storey had to say about the victory.
Senior Stephen Kelly and his offensive line dominated the football game.
Kelly ran for 327 yards and five touchdowns – three of those scores were over 50 yards – on 28 carries to help the sixth-seeded Falcons (8-4) dominate a Smethport defense that came into the game having shutout back-to-back playoff opponents.
"There were lots of big holes thanks to them," Kelly said pointing to his offensive lineman.
Kelly's linemen said the key was the communication on the line.
"We noticed a lot of the linebackers, when we started communication, they would flow to one side," senior tackle Wyatte Osborne said. "We would get our guys man-on-man and do our jobs."
Senior center Eli Ayers said getting the proper angle was important.
"There were a lot of angles," Ayers said. "They opened up a lot of angles to let us hit our blocks."
Watch more of what Kelly, Ayers, Osborne and the other starting linemen (Brandon Goss, Cale Ayers and Preston Cobb) had to say.
The turning point in the game might have come late in the first quarter with Coudersport holding a 7-0 lead.
A fumble by Tom Wilson gave Smethport (11-1) the ball at the Falcons 12-yard line.
But Hayden Keck picked off a Grant Ognen pass at the 6-yard line to thwart the Hubbers opportunity. It was one of two interceptions for Keck.
Coudersport then drove 94 yards for a touchdown, scoring on a 51-yard run by Kelly, his second touchdown run of the game and his first of over 50 yards.
The Falcons were never challenged after that with Kelly adding scoring runs of 53 and three yards before the end of the half to give Coudersport a 36-7 halftime lead.
Kelly then put the exclamation point on the win when he raced in from 53 yards away 1:41 into the second half to put the PIAA Mercy Rule and its running clock into action.
"It means a lot," Storey said of bringing a title back to Coudersport for the first time since 2006. "It's tradition. We haven't (been to a title game) in nine years and it's 12 years since we did it. Since the beginning of the season, early on, we told these guys they could do this. Giving it to them is great."
Coudy went up early 6-0 on a 26-yard run by Kelly before Smethport took its lone lead of the game on a 31-yard touchdown pass from Ognen to Alex Sanderson on a fourth-and-16 call after the Hubbers had originally lined up to punt but called timeout and changed their mind.
The Falcons converted their own fourth-and-long on the ensuing drive when a fourth-and-18 play resulted in an 18-yard pass from Keck to Dillon Keglovits pass. That led to the 9-yard touchdown pass from Keck to Jacob Pitcher to give Coudersport the lead for good, 14-7.
Coudersport outgained Smethport 452 to 143 In the game including 364 to zero on the ground.
The Falcons will now take on District 10 champion Farrell in the PIAA quarterfinals at 1 p.m. Saturday at Slippery Rock University.
COUDERSPORT 44, SMETHPORT 7
Score by Quarters
Coudersport 14 22 8 0 – 44
Smethport 7 0 0 0 – 7
Scoring Summary
First Quarter
C – Stephen Kelly 26 run (Run failed), 8:52
S – Alex Sanderson 31 pass from Grant Ognen (Noah Costa kick), 4:07
C – Jacob Pitcher 9 pass from Hayden Keck (Keck run), 1:22
Second Quarter
C – Kelly 51 run (Kekc run), 7:50
C – Kelly 53 run (Keck run), 5:18
C – Kelly 3 run (Run failed), 1:01
Third Quarter
C – Kelly 53 run (Keck run), 10:19
TEAM STATS
Coudy-Stat-Smethport
18 First Downs 8
46-364 Rushes-Yards 17-0
88 Passing Yards 143
3-5-0 Passing: Compt-Att-Int 9-20-3
51-452 Total Plays-Yards 37-143
2-10 Penalties-Yards 4-27
2-2 Fumbles-Lost 2-1
INDIVIDUAL STATS
Rushing: Coudersport – Stephen Kelly 28-327, Tom Wilson 3-5, Hayden Keck 3-4, Kolby VanWhy 8-26, Brandt Kightlinger 2-4, Team 2-negative 2. Smethport – Grant Ognen 8-negative 24, Blake Kinner 7-17, Nathan Hollowell 2-7.
Passing: Coudersport – Hayden Keck 3-for-5, 88 yards, 1 touchdown. Smethport – Grant Ognen 9-for-20, 143 yards, 1 touchdown, 3 interceptions.
Receiving: Coudersport – John Minor 1-61, Jacob Pitcher 1-9, Dillon Keglovits 1-18. Smethport – Bryent Johnson 3-32, Alex Sanderson 5-74, Nathan Hollowell 1-6, Braedon Johnson 1-31.
Interceptions: Coudersport – Hayden Keck (2), Jacob Pitcher.