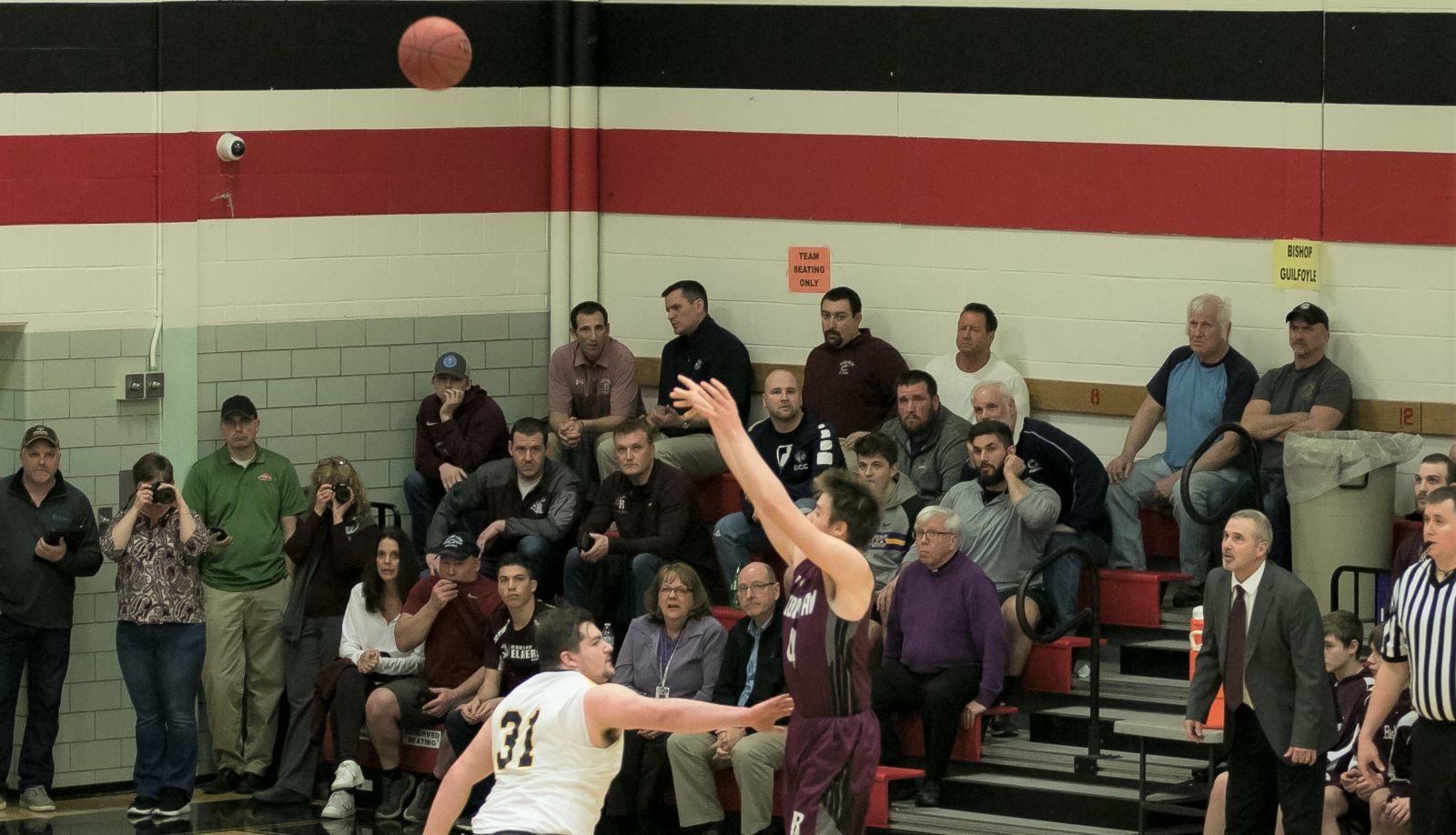 DUBOIS, Pa. – Jake Reynolds' 3-pointer from the high-right wing with 38.6 seconds left helped Ridgway advance to the PIAA Class 2A quarterfinals for the second time in three years with a 38-36 win over Wilmington Wednesday night at DuBois High School.
(Jake Reynolds takes the 3-pointer that gave Ridgway the lead with 38.6 seconds left over the top of Wilmington's Colton Richards while Ridgway head coach Tony Allegretto looks on anxiously. Photo by Jared Bakaysa of JB Graphics. See more of Bakaysa's work here)
"My teammates just did a good job of getting me open on that play," Reynolds said. "We were running dribble spread on that, and we decided to space the floor up. I guess it was either do-or-die at that point."
After inbounding the way with 56.8 seconds left, the Elkers (26-3) ran clock while looking for a good shot before Matt Dush found Reynolds open on the right wing, and Reynolds buried the shot over top a late arriving Colton Richards.
"He is a senior, and he is our shooter, and he was open," Ridgway head coach Tony Allegretto said. "We weren't running a play. We were just getting some motion. Daunte (Allegretto, the point guard) was in front of me, and I was telling him to go get the ball and attack. They dropped off Jake. When he walks into one like that and he is feeling it … he hasn't been shooting the ball great the last three or four games, but he has hit two big ones – one last game and one this game – at the end of the game to give us the lead."
Reynolds said no instruction was needed
"It's something we practice," Reynolds said. "We practice good shots and good shots only. Move the ball around, take some time off the clock. I guess that shot just presented itself."
Reynolds wasn't done with his heroics, as he partially blocked a potential game-winning 3-pointer from Robert Pontius with just over four seconds to play with the ball falling into the arms of Daunte Allegretto.
"That was a big block," Tony Allegretto said. "They (the officials) let us play at both ends of the court, and the guy kinds of faded away from Jake. Jake got a piece of it. He has made some big blocks and some big rebounds. He has been a stud for us."
Reynolds said his goal was to contest the shot without fouling.
"Try not to foul the shooter and contest the shot the best I can," Reynolds said.
Ridgway, the D9 champion, led by four, 34-30, following a 3-pointer by Reynolds with 5:24 to play before Wilmington (17-9), the second-place team out of District 10, answered with a 6-1 run to take a 36-35 lead on the second of back-to-back baskets by Tage Kelliher off feeds from Cameron Marett, the last coming with 2:51 to play.
But after each team squandered a couple of possessions, Ridgway got the ball back when Kelliher missed a shot with Rohrer rebounding the ball with 1:23 to play. That led to the Elkers taking time out with 59.8 left setting up Reynolds' big shot.
"I felt pretty confident (going into the game)," Reynolds said. "I think our coaches prepared us pretty well for it. I think we all felt confident as a team."
The game was played at a pace Ridgway enjoyed with the Elkers up 12-10 at halftime and 27-24 at the end of the third quarter thanks to a quick 4-0 spurt in the final 52.3 of the quarter with Daunte Allegretto right in the thick of things assisting on baskets by Zack Zameroski and Will Thompson
"Slowing the game down helps every time," Reynolds said of Wilmington's willingness to play at the same pace as the Elkers. Playing with only six guys, we have to slow the game down and save your energy."
Watch Reynolds' complete post-game interview.
Three straight points from Richards to start the fourth tied the game at 27 before Allegretto and Parker Rohrer had back-to-back baskets for Ridgway to give them a 31-27 lead. A pair of No. 4s – Marrett for Wilmington and Reynolds for Ridgway – then exchanged threes to set the final home stretch.
Ridgway will meet Our Lady of Sacred Heart, a 77-36 winner over Lakeview, in the quarterfinals Saturday at a site and time to be announced.
"Everybody said last year was our team," Tony Allegretto said. "I think these guys kind of took it personally. There were a couple of people in the paper last year saying we know this is their team, this is their team, the team they were focused on. Well, we were focused on this one too. We knew we were going to be pretty good. We just didn't have any depth. To get back to the final eight, what can you say? Those guys busted their hump. The seniors right now as seventh graders were an under .500 team. Every one of them wanted this and worked hard for it."
Reynolds led Ridgway with 13 points with Thompson adding nine.
Richards paced Wilmington with 10 points.
RIDGWAY 38, WILMINGTON 36
Score by Quarters
Ridgway 6 6 15 11 – 38
Wilmington 6 4 14 12 – 36
RIDGWAY – 38
Matt Dush 2 0-0 4, Jake Reynolds 4 2-2 13, Parker Rohrer 1 0-1 2, Daunte Allegretto 3 0-1 6, Zack Zameroski 2 0-0 4, Will Thompson 4 1-4 9. Totals 16 3-8 38.
WILMINGTON – 36
Jacob Yohman 2 0-0 4 , Cameron Marett 3 0-0 8, Danny Hanssen 1 0-0 3, Tage Kelliher 3 0-0 6, Robert Pontius 1 1-2 3, Colton Richards 4 2-3 10, Shane Cox 1 0-0 2. Totals 15 3-5 36.
Three-pointers: Ridgway 3 (Reynolds 3). Wilmington 3 (Marett 2, Hanssen).