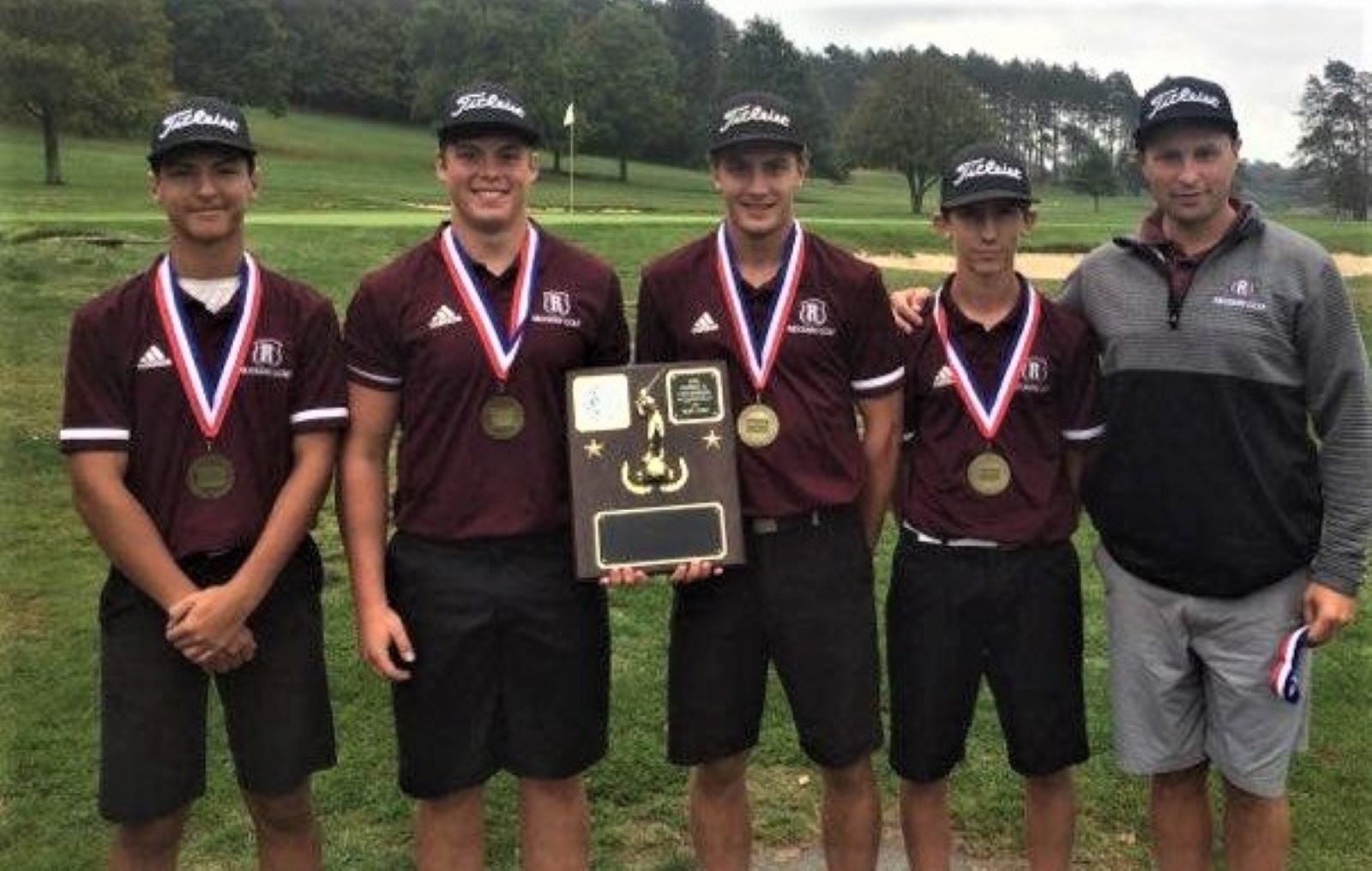 PUNXSUTAWNEY, Pa. – Ridgway and Bradford took home District 9 boys' golf titles Monday at Punxsutawney Country Club.
(Photo of the Ridgway boys' golf team, which won the Class 2A team title. Photo courtesy of Kevin Doverspike)
Ridgway won the Class 2A title with a score of 344 bettering host Punxsutawney by three strokes, while Bradford captured the Class 3A championship with a score of 363 well ahead of second-place DuBois, which shot a 400.
The winning foursome for Ridgway including Zack Sameroski (81), Eric Christoff (81), Collin Porter (88) and Greg Simon (94).
The winning foursome for Bradford included Spencer Cornelius (77), Thomas Anderson (89), Joe Gorse (96) and Matthew Franz (101).
The cut was also established in both classifications for the individual championship, which will conclude Saturday at Punxsutawney Country Club. The top 16 scorers advanced to the final round in Class 2A and the top four in Class 3A. The final round is slated to get underway at 9:30 a.m.
Making the cut in Class 2A were Smethport's Connor Alfier (78), Kane's Curt Barner (78), Christoff and Zameroski of Ridgway with their 81s, Zach VanLeer and Ryan Roberts of Punxsutawney with an 82 each, Clarion-Limestone's Hayden Siegel (84), Elk County Catholic's Will Uberti (84), Coudersport's Brady Streich (87), Ridgway's Porter with his 88, Brookville's David Cable (88), Clarion-Limestone's Hayden Callen (88), Moniteau Nate Tack and Jacob Felsing both with an 89, Curwensville's Nate Hryn (89) and Punxsutawney's Sean Deeley (90).
Making the cut in Class 3A were Cornelius with his 77 and Anderson with his 89 of Bradford, Kaleb Hand (90) of DuBois and Dayne Bauman (95) of DuBois.
The two team champions advance to the PIAA West Regional Team Tournament Oct. 10 at Treasure Lake's Silver Course in DuBois.
CLASS 2A TEAM STANDINGS
1. Ridgway – 344
2. Punxsutawney – 347
3. Smethport – 375
4. Elk County Catholic – 377
5. Moniteau – 379
6. Clarion – 391
CLASS 3A TEAM STANDINGS
1. Bradford – 363
2. DuBois – 400
CLASS 2A INDIVIDUAL RESULTS
Top 16 made the cut
T1. Connor Alfieri, Smethport – 78
T1. Curt Barner, Kane – 78
T3. Eric Christoff, Ridgway – 81
T3. Zack Zameroski, Ridgway – 81
T5. Zach VanLeer, Punxsutawney – 82
T5. Ryan Roberts, Punxsutawney – 82
T7. Hayden Siegel, Clarion-Limestone – 84
T7. Wil Uberti, Elk County Catholic – 84
9. Brady Streich, Coudersport – 87
T10. Collin Porter, Ridgway – 88
T10. David Cable, Brookville – 88
T10. Hayden Callen, Clarion-Limestone – 88
T13. Nate Tack, Moniteau – 89
T13. Jacob Felsing, Moniteau – 89
T13. Nate Hryn, Curwensville – 89
16. Sean Deeley, Punxsutawney – 90
Missed Cut
Lucas Benjamin, St. Marys – 91
Graham McFarland, Punxsutawney – 91
Jackson Fezell, Punxsutawney – 93
Jackson Fox, Clarion – 94
Greg Simon, Ridgway – 94
Carter Anderson, Coudersport – 95
Michael Hill, Smethport – 95
Ethan McDeavitt, Moniteau – 95
Nate Roberts, Elk County Catholic – 95
Trevor Atkeson, St. Marys – 96
Josh Craig, Clarion – 96
Kaden Park, Clarion-Limestone – 96
Max Bizzak, Kane – 97
Lake Staub, Clarion – 97
Mark Kraus, Elk County Catholic – 98
Dino Brown, Cameron Co. – 99
Jordan DePrator, Elk County Catholic – 100
Zach Dittman, Smethport – 100
Hunter Helsley, Smethport – 102
Ryan Clouser, Coudersport – 103
Steven Kline, Cranberry – 104
Ian O'Hara, Kane – 104
Garrett Kellert, Coudersport – 107
Eastyn Solveson, Cameron Co. – 109
Kai Thomas, Smethport – 109
Gunner Bean, Oswayo Valley – 110
Carter Hickman, DCC – 111
Shane Miller, Curwensville – 111
Cayden Black, Oswayo Valley – 113
Hayden Osborne, Brookville – 113
Broc Weigle, ACV – 115
Owen Easton, Keystone – 119
Dakota Woolcock, Cranberry – 125
Chase Wenner, ACV – 129
Drew Young, Keystone – 148
CLASS 2A INDIVIDUAL RESULTS
Top 4 made the cut
1. Spencer Cornelius, Bradford – 77
2. Thomas Anderson, Bradford – 89
3. Kaleb Hand, DuBois – 90
4. Dayne Bauman, DuBois – 95
Missed Cut
Joe Gorse, Bradford – 96
Luke Roach, Clearfield – 100
Nic Cebulski, DuBois – 106
Cody Jaconski, DuBois – 109
Harrison Peacock, Clearfield – 112