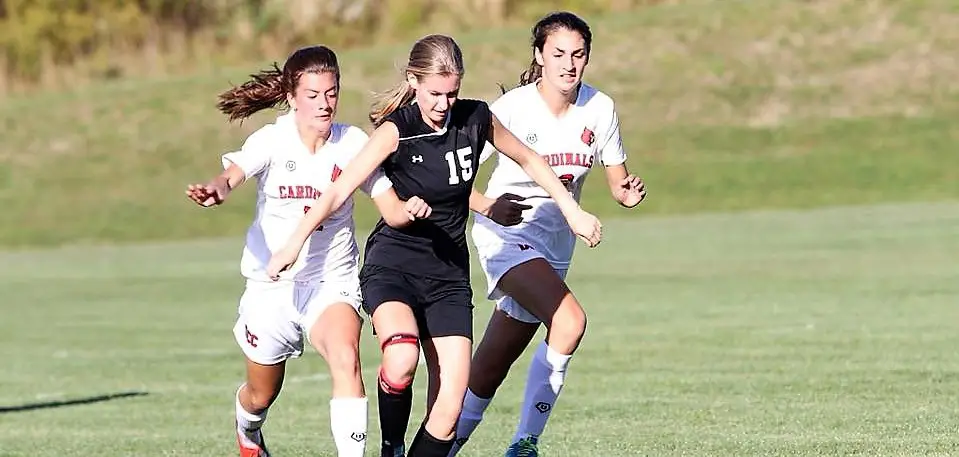 DUBOIS, Pa. – Brockway and Ridgway advanced to the District 9 Class 1A girls' soccer championship game with semifinal wins Tuesday at DuBois High School.
(Cover photo of Brockway's Chanell Britten)
Ridgway topped Elk County Catholic, 1-0, in double overtime, while Brockway cruised past Redbank Valley, 5-0. The teams will meet at 5 p.m. Thursday at DuBois for the championship. It will be the first of a boys'/girls' doubleheader. At 7 p.m., Brockway takes on Port Allegany for the boys' Class 1A title.
RIDGWAY 1, ELK COUNTY CATHOLIC 0, 2 OVERTIMES
It took nearly 97 minutes of soccer before someone scored, but when Madeline Cowan deposited a goal into the net with 13:24 to play in the second overtime, third-seeded Ridgway was headed to the District 9 championship game for the first time in school history with a 1-0 win over rival and second-seeded Elk County Catholic.
The teams played through 80 minutes of scoreless regulation and then a 15-minute sudden-death overtime period before Cowan won the game in the second 15-minute sudden-death period.
BROCKWAY 5, REDBANK VALLEY 0
Chanell Britten scored four times to lift defending champion Brockway, the top seed, back to the title game with the 5-0 win over fifth-seeded Redbank Valley.
Emily Botwright added a penalty kick goal for the Lady Rovers, while Mackenzie Overbeck recorded the shutout in goal.