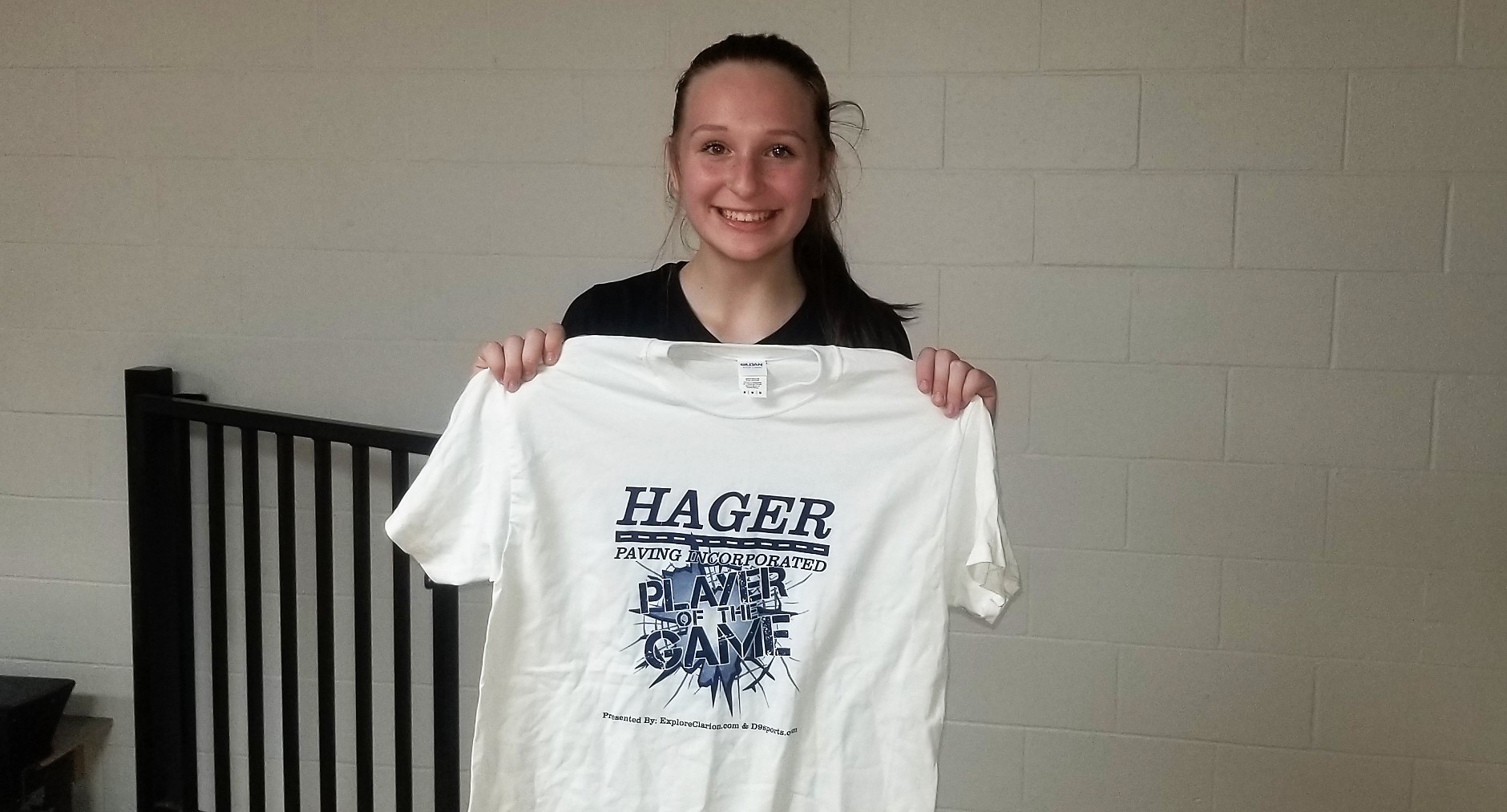 Nov. 1 volleyball recaps.
(Photo of Clarion's Korrin Burns)
CLARION 3, A-C VALLEY 1
CLARION, Pa. – Freshman Korrin Burns helped Clarion return to the District 9 Class 1A title game for the first time since 2015 by recording 18 kills, 25 digs and three aces in the Lady Cats 3-1 (25-22, 23-25, 25-17, 25-23) win over visiting A-C Valley.
Relisten to the audio broadcast of the match.
Burns was strong throughout the match with five kills in the first set, three in the second, four in the fourth and six in the deciding fourth set.
She talked about her play and getting Clarion back to the title game.
Burns was far from alone in helping Clarion, the second seed, to its second victory over the year over third-seeded A-C Valley.
Maddie Schill added 10 kills and six digs, Dorothy Kalinowski chipped in nine kills and two blocks, Hailey Sintobin had five kills and a block, Brenna Campbell 43 set assists, eight digs and a block, KK Girvin 18 digs and Kait Constantino 11 digs, an ace and a kill.
Olivia Boocks and Kylee Eaton each had 12 kills for A-C Valley with Boocks adding 31 digs and Eaton 12 digs and seven blocks, Emily Wetzel ran the Lady Falcons offense with 31 set assists and added 19 digs, Andrea Meals five kills, nine digs and a block and Meah Ielase two kills
Clarion will take on Ridgway in the title game at 1 p.m. Saturday, Nov. 3, at St. Marys High School. The Lady Cats are seeking their 12th D9 1A title since 2001 and their first since 2015.
RIDGWAY 3, CRANBERRY 1
RIDGWAY, Pa. – Ridgway moved into the District 9 Class 1A championship game for the first time the D9Sports.com era (2001 to present) with a 3-1 (25-11, 25-21, 22-25, 25-19) victory over visiting Cranberry.
Outside of the first set, when the top-seeded Lady Elkers scored 20 of the last 26 points to pull away easily, the match was a tight one.
The team were tied at 20 in the second set before Ridgway scored five of the last six points to advance. Cranberry then stole the third set before the fourth set became a back-and-forth affair that didn't end until Claire Kemick put down the winning kill for the Lady Elkers.
Fifth-seeded Cranberry got 13 kills from Malliah Schreck and 11 from Ava Ferringer, while Emily Duncan ran the offense with 27 set assists. Abby Hanna chipped in with 9 kills.
Ridgway stats weren't available.
The Lady Elkers will take on second-seeded Clarion in the title match at 1 p.m. Saturday, Nov. 3, at St. Marys High School.