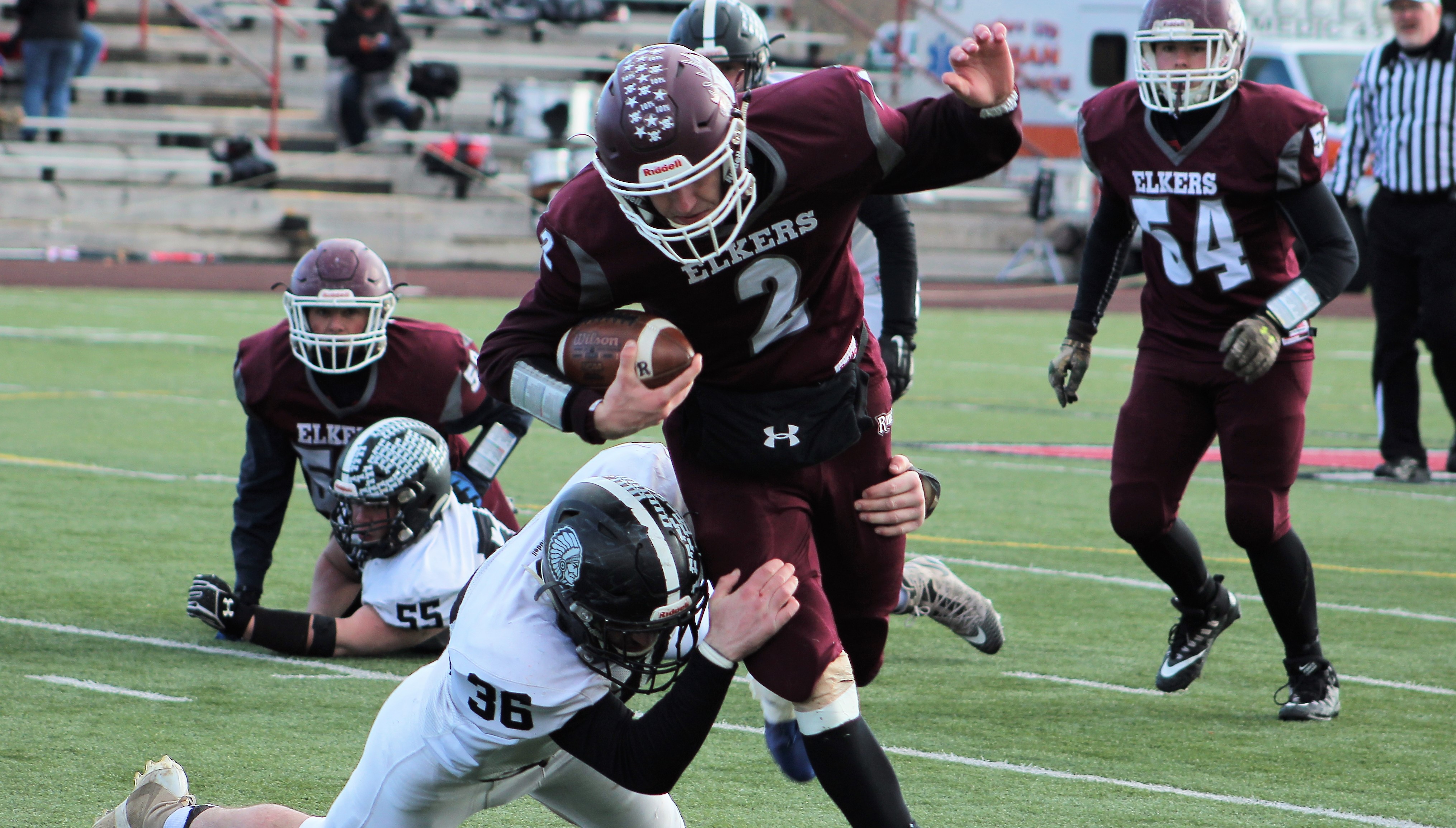 DUBOIS, Pa. – For three quarters, fifth-seeded Moniteau dominated top-seeded Ridgway in the District 9 Class 2A semifinals Saturday afternoon at EJ Mansell Stadium in DuBois.
(Photo of Ridgway's Gabe Watts being tackled by Moniteau's Nick Martino during the third quarter of Ridgway's win over Moniteau Saturday. Photo by Jared Bakaysa of JB Graphics. See more of Bakaysa's work here)
Good thing for the Elkers that games last four quarters.
Ridgway flipped a switch in the fourth quarter scoring two touchdowns and gaining nearly 62 percent of its yards (102 of 165) to pull victory from the jaws of defeat, 15-7, and move into its third straight District 9 title game and its first in Class 2A.
"It took us three quarters to get to our game, but that was Ridgway football in the fourth quarter," Ridgway head coach Mark Heindl told his team after the game.
Down 7-0 and being outgained 221-34 through three quarters, Ridgway (10-1) allowed Moniteau (7-5) to run just six fourth-quarter plays with two of those being desperation heaves with under 10 seconds to play and outgained the Warriors 137 to 2 in the quarter.
Gabe Watts had a lot to do with the comeback for Ridgway gaining the vast majority of his 116 yards after halftime (83) with almost all of those coming in the fourth quarter.
Watts was most effective running out of the wildcat on Ridgway's 74-yard touchdown drive that gave the Elkers an 8-7 lead following a Matt Dush 2-point conversion run with 7:49 to play.
"The linebackers were blitzing hard, and when we countered, it worked really well," Watts said. "Our line was blocking great so we kept using it."
Watts finished the drive with a 7-yard touchdown run to bring the Elkers within a point, 7-6. Ridgway then lined up to kick the extra point but had no intentions of trying to tie the game.
Instead, Dush rolled to his left, saw a lane and ran into for the 2-point conversion and the lead.
"I saw they were coming in hard," Dush said. "I took it myself. It was supposed to be a pass, but I just ran it in. I saw the coverage was tough."
Watch more of what Watts and Dush had to say about the victory.
Heindl said there was no decision to be made on the 2-point conversion.
"We were going for it the whole time," Heindl said. "When Matt decided to run, I was like 'oh' but it worked."
Momentum completely went to Ridgway's side on the ensuing pop-up kickoff when Moniteau failed to catch the ball and the Elkers recovered at the Warriors 35.
While Ridgway couldn't score, a fourth-and-goal play from the 1-yard line was fumbled for a 3-yard loss, it pinned Moniteau deep in its own territory with just over four minutes to play.
The Warriors moved it past the 10-yard line on a carry by Cody Wise, who had 105 yards – 86 in the first half – to lead Moniteau, but JD Dessicino was dropped for a 5-yard loss setting up fourth-and-8 from the six, and a Chance Nagy pass went incomplete with 2:52 to play.
Two plays later, Ridgway was in the end zone again, this time on a 3-yard Jake Wickett run with 2:07 to play that coupled with Daunte Allegretto's extra point made it 15-7.
That seemed to be a good thing for Moniteau considering the Warriors were only down eight and were getting the ball back.
Except the ball didn't end up back with Moniteau, as again the Warriors failed to recover the kickoff allowing Ridgway to recover at the Moniteau 44.
The Elkers then ran all but 7.1 seconds off the clock to seal the win.
The kickoff mistakes were just the last two in a line of miscues that cost the Warriors a shot at the upset.
Penalties were the big ones with Moniteau committing 12 penalties for 112 yards on the day. That included eight for 68 yards in the first half including five for 43 yards on offense. Those offensive penalties, all holds, including two that erased first downs on fourth down, were the reason the Warriors led 7-0 at halftime despite outgaining Ridgway 193 to 57 in the half including 188 to 32 on the ground.
The Warriors lone touchdown came with 32.3 seconds left in the half when Chance Nagy scored on a 1-yard quarterback sneak.
Ridgway will play the winner of the Brookville/Brockway semifinal game at 7 p.m. Friday, Nov. 16, most likely in DuBois.