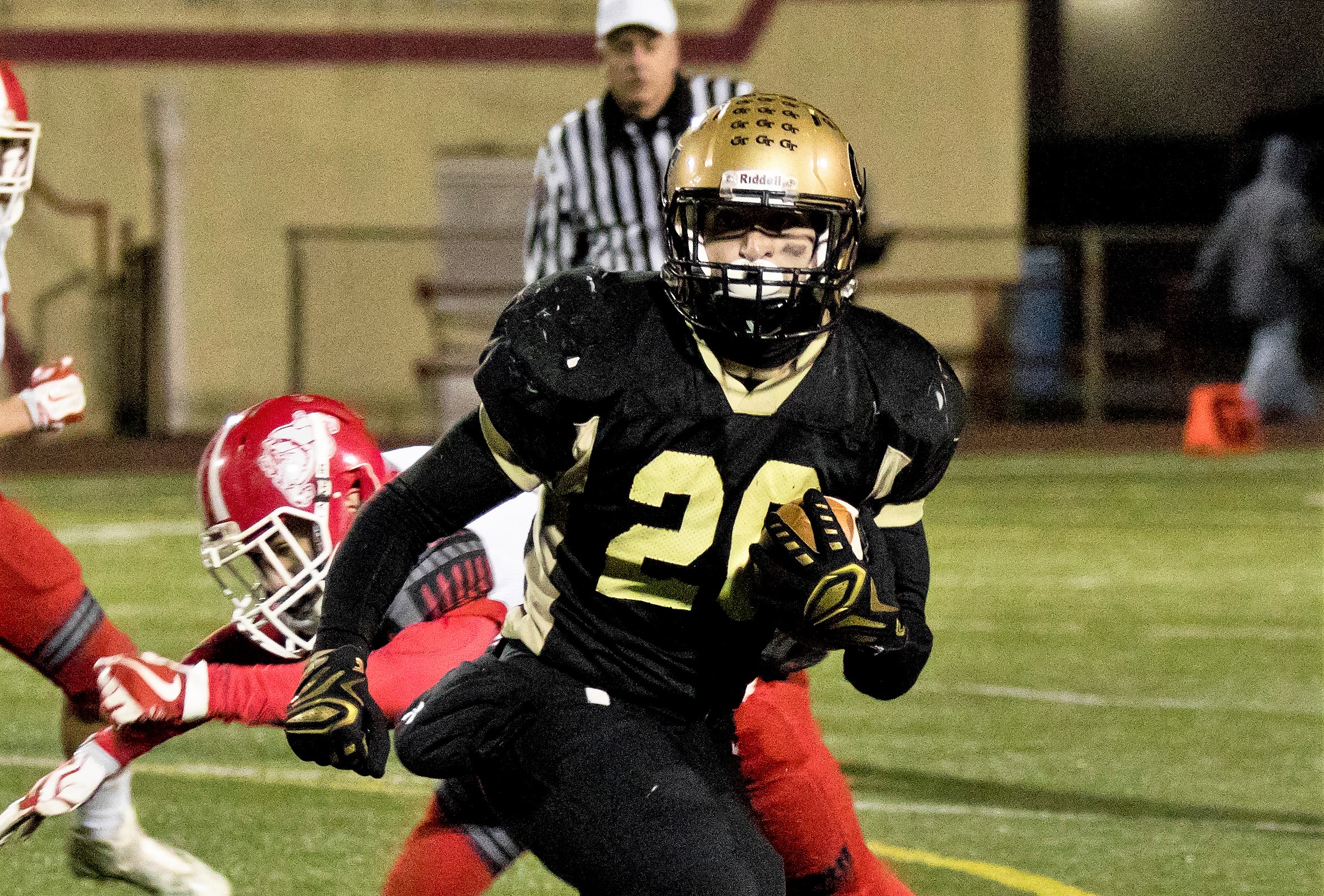 By Shane Lux
DUBOIS, Pa. – Ridgway and Curwensville will face off for the District 9 Class 1A football championship at 7 p.m. Friday, Nov. 17, after both teams won semifinal contests at DuBois' Mansell Stadium Saturday.
(Cover photo of Curwensville's Nick Stewart. Photo by Kyle Yates www.facebook.com/YatesPhoto)
Ridgway, the defending champion and second seed, toppled Coudersport, 47-6, while top-seeded Curwensville, which beat Ridgway earlier this season, knocked off Redbank Valley, 47-13.
Here are the recaps of both games:
RIDGWAY 47, COUDERSPORT 6
There was no trouble the second time around, as Ridgway rolled past Coudersport 47-6 Saturday afternoon in Dubois.
The Elkers, who needed a pair of fourth-quarter touchdowns to pull away from the Falcons, 29-8 back on Aug. 25, held Coudersport to 23 first-half yards and just 120 for the game.
Their dominant defense helped to build a 27-0 lead by halftime.
"Coudy came out fired up and had two first down there to start the game. But our kids realized we had to play to our potential, "said Ridgway head coach Mark Heindl. "What a heck of a football game they played, we're very excited to be back in the District 9 Championship."
Neil McDonald scored three touchdowns, two on a pair of 2-yard touchdowns, while also adding a 23-yard fumble return for a score.
Coudersport's defense held the Elkers in check on their first two possessions as they did not record a first down.
That all changed when Andy Breier intercepted a Jared Green pass and returned it for a touchdown, but a block-in-the-back penalty negated the score.
Ridgway was able to score anyway driving 35 yards in seven plays as McDonald scored from two yards out.
Following a bit of a pooch kick the Elkers recovered the kickoff at the Falcons 24-yard line, and McDonald recorded his second 2-yard touchdown run on fourth down.
"Our big thing is we have to be physical, as the game went on we just wore them down," said Heindl.
Following a three-and-out, Johnny Mitchell exploded for a 70-yard touchdown run. Thanks in part to the run, Mitchell rushed for 119 yards on just six carries in the first half. He had a game-high 131 on eight attempts.
"Johnnys' a great kid and he plays well on turf, but he'll be the first to tell you that he'll credit his offensive line for opening those holes," said Heindl. "It wasn't just one guy today it was a team effort. We had a number of kids contribute in a district semifinal, and that is pretty awesome."
The Elkers defense then recorded a score as the Falcons fumbled an option that running back Stephan Kelly never had a chance to corral and McDonald scooped and scored from 23 yards out that pushed the Ridgway lead to 27-0 at halftime.
Mitchell scored on 12-yard run in the third quarter to put Elkers up 33-0 after three quarters following a five-play 49-yard drive.
Ridgway then invoked the 35-point Mercy Rule when Josh Thorwart hauled in a 21-yard touchdown from Mitchell with 11:04 remaining.
Backup quarterback Daunte Allegretto tossed a 3-yard touchdown pass to Hayden Yeager following a Falcons fumble on the first snap of their next possession that pushed the lead 47-0.
Coudersport was able to get on the scoreboard as Hayden Keck connected with Daniel Frame for 48 yards that led to Jacob Pitcher's 7-yard touchdown to thwart the shutout.
"It's a program that we have to build back," Coudersport head coach Tom Storey said. "It's a process, but we've improved and so has Ridgway. The interception hurt and the fumbled kickoff hurt, but we're talking about building our program from the weight room to getting our plays down. They have a lot of depth and made big plays. It was the same thing that hurt us in the first game with them."
Keck accounted for 50 yards of total offense to lead Coudersport which finishes its season at 6-5.
"We have a lot to be proud of this year, we made it a step further with our playoff win," said Storey. "That will help build this program back."
Ridgway advances back to the District 9 1A title game as the defending champions.
"We're just appreciative of being able to be back in the district final," Heindl said. "We're excited about our program, where we've come from and where we've gone. Next week is a new week, and we're going to get ready for whoever we see down the road."
CURWENSVILLE 47, REDBANK VALLEY 13
Nick Stewart ripped off 247 yards and scored five touchdowns Saturday night as Curwensville had its way with Redbank Valley 47-13.
"We knew we had to feed Stewart the ball and we were able to do that tonight. They were big and physical up front, but we were able to control the line of scrimmage both ways," said Curwensville assistant coach Chris Folmar who spoke for Andy Evanko.
Starting the game with a bang, Stewart, who became the first District 9 back to go over 7,000 career yards, returned the opening kickoff 62 yards to Bulldogs 31-yard line. Six plays later Stewart punched it in from eight yards out, the first of three rushing scores for the senior, putting the Tide in front 6-0 after a failed 2-point rush.
"He works very hard and is a very humble kid, he can take it to the house at any given time," said Folmar. "I can't say enough about Nick. He's a team kid, he works very hard, we were glad he was in black and gold tonight."
Things went from bad to worse for Redbank Valley as starting quarterback Keaton Kahle went down with a shoulder injury playing defense the next time Curwensville had the ball and never returned.
Freshman Kobe Bonanno took over at quarterback and Bulldogs gained just one first down and 15 yards of total offense in the first half.
The Tide took the game over as Josh Terry hauled in a 12-yard pass from Timko and ran the hook-and-ladder to Stewart who outraced the Bulldog defense for 63 yards.
Stewart also hauled in a 9-yard touchdown from Timko with nine seconds remaining in the first-half extending the Tide lead to 21-0 following an eight-play 45-yard drive.
Redbank Valley showed life to begin the second-half, as it put together an eight-play 62-yard drive capped by Bonanno's 5-yard run with 8:12 remaining in the third quarter.
"They're a good team and the number one seed for a reason," said Redbank Valley Ed Wasilowski. "We have some young kids on our offensive line, and they couldn't handle it. I don't know if the stage was too big or they were too good. But we got manhandled on the line of scrimmage."
So much so that 1,500-yard rusher Clint Thurston was limited to negative five yards on just eight rushing attempts.
"Losing Keaton hurts because it takes our run-game away," Wasilowski said. "They were keying on Clint."
Thurston was also banged up in the second half and was limited in playing time.
"We knew it was going to be a challenge with a running back that is 90 percent of their offense," said Folmar. "But our kids did a great job at the line of scrimmage."
Down 14, the Bulldogs had a golden opportunity to get right back in the game when Brock Barrett intercepted a Timko pass that set them up at midfield.
However, the Bulldogs lost three yards, and Timko returned the favor by intercepting Bonanno.
Nine consecutive runs by Stewart for 60 yards was capped by his 14-yard run as Curwensville extended its lead to 28-7 after three quarters.
"These seniors have bounced back all year long," Folmar said. "That's coach Evanko's great job for bringing those kids together and allowing that sequence not to hurt us.,"
Another pair of interceptions by Timko and Caleb Bloom set the stage for Avery Francisco's touchdown runs of 14 and 13 yards.
Francisco rushed for 70 yards on seven carries.
Sandwiched in the middle was Bonanno's second touchdown, a 7-yard run. The freshman completed 8-of-15 passes for 102 yards and five interceptions. He also rushed for 31 yards on nine carries with two scores.
"Kobe is going to be a great football player, no doubt about that," said Wasilowski. "He's a freshman. We didn't rep him a lot during the week. He played a great game. He did throw some interceptions, but I didn't think one was his fault. We have only had three seniors on the roster, and that was the first Single-A team we lost to this year. I'm immensely proud of the team."
Curwensville capped their title game date with Ridgway as Stewart scored his fifth touchdown of the night from four yards out.
"Our goal is to get better every week," Folmar said. "We're happy to be in the District 9 Final. We know who we have next week and know they're a tremendous team."
BOX SCORES
RIDGWAY 47, COUDERSPORT 6
Score by Quarters
Coudersport – 0 0 0 6 – 6
Ridgway – 7 20 6 14 – 47
First Quarter
R – Neil McDonald 2 yd run (Aaron Hinton pat), 2:28
Second Quarter
R – McDonald 2 yd run (Hinton pat), 11:56
R – Johnny Mitchell 70 yd run (Hinton pat), 9:21
R – McDonald 23 yd fumble return (kick failed), 7:46
Third Quarter
R – Mitchell 12 yd run (pass failed), 6:15
Fourth Quarter
R – Josh Thorwart 21 yd pass from Mitchell (Hinton pat), 11:04
R – Hayden Yeager 3 yd pass from Daunte Allegretto (Paul Gresco pat), 6:16
C – Jacob Pitcher 7 yd run (pat blocked), 3:19
TEAM STATS
C R
First Downs 6 13
Rushes-Yards 38-70 43-306
Passing Yards 50 26
Comp-Att-Int 2-7-1 3-7-0
Total Yards 120 332
Fumbles-Lost 3-1 1-0
Penalties-Yards 3-12 6-55
Punts-Avg. 7-32 4-37.5
INDIVIDUAL STATS
RUSHING:: Coudersport – Stevie Kelly 13-34, Green 8-13, Hayden Keck 7-2, Thomas Wilson 4-(-3),, Team 3-(-20), Derek Keglovits 1-4, Jacob Pitcher 1-7, Brandt Kightlinger 1-33. Ridgway – Neil McDonald 14-76, Aaron Hinton 6-61, Mitchell 8-131, Jake Zimmerman 5-15, Evan Furlong 1-7, Jake Wickett 1-8, Hayden Yeager 2-1, Greg Simon 2-4, Team 1-(-2), Cole Secco 1-0, Devin Smith 1-2, Max Ehrensberger 1-3.
PASSING: Coudersport – Jared Green 1-for-5, 2 yards, Keck 1-for-2 48 yards, 1 interception. Ridgway – Johnny Mitchell 2-for-6, 23 yards, 1 touchdown. Daunte Allegretto 1-for-1, 3 yards, 1 touchdown.
RECEIVING: Coudersport – Keck 1-2, Daniel Frame 1-48. Ridgway – Hinton 1-2, Josh Thorwart 1-21, Hayden Yeager 1-3.
INTERCEPTIONSCURWENSVILLE 47, REDBANK VALLEY 13
Score by Quarters
Redbank Valley – 0 0 7 6 – 13
Curwensville – 6 15 7 19 – 47
Scoring Summary
First Quarter
C – Nick Stewart 8 yd run (rush failed), 9:38
Second Quarter
C Stewart 63 yard pass from Bryce Timko (Blake Passarelli rush), 11:46
C – Stewart 9 yd pass from Timko (Madison Weber pat), 0:09
Third Quarter
RV – Kobe Bonanno 5 yd run (Clint Thurston pat), 8:12
C – Stewart 14 yd run (Weber pat), 1:30
Fourth Quarter
C – Avery Francisco 14 yd run (rush failed), 10:37
RV – Bonanno 7 yd run (pass failed), 6:05
C – Avery Francisco 13 yd run (rush failed), 4:06
C – Stewart 4 yd run ( Noah Von Gunden pat) 1:58
TEAM STATS
R C
First Downs 12 23
Rushes-Yards 29-74 50-326
Passing Yards 114 106
Comp-Att-Int 9-17-5 6-16-2
Total Yards 188 440
Fumbles-Lost 2-1 0-0
Penalties-Yards 2-21 5-44
Punts-Avg. 3-37 1-40
INDIVIDUAL STATS
RUSHING:Redbank – Chase Wiles 1-(-6), Hunter Wiles 4-35, Clint Thurston 8-(-5), Bonanno 9-31, Barrett 1-(-3), Travis Crawford 6-22.. Curwensville – Nick Stewart 34-247, Avery Francisco 7-70, Timko 5(-8), Anthony Winebold 4-17.
PASSING:Redbank – Keaton Kahle 1-for-2, 12 yards, Kobe Bonanno 8-for-15, 102 yards, 5 interceptions Curwensville – Bryce Timko 6-for-12, 106 yards, 2 touchdowns, 2 interceptions.
RECEIVING:Redbank – Chase Wiles 3-48, Brock Barrett 5-57, Hunter Martz 1-9. Curwensville – Josh Terry 4-32, Noah Von Gunden 1-2, Nick Stewart 1-72
INTERCEPTIONSRedbank – 2 – (Brock Barrett 2). Curwensville – 5 – (Josh Terry 2, Timko 2, Caleb Bloom).