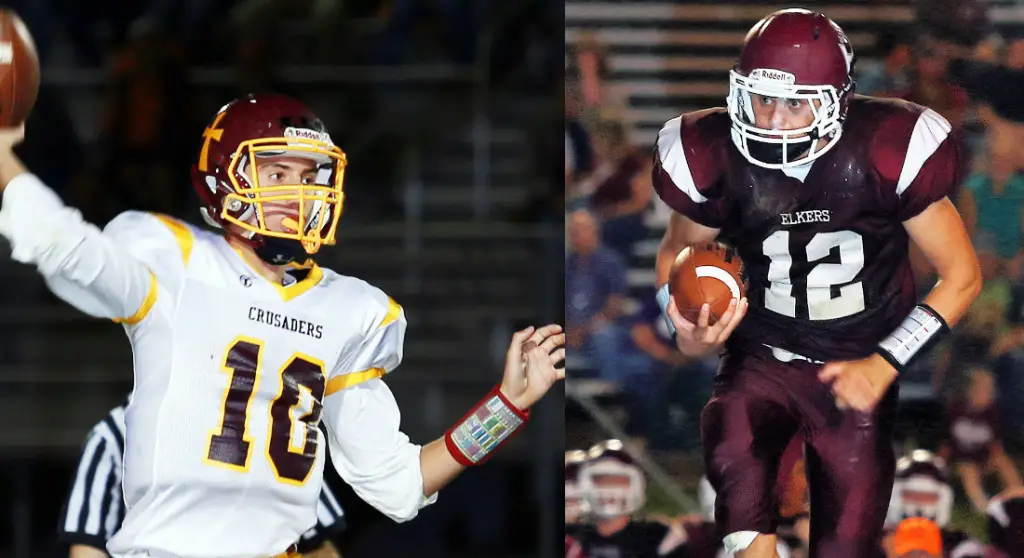 BROCKWAY, Pa. — Friday is the first official day of preseason workouts for the winter sports season, meaning that basketballs will be bouncing across District 9.
However, that just might not be the case in Ridgway, Elk County Catholic and even Johnsonburg. Those perennial powers have plenty of players in football jerseys at Brockway's Varischetti Field in the Class 1A Championship game that kicks off at 7 p.m.
The top-seeded Elkers (9-2) take on the third-seeded Crusaders (8-3) for the second time this season — Ridgway beat ECC 7-0 Oct. 22 in St. Marys — and it's only the third time combined that these teams will play for a title.
While Elk County Catholic's only title game appearance was a 9-8 loss to Smethport in 1995, Ridgway hasn't been in the finals since a 1993 loss to C-L. Its only other appearance came in the Elkers' lone district championship, a 3-0 win over, ironically, Johnsonburg in 1989.
Those two schools are now together in a co-operative program. Johnsonburg was 1-3 in finals games, its only title coming in a 20-6 win over Johnsonburg in 1987.
"We tell everybody that we needed Johnsonburg and bad as they needed us," Elkers head coach Mark Heindl said. "Everyone has bought into it and it's been a smooth transition, not only at the varsity level but junior high as well. We had our second year going undefeated in junior high ranks and we're not playing pushovers. All that combined speaks volumes for the entire program at both schools."
The Crusaders needed a fourth-quarter rally to beat Redbank Valley in the quarterfinals and carried that momentum into last week's 39-14 semifinal rout of Clarion-Limestone.
"It feels great it's been 21 years since we've been (the final) and that's exciting," said Gerg, a former Crusader and 1991 ECC graduate. "Our championship runs have been here and there  … we're doing this for all of the guys who haven't been there before."
The Elkers shut out a seventh opponent in last week's 33-0 win over Curwensville, actually improving on some stellar defensive numbers. They came in giving up just 137 yards per game and held the Golden Tide to 112.
"Trust is the key word and they trust each other with their assignments," Heindl said of his defense. "We had a couple starters dinged up early in the season and some stepped in and played well. Everyone bought into the system."
Much of the success comes up front with the Elkers' line that includes two Big 30 All-Star lineman in senior tackle Colton McClain (6 tpg.) and end Justin Kasmierski (7.1 tpg). Junior linebacker Joey Elinski (8.8 tpg.) and junior safety Neil MacDonald (8.3 tpg.) are the top two tacklers. Junior lineman Max Cowan leads the team with eight sacks.
Offensively, the Elkers are balanced with MacDonald (143-963, 10 TDs), one of the Elkers basketball team's starting five, primed to go over 1,000 yards for the season. Quarterback Johnny Mitchell, another basketball starter for the Elkers, is a two-way threat throwing (38-for-79, 560 yards, 9 TDs, 7 Ints.) and running (108-470, 8 TDs) guiding an offense that goes for 272 yards per game, 219 of that on the ground.
"We're very diverse and the part we love that it's not the same guy or same play over again," Heindl said. "You can't focus on one player and that's been a push the last few weeks and we've seen a lot of progression."
Also for the Elkers, Jacob Zimmerman (66-277, 3 TDs), Elinski (48-245, 2 TDs) and James Winslow (39-185) have gotten carries out of the backfield. Mitchell's top receiving targets are Josh Raubenstrauch (10-159, 4 TDs), Zimmerman (6-120, 2 TDs) and MacDonald (9-118, 1 TD).
The Crusaders' well-known by now single-wing offensive approach is misleading considering how the team has spread things out at times to counter what defenses are trying to take away from them. The last two weeks, for example, has seen senior Nate DaCanal — also a basketballer and returning all-district player — have his best two passing games of his career, a career-high 277 yards against Redbank Valley and 211 yards last week against C-L.
DaCanal is a two-way threat throwing (87-for-186 yards, 12 TDs, 10 Ints.) while ranking third on the team (93-498, 7 TDs) in rushing. Jared Braun (100-657, 9 TDs) and Dan Stauffer (138-626, 8 TDs) are the leading ground-gainers while five receivers have at least 136 yards — Brad Dippold (31-452, 7 TDs), Braun (18-369, 1 TD), Eric Gerber (16-299, 2 TDs), Ryan Heary (12-159, 1 TD) and Stauffer (9-136, 1 TD).
"Your offense has to evolve and you certainly have to build it around who you have," Gerg said. "Whatever defense is presented, we'll put our best lineup out there."
Defensively, Heary (9.9 tpg.), Stauffer (9 tpg.), and linemen Joe Kucenski (8.3 tpg.) and Doug Schatz (6.6 tpg.) are the top tacklers for the Crusaders. Kucenski, who has a team-high 10 1/2 sacks, Schatz and the Elkers' McClain and Kasmierski made up the Big 30's all-star defensive front four.
Heary and Kucenski had 20 and 16 tackles respectively in the 7-0 game in October. Ridgway scored the game's lone touchdown on its first drive of the game on an Elinski run. The Elkers, who got 123 yards rushing from MacDonald, threw one pass and outgained ECC, 242-148. They limited the Crusaders to 12 yards rushing while intercepting DaCanal three times. DaCanal completed 10 of 30 passes for 136 yards.
"We controlled the line of scrimmage, but film doesn't lie and we made some mistakes in that game," said Heindl, who noted his team reached the red zone three times and failed to score. "I know ECC will fix some things. We know that Nate is a proven winner and last week against C-L and in the second half against Redbank Valley, he took over and had protection and had guys making catches. We have to contain him."
"It was their front eight (that set the tone)," Gerg said of their first meeting. "They played good gap control and you have to get your own linemen on their linebackers."
Gerg felt that his team lighting an emotional fire so to speak midway through its game against Redbank Valley has been as big of a key as anything and it must continue if reversing their result against the Elkers is going to happen.
"We have to come out emotionally prepared and we lacked that the last few games. That was case against Redbank Valley. We got emotionally involved at halftime and got the kids fired up. We have to be off the bat … It comes back to getting our kids emotionally into the game and they've raised their level.
"I told the kids I truly didn't think we played four good quarters until C-L when we came out excited and stayed excited."
Friday's winner lands in the state quarterfinals next week against the winner of Friday's game between District 5 champion Conemaugh Township and District 10 champion Farrell. That game is being played in Somerset.