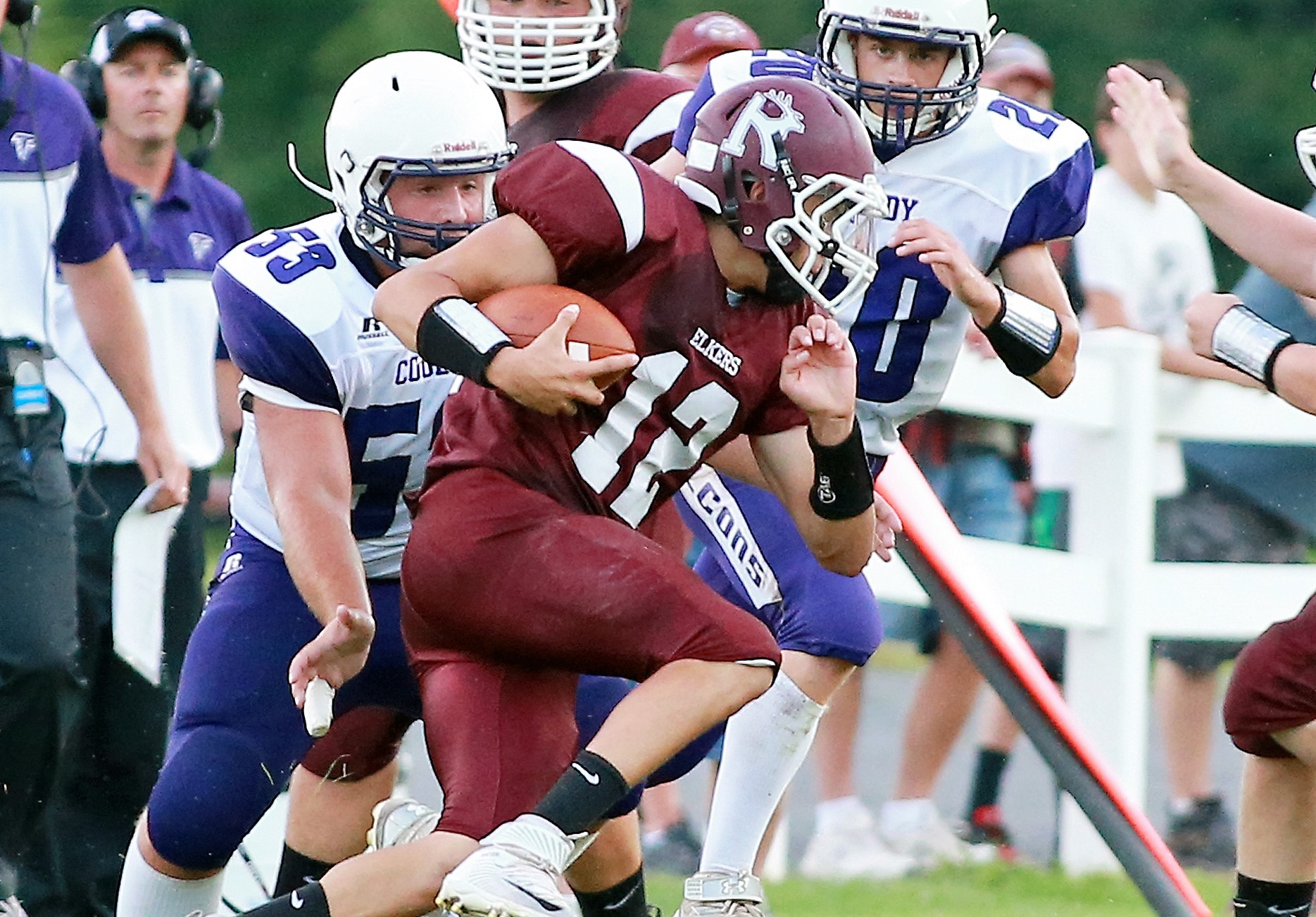 CLARION, Pa. — A second straight District 9 Class 1A championship run gets the Ridgway Elkers a second shot at District 10 champion Farrell Friday night at Clarion University's Memorial Stadium.
(Cover photo: Quarterback Johnny Mitchell helps lead the Ridgway Elkers into Friday night's PIAA quarterfinals against Farrell. Photo by Paul Burdick. Check out more of Burdick's work here)
While the Elkers won a hard-fought 9-7 decision over Curwensville in last week's D9 title game, Farrell won its PIAA first-round matchup with District 5's Northern Bedford. Trailing 19-18 at halftime, the Steelers blanked the Panthers in the second half on their way to a 34-19 victory.
Farrell, now 10-2, takes a six-game winning streak into its rematch with the 9-3 Elkers. In last year's quarterfinal meeting, the Steelers won 20-7 at Slippery Rock University.
In that one, the Steelers led 20-0 before the Elkers scored their lone points on Neil MacDonald's 2-yard run in the fourth quarter. Farrell limited Ridgway to just 32 yards of offense on 46 plays. The Elkers were stingy defensively as well as Farrell gained 258 yards, 172 of those on the ground.
Jourdan Townsend scored two of Farrell's three touchdowns last year on a 15-yard reception and 57-yard punt return and he's back again this year making plays. In last week's win over Northern Bedford, Townsend capped off the Steelers' second-half dominance with a 65-yard interception return for the game's final points.
Townsend caught four passes for 103 yards, accounting for most of quarterback Isaac Clarke's numbers. Clarke completed 6 of 12 passes for 124 yards. Christian Lewis ran for 154 yards on 21 carries with two touchdowns.
Farrell shut down Northern Bedford's running game to 55 yards on 30 carries, although Panthers quarterback Andrew Foor threw for 211 yards. But Foor threw for 165 of those yards in the first half.
For the season, the Steelers are balanced offensively, gaining 191 yards on the ground and 172 yards passing per game. Lewis has rushed for 1,221 yards and 14 touchdowns while Clarke nears 2,000 yards passing. He's completed 100 of 152 passes for 1,965 yards with just one interception against 27 touchdowns.
Townsend is Clark's top target of course with 54 receptions for 1,263 yards and 20 TDs. Brandon Chambers has 24 catches for 359 yards and three scores.
Townsend's all-purpose numbers are impressive. He's returned two kickoffs and one punt for touchdowns and all four of his interceptions for scores.
The Elkers went into their game against Curwensville giving up 8.9 points and 158 yards per game and played to just about those numbers as they held the Tide to 174 yards, 85 of that coming on one play on Nick Stewart's first-half touchdown run.
Evan Furlong, MacDonald and Max Cowan are the team's top tacklers with Cowan's 9 1/2 sacks leading the team. Andy Breier's four interceptions lead the unit.
Offensively, MacDonald leads a Ridgway offense averaging 318 yards per game — 248 rushing and 70 passing. He went over 1,000 yards rushing for the season and stands at 1,091 to go along with a team-high 14 touchdowns. MacDonald is also quarterback Johnny Mitchell's top receiving target at 20 catches for 240 yards and five more TDs.
Mitchell has completed 59 of 116 passes for 813 yards with 11 TDs and 11 interceptions while rushing for 520 yards and six TDs, both ranking second on the team behind MacDonald.
Jake Zimmerman has rushed for 329 yards and two TDs while Hinton has 296 yards and two TDs on the ground.
Against Farrell last year, MacDonald was limited to 25 yards on 15 carries.
Other odds and ends:
•The Farrell-Ridgway winner advances to the PIAA semifinals against the WPIAL champion, either Imani Christian or Jeannette, next week. Those two square off at Robert Morris University Saturday at noon. In the other side of the bracket, defending champion Bishop Guilfoyle meets Homer-Center in the D6 final while D3's Steel-High plays D11's Williams Valley.
•Farrell head coach Jarrett Samuels, in his 10th season, won his 100th game last week with his alma mater.
•Farrell's two losses came in its opener to Neshannock (28-26) and a loss at Meadville (36-13) in its sixth game.
•After beating Ridgway last year, Farrell lost to WPIAL champion Clairton, 24-6.
•The Elkers started the season 4-0, then lost three of four with its losses to Brockway (24-21), Curwensville (14-11) and Kane (19-14) by a combined 11 points. They go into Friday's game with a four-game winning streak. Before last week's 9-7 squeaker over Curwensville, they beat Elk County Catholic, Union/A-C Valley and Coudersport by a combined margin of 129-20.
•Ridgway head coach Mark Heindl is 52-54 in his 10th season, 19-6 over the past two seasons.