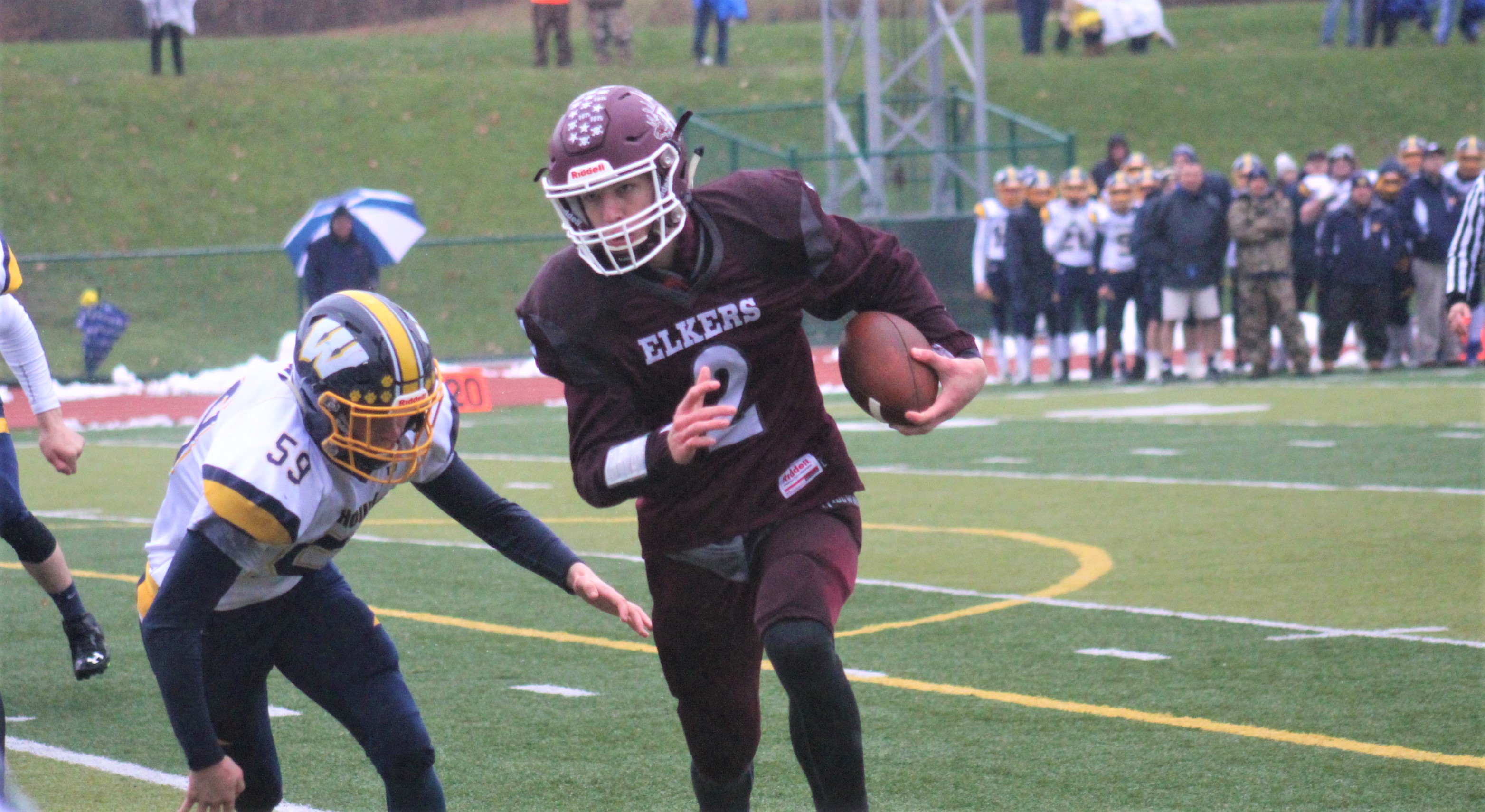 KARNS CITY, Pa. – Wilmington scored on its first eight possessions, including all six in the first half, on its way to a 56-14 win over Ridgway in the PIAA Class 2A quarterfinals Saturday afternoon at Karns City High School.
(Photo: Ridgway's Gabe Watts had a pair of touchdowns in Ridgway's loss Saturday. Photo by Pete Sirianni)
"They are a good football team," Ridgway head coach Mark Heindl said. "We said coming in, they are a football factory. They are definitely going to make another press for the kids that they had back from last year's state runner-up team. I think they are going to make another run.
"But, I'm proud of our kids. They didn't back down from them. I know the score doesn't reflect the effort our kids put in there today. But I am proud of each and every one of them."
The Greyhounds, who lost in last year's Class 2A title game, scored on first-half drives of 25, 66, 80, 52, 77 and 19 yards doing almost all of that damage on the ground.
"They are some big boys," Heindl said. "We told our kids coming into this thing, one thing about a community like Wilmington, they are a football town. But the beauty of the kids we have on our squad, they are going to move from today as football players, tomorrow they are going to move into basketball and wrestling and in the spring season, they are into spring sports. Our kids do everything, and that is what we want them to do. We don't want them to just be football players. Again, I am proud of each and every one of them, heck of an effort not only today but this season. We are looking forward to next year."
Things started badly for Ridgway, which was outgained 483 to 142 including 468 to 88 on the ground, when Jake Wickett decided to take the opening kickoff that was headed to the end zone and try to return it. He was stopped inside the 15-yard line, and things went from bad to worse for the Elkers when a penalty started them at their 5-yard line.
"No, that's not the one you want to start on," Heindl said. "Not going to make excuses. You have to line up and play the game. It is four quarters, 48 minutes. Again, Wilmington today exposed a lot of things. It is the reason Wilmington is probably going to end up on the state final again. But take nothing away from our kids. They showed up today, they practiced hard all week. At the end of the day, we are still district champions three times in a row. And nobody thought we would be here today."
The special team's mistakes led to Wilmington starting on the Ridgway 25-yard line and two plays later, Cameron Marett scored the first of his two touchdowns on a 17-yard run to give the Greyhounds a 7-0 lead.
That started an offensive onslaught for Wilmington, which led 21-0 by the end of the first quarter thanks to an 8-yard Ethan Susen run and a 44-yard burst from Marret.
The 44-yard Marret touchdown came moments after Ridgway had its best chance to score in the first half when Alex Bon recovered a Wilmington fumble on a punt return at the Greyhounds 47-yard line. A 21-yard pass to Wickett helped set the Elkers up inside the 20, but a couple of negative plays led to a fourth-down play from the 20-yard line, and Marret intercepted a Gresco pass in the end zone.
Wilmington continued to score in the second quarter with quarterback Robert Pontius scoring all three touchdowns.
He scored on runs of 4, 25 and 12 yards with the final one coming with just 58 seconds left in the half after Wilmington, leading 35-0, called two timeouts on defense to get the ball back for its offense. The second timeout came with Ridgway facing fourth-and-32 from the Elkers 1-yard line.
"I'm not even going to comment," Heindl said when asked what his thoughts on those defensive timeouts were. "No comment."
Down 42-0 coming out of halftime, Ridgway showed a bit of life when Colby Welch recovered a muff of the second-half kickoff at the Wilmington 25-yard line.
That led to a 2-yard Gabe Watts run to get the Elkers on the board down 42-6.
Wilmington's second string answered right back with a 60-yard touchdown drive that ended on a 23-yard Garret Guth touchdown run to make it 49-6.
The Greyhounds then went on a 92-yard drive that concluded on a 12-yard Darren Miller scoring run with 4:25 to play before Watts scored on a 39-yard run with 2:13 left.
Wilmington then moved the ball across midfield on its final drive before taking a knee to run out the clock, the only time Ridgway "stopped" the Greyhounds all afternoon.
"The big thing is everyone counted us out this year," Heindl said. "I think we were supposed to take ninth in the Large School Division, and we ended up winning that. Last Monday, five days ago, we were in a district title game that we came out on top with 30 seconds to go. It's a storybook ending even if it's definitely not the ending we wanted. But I will take it every day of the week to be 11-2. We are excited about getting ready for next year."
WILMINGTON 56, RIDGWAY 14
Score by Quarters
Wilmington 21 21 7 7 – 56
Ridgway 0 0 6 8 – 14
Scoring Summary
First Quarter
W – Cameron Marett 17 run (Ethan Winters kick), 9:51
W – Ethan Susen 8 run (Winters kick), 4:42
W – Marrett 44 run (Winters kick), 0:06
Second Quarter
W – Robert Pontius 4 run (Winters kick), 6:47
W – Pontius 25 run (Winters kick), 2:22
W – Pontius 12 run (Winters kick), 0:58
Third Quarter
R – Gabe Watts 2 run (Daunte Allegretto kick blocked), 9:12
W – Garret Guth 23 run (Ricky Telesz), 4:31
Fourth Quarter
W – Darren Miller 12 run (Winters kick), 4:25
R – Watts 39 run (Jake Wickett pass from Paul Gresco), 2:13
TEAM STATS
Wilmington-STATS-Ridgway
23 – First Downs – 10
49-468 – Rushes-Yards – 23-88
15 – Passing Yards – 54
2-4-0 – Passes: Comp-Att-Int – 14-22-1
53-483 – Total Plays-Yards – 45-142
8-71 – Penalties-Yards – 8-50
3-2 – Fumbles-Lost – 0-0
INDIVIDUAL STATS
Rushing: Wilmington – Noah Hunt 4-38, Cameron Marett 6-97, Ethan Susen 8-99, Robert Pontius 6-58, Luke Edwards 5-29, Garret Guth 6-42, Darren Miller 8-59, Caelan Bender 3-20, Henry Behm 1-32, Isaac Duffy 1-negative 5, Team 1-negative 1. Ridgway – Cole Secco 3-7, Gabe Watts 9-71, Matt Dush 1-18, Paul Gresco 2-negative 13, Jake Wickett 7-6, Robert Briggs 1-negative 1.
Passing: Wilmington – Robert Pontius 1-for-3, 7 yards. Hayden Yeager 1-for-1, 8 yards. Ridgway – Paul Gresco 14-for-22, 54 yards, 1 interception.
Receiving: Wilmington – Cameron Marett 1-7, Mason Reed 1-8. Ridgway – Austin Green 2-0, Daunte Allegretto 1-3, Gabe Watts 4-5, Matt Dush 5-33, Jake Wickett 2-14.
Interception: Wilmington – Cameron Marett.