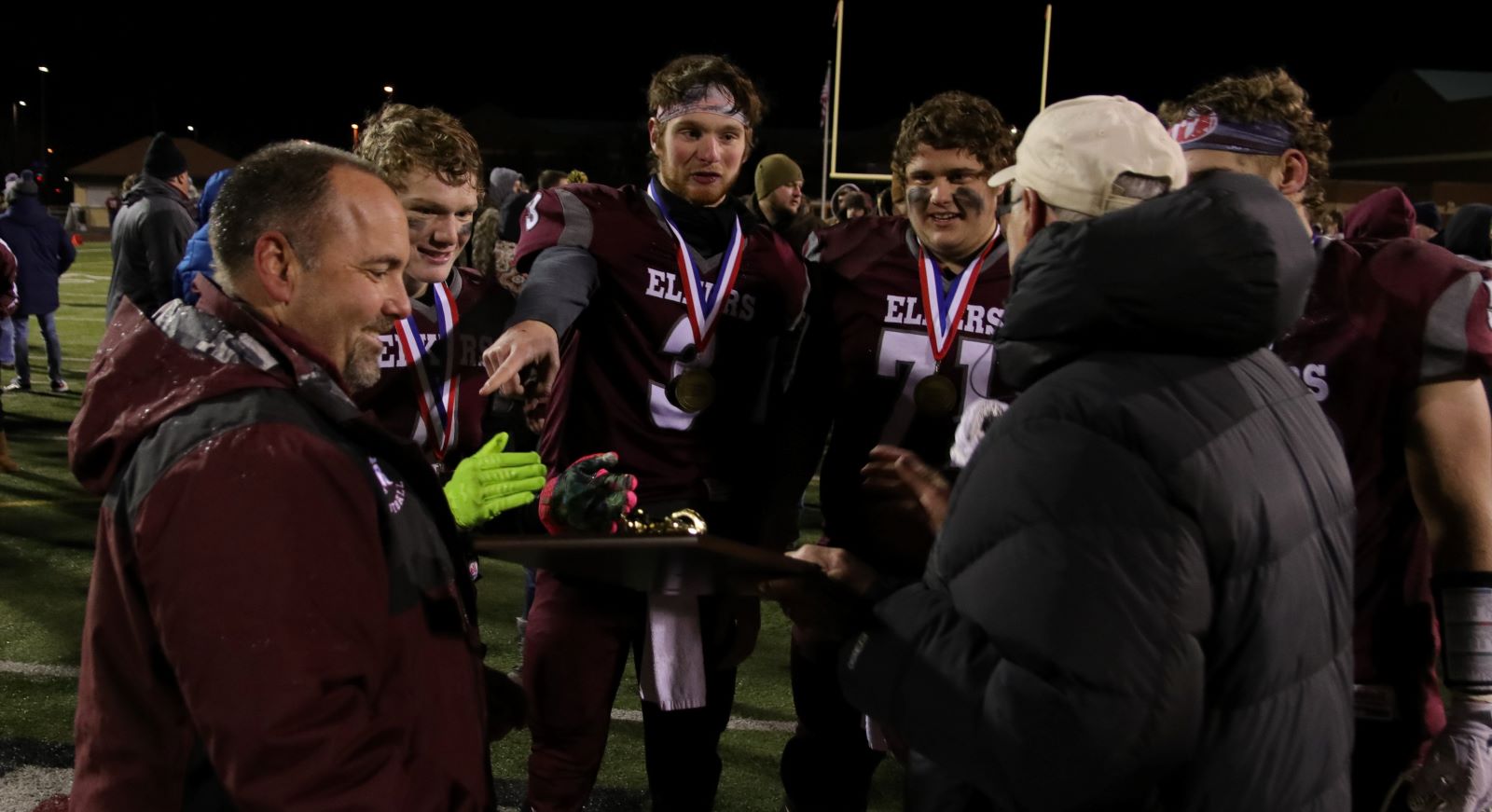 DUBOIS, Pa. – Down 14 points at halftime, Ridgway's run of District 9 football championship seemed in jeopardy.
(Photos by Jared Bakaysa of JB Graphics. See more of Bakaysa's work here)
Well at least to the untrained eye who hadn't watched the Elkers win three titles in a row (2016 and 2017 in Class 1A and 2018 in Class 2A).
Relisten to the game:
Thirty-five straight second-half points, 28 in the third quarter alone, and it is now four straight District 9 champions for Ridgway (11-1), which rallied from a 28-14 halftime deficit to beat Clarion, 56-35, Saturday night at Mansell Stadium in DuBois.
"We are starting to become a dynasty here," Ridgway quarterback Paul Gresco, who threw for 224 yards and five touchdowns, including four scores after halftime, said. "This title doesn't just speak for this year's team but every team before us and every guy that built this program. It's a huge thing for our program."
One of the true hallmarks of a champion is it doesn't panic when the chips were down, and Gresco said there was no panic at halftime despite Ridgway trailing by two touchdowns to a team it had beaten 42-0 in early October.
"Our coaches just got up and they are behind us," Gresco said. "We know we (had) to come out and bring the intensity, and it worked out there. We got the ball off the kickoff, and that Kind of set the tone for us to start scoring some points."
Up by the two touchdowns, Clarion looked to be in a great position to possibly break the game open at the start of the second half receiving the second-half kickoff.
But the Bobcats fumbled the kickoff giving Ridgway the ball at the Clarion 35-yard line, leading to a 32-yard touchdown run by Jake Wickett, who had 15 carries for 90 yards and the score and caught two passes for 66 yards and two touchdowns.
"We just told our guys (at halftime) to play our game," Ridgway head coach Mark Heindl said. "We told the kids you have 24 minutes for the rest of your life. We are still champs until somebody knocks usoff. They came out fired up and caused a turnover right at the start of the half, and to stop them right down here on that fourth down was big. I am just proud as hell of these kids. There is no quit in them."
The fourth-down stop Heindl mentioned was a fake punt attempt by Clarion at its own 29-yard line following the Wickett touchdown.
After a timeout, the Bobcats direct snapped the ball to Austin Newcomb, but he was met at the line of scrimmage for no gain.
"That is my own responsibility on the punt," Clarion head coach Larry Wiser said. "I am not happy (with my call). It will be one of those rest of your life-time memories for me."
A couple of plays later, Gresco hit Austin green with an 11-yard scoring pass, one of three scoring receptions for Green, who had eight catches for 124 yards on the night, to tie the game at 28 less than four minutes into the second half.
"It was what we were given," Heindl said of the Elkers success through the air. "Clarion, Larry Wiser, they do a great job of taking things away. But they couldn't take everything away. It took us a while. They really did a good job in the first half. But in the second half, we couldn't be stopped."
Ridgway, which led 7-0 and 14-7 in the first half, took the lead back for good with 2:49 to play in the third quarter when Matt Dush scored from 38 yards out on a reverse to make it 35-28.
On Clarion's ensuing drive, Dush picked off Cal German, one of four interceptions thrown by the Clarion junior quarterback, to set Ridgway up with great field position at the Bobcats 24-yard line.
It was again Gresco to Green, this time from 26 yards out after Ridgway had lost two yards, to make it 42-28 at the end of the third quarter.
Things went from bad to worse for the Bobcats on its next possession when Jake Cowan intercepted a German pass, one of three by Cowan in the game after he had two the entire season before Saturday night.
"For (Cowan) to come in when Sorg went down hurt early in the first drive there, it was big," Heindl said. "For Jack Cowan to have three picks tonight against a very good quarterback. He was a difference-maker."
That interception led to another Ridgway touchdown with Gresco hitting Wickett from 42 yards out 11 seconds into the fourth quarter to make it 49-28 Elkers.
"(Our second-half offense), was a huge credit to the (offensive line)," Gresco said. "I think it is the best offensive line in the district."
Watch Gresco's postgame interview.
Clarion finally stopped the bleeding temporarily when German, who 12 13 of 24 for 264 yards and four touchdowns despite the four picks, hit Austin Newcomb on a slant that went 58 yards for a touchdown to cut the Ridgway lead to 49-35 with 8:02 to play.
Newcomb, despite an obvious limp, caught four passes for 131 yards and two touchdowns while also rushing nine times for 67 yards.
Clarion, though, seemed to abandon the run in the second half after having a lot of success with it before halftime gaining 185 yards, including 102 by Colton Zacherl, a surprise participant in the game. The Bobcats had negative 10 yards rushing after halftime, although some of that was due to Ridgway sacks.
"Turning the ball over and interceptions, you just can't do that," Wiser said. "Whether or not we panicked too soon and got out of our game plan a little bit. I don't know. I want to congratulate Ridgway. They're obviously a very fine football team, and we want to wish them luck against Wilmington."
Any hope of a Clarion comeback was stiffed out on a fourth-down touchdown pass from Gresco to Wickett with 4:11 to play that set the final score.
"You guys can use that word (dynasty)," Heindl said. "I can tell you this. We've been blessed with a lot of good kids over the years, and it's just neat. Hopefully, we get a chance at Wilmington again next week. But we're going to enjoy this tonight. These kids earned every bit of this today."
The first half started out as a back-and-forth affair with Ridgway taking advantage of 30 yards of penalties on Clarion – a roughing the passer call followed by an unsportsmanlike penalty on the sideline – to go up 7-0 on a 30-yard Gresco to Green touchdown pass.
Clarion answered back with a 2-play drive that saw German finding Newcomb with a 63-yard touchdown pass to tie the game.
Again, it was Ridgway with Gabe Watts scoring on a 6-yard run to make it 14-7 at the end of the first quarter.
The second-quarter scoring belonged to the Bobcats.
German found Cutter Boggess with a 22-yard score to tie the game at 14 1:50 in the quarter, them Boggess scored on a 10-yard run at the 5:32 mark to give Clarion its first lead, 21-14.
Ridgway got the 1-yard line late in the half, but on a Wildcat snap to Watts, the ball went over Watts' head with Clarion recovering at the 10-yard line.
"We had two turnovers, both on bad snaps, and they scored 14 points," Heindl said. "But out kids are winners, man, they will not quit."
Clarion took advantage of the turnover going 90 yards to score just before halftime to go up 28-14.
A 41-yard run by Zacherl got the Bobcats out of the hole, and then German connected with Hunter Craddock on a 45-yard scoring pass to make give Clarion the two-touchdown lead at halftime.
"We were in a pretty good mood," Wiser said. "I think we went in there with the same approach every time we play a game. We put 0-0 up on the board, and we start from there and look at some of the plays that they were kind of making hay with us. We worked to make any adjustments."
Ridgway will rematch with Wilmington in the PIAA quarterfinals next week at a site, time and day to be announced.
NOTES: The 91 combined points made it the highest-scoring District 9 title game on record … Karns City and Perry combined to score 90 in a 2016 subregional game won 54-36 by the Gremlins and Karns City and Brockway combined to score 82 points in the 2009 Class 2A title game won by the Gremlins 42-40 … The 56 points scored by Ridgway are also tied for the most in a District 9 title game with 56 scored by Clearfield in 2015 in Class 3A, although the Bison then had to move into a subregional after winning that game so some could say the 56 scored by Ridgway is the all-time record in a D9 title game … Clarion's 35 points scored are the second-most by a losing team in a D9 championship game behind the 40 scored by Brockway in 2009 … Ridgway has now won four straight D9 titles (2 in 1A and 2 in 2A) becoming just the second program to win four in a row. Karns City won six straight from 2012 to 2017 with the first four coming in 2A and the next two in 3A.