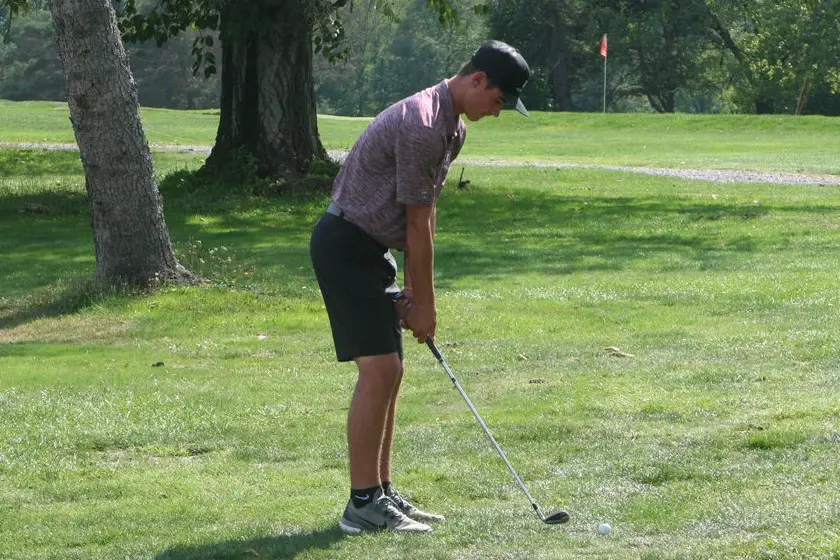 ST. MARYS, Pa. – Ridgway's Ben Ames and DuBois' Drew Canter took home District 9 boys' golf championships Saturday with Ames capturing the 2A title and Canter the 3A championship at Bavarian Hills Golf Club in St. Marys.
(Cover photo of Ridgway's Ben Ames. Photo courtesy of Greg Reedy of the Ridgway Record)
Six additional golfers – five in 2A and one in 3A – also qualified for the Western Regional championship.
The additional regional qualifiers in 2A were Jonah Meyer of Elk County Catholic, Kolby Montgomery of A-C Valley/Union, Weston Kimmey of Moniteau, Nick Simon of Ridgway and Lucas Ambler of Punxsutawney.
In 3A, Joe Hnat of DuBois also qualified for the regional.
Ames easily won the 2A title outdistancing Meyer by six shots. Ames had a two-round total of 159 compared to Meyer's 165. Montgomery was third at 167 followed by Kimmey at 171, Simon at 173 and Ambler at 175.
Ames shot a second-round best 79 one shot ahead of Montgomery Saturday.
In the 3A competition, Canter beat teammate Hnat by nine shots, 169 to 178. Canter shot an 84 Saturday to Hnat's 89.
The Western Regional for both 2A and 3A will be Oct. 17 at Tom's Run Golf Resort in Blairsville.
DISTRICT 9 2A BOYS' GOLF INDIVIDUAL CHAMPIONSHIP
Place, Golfer, School, First-Round Score-Second-Round Score-Total Score
1. Ben Ames* – Ridgway 80-79-159
2. Jonah Meyer* – Elk County Catholic 83-82-165
3. Kolby Montgomery* – A-C Valley/Union 87-80-167
4. Weston Kimmey* – Moniteau 85-86-171
5. Nick Simon* – Ridgway 84-89-173
6. Lucas Ambler* – Punxsutawney 90-85-175
7. Andrew Gunn – Cranberry 90-86-176
7. Hunter Gifford – Karns City 88-88-176
9. Gabe Kraus – Elk County Catholic 90-88-178
9. Ryan Bressler – St. Marys – 88-90-178
9. Christo Park – Kane 86-92-178
12. Nathan Marterella – Cranberry 88-93-181
13. Willie Hoover – Punxsutawney 89-94-183
14. Austen Cogley – DuBois Central Catholic 87-100-187
15. Ethan Nevel – A-C Valley/Union – 85-104-189
16. Marcus Murphy – Port Allegany 84-109 – 193
17. Joshua Craig – Clarion 89-113-202
*Western Regional Qualifier
DISTRICT 5/9 3A BOYS' GOLF INDIVIDUAL CHAMPIONSHIP
Place, Golfer, School, First-Round Score-Second-Round Score-Total Score
1. Drew Canter* – DuBois 85-84-169
2. Joe Hnat* – DuBois 89-89-178
3. Alec Graham – Clearfield 88-94 182
4. Hunter Fox – Bradford 85-98 – 183
5. Jacob Vanlenten – Somerset 92-104-196
*Western Regional Qualifier