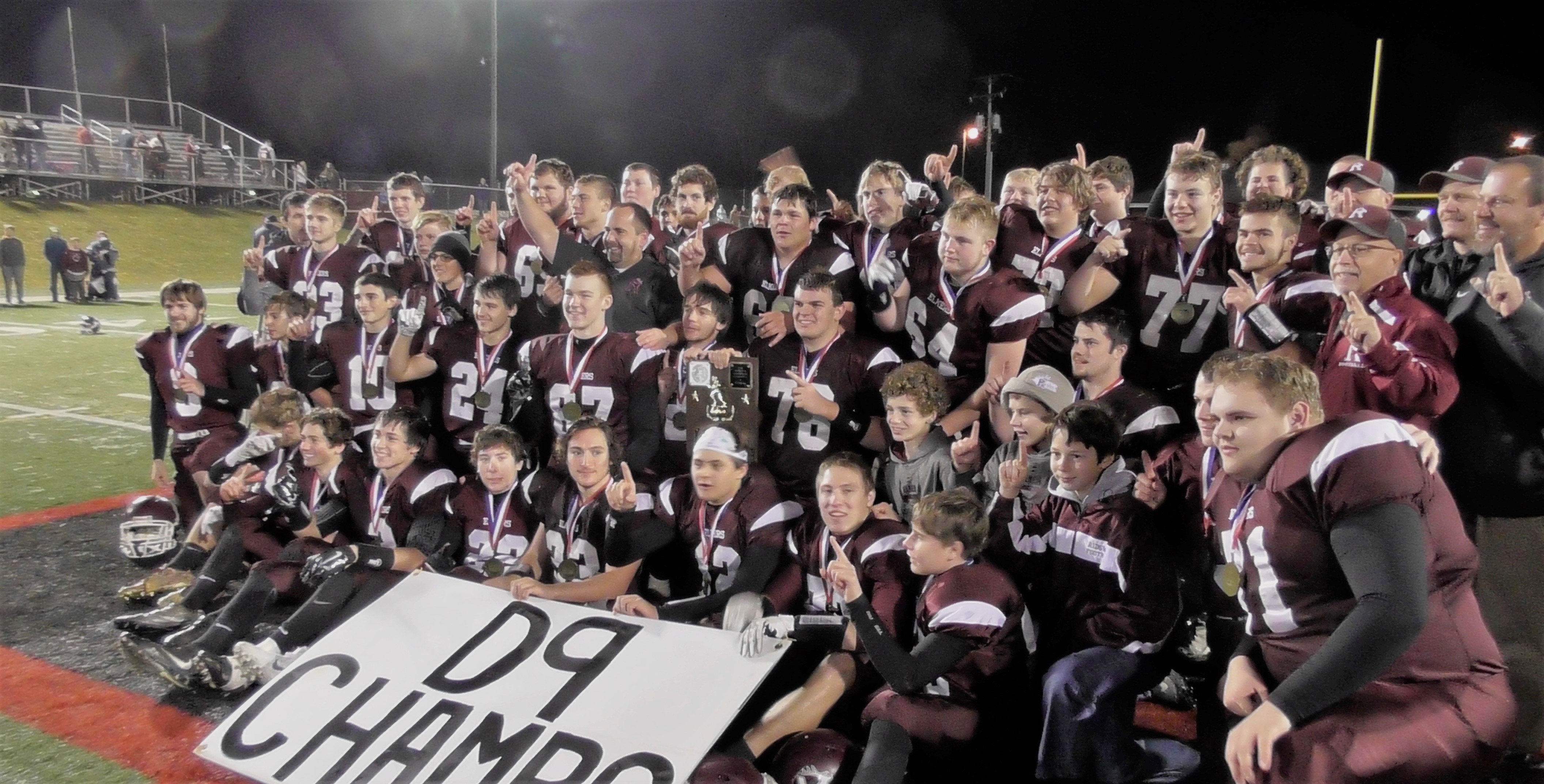 By Scott Shindledecker
BROCKWAY, Pa. – The drought is over.
The Ridgway Elkers football team last won its only District 9 championship in 1989 when Gary Weber kicked a field goal in a 3-0 win over Johnsonburg.
Friday night in Brockway, the Elkers, now in a co-op with Johnsonburg in football and other sports, didn't need a field goal to win as they rolled to a 42-13 triumph over their rival Elk County Catholic to win the Class 1A title.
"It's awesome," Ridgway head coach Mark Heindl said. "Big win, big win for the program and we're excited as hell right now."
Watch Ridgway receive the championship medals
Heindl, who was in seventh grade the last time the Elkers won districts, was happy with the way his team controlled the line of scrimmage.
"Our offensive line did a phenomenal job tonight and the defense played well too. It was bend, but don't break and we played much better in the second half."
The Elkers (10-2) will play the Farrell Steelers next week in the state playoffs. Farrell, the District 10 1A champs, beat D-5 champ Conemaugh Township, 30-0, Friday.
Ridgway led 20-13 at halftime and the score remained that way after a scoreless third quarter.
The game turned in the Elkers' favor for good late in the third as ECC (8-4) lined up to punt from their own 43-yard line.
The snap was low and when Tyler Dilley knelt to pick up the ball the play was whistled dead and the Elkers took over at the ECC 31.
Eight plays later, Ridgway cashed in its break when Neil MacDonald scored on a 3-yard run to make it a 27-13 lead with 9:43 left in the game.
"We felt that was the big turning point when the kid knelt down on the punt," Heindl said.
MacDonald had a big game for the champs, running 21 times for 109 yards and two touchdowns while catching three passes for 27 yards. Defensively, MacDonald added two interceptions.
The way the Elkers defense was playing, it seemed like it would be enough to get the win and after an avalanche of Ridgway points followed, it was.
On ECC's next possession, a backward pass by Nate DaCanal went out of the end zone for a safety, making Ridgway's lead 29-13 with 9:39 left.
On the free kick, MacDonald had a good return to set the Elkers up on the ECC 36.
MacDonald sealed the win and capped the eight-play drive with a 10-yard touchdown run on a reverse to make it 36-13 with 5:18 left.
Ridgway set the final score on the next ECC series of downs when Jacob Anderson returned a fumble 60 yards for a touchdown. DaCanal had completed a pass to Brad Dippold, but the ball came out and officials didn't rule the play dead as Anderson scooped up the ball and raced into the end zone.
"We made a couple of adjustments at the half and the kids responded," Heindl said.
The two teams met Oct. 22 and Ridgway claimed a 7-0 win on a Joey Elinski TD run.
The first half was much different Friday night with both teams combining for 33 points.
The Crusaders took a 7-0 lead when DaCanal hit Jared Braun for a 32-yard TD pass early in the second quarter.
Ridgway struck when quarterback Johnny Mitchell scored on a 1-yard run, but the conversion failed and ECC still led 7-6.
The Elkers went ahead on an Elinski 3-yard TD run to make it 12-7 with 4:06 left in the half.
ECC answered back when DaCanal hit Eric Gerber for a 17-yard TD pass to make it 13-12.
But the Elkers took the lead for good with less than a minute left in the half.
After the ECC touchdown, Ridgway started at its 34. Mitchell hit MacDonald for a gain of 12, then Mitchell picked up one yard on a scramble.
The Elkers called timeout with 1:07 left.
Junior halfback Jacob Zimmerman got behind the ECC defense and Mitchell got time in the pocket to make the deep throw, hitting Zimmerman inside the 10 and he took it in for a 53-yard TD.
On the conversion, Ridgway went to its bag of tricks and MacDonald hit Kilhoffer for the two-point pass to make it 20-13.
Mitchell played a good game at QB, throwing for 136 yards with one TD and one interception on 5 of 7 passes. He also ran for 18 yards on eight carries.
Mitchell talked after the contest
For ECC, DaCanal hit some big passes in the first half and finished with 199 yards on 13 of 27 throws with two TDs and two picks.
But the Elkers really tightened down on the ECC passing game in the second half as the Crusaders had just 40 yards.
ECC enjoyed some early success running the ball as Dan Stauffer, mainly working in the single wing offense, gained 29 yards on his first seven carries.
But after that, the sledding became more difficult for Stauffer as he finished with 49 yards on 19 carries.
RIDGWAY 42, ELK COUNTY CATHOLIC 13
Score by Quarters
ECC 0 13 0 0 – 13
Ridgway 0 20 0 22 – 42
Scoring Summary
Second Quarter
E – Jared Braun 32 pass from Nate DaCanal (Tyler Dilley kick), 11:11.
R – Johnny Mitchell 1 run (run failed), 9:53.
R – Joey Elinski 3 run (run failed), 4:06.
E – Eric Gerber 17 pass from DaCanal (pass failed), 1:31.
R – Jacob Zimmerman 53 pass from Johnny Mitchell (Ryan Kilhoffer pass from Neil MacDonald), 0:57.
Fourth Quarter
R – Neil MacDonald 3 run (Daunte Allegretto kick), 9:43.
R – Safety, backward pass out of end zone, 9:39.
R – MacDonald 10 run (Aaron Hinton kick), 5:18.
R – Jacob Anderson 60 fumble return (kick failed), 3:29.
TEAM STATISTICS
ECC-STAT-RIDGWAY
18 First Downs 15
36-115 Rushes-Yards 41-183
199 Passing Yards 136
13-27-2 Comp-Att-Int 5-7-1
63-314 Plays-Yards 48-319
3-1 Fumbles-Lost 2-0
2-10 Penalties-Yards 3-35
3-31 Punts-Avg 2-45
INDIVIDUAL STATISTICS
RUSHING – ECC: Dan Stauffer 19-49, Jared Braun 5-44, Nate DaCanal 11-34, Tyler Dilley 1-(-12). Ridgway: Neil MacDonald 21-109, Johnny Mitchell 8-18, Joey Elinski 7-39, Jacob Zimmerman 4-12.
PASSING – ECC: Nate DaCanal 13 of 27, 199 yards, 2 TD, 2 Int. Ridgway: Johnny Mitchell 5 of 7, 136 yards, 1 TD, 1 Int.
RECEIVING – ECC: Eric Gerber 4-64, Ryan Heary 4-42, Jared Braun 2-63, Brad Dippold 2-23, Dan Stauffer 1-7. Ridgway: Neil MacDonald 3-27, Jacob Zimmerman 1-53, Ryan Kilhoffer 1-56.
INTERCEPTIONS – ECC: Eric Gerber. Ridgway: Neil MacDonald 2.