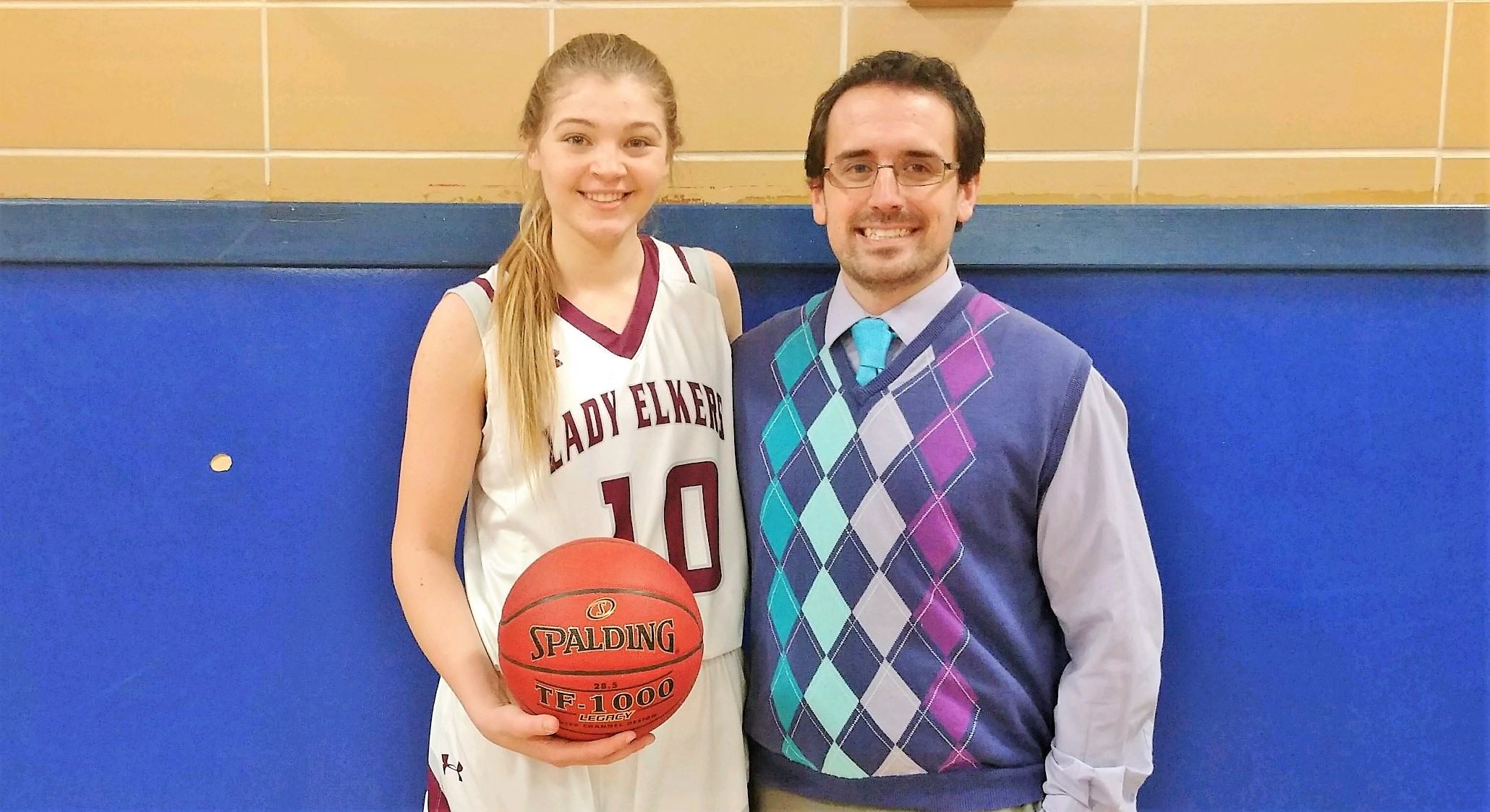 RIDGWAY, Pa. – Ridgway senior Emily Fullem became a 1,000-point, 1,000-rebound player Friday night when she hauled in her 1,000th rebound in a 43-23 Lady Elkers win at Brockway.
(Photo: Emily Fullem of Ridgway with Ridgway head coach Kyle Gordon after Fullem scored her 1,000th career point earlier this season)
Fullem had 18 caroms in the game giving her 1,013 in her career. She is one of at least two known District 9 active players with 1,000 points and 1,000 rebounds joining North Clarion's Tori Obenrader, who accomplished the feat last year as a junior.
In her career, Fullem has scored 1,253 points. She is currently fourth in District 9 in scoring at 20.8 points per game and second in rebounding at 15.0 rebounds per game while adding 5.5 blocks per contest. On the year, Fullem has 19 double-doubles in 20 games including 13 in a row.
DISTRICT 9 GIRLS' SCORING LEADERS THROUGH FEB. 9
1. Emily Hegedus, Karns City 25.9 ppg
2. Tori Obenrader, North Clarion 24.5 ppg
3. Abbey Woodard, Smethport, 22.5 ppg
4. Emily Fullem, Ridgway, 20.8 ppg
DISTRICT 9 GIRLS' REBOUNDING LEADERS THROUGH FEB. 9
1. Leah Miller, Punxsutawney 15.8 rpg
2. Emily Fullem, Ridgway 15.0 rpg
3. Tori Obenrader, North Clarion 14.7 rpg
KNOWN ACTIVE DISTRICT 9 1,000 CAREER POINTS, 1,000 CAREER REBOUNDS THROUGH FEB. 9
1. Tori Obenrader, North Clarion 1,928 points, 1,431 rebounds
2. Emily Fullem, Ridgway 1,253 points, 1,013 rebounds