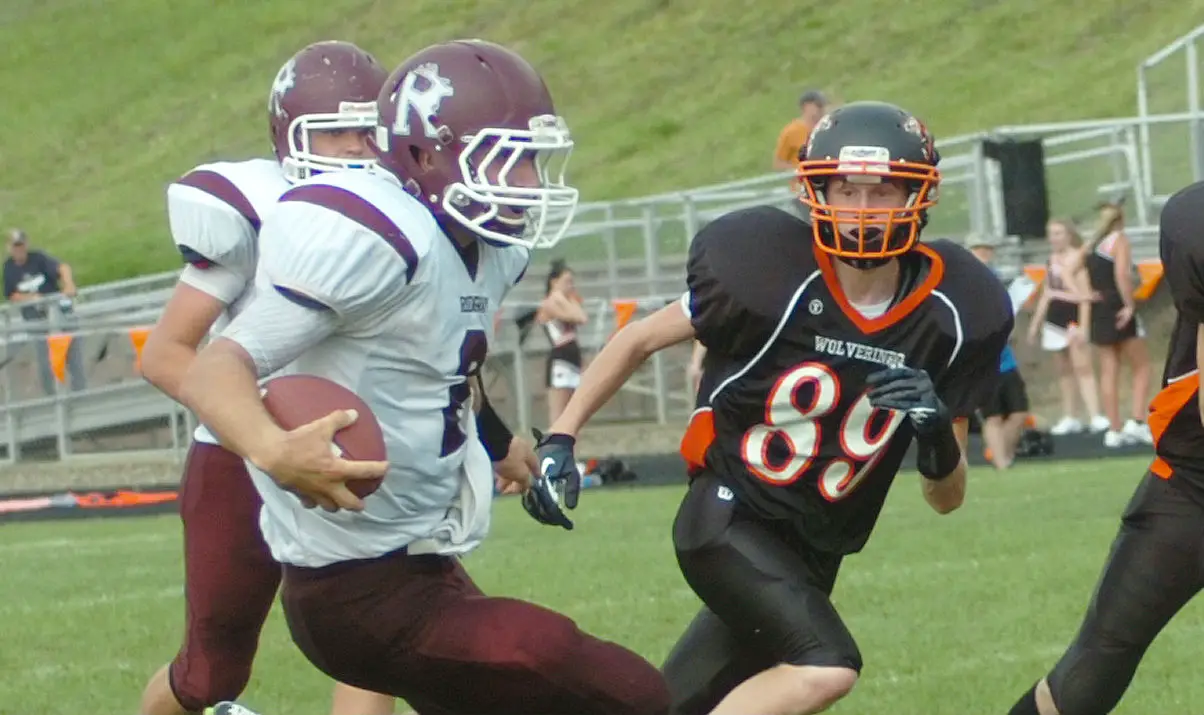 Photo of Ridgway's Ben MacDonald – Photo courtesy of the DuBois Courier-Express
CLARION, Pa. – After a dual-100-plus-yard performance in a key AML South win over Brockway, Ridgway quarterback Ben MacDonald is the D9Sports.com Football Player of the Week for Week Seven of the 2014 season.
MacDonald was 11 of 17 passing for 154 yards and three touchdowns and ran 14 times for 136 yards in the Elkers 28-14 win over Brockway that kept them unbeaten in AML South play and brought Ridgway within a win of the AML South title.
Joining MacDonald in being honored are 15 players on the Week Six 2014 District 9 Honor Roll.
The Player of the Week and Honor Roll will run through Week 10 of the 2014 high school football season and will be released at the conclusion of the week's games either Sunday or Monday.
Located at www.d9sports.com, D9Sports.com is in its 15th year of covering athletics within the PIAA's District 9. The site, which is not affiliated with the PIAA in any way, covers all 25 football playing teams playing in District 9. For more information on the site, please visit it or e-mail the staff at sports@d9sports.com. The site is also active on Twitter @D9sports and on Facebook at www.facebook.com/d9sports.
D9SPORTS.COM DISTRICT 9 PLAYER OF THE WEEK
Ben MacDonald – Ridgway: 11-for-17 passing, 154 yards, 3 touchdowns; 14 carries, 136 yards – Ridgway 28, Brockway 14
D9SPORTS.COM DISTRICT 9 HONOR ROLL (in alpabetical order my team)
Rusty Setzer – Cameron County: 70 yards rushing, 3 touchdowns – Cameron County 43, Smethport 6
Ian Corbett – Clarion: 18 carries, 269 yards, 3 touchdowns; 3 tackles on defense – Clarion 47, Union 12
Devin Clark – DuBois: 14 carries, 102 yards, 2 touchdowns – DuBois 55, Bradford 7
Dante Dawson – DuBois: 5 catches, 129 yards, 2 touchdowns – DuBois 55, Bradford 7
Gabe French – DuBois: 16-for-18 passing, 298 yards, 2 touchdowns; 8 carries, 39 yards, 1 touchdown – DuBois 55, Bradford 7
Tristan Rhoades – Karns City: 5 carries, 95 yards, 2 touchdowns; 1 catch, 8 yards, 1 touchdown – Karns City 43, Erie Central Tech 16
Jake Weaver – Keystone: 13 carries, 141 yards, 2 touchdowns – Keystone 26, Clarion-Limestone 12
Cody Skiver – Moniteau: 17 carries, 139 yards, 2 touchdowns; Returned a punt 70 yards for a touchdown – Moniteau 38, Brookville 15
Braxton Giaviadoni – Punxsutawney: 5 catches, 141 yards, 2 touchdowns – Punxsutawney 28, St. Marys 21
Dakota Thomas – Punxsutawney: 10-for-19 passing, 206 yards, 2 touchdowns, 2 interception, 10 carries, 79 yards, 1 touchdown – Punxsutawney 28, St. Marys 21
Jake Dougherty – Redbank Valley: 7-for-11 passing, 161 yards, 5 touchdowns; 2 carries, 34 yards, 1 touchdown – Redbank Valley 55, A-C Valley 20
Nick Shoemaker – Redbank Valley: 4 catches, 92 yards, 3 touchdowns – Redbank Valley 55, A-C Valley 20
Adam Higby: Sheffield: 9-for-19 passing, 138 yards, 2 touchdowns, 1 interception – Sheffield 36, Coudersport 6
Lane Cicciarelli: Union: 26 of 42 passing, 341 yards, 2 touchdowns, 2 interceptions; Intercepted a pass on defense – Clarion 47, Union 12
Cole Morris – Union: 15 catches, 191 yards, 1 touchdown; 14 tackles on defense – Clarion 47, Union 12