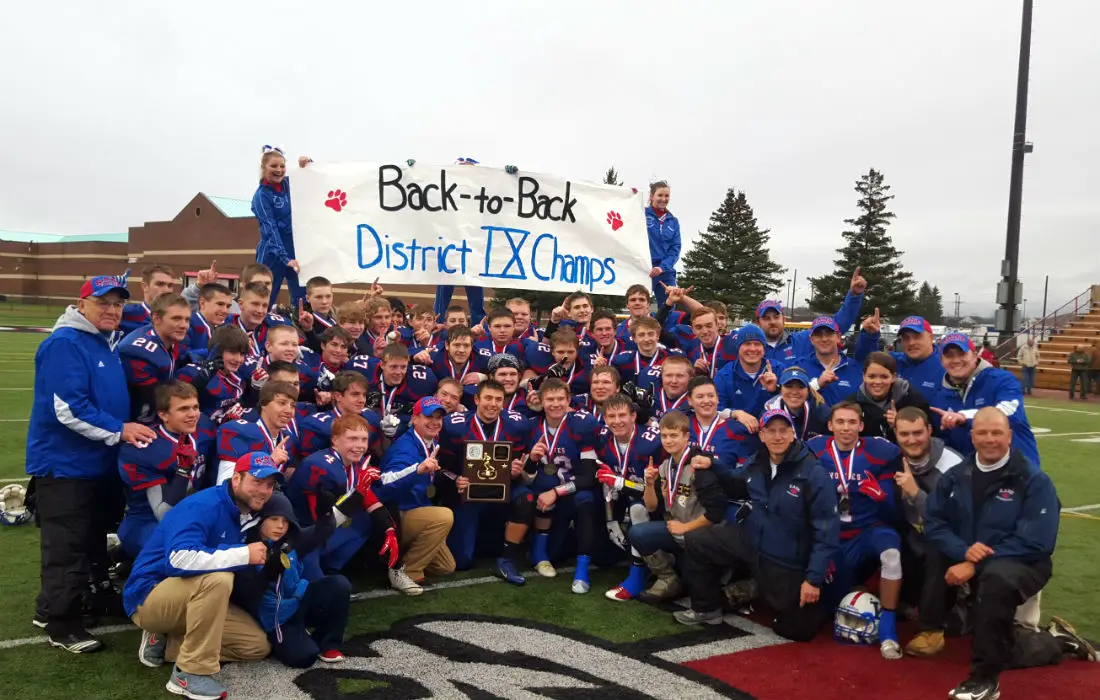 By Chris Rossetti
DUBOIS, Pa. – Kane's Tyler and Shane Rolick have been in sync since the day they were born a minute apart 17-plus years ago.
And they were in sync when it mattered the most Saturday afternoon hooking up on passes of 51 and 25 yards, the latter for the game-winning touchdown with 47.2 seconds left in a 21-17 Wolves victory over Brockway in the District 9 Class A championship game at DuBois E.J. Mansell Stadium, the second straight D9 A title for Kane.
To set the stage, Kane, which led most of the game, was clinging to a 14-10 lead when it had to punt the ball away to Brockway giving the Rovers the ball at their own 34-yard line following a nice return by Troy O'Brien with 2:27 to play.
Two plays later, Brockway was at its own 40 facing a third-and-2 when Hunter Miller, who earlier in the second half had scored on a 42-yard run to get the Rovers within four, hit Mark Latuska with a screen pass that saw Latuska get into the clear before being tracked down by Ray Maze at the Kane 2-yard line.
"They just slipped out on us," Kane sophomore defensive lineman Anthony Smith said. "We were having problems with screens all year. They just slipped out and got free and got lucky I guess."
After near disaster struck on a fumbled snap on first down that Brockway was able to recover, Latuska finished the drive with a 2-yard scoring run to give the Rovers their first lead of the game, 17-14, with just 1:23 to play.
"They bring so much pressure," Brockway head coach Frank Zocco said. "It's no secret you can screen them. They fly to ball. You take their aggressiveness and use it."
After the kickoff, Kane's hopes of a second District 9 title in as many years seemed bleak with the Wolves backed up at their own 21-yard line with just 75 seconds to play and no timeouts.
A first-down scramble by Shane Rolick, a minute younger than Tyler, put the ball at the 24.
At that point, Shane found Tyler streaking down the near sideline with the 51-yard pass to the Brockway 25-yard line.
One play later, after Shane had a pass go incomplete, he found his brother again, this time in the end zone for the go-ahead and eventual winning score.
"They are just amazing athletes," Smith said. "I just love watching them play. The emotions were everywhere. I was happy then I was upset then we just pulled it out. They are just great athletes, so I relied on them."
The end of the game play was just another in a long list of highlights this season from the Rolick twins including the game's first two touchdowns.
Kane went ahead 7-0 on the first drive of the game when Tyler scored on a 41-yard run one play after Shane picked up a first down on a fake punt run of five yards on fourth-and-2 from the Brockway 46.
"That's something we thought we had," Kane head coach Todd Silfies said of the fake punt. "It may look to people to be a high-risk situation, but what we saw was an opportunity to snap the ball to one of the better rushers in the district with an empty box. So it was there. Shane took it. It was just one of those things that if we get that look, we are going to do it."
Then, after Jarrett Esposito had gotten Brockway within four with a 22-yard field goal midway through the second quarter, it was Shane's turn on the final play of the half as he scrambled 35 yard for a touchdown on a play that was supposed to be a Hail Mary to give the Wolves a 14-3 halftime lead.
"Exactly how we drew it up," Silfies said. "We were kind in a Hail Mary situation. We were trying to put the ball into the end zone one time and see if we could make something happen. It just so happened that coach Smith (offensive coordinator Tyler Smith) had told the offensive lineman to kind of fork out in case it was a pick just like it was a punt return. Because they did, they were all set up and kind of got us in a punt-return situation and got Shane into space. We had a huge block from Keaton Rounsville and a huge one from Tyler Weidenhoff and obviously Shane making plays with his legs right there. Not how we drew it up. But it doesn't always tend to go that way when No. 12 is catching the snap."    
Brockway battled back in the second half and cut the lead to 14-10 on its second possession of the second half when Miller broke free for the 42-yard run on what looked to be a broken play.
The Rovers then had a couple of golden opportunities to take the lead slip through their grasp in the fourth quarter first moving to the Kane 38 early in the quarter before having to punt and then later recovering an Tyler Rolick fumble at the Kane 30 with 6:41 to play and then picking up a first down at the Wolves 17 on a 13-yard screen pass from Miller to O'Brien.
But a false start penalty followed by a 14-yard sack of Miller by Issac Walters pushed the Rovers back to the 36, and two incomplete plays later they turned the ball over on downs at the Wolves 34.
Kane then tried to run the clock out after getting the ball back with 4:27 to play but was able to move to only the Brockway 47 before being forced to punt the ball away.  
Tyler Rolick's punt was field by O'Brien at the 8 and he returned it out to the 34 where Brockway went to work on the go-ahead drive.
"We had the game won," Zocco said. "Until those last two plays, two big plays. Again, I say the stars align for them. Apparently we didn't bust them up enough, they aligned."
"It was a rollercoaster," Silfies said. "It was a great football game. We know it. You guys know it. It's one of the best games I've ever been a part of, and, as I think about it, I've been blessed to be a part of some good ones. Most of them have been against Brockway, right? They are just a well-coached football team. They are extremely talented, strong and physical, all things we preach to our kids that they obviously preach to theirs. Just hats off to a great Brockway team, and at the end of the day it's just a great football game."
Despite being down late, Silfies knew his team wasn't quite dead.
"I think we have a team that's awfully close," Silfies said. "They have a lot of fight in them. I think those passes (at the end of the game) have been completed in backyards for about 17 years. Shane going to Tyler. It's a special thing for those guys. They work so hard. They are blessed with a ton of talent, but people don't know how hard they work and how smart they are. They are two of the smartest kids I've ever coached."
The victory had extra special meaning to Silfies, whose teams are 2-2 in title games over the last four years after losing back-to-back titles to Karns City in Class AA in 2012 and 2013, as Saturday was his 32nd birthday.
"Outside of maybe the Walter Payton football outfit I got for my third birthday, this is probably the best one I've ever had," the Kane mentor said.
Kane faces the winner of the District 10 title game between Sharpsville and Farrell in the PIAA quarterfinals next week.
KANE 21, BROCKWAY 17
Score by Quarters
Brockway 0 3 7 7 – 17
Kane 7 7 0 7 – 21
Scoring Summary
First Quarter
K – Tyler Rolick 41 run (Tyler Rolick kick), 9:21
Second Quarter
B – Jarrett Esposito 22 field goal, 6:01
K – Shane Rolick 35 run (Tyler Rolick kick), 0:00
Third Quarter
B – Hunter Miller 42 run (Esposito kick), 8:05
Fourth Quarter
B – Mark Latuska 2 run (Esposito kick), 1:23
K – Tyler Rolick 25 pass from Shane Rolick (Tyler Rolick kick), 47.2
TEAM STATS
| | | |
| --- | --- | --- |
| Brockway | TEAM STATS | Kane |
| 12 | First Downs | 15 |
| 32-83 | Rushes-Yards | 45-244 |
| 143 | Passing Yards | 102 |
| 13-19-0 | Comp-Att-Int | 7-11-0 |
| 226 | Total Yards | 346 |
| 3-0 | Fumbles-Lost | 4-1 |
| 4-30 | Penalties-Yards | 5-49 |
| 6-37.7 | Punts-Avg | 6-36.8 |
INDIVIDUAL STATS
RUSHING – Brockway: Mark Latuska 18-65 (1 TD), Hunter Miller 12-20 (1 TD), Jake Gorham 1-negative 2, Team 1-0. Kane: Erik Delong 13-56, Shane Rolick 20-124 (1 TD), Tyler Rolick 11-75 (1 TD), Team 1-negative 11.
PASSING – Brockway: Hunter Miller 12-for-18, 135 yards. Chad Perrin 1-for-1, 8 yards. Kane: Shane Rolick 7-for-11, 102 yards, 1 touchdown.
RECEIVING – Brockway: Jake Gorham 2-negative 1, Chad Perrin 1-5, Ty Bittner 1-5, Dylan Lecates 1-2, Andrew Trunzo 4-33, Troy O'Brien 2-33, Mark Latuska 1-58. Kane: Ange Costanzo 1-negative 1, Tyler Rolick 5-99 (1 TD), Ray Maze 1-4.