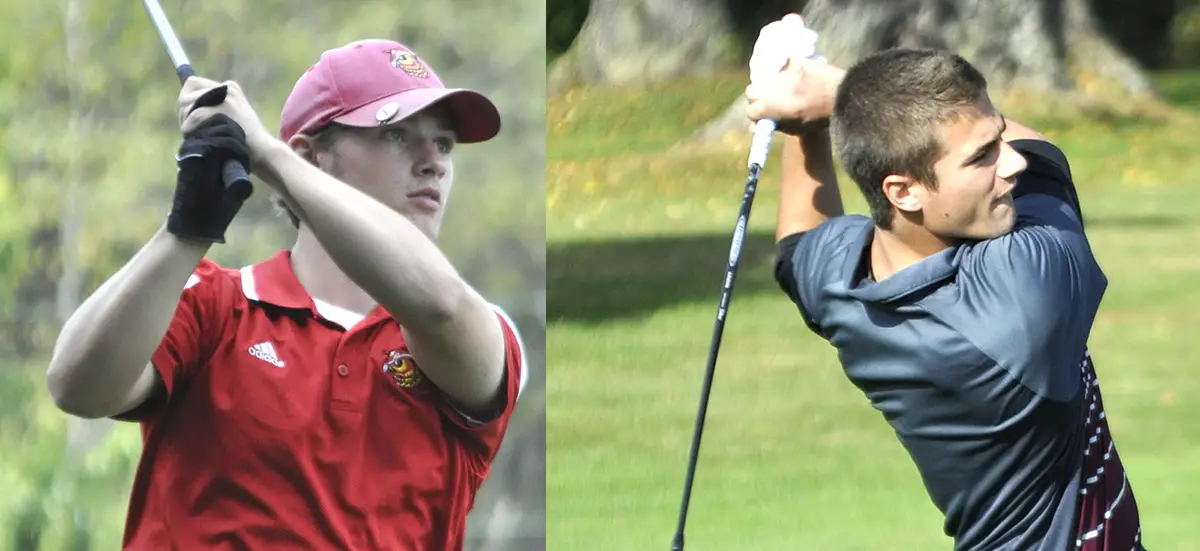 Photo Info: Bradford's Mitch Faulkner (left) and Ridgway's Josh Roselli (right) are this year's District 9 golf champs.
PUNXSUTAWNEY — Ridgway's Josh Roselli and Bradford's Mitch Faulkner captured District 9 golf titles in the second day of individual play at Punxsutawney Country Club Saturday afternoon.
Roselli was tied with Elk County Catholic's Mitchell Struble going into the second round with an 80, four shots behind first-round leader Jared Bish of Clarion. Roselli and Struble each shot an 81 Saturday and went four playoff holes before Roselli captured the Class AA title. He and Struble are two of the eight regional qualifiers headed to the Western Regional at Tom's Run Golf Course at Chestnut Ridge Golf Resort in Blairsville Oct. 14.
Bish wound up third behind Roselli and Struble, seven strokes back with a 168 after shooting a 92. Coudersport's J.T. Maynard and Ridgway's Mitchell Stark (169), Brookville's Jacob McLaughlin (171), Ridgway's Nick Simon (173) and A-C Valley's Noah Morgan (174) were the other qualifiers.
In Class AAA, Bradford's Faulkner, the first round leader by six strokes going into Saturday thanks to his first-round 77, again shot the lowest round with an 85 to win by 11 strokes over his teammate Matt Moonan and Logan Reed. Moonan gained four strokes on Reed from the first round to force a playoff for the second and final regional berth and beat Reed on the sixth playoff hole to secure the trip to Tom's Run also on Oct. 14.
SATURDAY'S RESULTS
Listed are golfer, school, first-round score from Sept. 29, second-round score from Saturday and final 36-hole score.
CLASS AA
*Josh Roselli, Ridgway: 80-81-161
Mitchell Struble, Elk Co. Catholic: 80-81-161
Jared Bish, Clarion: 76-92-168
J.T. Maynard, Coudersport: 85-84-169
Mitchell Stark, Ridgway: 85-84-169
Jacob McLaughlin, Brookville: 88-83-171
Nick Simon, Ridgway: 86-87-173
Noah Morgan, A-C Valley: 89-85-174
* Won four-hole playoff for title
Missed Cut to Regionals
Drew Meyer, Elk Co. Catholic: 90-87-177
Derek Lauer, Clarion: 88-90-178
Corey Carr, Brockway: 89-90-179
T.J. Schlimm, Ridgway: 86-95-181
Nate Burgeson, Ridgway: 87-95-182
Danny Sayers, DuBois CC: 90-93-183
CLASS AAA
Mitch Faulkner, Bradford: 77-85-162
**Matt Moonan, Bradford: 87-86-173
** Won six-hole playoff over Reed for second regional berth
Missed Cut to Regionals
Logan Reed, Punxsutawney: 83-90-173
Beau Shepherd, DuBois: 89-93-182
Austin Milton, Punxsutawney: 95-88-183
Brandon Orsich, Clearfield: 83-106-189