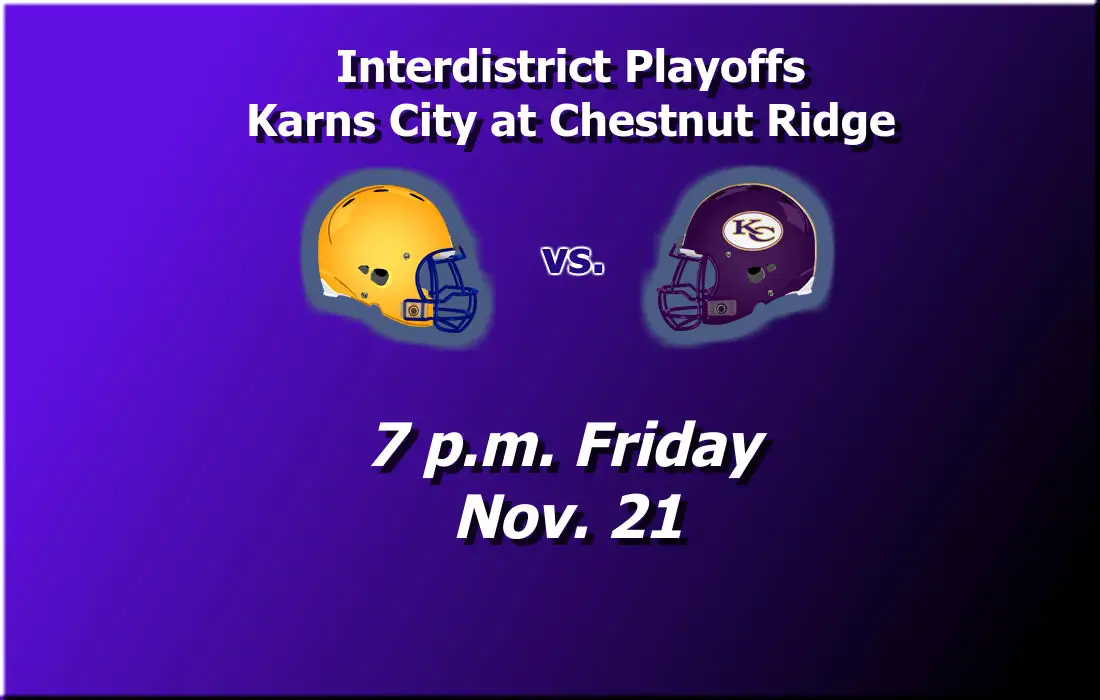 Karns City schedule; Chestnut Ridge schedule
Karns City statistics; Chestnut Ridge statistics
Karns City roster; Chestnut Ridge roster
By Rich Rhoades
NEW PARIS — It's the third straight year that the District 9 Class AA champion Karns City Gremlins meet Chestnut Ridge in the football postseason this Friday night.
Is it the PIAA state playoffs? Technically, no.
A sub-regional? Technically, yes.
While the first two matchups were played at Clarion University (2012) and Northern Bedford High School (2013), this one will be played in Chestnut Ridge's back yard.
Literally.
It's the Lions' home field. The 10-2 Lions are hosting the 10-1 Gremlins at 7 p.m., much to the chagrin, or perhaps anger, of at least Gremlins followers. Understandably, it's a head-scratcher since essentially it's the round of 16 statewide.
District 9 Tournament Director Bob Tonkin explained the odd setup this way:
— The PIAA operates on two-year cycles. This is a new cycle, so last year doesn't necessarily mean anything this year as far as a rotation goes.
— Indeed, it's a sub-regional game considering that the PIAA wasn't directly involved in setting up the parameters. While District 9 went ahead and had its own tournament — districts are allowed to do that provided they have at least four teams available in a classification and even though D9 only had three in the postseason this year, four Class AA teams do exist in D9 — districts 5 and 8 each fell short of that number and combined for what turned out to be a three-team tournament.
Last week, while Karns City was walloping St. Marys for its third straight district title, Chestnut Ridge beat Bedford, 17-14, for the District 5-8 crown. Prior to that, Bedford blanked D8's Westinghouse, 35-0, to reach the final.
— Figuring out this week's site came down to an earlier agreement between districts involved and it was settled on that this year's game would be hosted by the District 5-8 team. Next year, Tonkin said, the District 9 champion will host this game.
So, in the end, the Gremlins, or any other team that wins the D9 title, will get their home "inter-district" playoff game next year.
— And another thing. Chestnut Ridge's field is NOT covered with artificial turf. This far into the postseason, one usually doesn't see grass fields being utilized unless the field is Heinz Field in Pittsburgh. That's where Friday's WPIAL finals are being played.
So the Gremlins, now ranked No. 4 in the state by the Pennsylvania Football News, will make the roughly 116-mile road trip to Bedford County looking for a third-straight win over the Lions. In 2012, the Gremlins won a 35-29 nail-biter. Last year, the Gremlins cruised to a 35-14 win.
This year, it appears the Gremlins are favored again, but they'll have to beat the Lions on their home turf, literally. They're 5-1 at home, their only loss a Week 9 28-15 setback to 11-1 Tyrone, which is playing Mount Union Saturday for the District 6 Class AA title.
Chestnut Ridge's only other loss came in a Week 2 33-7 loss to still-unbeaten Fort Hill of Cumberland, Md. The only other games the Lions played against teams with winning records were Bedford (9-2) last week and Central-Martinsburg (9-3) in a Week 6 15-12 win.
The Lions, similar to Karns City, had some personnel turnover going into this season. Their new quarterback, senior Tyler Wiley, has thrown for 1,288 yards and 12 touchdowns while rushing for 783 yards and 16 TDs.
Senior Matt Wiley is closing in on 1,000 rushing yards with 906 to go with 10 touchdowns.
Both Wileys saw limited action in last year's loss to Karns City, Tyler rushing for five yards on four carries and Matt gaining 10 on eight tries.
Matt Wiley, at inside linebacker, leads the defense with 106 tackles. He leads a Lions unit that has given up 11.4 points per game, just a hair better than Karns City's 11.9 points allowed per game.
The Gremlins are 18th in the state in scoring at 44.1 points per game and have outscored opponents by an average of 32.2 points per game, which is 15th in the state.
In last week's 49-12 win over St. Marys, the Gremlins scored 41 straight points and cruised to a win as Colin Dunmyre blasted his way to 203 yards rushing on just 13 carries with three touchdowns.
Dunmyre was helping fill the vacancy of injured starter Tristan Rhoades, who was the team's leading rusher with 714 yards and 12 TDs. Rhoades' status is unknown for this week. Now, Dunmyre is the leading gainer with 794 yards and 14 touchdowns.
But it's a committee approach for head coach Ed Conto's offense, which has eight different players with at least 100 yards rushing. Senior Christian Turner (457 yards) will also get some carries.
Senior quarterback Caleb King has thrown for 933 yards and eight touchdowns. His top receiving target is tight end Logan Moroney (24 catches, 311 yards, 2 TDs).
NOTES: Friday's winner advances to next week's PIAA quarterfinals against the WPIAL champion at a District 9 site to be announced as per the PIAA bracket indicates (home district site of team on top bracket). Aliquippa (12-0) meets South Fayette (12-0) at Heinz Field Friday at 5 p.m. Last year, South Fayette beat Karns City at Clarion University, 57-21. … Lifetime, the Gremlins are 4-10 in state playoff games. Even though the PIAA doesn't consider this week's game a "state" playoff game, the fact the Gremlins are playing out of the district in the playoffs is enough to be considered as such for record-keeping purposes.