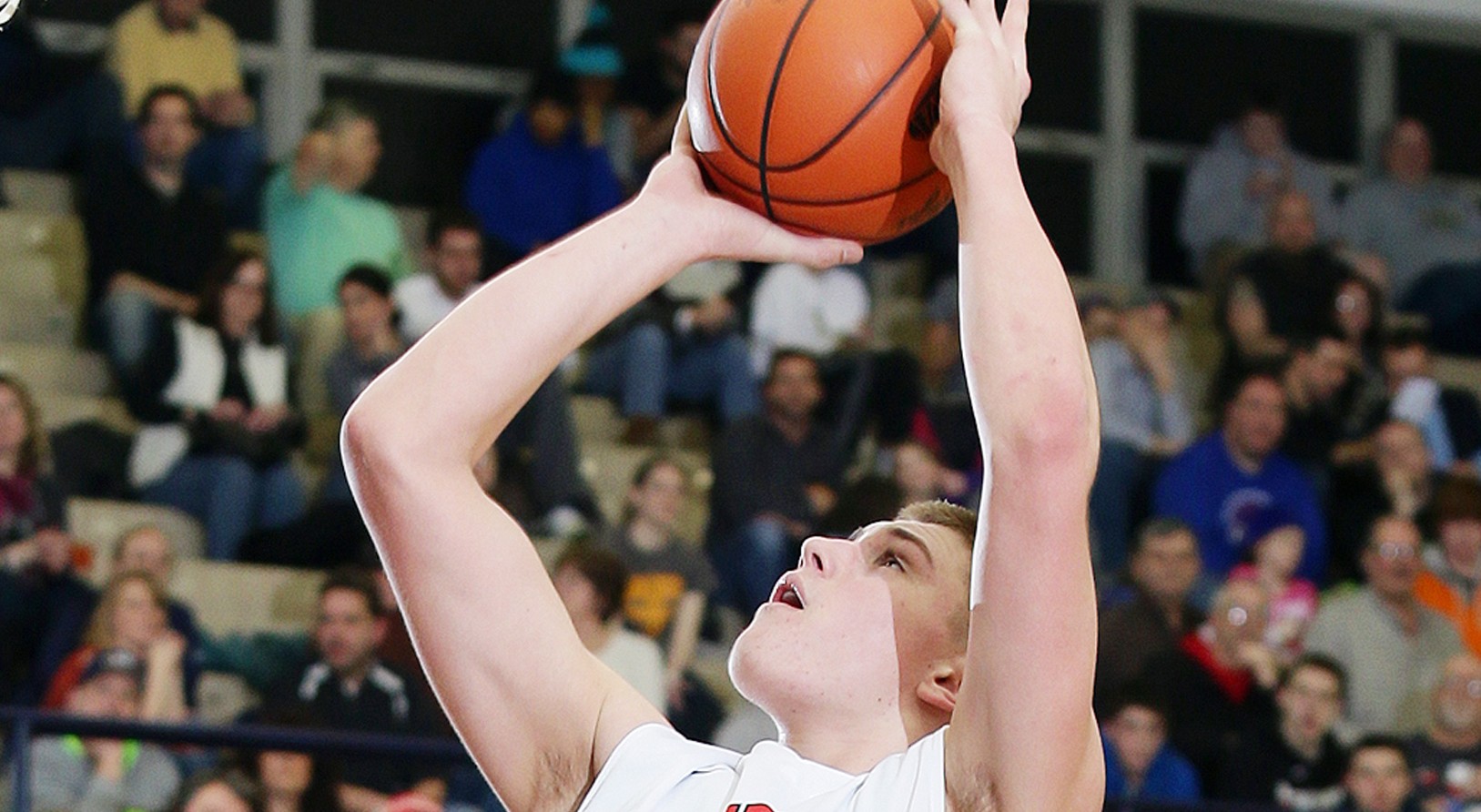 By Chris Rossetti
CLARION, Pa. – When it comes to the Cameron County boys' basketball team, everyone knows Nate Sestina is the man.
But the Red Raiders success rests on its guard play, and that was never more evident than in Friday night's 55-29 win over Saltsburg in the opening round of the PIAA Class A playoffs at Clarion University's Tippin Gym.
In the first half, when the Red Raiders' double-digit scoring guard combo of Keith Spehalski and Trae Smith were a combined 1 of 13 shooting and everyone not named Sestina was 4 of 22 from the field, District 9 runner-up Cameron could only build a slim 20-17 lead.
But in the second half, when Cameron shot 16 of 30 from the floor (53.3 percent) including a 6 of 10 performance from Smith, the Red Raiders outscored the District 6 third-place finishing Trojans 35-12.
"I thought we were a little bit more patient in the second half," Cameron County head coach Jon Songer said. "Maybe there were a little bit more nerves in the first 16 minutes. But as we got going I felt like the kids got more confident and shots started going in.
"And I thought Trae was tremendous in the second half. I really thought he was the X factor in the half."
Cameron's defense was also a big reason the Red Raiders (24-3) were able to pull away.
Saltsburg was limited to 2 of 20 from the floor after halftime (10 percent) and 7 of 46 for the game.
"Defense is where it's at," Songer said. "I thought in the second half we locked down and didn't give them as many looks while limiting them to one shot and done."
Of course, it didn't hurt Cameron's cause that it also had Sestina.
With no offense to the guards or the other player, Sestina is, after all, a big reason the Red Raiders are playing basketball in March for the first time in 40 years. And he was again a big reason why Cameron County secured its first PIAA playoffs victory since 1972.
The 6-foot-9 senior forward who is headed to Bucknell next year on a basketball scholarship had another Division 1-worthy performance with 26 points, 17 rebounds, six blocked shots, three assists and a pair of steals while shooting 12 of 19 from the floor. He had a double-double before halftime with 10 points and 12 rebounds, and his ally-oop dunk off a Spehalski pass on the game's first basket set the tone that Saltsburg, which didn't have a starter taller than 6-foot-1 and a player taller than 6-foot-4, couldn't contain him.
"The thing about him is he isn't just tall," an obviously impressed Saltsburg head coach Don Stitt said. "He's got move. The kid can shoot. He can post up. He has a little baby hook. Obviously he can dunk and get up. The kid is the real deal, and that's why he is going Division I Bucknell. He is a good ball player."
Songer, of course, wasn't surprised by Sestina's play.
"Nate is a tremendous player," Songer said. "He's been a terrific player for us all year long. I thought he had a heck of a basketball game."
Leading by just the three at intermission, the Red Raiders wasted little time pushing the lead to double digits in the second half starting the half on an 8-0 run that helped them extend the lead to 37-26 at the end of the third quarter.
Then in the fourth quarter, Cameron County dominated outscoring Saltsburg 18-3.
"We were being too stagnant on offense," Stitt said. "We weren't moving around at all and had too many guys just standing around. But I'm not taking credit away from them. I thought they played good defense and had a good game plan."
Nick Porter led Saltsburg with 12 points, while Jordan Booth had eight points and seven rebounds and Plowman seven points and five boards.
Smith added 14 points, six rebounds, two assists, two blocks and a steal for Cameron County, which will play District 10 champion Kennedy Catholic, a 73-45 winner over Eden Christian, in the second round Tuesday at a site and time to be determined.
CAMERON COUNTY 55, SALTSBURG 29
Score by Quarters
Saltsburg 7 10 9 3 – 29
Cameron County 13 7 17 18 – 55
Saltsburg – 29
Dan Shirley 0-1 0-0 0, Frank Plowman 2-9 1-2 7, Nick Porter 2-12 8-8 12, Jordan Booth 3-10 0-0 8, Skylar Sphon 0-6 2-2 2, Jason Cunliffe 0-0 0-0 0, Dylan Jesko 0-2 0-0 0, Noah Zimmeman 0-0 0-0 0, Jake Roman 0-0 0-0 0, Derek Feiling 0-1 0-0 0, Ryan Treece 0-5 0-0 0. Totals 7-46 11-12 29.
Cameron County – 55
James Guisto 0-3 0-0 0, Trae Smith 6-18 1-2 14, Michael Slusarick 2-4 0-0 4, Keith Spehalski 2-8 0-0 5, Nate Sestina 12-19 2-4 26, Vinny Olivett 0-2 0-0 0, Adam Shaffer 2-3 0-1 4, Austin Doud 0-1 0-0 0, Hunter Horning 0-0 2-2 2, Dominic Nellis 0-0 0-0 0, Bryce Bauer 0-3 0-0 0, Derrick Rieder 0-1 0-0 0. Totals 24-62 5-9 55.
Three-pointers – Saltsburg 4-22 (Plowman 2-5, Booth 2-7, Jesko 0-2, Porter 0-3, Sphon 0-5). Cameron County 2-14 (Spehalski 1-4, Smith 1-7, Olivett 0-1, Shaffer 0-1, Bauer 0-1).