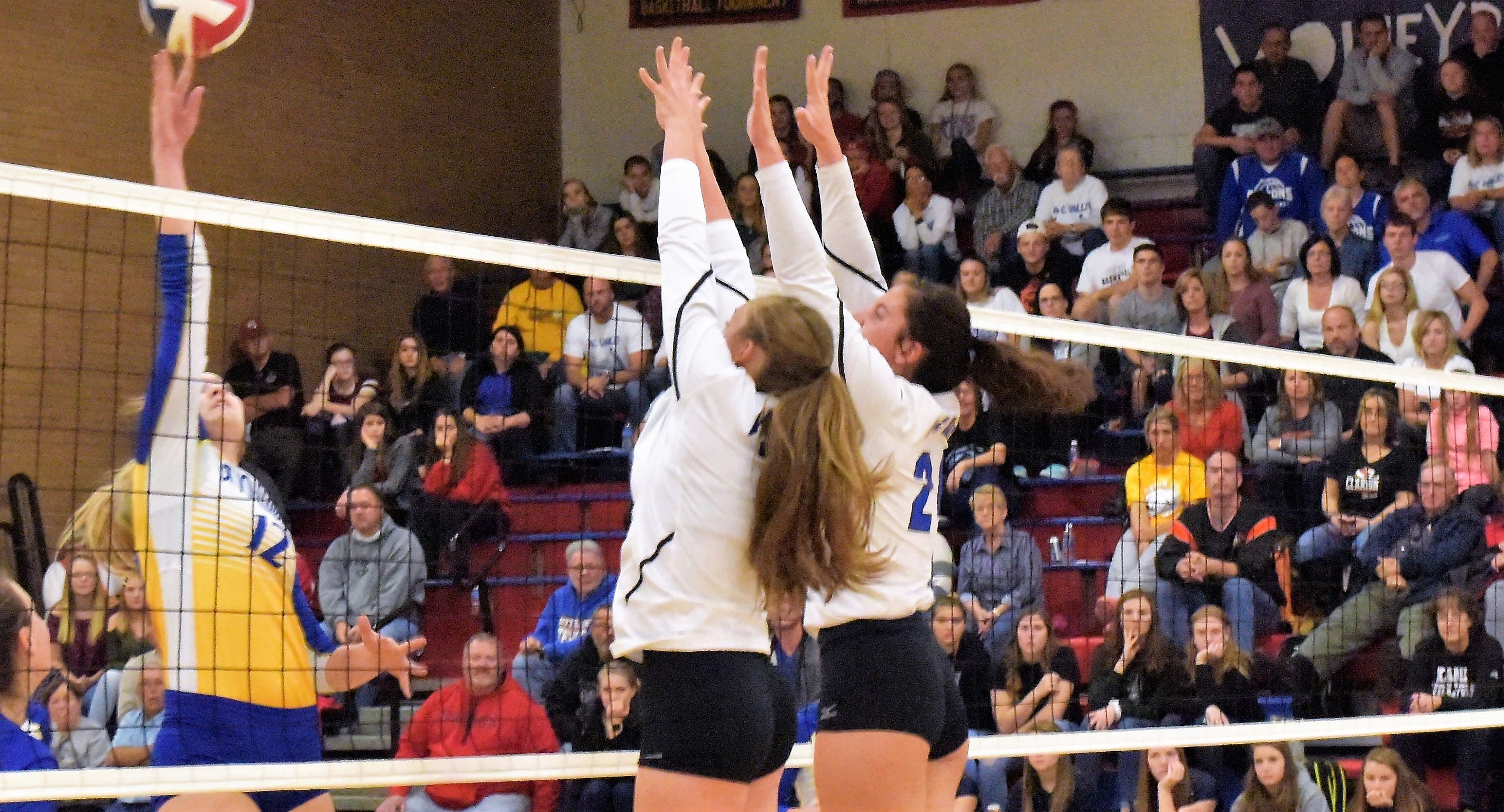 Sept. 10 volleyball recaps.
(Photo: A-C Valley's Olivia Boocks and Kylee Eaton helped the Lady Falcons to win Monday. File photo by Ronda Beimel)
A-C VALLEY 3, SHARPSVILLE 0
SHARPSVILLE, Pa. – Seven digs and 13 kills from Kylee Eaton helped visiting A-C Valley in a dominating 3-0 (25-15, 25-12, 25-12) victory over Sharpsville.
Depth played a key role in the Lady Falcons win.
Emily Wetzel tallied three aces, 10 digs, 18 assists and six kills, Olivia Boocks had four aces, six digs and nine kills and Kaylie Marwin chipped in for nine digs and five assists.
COUDERSPORT 3 GALETON 1
GALETON, Pa. – Twenty-nine digs and 25 kills from Shaelyn Black helped visiting Coudersport defeat Galeton, 3-1 (25-21, 25-22, 23-25, 25-17).
The Lady Falcons had contributions from everyone on the team. Black also led the team with five blocks, Dana Dubots recorded 26 digs and four kills, Mikayla Gunn had a game-high six aces and tallied 30 digs and Mikayla Kavounas had 22 assists, three blocks and two kills. Emma Saulter chipped in for 42 digs with Claudia Miller adding 29 digs.
Brielle Kalacinski paced Galeton with three blocks, four digs and four kills, while Marika Lechler recorded eight digs and four kills. Cara Parsell also had 11 digs and two aces with Kate Kulish adding seven assists and eight digs, Makenna Shuemaker six assists, four digs and an ace and Maddie Sauley five kills, an assist, a dig and an ace.
PORT ALLEGANY 3 OSWAYO VALLEY 0
PORT ALLEGANY, Pa. – Jenna Sprankle had a game-high 11 assists to help Port Allegany cruise to a 3-0 (25-14, 25-21, 25-18) victory over visiting Oswayo Valley.
Kayla Pesock paced the Lady Gators with six kills followed by Kalyn Naylor who tallied two kills.
Naomi Cook chipped in for five kills, 10 digs, two blocks and three assists for Oswayo Valley.
OTTO-ELDRED 3 BRADFORD 2
BRADFORD, Pa. – Harlee Vanscoter's 20 kills and 25 digs were enough to help Otto-Eldred win a thriller over Bradford, 3-2 (25-20, 9-25, 27-25, 11-25, 15-13).
Jade Spinney and Lauren Cousins recorded 16 digs each, Emilie Reiter tallied three aces and a game-high 22 assists and Reilly Raught recorded eight kills and four blocks.
SMETHPORT 3 AUSTIN 2
AUSTIN, Pa. – Smethport needed five sets to escape Austin with a victory (22-25, 25-12, 19-25, 25-13, 15-13).
Willow Lapp led the Lady Hubbers with eight kills, seven aces and nine digs with McKayla Deyarmin adding 11 assists, three kills, eight aces and four digs and Hayley Durphy seven aces, six digs and three assists. Alexis Shall also had six kills, three blocks and an ace.
Taylor Brewer led Smethport with eight kills, eight digs and three aces with Cerissa Glover adding three kills, five digs and seven aces and Angeline Watson two kills, eight digs and four aces.