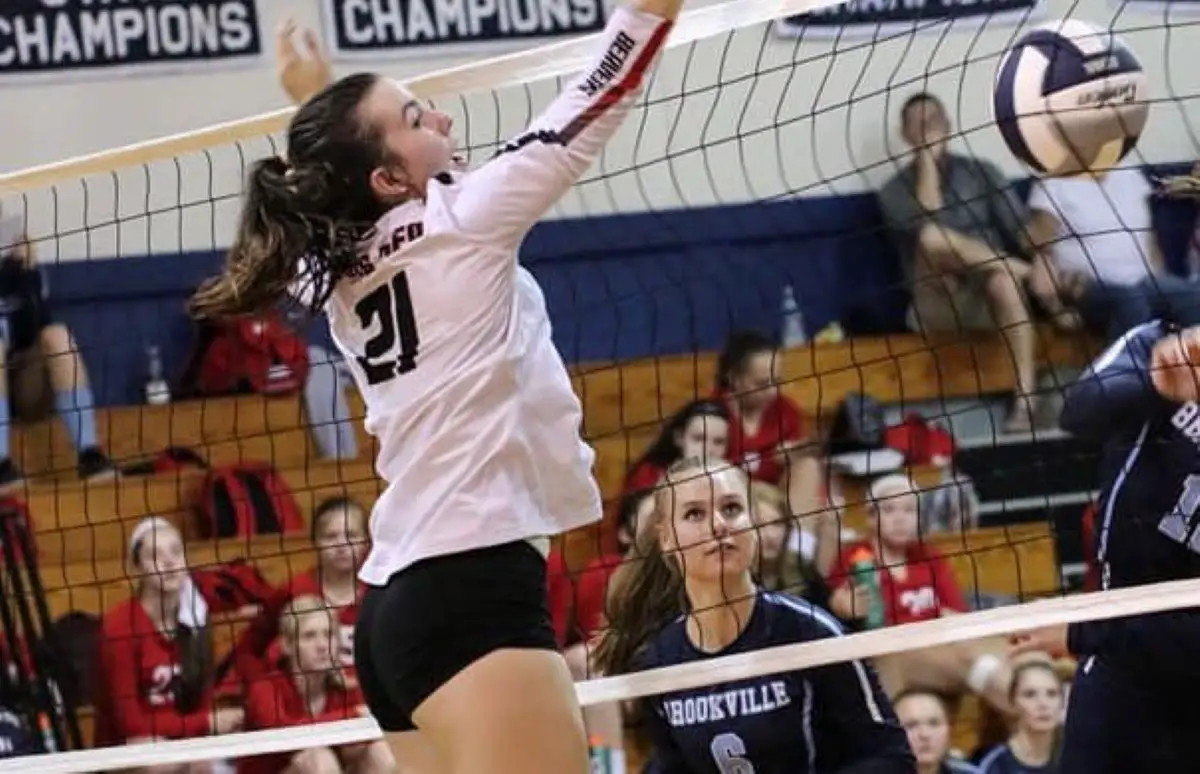 Sept. 10 soccer and volleyball recaps.
(Photo: Sydney Kaschalk of DuBois. Submitted photo)
VOLLEYBALL
DUBOIS 3, PUNXSUTAWNEY 0
DUBOIS, Pa. – Behind 12 kills and six blocks from Sydney Kaschalk DuBois beat visiting Punxsutawney, 3-0 (25-19, 25-15, 25-19).
Kaylee Sadowski added nine kills, 11 digs and four aces for the Lady Beavers with Cayla Donahue contributing eight kills and two blocks and Alayna Cornelius 12 digs. Cate Gregory ran the offense with 33 assists.
Katelyn Griebel led Punxsutawney with seven kills, 12 digs and an ace with Lizzie Neal adding six kills and three blocks, Elliott Ferrent four kills, 11 digs and an ace and Bella McDivitt 16 digs. Grace Hall ran the offense with 18 assists.
CRANBERRY 3, CLARION-LIMESTONE 0
STRATTANVILLE, Pa. – Behind 11 kills and 11 digs from Ava Ferringer, Cranberry picked up a 3-0 (25-18, 25-21, 25-11) KSAC road win over Clarion-Limestone.
Emily Duncan recorded 47 digs and 15 assists in the win, while Maddie Cornelius had 21 digs. Maria Anderson chipped in five kills.
A-C VALLEY 3, NORTH CLARION 0
FOXBURG, Pa. – Using a balanced offensive attack, A-C Valley defeated visiting North Clarion, 3-0 (25-7, 25-5, 25-10).
Four players had between four and six kills for the Lady Falcons led by six kills from Andrea Meals. Mia Sherman added five kills while Emily Wetzel and Meah Ielase each had four kills.
Wetzel also chipped in six assists and four digs, while Tarra Stefanacci had nine assists. Sherman led A-C Valley with six digs, and Hannah Farington added five digs and three kills.
ELK COUNTY CATHOLIC 3, KANE 0
KANE, Pa. – Behind 14 kills from Taylor Newton visiting Elk County Catholic rolled past Kane, 3-0 (25-18, 25-9, 25-9).
Ellie Fledderman ran the offense for the Lady Crusaders with 23 set assists while adding three kills, and Julia Aikens (five kills) and Brooke Bauer (four kills) combined for nine additional kills.
Audri Marconi paced the way for Kane with eight kills and 11 digs with Emma Ely adding eight digs and Sierra Hillman two blocks. Moira Stanisch ran the offense with 13 assists.
ST. MARYS 3, SHEFFIELD 1
ST. MARYS, Pa. – After dropping a tight first set, St. Marys rallied to win the next three to take a 3-1 (24-26, 25-19, 25-14, 25-23) victory from visiting Sheffield.
Allison Schlimm led the Lady Dutch with seven kills while Payton Bauer and Saige Heigel each had four kills.
Marissa Grubbs had 22 digs and two kills for Sheffield, while Annabel Sheldon led the Lady Wolverines with eight kills and nine digs despite only playing two sets because of an injury. Emily Lichtenberger chipped in seven kills and six aces, and Lynzie Grubbs had four kills and four blocks. Megan Johnson ran the offense with 21 set assists and added eight digs.
DUBOIS CENTRAL CATHOLIC 3, BROCKWAY 0
BROCKWAY, Pa. – Maia Cogley had 16 set assists to help visiting DuBois Central Catholic to a 3-0 (255-15, 25-15, 25-12) win over Brockway.
Bella Mangiantini led the Lady Cardinals with five kills and a block with Jordy Kosko adding four kills. Shay Gulvas paced the defense with 18 digs.
BRADFORD 3, RIDGWAY 1
BRADFORD, Pa. – An all-around strong match from Laney Kahle helped Bradford to a 3-1 (25-18, 19-25, 25-20, 25-23) win over visiting Ridgway.
Kahle had 19 set assists, eight blocks and six kills for the Lady Owls, while Alix Ordiway added seven kills and Erica Marshall five kills.
CLARION 3, KARNS CITY 0
KARNS CITY, Pa. – Korrin Burns and Kait Constantino each had eight kills to help Clarion to 3-0 (25-12, 25-14, 25-7) road win over Karns City.
Payton Simko chipped in four digs and four kills for the Lady Cats with Maddie Schill contributing six digs, four aces and two kills. Brenna Campbell ran the offense with 24 assists while adding three aces and three digs.
For Karns City, Ashley Fox had 12 digs, Emily Huff added seven digs and three kills, Rozina McManna had three blocks, Cassidy Nolan chipped in three kills and two blocks and Mackenzie Dunn had three kills.
BROOKVILLE 3, CURWENSVILLE 0
CURWENSVILLE, Pa. – Behind nine kills and five blocks from Lauren Hergert visiting Brookville swept past Curwensville, 3-0 (26-24, 25-9, 25-18).
Morgan Johnson chipped in four kills and Maggie Mackins three for the Lady Raiders.
REDBANK VALLEY 3, FOREST AREA 0
TIONESTA, Pa. – Using 21 aces visiting Redbank Valley beat Forest Area, 3-0 (25-9, 25-10, 25-9) at West Forest.
Brianna Minich and Becca Kunselman paced the Lady Bulldogs with four aces apiece, while Riley Page added three aces and two kills. Tara Hinderliter ran the offense with 14 assists.
UNION 3, VENANGO CATHOLIC 0
OIL CITY, Pa. – Dominika Logue had 10 kills to lead Union to a 3-0 (25-8, 25-22, 25-9) win at Venango Catholic.
GIRLS' SOCCER
PORT ALLEGANY 2, ELK COUNTY CATHOLIC 0
ST. MARYS, Pa. – Cailey Barnett and Emma Fox each scored a goal to lead visiting Port Allegany to a 2-0 win over Elk County Catholic.
Brielle Budd had the shutout in goal for the Lady Gators.
TIE – FOREST AREA 3, CLARION 3
CLARION, Pa. – Forest Area and Clarion played to a three-all draw at Clarion.
Forest Area goals were scored by Shawna Pack, Olivia Siegel and Mackenzie Bauer. Abby Gatesman made three saves in net for the Lady Fires.
Anna Gribik had the hat trick for Clarion.
BROOKVILLE 1, REDBANK VALLEY 0
NEW BETHLEHEM, Pa. – Leila Heagy's rebound goal off a Sarah Muders corner kick in the first half gave visiting Brookville a 1-0 win over Redbank Valley.
Jordan Cook made the goal stand up making three saves.
Gabby Dinger had nine saves in the loss for Redbank Valley.
BOYS' SOCCER
PORT ALLEGANY 5, ELK COUNTY CATHOLIC 3
ST. MARYS, Pa. – Simon Burleson's second goal of the game with four minutes left proved to be the game-winner in a 5-3 Port Allegany win at Elk County Catholic.
After being tied at two at halftime, the squads were tied at three until late in the contest when Burleson buried his second marker of the contest.
Howie Stuckey then completed a hat trick with two minutes to play to salt the game away.
Isaac Wortman scored twice for ECC with Jacob Koss also adding a goal for the Crusaders.
Outscoring Elk County Catholic 3-1 in the second half, visiting Port Allegany claimed a 5-3 win over the Crusaders.
Ty Guilds made 11 saves in the victory with John Tettis making seven saves for ECC.
REDBANK VALLEY 3, BROOKVILLE 2
NEW BETHLEHEM, Pa. – The resurgence of Redbank Valley boys' soccer continued Tuesday with a 3-2 win over visiting Brookville.
Jimmy Gundlach proved to be the hero in this one somehow or other keeping a shot by Logan Oakes as the clock struck zero from getting into the net after it has gotten past Redbank Valley keep Owen Magagnotti.
Gundlach also had a hand in one of the three tallies for the Bulldogs while Declan Frico scored twice.
Jace Miner and Oakes scored for Brookville.
CLEARFIELD 2, BALD EAGLE AREA 0
HYDE, Pa. – Graeson Graves made five saves to help Clearfield shutout visiting Bald Eagle Area, 2-0.
Andrew Lopez and Luke Winters scored for the Bison.
Conner Robinson made 18 saves in a losing effort.
ST. MARYS 8, NORTHERN POTTER 0
ULYSSES, Pa. – Jake Meeker and Vinni Nunes each scored twice to help St. Marys to an 8-0 win at Northern Potter.
Matt Palmer, Collin Kline, Giovanni Catalone and Dominic Aiello also scored for the Dutch.
KARNS CITY 7, FOREST AREA 2
MARIENVILLE, Pa. – Dakota King and Nate Rodinelli combined for seven goals to lift visiting Karns City to a 7-2 win over Forest Area at East Forest.
King scored four goals for the Gremlins with Rondinelli adding three. King added a pair of assists with Alex Irvine, Kaden Scherer and Rondinelli also getting helpers.
Noah Burke scored twice for Forest Area with assists to Reed Bell and Owen Kerle.
Bell made 11 saves in net while Braeden Ochs had 20 saves for the Fires against a consistent Karns City attack.