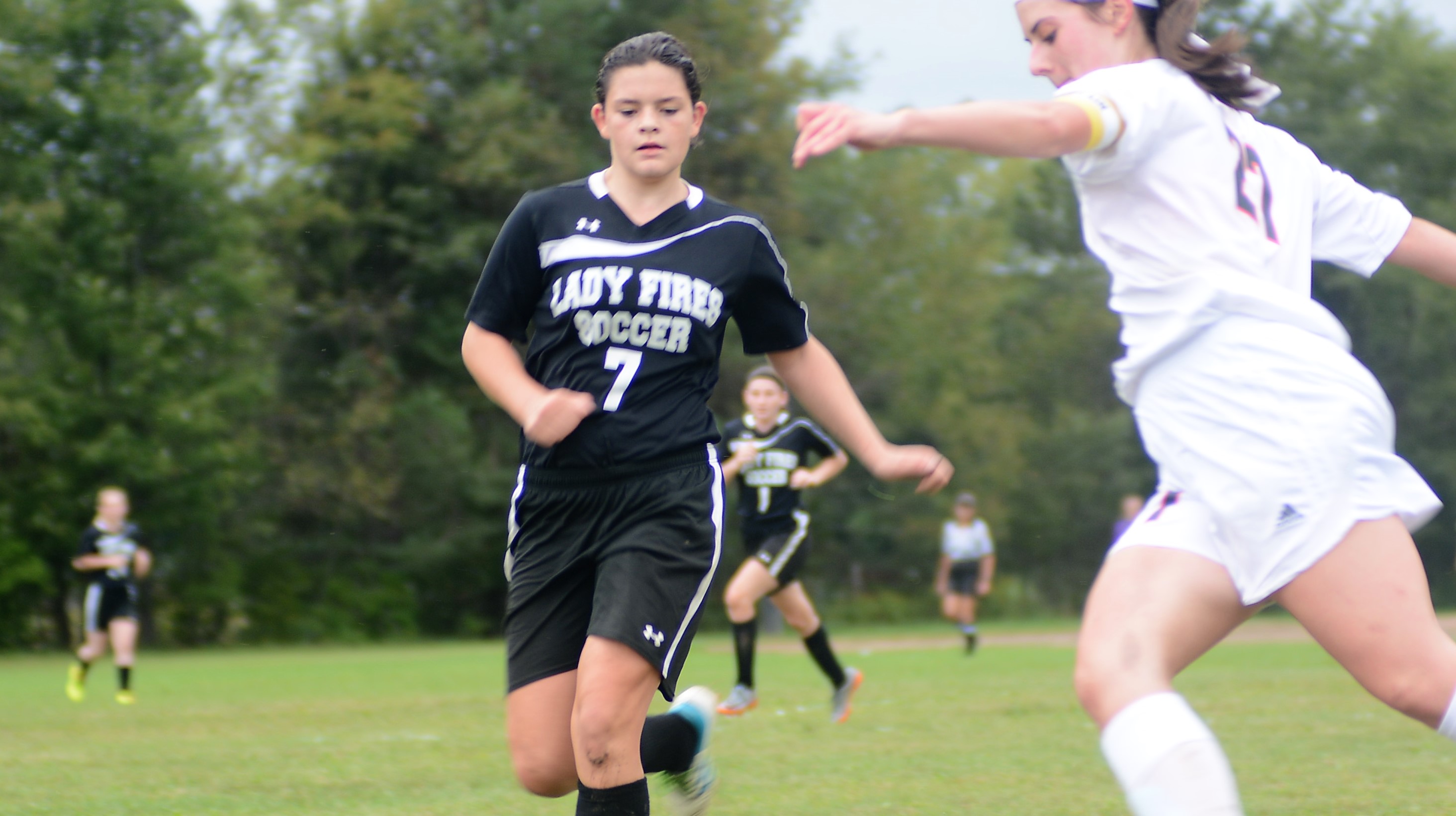 Sept. 11 volleyball and soccer recaps.
(Photo of Forest Area's Shawna Pack, who scored two goals in the Lady Fires 2-0 win over Clarion Tuesday. Photo by Deb Arner)
GIRLS' SOCCER
FOREST AREA 2, CLARION 0
MARIENVILLE, Pa. – Shawna Pack scored twice, and Abby Gatesman made 19 saves to lift Forest Area to a 2-0 win over visiting Clarion at East Forest.
Both of Park's goals came in the second half with Mackenzie Bauer assisting on one of them.
Wendy Beveridge made nine saves in net for Clarion.
PORT ALLEGANY 5, ELK COUNTY CATHOLIC 1
SMETHPORT, Pa. – Emma Fox and Cailey Barnett combined for four goals to help Port Allegany defeat visiting Elk County Catholic 5-1 in Smethport.
Fox and Barnett each scored two apiece with Ryland Lawton chipping in for the fifth goal. Fox's first goal was assisted by Molly Todd and Bree Garzel assisted on the Lawton goal. Barnett also tallied an assist.
Sady VanAlstine assisted Maddie Kear in the lone goal scored by ECC.
Kara VanEerden managed eight saves for the Lady Crusaders and Cierra Lannarger recorded eight saves for Port Allegany.
CLEARFIELD 0, BALD EAGLE AREA 0, 2 OTS
HYDE, Pa. – Despite 26 shots on goal combined from the two teams, Clearfield and visiting Bald Eagle Area played two a nil-nil double-overtime tie.
Hayley Moore stopped all 16 BEA shots for Clearfield, while Rachel Veneziano made 10 stops for Bald Eagle Area.
The Lady Bison had two corners in the game compared to four for the Lady Eagles.
DUBOIS 7, PUNXSUTAWNEY 0
PUNXSUTAWNEY, Pa. – Kiara Tretheway and Rylee Wadding each scored twice to help visiting DuBois to a 7-0 win over Punxsutawney.
Charlie Renwick, Riley West and Lilly Zimmerman also scored for the Lady Beavers. West added three assists with Zimmerman and Izzy Beers also picking up helpers.
Emily Cherubini (four saves) and Kara Tilson (one save) combined on the shutout for DuBois, who had 36 shots on goal in the contest.
KARNS CITY 2, REDBANK VALLEY 0
NEW BETHLEHEM, Pa. – Freshman Rossi McMillen scored twice in the first half to lead visiting Karns City to a 2-0 win over Redbank Valley.
BOYS' SOCCER
KARNS CITY 10, FOREST AREA 0
KARNS CITY, Pa. – Nate Rondinelli had three goals and three assists to lead Karns City to a 10-0 victory over visiting Forest Area.
Dakota King and Austin Fahlor each scored twice for the Gremlins with Owen Callwell, Robby Rumbaugh and Jake Weckerly each tallying a goal.
PORT ALLEGANY 3, ELK COUNTY CATHOLIC 2
SMETHPORT, Pa. – Noah Costa's goal with six minutes left broke a two-all tie and gave Port Allegany a 3-2 win over visiting Elk County Catholic in Smethport.
ECC had tied the game nine minutes earlier on a Jacob Koss goal before Costa scored off a corner to give the Gators the victory.
The game was tied at one at halftime after Costa scored for Port Allegany and Josh Bauer for ECC. Caleb Lutz's direct kick with 22 minutes left to play gave the Gators a 2-1 lead before Koss evened things up seven minutes later.
Brandon Peterson made five saves in net for Port Allegany, while Jack Bauer had five saves for ECC.
KANE 3, RIDGWAY 2
KANE, Pa. – Goals from Pat Detsch, Isaiah Holt and John Feikls led Kane to a 3-2 victory over Ridgway.
Clayton Detrick recorded an assist on the Feikls and Holt goals, while Brennan Schultz made 12 saves in net for the Wolves.
Dominick Stage recorded the only two goals for Ridgway.
VOLLEYBALL
CLARION 3, KARNS CITY 0
CLARION, Pa. – Dorothy Kalinowski, Maddie Schill, Korrin Burns and Hailey Sintobin combined for 22 kills to lead Clarion to a 3-0 (25-10, 25-14, 25-18) win over visiting Karns City.
Kalinowski led the Lady Cats with seven kills with Schill, Burns and Sintobin each recording five kills. Burns added three digs and two aces with Schill chipping in four aces. Kait Constantino chipped in four kills and five digs, KK Girvin had 10 digs and Brenna Campbell ran the offense with 24 set assists while adding eight digs.
Both players tallied five kills apiece with Burns adding three digs and two aces.
For Karns City, Emily Wolfe had three kills and seven digs, Rayna Miller added three kills, Mackenzie Dunn had nine digs and Alyssa Stitt and Kaley Byerly each had six digs.
CRANBERRY 3, CLARION-LIMESTONE 0
SENECA, Pa. – Malliah Schreck and Ave Ferringer each recorded 10 digs to lead Cranberry to a 3-0 (25-12, 25-14, 25-22) win over visiting Clarion-Limestone.
Ferringer also chipped in four aces and a block with Schreck adding five digs and four aces.
Emily Duncan ran the offense for the Berries with 23 assists and added four aces, two digs and a kill, while Ally Young had 11 digs and two aces.
Sadie Mahle had 10 digs and two aces for C-L with Sarah Acree adding two kills and a block and Maddy Craig two kills and three digs. Rachel Greeley had three blocks and a kill, and Keara Henry added nine assists.
COUDERSPORT 3, AUSTIN 0
COUDERSPORT, Pa. – Mikayla Kavounas and Mikayla Gunn combined for 17 aces to lead Coudersport to a 3-0 (25-9, 25-8, 25-20) win over visiting Austin.
Kavounas had nine aces with Gunn adding eight. Kavounas also tied for team-high honors in kills with four, as Shaelyn Black also had four kills. Dana Dubots and Gunn each chipped in three kills.
Taylor Brewer paced Austin with five kills, three blocks and two aces with Angeline Watson adding 10 assists, two kills and two aces and Cerissa Glover four digs and two aces.
BROOKVILLE 3, CURWENSVILLE 0
BROOKVILLE, Pa. – Brookville used a strong serving game to top visiting Curwensville, 3-0 (25-11, 25-16, 25-15).
The Lady Raiders had 23 aces led by Morgan Johnson's 11. Her twin sister, Madison Johnson, added eight aces.
Mikayla Aikins paced Brookville's hitting game with nine kills while adding an ace, and Cheyanne Gotwald added three kills.
Tarah Jacobson had three kills and a dig for Curwensville with Emma Caldwell adding four assists, two digs and two aces.
A-C VALLEY 3, NORTH CLARION 0
FRILLS CORNERS, Pa. – A-C Valley used a balanced effort to knock off North Clarion, 3-0 ((25-7, 25-6, 25-6), on the road.
Olivia Boocks, Kylee Eaton and Mia Sherman each had four kills for the Lady Falcons with Hannah Farrington and Tarra Stefanacci each adding three kills.
Emily Wetzel had a team-best 13 set assists with Sherman adding a team-high seven digs. Eaton added six digs while Boocks and Farrington each chipped in with five digs. Eaton also had two blocks.
Wetzel and Kaylie Merwin, who had three assists, each had four aces and Stefanacci added three aces.
Katie Burkett had six digs, two kills and two assists for North Clarion with Kiara Stitt adding eight digs and a kill, Gabby DiDolce four assists and Natalie Myers three kills.
DUBOIS CENTRAL CATHOLIC 3, BROCKWAY 0
DUBOIS, Pa. – Thanks in part to eight kills and seven blocks from Alyssa Bittner, DuBois Central Catholic snagged a 3-0 (25-17, 25-15, 25-16) win over visiting Brockway.
Gabby Sabatose added six kills for the Lady Cardinals with Ashley Wruble chipping in three aces, Maia Cogley four aces and Shay Gulvas 15 digs.
Abby Alford paced Brockway with four kills.
OTTO-ELDRED 3, SMETHPORT 0
SMETHPORT, Pa. – Harlee VanScoter had 17 digs and 18 digs to lead visiting Otto-Eldred to a 3-0 (25-10, 25-19, 25-17) win over Smethport.
Emily Reitler added 20 assists and four digs for the Lady Terrors with Veronica Benini chipping in four kills, four digs and three aces and Reilly Raught six kills.
CAMERON COUNTY 3, GALETON 2
EMPORIUM, Pa. – Morgan Lorenzo had six kills and 32 digs to lead Cameron County to a hard-fought, 3-2 (25-22, 16-25, 22-25, 25-23, 16-14), win over visiting Galeton.
Alyvia McKimm chipped in 10 assists and Taylor Britton had four kills and three aces for the Lady Raiders.
ELK COUNTY CATHOLIC 3, KANE 2
ST. MARYS, Pa. – Taylor Newton had 21 kills to lead Elk County Catholic to a come-from-behind 3-2 victory over visiting Kane.
The Lady Crusaders dropped two close sets at the start of the match (24-26, 23-25) but rallied to take the final three, two of them tighter than tight (25-23, 25-22, 15-8).
Ellie Fledderman chipped in 29 assists and five kills and Hannah Barnett had five kills for ECC.
Ella Marconi paced Kane with 21 kills, six blocks and six digs, Kalen Johnson added 10 kills and Audri Marconi had eight kills. Hannah Bugl had 38 set assists, and Emma Ely chipped in six digs.
DUBOIS 3, PUNXSUTAWNEY 0
PUNXSUTAWNEY, Pa. – Kelli Hoffer recorded 15 kills, four aces and eight digs to lead DuBois to a 3-0 (25-6, 25-19, 25-22) victory at Punxsutawney.
Cate Gregory had a game-high 29 assists and Sydney Kaschalk tallied seven kills for DuBois.
OSWAYO VALLEY 3, NORTHERN POTTER 0
SHINGLEHOUSE, Pa. – Oswayo Valley defeated visiting Northern Potter, 3-0 (25-21, 28-26, 25-16).
For Northern Potter, Savannah Herring had 10 kills.
No Oswayo Valley stats were available.
REDBANK VALLEY 3, FOREST AREA 0
NEW BETHLEHEM, Pa. – Carissa Rearick recorded 17 aces to lead Redbank Valley to a 3-0 (25-5, 25-11, 25-4) win over visiting Forest Area.
Hope Spence chipped in nine aces and Kianna Schreckengost eight for the Lady Bulldogs who also got two kills apiece from Josie Rupp, Becca Kunselman, Lauren Smith and TL Nelson.
RIDGWAY 3, BRADFORD 1
RIDGWAY, Pa. – Ridgway topped visiting Bradford, 3-1 (21-25, 25-16, 25-18, 25-13).
Alexis Huber and Ashton Himes each had seven kills for Bradford, while Laney Kahle added 20 assists.
Ridgway stats weren't available.
UNION 3, VENANGO CATHOLIC 0
RIMERSBURG, Pa. – Mogan Cumberland had 19 set assists and five aces and Bryn Davis had 12 kills and two aces to lead Union to a 3-0 (25-11, 25-15, 25-7) win over visiting Venango Catholic.
Drew Yoder chipped in with a pair of aces, Vanessa Reddick had three aces and Dominika Logue five kills for the Golden Damsels.