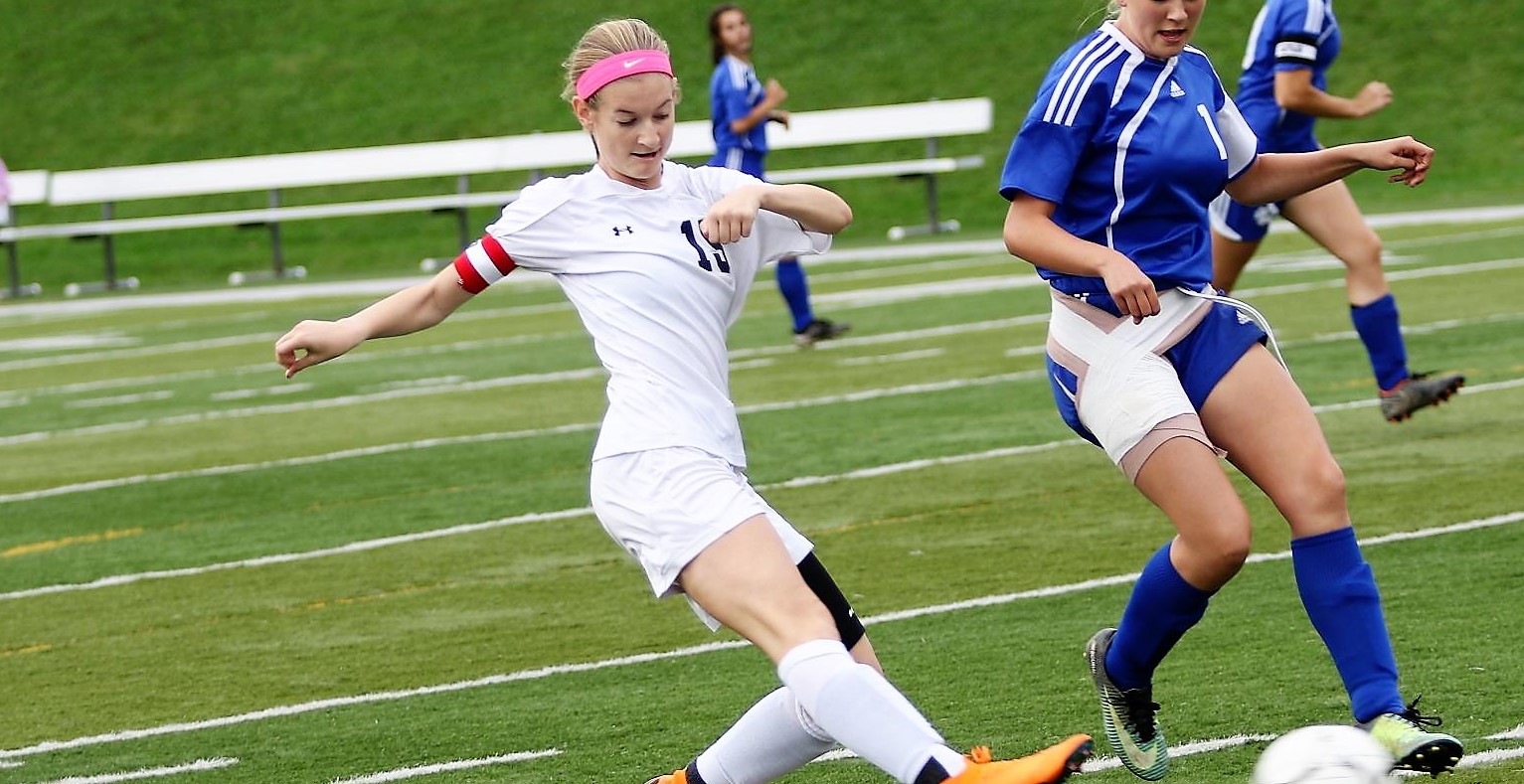 Sept. 11 soccer and volleyball recaps.
(Photo of Brockway's Chanell Britten. Photo by Tom Weible)
GIRLS' SOCCER
BROCKWAY 5, CURWENSVILLE 0; GAME CALLED IN 2ND HALF BC OF WEATHER
BROCKWAY, Pa. – Chanell Britten and Katie McMeekin each scored twice to lead Brockway to a 5-0 win over visiting Curwensville in a match called with 17 minutes left due to weather.
Morrigan Decker added a goal for the Lady Rovers, while Danielle Wood had two assists and Emily Bothwright one helper.
Kenzie Overbeck got the shutout in goal making 10 saves.
BRADFORD 7, MEADVILLE 1
BRADFORD, Pa. – Maddi Cowburn recorded a hat trick and added two assists to help Bradford to a 7-1 win over visiting Meadville.
Regan Johnson also scored twice for the Lady Owls who also got goals from Emily Prince and Marissa Miller. Lauren Placer added three helpers in a winning cause.
KEYSTONE 1, CLARION 0 (GAME CALLED IN 2ND HALF BC OF WEATHER)
KNOX, Pa. – In a game that was stopped five minutes into the second half because of lightning, Keystone used a first-half goal from Thea Haugh to beat visiting Clarion, 1-0.
Haugh's goal came five minutes into the game, and Natalie Bowser made the goal stand up making seven saves.
VOLLEYBALL
CAMERON COUNTY 3, AUSTIN 0
AUSTIN, Pa. – Thanks to seven kills from Hailey Hilfiger visiting Cameron County snagged a 3-0 (25-15, 25-15, 25-19 win over Austin in NTL play.
Mallory McKimm added four kills and three aces for the Lady Raiders with Morgan Lorenzo adding four kills and five digs. Reggie Goodrow ran the offense with 12 set assists.
Kylie welsh led Austin with four kills and five blocks.
COUDERSPORT 3, GALETON 1
COUDERSPORT, Pa. – Paige Watson delivered a 10-kill, 4-dig, 2-block, 2-ace performance to lead Coudersport to a 3-1 (25-22, 10-25, 25-8, 25-15) win over visiting Galeton in NTL action.
Coudersport vs Galeton
Addie Myers added six digs, six kills, an assist and an ace in the victory for the Lady Falcons with Lauren Stimaker running the offense with 25 set assists while adding three kills, 10 digs and six aces. Emma Saulter paced the defense with 41 digs and chipped in three aces.
Alli Macensky led Galeton with six kills and a block. Maddie Sanley added five kills, Cara Parsell 12 digs and two aces and Kate Kalish seven assists.
NORTHERN POTTER 3, SMETHPORT 2
SMETHPORT, Pa. – Courtney Martin's big night helped visiting Northern Potter rally past Smethport, 3-2 (24-26, 25-15, 23-25, 25-17, 15-9).
Martin had 13 kills, 17 digs, two aces and a block to lead the Lady Panthers who also got 12 kills, an ace, a block and a dig from Savannah Herring, 11 assists, seven digs, three kills and an ace from Faith Zdrowjewski and 25 digs, two kills and an ace from Madison Hoopes.
Smethport was paced by 12 kills, six blocks and two digs from Alexis Shall. Chloe Costa added 17 digs and four aces for the Lady Hubbers who also got 16 digs and six aces from Baylee Fitz, 17 digs, seven kills and three aces from MyKayla Deyarmin, eight digs and six kills from Danielle Nelson and 16 assists, seven digs, two aces and a kill from Hayley Durphy.
OTTO-ELDRED 3, PORT ALLEGANY 0
DUKE CENTER, Pa. – Otto-Eldred swept visiting Port Allegany, 3-0 (25-21, 25-15, 25-12) in NTL action.
Shannon Curfman had four kills and Kalyn Naylor 11 digs for Port Allegany.
Otto-Eldred stats weren't available.