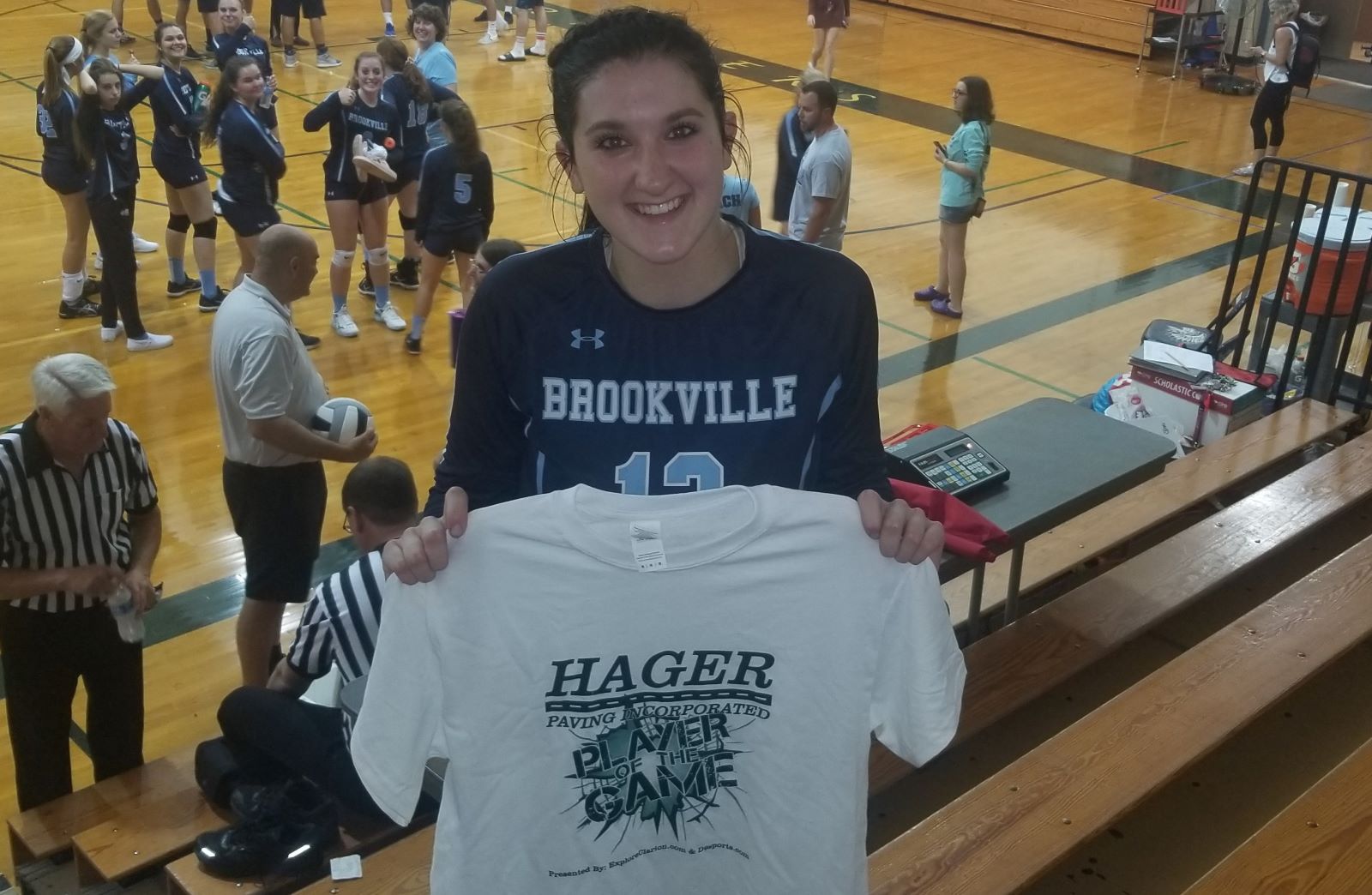 Sept. 12 volleyball and soccer recaps.
(Photo: Lauren Hergert was the Hager Paving Player of the Match after helping Brookville beat Redbank Valley in a rematch of last year's District 9 Class 2A title game)
VOLLEYBALL
BROOKVILLE 3, REDBANK VALLEY 2
BROOKVILLE, Pa. (D9Sports) – Lauren Hergert recorded three of her team-best 17 kills in the fifth-and-deciding set, as Brookville made a statement with a 3-2 (23-25, 25-20, 25-22, 23-25, 15-6) win over defending District 9 Class 2A champion Redbank Valley in a rematch of last year's title game Thursday evening at Brookville.
Relisten to the match:
In a match that was befit of two evenly-matched teams, Brookville came out on top by taking quick command of the fifth set building a 10-3 lead on the strength of the three kills and a block by Hergert, who was named the Hager Paving Player of the Match.
Watch Hergert's full postgame thoughts.
Despite the match going all five sets, Brookville was seemingly in control the entire night playing most of the night from in front.
In fact, Redbank Valley's two set wins – Set One and Set Four – were come-from-behind victories that saw the Lady Bulldogs overcome a 23-19 deficit in the first set and a 20-15 deficit in the fourth set.
To Brookville's credit, the Lady Raiders didn't allow either set that they blew the lead in to affect their overall performance jumping out to an 8-1 lead in the second set after losing the lead in the first set and then coming out strong again in the fifth set after blowing the lead in the fourth set.
Brookville also got a strong offensive game from Morgan Johnson, who had seven kills, while Morgan Johnson, her twin sister Madison Johnson, Leah Kammerdeiner, Brooke Ganoe and Emaa Venesky all played solid defense.
Redbank Valley was paced by 16 kills from Taylor Kings, while Becca Kunselman added 11 kills and Montana Hetrick nine kills. Kunselam was key in the first-set comeback by the Lady Bulldogs dropping three of her five aces during the set-ending 6-0 run.
PORT ALLEGANY 3, SMETHPORT 2
PORT ALLEGANY, Pa. – Kayln Naylor had 10 kills and 10 digs to help Port Allegany rally and defeat visiting Smethport, 3-2 (25-22, 19-25, 20-25, 25-17, 15-11).
Marsha Rush ran the Lady Gators offense with 14 assists while Maleah Daniels had seven kills and six digs.
MyKayla Deyarmin paced the Lady Hubbers with 10 kills and 10 digs with Hayley Durphy running the offense with 13 assists. Alexis Shall added 10 digs.
KEYSTONE 3, FOREST AREA 0
MARIENVILLE, Pa. – Keystone topped Forest Area, 3-0 (25-5, 25-6, 25-8) on the road.
Jozee Weaver had six kills for the Lady Panthers while Sydney Bell had a pair of kills and a block. Leah Exley chipped in two kills.
PUNXSUTAWNEY 3, CURWENSVILLE 0
CURWENSVILLE, Pa. – Team effort lifted visiting Punxsutawney over Curwensville, 3-0 (25-14,
25-16, 25-14).
Katelyn Griebel had a team-high 12 kills for the Lady Chucks. Grace Hall ran the offense with 30 assists while Elliott Ferrent had six kills and 14 digs. Lizzie Neal and Murphy White each had six kills.
DUBOIS 3, DUBOIS CENTRAL CATHOLIC 0
DUBOIS, Pa. – Behind nine kills and four blocks from Sydney Kaschalk, visiting DuBois defeated DuBois Central Catholic, 3-0 (25-10, 25-20, 25-14).
Kaylee Sadowski, Cayla Donahue and Leah Colville each had five kills for the Lady Beavers. Donahe had a team-high six digs and Cate Gregory led the offense with 15 assists.
For the Lady Cardinals, Bella Mangiantini had seven kills and five blocks. Hannah Holdren added four kills while Jordy Kosko had three. Shay Gulvas had a team-high 18 digs and Mia Cogley ran the offense with 16 assists.
CLARION 3, NORTH CLARION 0
CLARION, Pa. – Behind seven aces and 14 set assists from Brenna Campbell, Clarion topped visiting North Clarion, 3-0 (25-7, 25-4, 25-6).
Gabby Schmader paced the She-Wolves with eight digs.
OTTO-ELDRED 3, CAMERON COUNTY 1
EMPORIUM, Pa. – Otto-Eldred picked up a 3-1 (21-25, 25-21, 25-18, 25-18) road win over Cameron County.
Reilly Raught paced Otto-Eldred with nine kills and seven blocks and Haley Cousins adding nine kills. Emmalee Sheeler chipped in 24 assists and four aces.
Morgan Lorenzo paced the Lady Raiders with nine kills and 14 digs. Hailey Hilfiger added nine kills and Kaelee Bresslin had six.
A-C VALLEY 3, KARNS CITY 0
KARNS CITY, Pa. – Behind nine kills from Meah Ielase, visiting A-C Valley swept Karns City, 3-0 (25-14, 25-17, 25-12).
Mia Sherman added seven kills for the Lady Falcons who also got six kills from Andrea Meals.
Tarra Stefanacci paced the defense with 19 digs for A-C Valley, while Emily Wetzel had 18 set assists.
Rozina McCanna had four kills and a block for Karns City. Mackenzie Dunn had a pair of kills while Cassidy Nolan and Emily Huff each had a block.
KANE 3, SHEFFIELD 0
KANE, Pa. – Audri Marconi had eight kills, two blocks and five aces to help Kane beat visiting Sheffield, 3-0 (25-16, 25-18, 25-9).
Moira Stanisch ran the Lady Wolves offense with 16 set assists and chipped in six aces, while Emma Ely added four aces. Kane had 22 aces as a team.
Kalen Johnson led the Kane defense with seven digs.
Marissa Grubbs paced the Lady Wolverines with four kills and nine digs. Megan Johnson had 11 assists.
CLARION-LIMESTONE 3, UNION 1
STRATTANVILLE, Pa. – Cassidy Makray had four kills, seven assists and four blocks to help Clarion-Limestone defeat visiting Union, 3-1 (25-19, 25-27, 25-22, 25-22).
Ruby Smith had 10 digs and three blocks for the Lady Lions while Brooke Kessler had five kills. Bailey Smith and Emma Smith each had three kills. Summer McLaine had nine digs and Sarah Acree had a team-high six blocks.
Dominika Logue led Union with 11 kills.
COUDERSPORT 3, NORTHERN POTTER 0
ULYSSES, Pa. – Thanks to 42 digs from Emma Saulter, visiting Coudersport swept Northern Potter, 3-0 (25-17, 25-22, 25-22).
Lauren Stimaker ran the Lady Falcon offense with 24 assists while adding 11 digs. Addie Myers had nine kills, six dogs and a pair of blocks with Sarah Atherholt chipping in for four kills, a dig and a block.
Courtney Martin paced the Lady Panthers with 25 digs and two kills. Megan Hyde added 17 digs and three kills whole Madison Hoopes had 19 digs, two kills and an assist.
CRANBERRY 3, VENANGO CATHOLIC 0
SENECA, Pa. – Maria Anderson and Abby Hanna combined for 15 kills to help Cranberry to a 3-0 (25-9, 25-9, 25-15) victory over visiting Venango Catholic.
Anderson had 10 kills while Hanna had five. Maddie Cornelius chipped in for four kills and Sara Allaman had three. Emily Duncan ran the offense with 18 assists.
Hope Winger had two aces, two kills and two blocks for Venango Catholic with Natalie Janidlo adding two aces, two kills and six digs.
OSWAYO VALLEY 3, GALETON 2
GALETON, Pa. – Avarae Kellert had 20 kills, 19 digs and five aces to help visiting Oswayo Valley to a 3-2 (25-20, 17-25, 25-12, 23-25, 15-9) win over Galeton.
Mikatya Bell added 21 digs for the Green Wave while Johanna Dickerson had four kills, eight aces and 14 digs.
For Galeton, Cara Parsell had 11 digs, Lauren Sauley added seven assists, Kate Kulish had 10 digs, four lills and eight assists, Mikayla Schott had six digs and three kills, Alli Macensky chipped in eight kills and three blocks, Maddie Sauley had seven kills and five aces and Sandy Bliss had six digs.
BRADFORD 3, JOHNSONBURG 0
JOHNSONBURG, Pa. – Erica Marshall and Alix Ordiway combined for 20 kills to help visiting Bradford to a 3-0 (25-20, 25-17, 25-21) win over Johnsonburg.
Sarie Yohe added eight kills and six blocks for the Lady Owls with Alex Asp contributing five kills and four blocks.
Laney Kahle ran the offense with 24 set assists while chipping in five blocks.
BOYS' SOCCER
PORT ALLEGANY 10, NORTHERN POTTER 1
ULYSSES, Pa. – Port Allegany used a team effort to top Northern Potter, 10-1, on the road.
Howie Stuckey, Shawn McNeil and Simon Burleson each had a pair of goals for the Gators. Aiden Emerick had a goal and two assists while AJ Edgell and Jordan Card each found the back of the net once and each assisted on one. Ben Lawton had a goal and Jess Wright had an assist.
Ty Guilds and Caden Roys spit time in net and combined for nine saves.
Northern Potter keeper, Pat Lehman, made 26 saves.
PUNXSUTAWNEY 8, BROOKVILLE 2
BROOKVILLE, Pa. – Thanks to Vincent Gigliotti's hat trick visiting Punxsutawney cruised to an 8-2 win over Brookville.
Vincent Gigliotti added a helper while Graham Lott had a goal and two assists.
Hayden Kramer and Bryce Kunselman both scored for Brookville.
CLARION-LIMESTONE 10, KEYSTONE 2
STRATTANVILLE, Pa. – Behind three goals from Bailee Verdill, Clarion-Limestone took a 10-2 victory over visiting Keystone.
Beau Verdill added a pair of goals and four assists for the Lions. Nate Megnin also had a pair of goals and an assist and Paul Leonhardt found the back of the net once while assisting on three. Tyler Bingham and Charlie Franchino each had a goal.
Koby Buzard had both goals for the Panthers.
BRADFORD 11, OIL CITY 0
BRADFORD, Pa. – Ryan Grady, Gavin McGree and Colten Nichols combined to score seven goals, as Bradford rolled past visiting Oil City, 11-0.
Grady had the hat trick for the Owls with McGee and Nichols each adding two goals apiece.
CLEARFIELD 1, PHILIPSBURG-OSCEOLA 0
PHILIPSBURG, Pa. – Luke Winters goal with 3:30 minutes to play lifted Clearfield to a 1-0 win at Philipsburg-Osceola.
Andrew Lopez and Nicholas Ryan assisted on the tally.
KARNS CITY 5, REDBANK VALLEY 2
KARNS CITY, Pa. – Dakota King and Nate Rondinelli each scored two goals and each added an assist in a 5-2 Karns City win over visiting Redbank Valley.
Owen Collwell added a goal and an assist for the Gremlins.
Landon Pence and Jimmy Gundlach each scored for Redbank Valley.
Nate Boyden had five saves in getting the win.
GIRLS' SOCCER
PORT ALLEGANY 2, KANE 1
KANE, Pa. – Port Allegany took a 2-1 victory over Kane on the road.
Cailey Barnett and Emma Fox each scored for the Lady Gators.
Sadi Walter scored the lone goal for the Lady Wolves.
KARNS CITY 6, REDBANK VALLEY 0
KARNS CITY, Pa. – McKenna Martin had a hat trick and added an assist to lead Karns City to a 6-0 win over visiting Redbank Valley.
Lex Moore, Brooke Stahlman and Abby Callihan. Moore also had an assist in the victory.