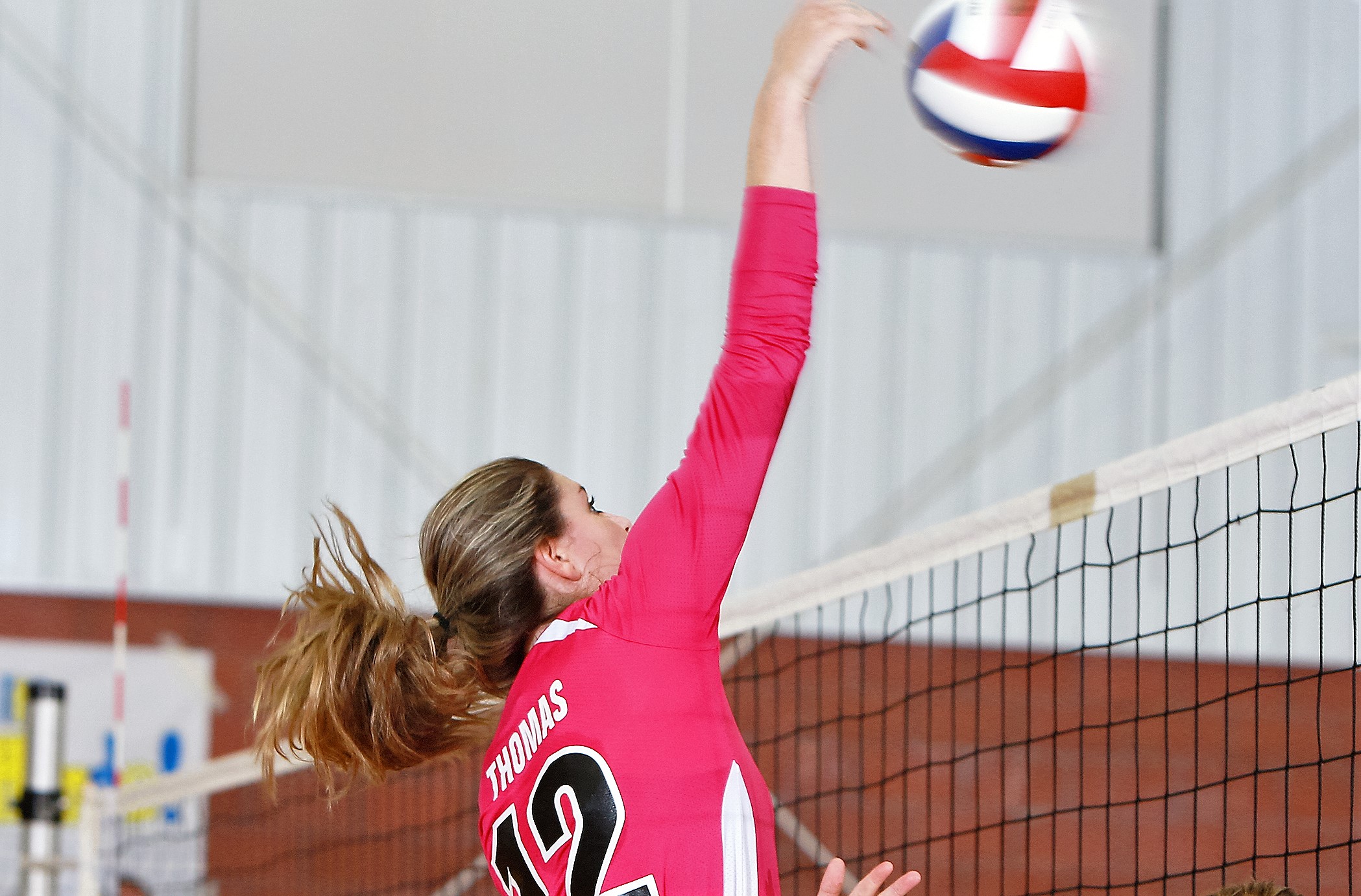 Sept. 14 volleyball and soccer recaps.
(Cover photo: Camryn Thomas of Otto-Eldred. Photo by Paul Burdick. Check out more of Burdick's work here)
VOLLEYBALL
OTTO-ELDRED 3, COUDERSPORT 1
DUKE CENTER, Pa. – In a showdown between two of the top volleyball teams in District 9, Otto-Eldred knocked off visiting Coudersport, 3-1 (25-10, 16-25, 25-13, 25-20).
Camryn Thomas led the charge for the Lady Terrors with a monster game of 21 kills and 25 digs. Allison Cousins added 15 kills, eight digs and four aces and Emily Smith also had a double-double with 42 set assists and 10 digs.
Adrian Page had six kills and 23 digs for Coudersport, while Shaelyn Black added four kills, eight digs and six blocks and EmmaRae Easton three kills, four blocks and two digs. Haley Keck had 12 set assists, 13 digs and four blocks, Joplin Osgood chipped in 36 digs, Dana Dubots had 14 digs and Emma Powell 11 digs.
AUSTIN 3, CAMERON COUNTY 0
AUSTIN, Pa. – Behind the play of Jordan Brewer, Cerissa Glover, Amber Brandt and Taylor Brewer, Austin picked up its first win of the year, 3-0 (25-16, 25-18, 25-19) over visiting Cameron County.
Jordan Brewer had four aces, three kills and 10 set assists, Glover added four kills and an ace, Brandy chipped in three aces and Taylor Brewer contributed four kills and an ace.
Amily Schatz had six kills and four aces for Cameron County with Tapanga Allison adding six assists and Taylor Britton six digs.
NORTH CLARION 3, UNION 0
FRILLS CORNERS, Pa. – Tori Obenrader had 14 kills, 10 blocks and nine digs to lead North Clarion to a 3-0 (25-23, 25-14, 25-21) win over visiting Union.
Gena Caldwell added five kills, seven blocks and four aces for the She-Wolves with Gabby Schmader contributing 14 digs and Paige Sherbine running the show with 17 set assists.
Frankee Remmick and Vanessa Reddick each had six kills for Union with Marli Hawk adding seven digs.
A-C VALLEY 3, FOREST AREA 0
TIONESTA, Pa. – Kylee Eaton had six kills, eight digs and three blocks, as visiting A-C Valley cruised past Forest Area, 3-0 (25-1, 25-3, 25-2).
Josey Terwilliger led the Lady Falcons with seven kills and added three digs, while Syd Rankin had eight set assists and six digs and Kaylie Merwin seven set assists and five digs. Cassie Schwalm added six digs and three kills.
ELK COUNTY CATHOLIC 3, BROCKWAY 0
BROCKWAY, Pa. – Visiting Elk County Catholic shook off a strong challenge from Brockway to defeat the Lady Rovers, 3-0 (26-24, 25-16, 25-17)
Taylor Newton had a monster match for the Lady Crusaders with 18 kills and three aces. Josie Smith added 14 kills and five aces, Brianna Weisner had 33 set assists, Brianne Ruffner three blocks and Emily Wolf three aces.
Kaitlyn Morelli and Mikayla Duffalo each had seven kills for Brockway.
KANE 3, SHEFFIELD 1
KANE, Pa. – Ella Marconi, Trinity Clark and Kendra Udovich each reached double-digit in kills to help Kane hold off visiting Sheffield, 3-1 (25-18, 22-25, 25-10, 25-17).
Marconi led the Lady Wolves with 15 kills and six blocks, Clark added 14 kills, 11 digs and three aces and Udovich had 11 kills, five digs and an ace. Hannah Buhl ran the offense with 38 set assists while adding eight digs.
Callen Copley had six aces for Sheffield, while Lexi Lyon paced the offense with 11 kills and added four blocks. Mya Grubbs piloted the offense with 23 set assists.
CRANBERRY 3, MONITEAU 0
WEST SUNBURY, Pa. – Lauren Conkle, Maliah Schreck and Ava Ferringer combined for 22 kills, seven digs and seven blocks to help visiting Cranberry to a 3-0 (25-4, 25-12, 25-16) win over Moniteau.
Conkle had a match-high 11 kills to go with four blocks, Schreck added six kills, seven digs and three aces and Ferringer had five kills and three blocks. Erin Merryman ran the offense for the Berries with 22 assists while adding nine digs, Natalie Barcinas had a match-high 16 digs and Ellie Kahle added 15 digs.
For Moniteau, Emma Bair had five kills and five blocks and Cambrie Campbell added 20 set assists.
CLARION 3, KEYSTONE 0
KNOX, Pa. – Maya Thornton had 10 kills and 14 digs to help visiting Clarion to a 3-0 (25-20, 25-17, 25-12) win at Keystone.
Maddie Schill added six kills, four aces and two blocks for the Lady Cats, while Brenna Campbell had 29 set assists and eight digs. Lexi Lauer chipped in with five kills and four digs and Alexis Constantino had 11 digs.
Keystone was paced by McKenzie Hovis' four kills. Makenzie Byerley added three set assists, a kill and an ace and Danica Hurrelbrink had three set assists.
PUNXSUTAWNEY 3, CURWENSVILLE 0
CURWENSVILLE, Pa. – Visiting Punxsutawney cruised to a 3-0 (25-16, 25-12, 25-8) win over Curwensville.
For Curwensville, Elizabeth Mathews had four kills and Anna Hoover, Raylee Sunderlin and Tarah Jacobson three kills each. Jacobson added five digs, Sunderlin four, Hoover three and Mathews two. Emma Caldwell also had three digs.
Punxsutawney stats were not available.
DUBOIS 3, DUBOIS CENTRAL CATHOLIC 0
DUBOIS, Pa. – DuBois made the short trip across town well worth it with a 3-0 (25-9, 25-10, 25-17) win over DuBois Central Catholic.
Kelli Hoffer and Lexi Ray led the Beavers with seven kills each with Ray chipping in with six blocks. Kylee Bundy added 24 set assists and five aces, both team highs.
PORT ALLEGANY 3, NORTHERN POTTER 0
ULYSSES, Pa. – Kenzie Burr had nine kills for lead visiting Port Allegany to a 3-0 (25-17, 25-12, 25-12) win at Northern Potter.
Kalyn Naylor added six kills and a block for the Lady Gators, while Jenna Sprankle added 25 set assists.
Savannah Herring paced Northern Potter with seven kills, six digs and an ace. Jenna Hyde added nine set assists, six digs, four aces and two kills and Kalie Cowburn had 12 digs and two kills.
JOHNSONBURG 3, BRADFORD 0
JOHNSONBURG, Pa. – Johnsonburg used a balanced attack to win its home opener, 3-0 (25-22, 25-21, 25-23) over Bradford.
Rylee Casilio dished out 14 assists and collected four aces. Jensen Furlong and Lindsey Kocjancic did a good job at the net coming up with 12 and 11 kills respectively. Brianna Quiggle and Skylar Sherry put together nice stat lines away from the net. Quiggle had six digs and three set assists, while Sherry had four kills, three aces and three digs. Dora Nelson added six set assists.
RIDGWAY 3, ST. MARYS 1
RIDGWAY, Pa. – Behind 18 kills from Emily Fullem, Ridgway topped visiting St. Marys, 3-1 (19-25, 25-21, 25-18, 25-11).
KARNS CITY 3, VENANGO CATHOLIC 0
OIL CITY, Pa. – Emily Hegedus had four kills to help visiting Karns City to a 3-0 win over Venango Catholic.
Livia Andreassi added three kills for the Lady Gremlins, while Alyssa Stitt chipped in 10 set assists.
Hope Winger had two blocks and two kills for Venango Catholic.
GIRLS' SOCCER
CLARION 4, KEYSTONE 0
KNOX, Pa. – Megan Stahlman scored twice to help visiting Clarion to a 4-0 win at Keystone.
Natalie Glenn and Wendy Beveridge also scored for the Lady Cats, while Beveridge, who played 60 of the 80 minutes in goal, combined with Cait Murtha on the shutout.
REDBANK VALLEY 6, FOREST AREA 0
NEW BETHLEHEM, Pa. – After taking a one-goal halftime lead, Redbank Valley exploded for five second-half tallies to beat visiting Forest Area, 6-0.
Zoie Stewart gave the Lady Bulldogs a 1-0 lead at the half with a goal off a direct kick.
Then in the second half Stewart scored again as did Haley Minich, Molly Nolf, Kalyn Kunselman and Alena Keller were among the goal scorers for the Lady Bulldogs.
ELK COUNTY CATHOLIC 3, WARREN 2
ST. MARYS, Pa. – Behind a pair of goals from Sady VanAlstine Elk County Catholic knocked off Warren, 3-2, in the opening round of the Bucktail Tournament in St. Marys.
Maddie Kear also scored for the Lady Crusaders, who play Ridgway, a 1-0 winner over St. Marys, in the title game Friday.
BOYS' SOCCER
BRADFORD 5, SAEGERTOWN 1
SAEGERTOWN, Pa. – Colton Swanson netted four goals to lead visiting Bradford to a 5-1 win over Saegertown.
Brent Kennedy also scored for the Owls, who got assists from Ian Grady, Jake Johnson, Colton Nichols and Mike Bosworth.
Lain Scott netted the lone Saegertown goal.
Evan Schmidt made 12 saves in getting the win for Bradford in goal.
The Owls are now 3-1 on the year.
PUNXSUTAWNEY 4, BROOKVILLE 0
PUNXSUTAWNEY, Pa. – Robin Wagner and Ethan Presloid each scored twice to give Punxsutawney a 4-0 win over visiting Brookville.
PORT ALLEGANY 10, SMETHPORT 0
PORT ALLEGANY, Pa. – Payton Caden and Howie Stuckey each recorded hat tricks to lead Port Allegany to a 10-0 win over visiting Smethport.
Simon Burleson, Josh Conklin, Josh Mealy and Uri Biondi also scored for the Gators with Mealy and Seth Bowers combining on the shutout by making a combined four saves.
NORTHERN POTTER 3, TROY 0
ULYSSES, Pa. – Northern Potter scored three late first-half goals including a pair in the 40th minute to defeat visiting Troy, 3-0, and get its first win of the season.
Ezra Sprow got the Panthers on the board in the 35th minute taking a feed from Foster Kosa a burying it.
Northern Potter looked like it was going to the half with the 1-0 lead until late lightning struck twice.
First, early in the 40th minute, Ryan Langworthy passed to Ricky Kunselman who beat the Troy keeper to make it 2-0, and about 30 seconds later Dakota Perkins took a pass from Wyatt Kosa and scored against for the Panthers.
A great diving save on a penalty kick in the second half by Northern Potter keeper Holden Cowburn, who made seven saves, helped preserve the shutout.