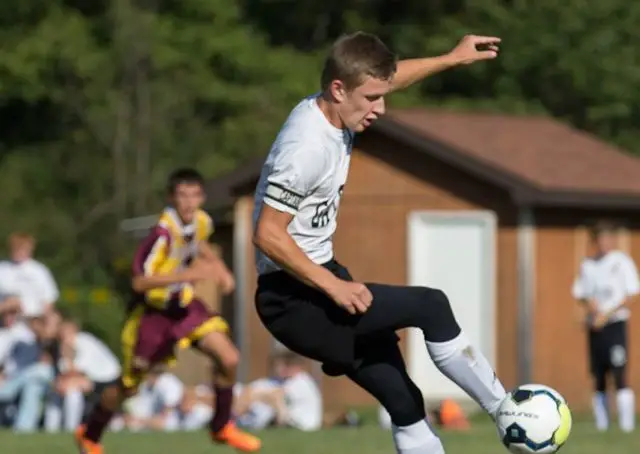 Thursday's District 9 volleyball and soccer recaps.
Cover photo of Port Allegany soccer. Photo by Patrick Crants. Check out more of Crant's work on Facebook.
A-C VALLEY 3, FOREST AREA 0
FOXBURG, Pa. – Kylee Eaton and Josie Terwilliger combined for 16 kills, as A-C Valley rolled to a 3-0 (25-10, 25-8, 25-4) win over visiting Forest Area.
Eaton had nine kills and six aces, while Terwilliger added seven kills, four aces, two digs and a block for the Lady Falcons. Also contributing to the victory with 11 aces was Sydney Rankin, while Olivia Boocks chipped in with six aces.
CLARION 3, KEYSTONE 0
CLARION, Pa. – Behind 16 kills and seven digs from Olivia Burns, Clarion handled visiting Keystone, 3-0 (25-14, 25-14, 25-16).
Gloria Kroh added seven kills, 22 set assists and four digs for the Lady Cats, while Maya Thornton had six kills, four aces and three digs. Alexis Constantino also had seven digs.
Makenzie Byerley led Keystone with 15 set assists and a kill.
CRANBERRY 3, MONITEAU 0
SENECA, Pa. – Malliah Schreck and Bree Swartzfager both recorded double-digit kills, as Cranberry toppled visiting Moniteau, 3-0 (25-11, 25-14, 25-22).
Schreck led the Lady Berries with 12 kills, while Swartzfager added 10 kills and eight digs. Erin Merryman ran the offense with 28 set assists while adding three kills, Ellie Kahle paced the defense with 18 digs and Laykn Vonda chipped in four kills.
KARNS CITY 3, VENANGO CATHOLIC 0
KARNS CITY, Pa. – Behind the serving of Claudia Kamenski and Emily Hegedus, Karns City had no trouble getting past visiting Venango Catholic, 3-0 (25-7, 25-6, 25-5).
Kamenski at one point served for 15 consecutive Lady Gremlin points, including four straight aces, while finishing with four kills, and Hegedus had a string of 12 straight serves that led to Karns City points with six aces.
Brooke Moore set the offense up with 16 assists, while Brooke Snow had five kills and Mackenzie Craig four hills. Head coach Lisa Nagy said Libero Alyssa Stitt also played well with nine back-row passes.
DUBOIS 3, DUBOIS CENTRAL CATHOLIC 0
DUBOIS, Pa. – DuBois wasn't a very nice host to crosstown rival DuBois Central Catholic beating the Lady Cardinals in three straight sets (25-8, 25-17, 25-18).
Danessa Allison led the Lady Beavers with 12 kills and six service aces, while Kelli Hoffer added five aces, Kylee Bundy 15 digs and Ashley McCluskey 19 set assists.
DCC was paced by Libby Maurer and Macy Hanes, who each had three kills. Maurer added nine digs and Hanes seven, while Gabby Caruso had three blocks and Ashley Wruble two aces.
GALETON 3, AUSTIN 0
GALETON, Pa. – Despite solid performances by Madison Hooftallen. Angie Watson and Jordan Brewer, Austin dropped a 3-0 (25-9, 25-15, 25-17) road decision to Galeton.
Brewer had nine digs and two aces to lead the Lady Panthers, while Hooftallen added a pair of aces, two digs and a kill and Watson, three digs, two aces and a kill.
BRADFORD 3, JOHNSONBURG 0
BRADFORD, Pa. – Ashton McGriff had 10 kills, four digs and a block and Kamryn Piscitelli chipped in 12 kills, seven digs, an ace and a set assist to lead Bradford to a 3-0 (27-25, 25-18, 25-16) win over visiting Johnsonburg.
Lauren Kahle fed the offense with 23 set assists while adding two kills, two kills and an ace.
Hannah Woodell led the Lady Owls defense with 11 digs, Katie O'Neal chipped in two kills and two blocks, and Brinya Moffett had two aces and two blocks.
ELK COUNTY CATHOLIC 3, BROCKWAY 0
ST. MARYS, Pa. – It was another strong outing for Cassidy Cunningham, as the Elk County Catholic hitter recorded a team-best seven kills while coming up with three aces to help the Lady Crusaders to a 3-0 (25-7, 25-12, 25-18) win over visiting Brockway.
Ramsey Struble and Reilly Herzing each added five kills for ECC with Herzing also adding three blocks and Struble two blocks. Kara Detsch had 23 set assists.
SMETHPORT 3, CAMERON COUNTY 1
SMETHPORT, Pa. – Behind a monster kills/digs double-double from Katie Treat, Smethport rallied for a 3-1 victory over visiting Cameron County.
Treat had 15 kills, 28 digs and seven aces for the Lady Hubbers, who dropped the first set 25-22 before winning the next three by scores of 25-20, 25-10 and 25-23.
Abbey Woodard joined Treat in leading the offense by adding 12 kills to go with three aces, Meagan DeLuca had 25 set assists and Olivia Goodwill six kills and four aces.
Taylor Britton paced Cameron County with eight kills, Payton Bloom had nine aces, Amy Schatz three blocks and Alyvia McKimm 35 set assists.
COUDERSPORT 3, OSWAYO VALLEY 0
COUDERSPORT, Pa. – Coudersport rebounded from its first loss of the season to top visiting Oswayo Valley, 3-0 (25-9, 25-17, 25-16).
Ally Easton had nine kills for the Lady Falcons, while Emma Rae Easton added six kills and Ady Page and Kiara Perkins five kills each. Perkins also had 10 digs and two aces, while Page added four aces and Emma Rae Easton two aces. Ally Easton added two blocks, Skyler Vanwagenen chipped in with four aces and two kills and Haley Keck had 25 set assists.
KANE 3, SHEFFIELD 1
SHEFFIELD, Pa. – Trinity Clark had six kills, six digs, nine aces and three solo blocks to help visiting Kane to a 3-1 (22-25, 26-24, 25-22, 25-15) win over an improving Sheffield team.
Marcie Stanisch added 12 digs and five aces for the Lady Wolves, while Alyssa Zampogna had 10 kills and two aces and Ella Marconi eight kills and a solo block.
Rachel Lemay had nine set assists, four kills and two blocks, Lexi Lyon four kills and five blocks, Claire Pierson six aces and six kills and Mya Grubbs 11 set assists for Sheffield.
OTTO-ELDRED 3, PORT ALLEGANY 0
PORT ALLEGANY, Pa. – Coming off its big win over Coudersport, Otto-Eldred avoided a let down by going on the road and sweeping Port Allegany, 3-0 (25-23, 25-15, 25-21).
Ali Cousins led the Lady Terrors with 13 kills and two aces, while Camryn Thomas had 12 kills and 15 digs and Emily Smith 34 set assists and four aces.
NORTHERN POTTER 3, COWANESQUE VALLEY 0
WESTFIELD, Pa. – Gracie Hamilton had 12 kills and two blocks, as visiting Northern Potter swept past Cowanesque Valley, 3-0 (25-18, 25-18, 25-19).
Kalie Cowburn added seven kills and three aces for the Lady Panthers, who also got 17 set assists and six aces from Jenna Hyde.
ST. MARYS 3, RIDGWAY 1
ST. MARYS, Pa. – Emily Fullem had nine kills before leaving with an injury, but visiting Ridgway lost 3-1 (25-18, 24-26, 25-19, 25-20) to St. Marys.
Lacie Cherry added eight set assists and Kylee Wall seven set assists for the Lady Elkers.
St. Marys stats weren't available.
BOYS' SOCCER
PUNXSUTAWNEY 3, BROOKVILLE 2
BROOKVILLE, Pa. – Punxsutawney scored twice in the first eight minutes of the second half to break a tie game at the half and get a 3-2 road win over Brookville.
The game was tied at one at the break before Matt Wehrle and Caleb Bodenhorn scored early in the second half to give the Chucks a 3-1 lead.
Brookville's John Matheny answered with a marker for the Raiders, but they couldn't get the equalizer.
Matheny also had an assist on Brookville's first goal, a strike by Brodie Joiner that gave the Raiders a 1-0 lead. But Josh Godo scored to tie the game at the break for Punxsy.
FOREST AREA 2, REDBANK VALLEY 0
NEW BETHLEHEM, Pa. – Jarrett Kahle scored twice to give Forest Area its first win of the season with a 2-0 decision at Redbank Valley.
Andrew Schwab got the shutout in goal for the Fires with 13 saves, and Manny Tirado added an assist.
COUDERSPORT 3, RIDGWAY 1
COUDERSPORT, Pa. – Behind a hat trick from David Kudrick, Coudersport dispatched of visiting Ridgway, 3-1.
All three of Kurdick's goals came in the second half, including one assisted by his twin brother, Dustin. Aristotle Smith also had a helper for the Falcons.
PORT ALLEGANY 4, SMETHPORT 1
PORT ALLEGANY, Pa. – Brandon McCaslin scored twice to lead Port Allegany to a 4-1 win over visiting Smethport.
Makensie Elliott and David Talkington also scored for Gators, while Noah Costa netted Smethport's lone tally.
NORTHERN POTTER 5, NORTH PENN-LIBERTY 2
ULYSSES, Pa. – Levi Kio scored a pair of first-half goals and assisted on a third to help Northern Potter to a 5-2 win over visiting North Penn-Liberty.
Kio's tallies, the first off a pass from Rebecca Morgan and the second off an Austin Outman feed, helped the Panthers overcome an early 1-0 deficit. Kio then fed Foster Kosa late in the half to give Northern Potter a 3-1 lead at the break.
After North Penn-Liberty made it 3-2 early in the second half, the Panthers finished off the game with goals from Kasey Freeman and Dawson Coates with Outman picking up his second assist on the Coates tally.
Taite Couch and Jonathan Nelson had the goals for North Penn-Liberty.
Holden Cowburn made nine saves in net to get the victory.
GIRLS' SOCCER
BRADFORD 4, TITUSVILLE 0
BRADFORD, Pa. – Freshman Regan Johnson recorded a hat trick to lead Bradford to a 4-0 win over visiting Titusville.
Morgan Shade also scored for the Lady Owls and Melody Campbell made three saves, including one on a breakaway, to pick up the shutout in goal.