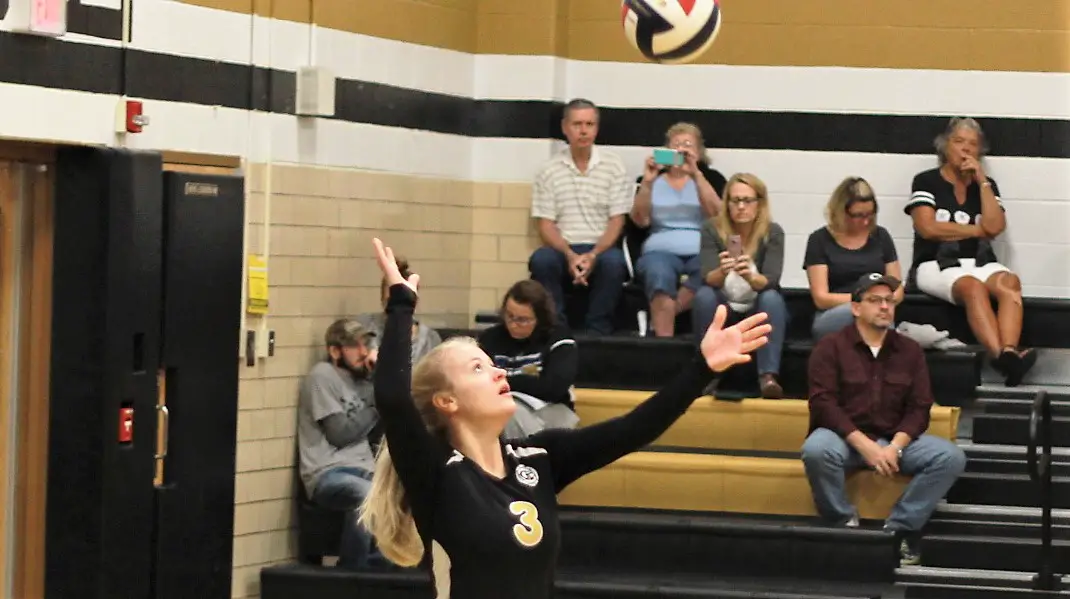 Sept. 17 volleyball and soccer recaps.
(Photo of Curwensville's Emma Caldwell. Photo by Jared Bakaysa of JB Graphics. See more of Bakaysa's work here)
VOLLEYBALL
CURWENSVILLE 3, CLEARFIELD 1
CURWENSVILLE, Pa. – Thanks to nine aces and 23 assists from Emma Caldwell, Curwensville defeated visiting Clearfield, 3-1 (25-18, 19-25, 25-20, 25-20).
Erica Buck tallied six aces, five kills and four assists for the Lady Tide, while Raylee Sunderland chipped in for nine kills and two blocks and Liz Matthews added a game-high 14 kills and four aces.
PORT ALLEGANY 3, YOUNGSVILLE 0
YOUNGSVILLE, Pa. – Behind five kills and four blocks from Kayla Pesock, Port Allegany cruised to a 3-0 (25-19, 25-14, 25-12) victory over Youngsville.
Kalyn Naylor had three kills and six blocks and Jenna Sprankle added 14 assists for the Lady Gators.
A-C VALLEY 3, PUNXSUTAWNEY 0
PUNXSUTAWNEY, Pa. – Olivia Boocks and Kylie Eaton combined for 24 kills to lead visiting A-C Valley to a 3-0 (25-13, 25-17, 25-21) win over Punxsutawney.
Boocks had 14 kills, 10 digs and four aces to lead the Lady Falcons with Eaton adding 10 kills, nine digs and two blocks.
Also for A-C Valley, Emily Wetzel had 21 assists and nine digs and Kaylie Merwin had nine assists, eight digs and four aces.
NORTHERN CAMBRIA 3, CLARION 0
NORTHERN CAMBRIA, Pa. – Clarion dropped a 3-0 (25-20, 25-17, 25-17) road decision at Northern Cambria.
Brenna Campbell had 24 set assists and 13 digs for the Lady Cats, while KK Girvan added 11 digs, Korrin Burns chipped in nine kills and nine digs, Maddie Schill had eight kills, Dorothy Kalinowski had five kills and Kait Constantino eight digs.
OSWAYO VALLEY 3, WELLSVILLE (N.Y.) 1
WELLSVILLE, N.Y. – Karely Carpenter had six kills, five blocks and three aces to help visiting Oswayo Valley to a 3-1 (25-17, 20-25, 25-21, 25-23) win over Wellsville (N.Y.).
Naomi Cook added six kills, three blocks and two aces for the Green Wave with Macy West contributing five kills, six aces and two blocks and McKenzie George two kills and six assists.
Ellie Davis had a match-high 10 kills to go with two blocks for Wellsville. Keara Ludu had 14 digs, and Marley Adams had five kills and nine digs.
OTTO-ELDRED 3, ALLEGANY-LIMESTONE 1
DUKE CENTER, Pa. – Harlee VanScoter recorded 19 kills, 22 digs, six blocks and three aces to lead Otto-Eldred to a 3-0 (25-22, 25-19, 22-25, 25-22) win over visiting Allegany-Limestone (N.Y.).
Veronica Benni chipped in 11 kills, 13 digs and two blocks for the Lady Terrors with Reilly Raught adding seven kills and five blocks and Emilie Reitler two aces.
SHEFFIELD 3, EISENHOWER 2
SHEFFIELD, Pa. – Down three, 13-10, in the fifth set, Callen Copley served five straight points to lead Sheffield to a 3-2 (25-21, 25-20, 15-25, 17-25, 15-13) win over visiting Eisenhower.
Megan Johnson had 23 assists and 13 digs for the Lady Wolverines with Marissa Grubbs adding 14 digs.
DUBOIS CENTRAL CATHOLIC 3, NORTH CLARION 0
DUBOIS, Pa. – Thanks in part to 10 Alyssa Bittner kills, DuBois Central Catholic beat visiting North Clarion, 3-0 (25-18, 25-11, 25-22).
Gabby Sabatose and Jordy Kosko each added three kills for the Lady Cardinals with Shay Gulvas chipping in 14 digs and four aces.
RIDGWAY 3, KARNS CITY 0
KARNS CITY, Pa. – Visiting Ridgway swept Karns City, 3-0 (25-16, 25-23, 25-13).
Makenzie Dunn had 45 digs and three aces for the Lady Gremlins with Emily Wolfe adding three kills and 27 digs and Emma Clark and Cassidy Bolan three kill apiece.
Ridgway stats weren't available.
BOYS' SOCCER
KARNS CITY 5, REDBANK VALLEY 1
NEW BETHLEHEM, Pa. – Behind two goals each from Austin Fahlor and Dakota King, Karns City won a 5-1 mudfest at Redbank Valley.
Nate Rondinelli had the fifth goal for the Gremlins when he bent in a corner serve.
Bryce Morgan had the lone goal for Redbank Valley.
BRADFORD 13, MEADVILLE 0
BRADFORD, Pa. – Cadyn Sutherland had four goals to lead Bradford to a 13-0 whitewashing of visiting Meadville.
Brennan Grady added a goal and five assists with Colton Swanson picking up a goal and three helpers. Gavin McGee, Ian Grady, Isaiah Pingie, Owen Kane, Rob Jimmerson, Ethan Tate and Calyb Geist also scored for the Owls.
Evan Schmidt made one save for the shutout.
GIRLS SOCCER
CLEARFIELD 2, BELLEFONTE 1
HYDE, Pa. – Alayna Ryan's goal off Emma Hipps' corner kick midway through the 55th minute gave Clearfield a 2-1 victory over visiting Bellefonte.
Hipps had given the Lady Bison a 1-0 halftime lead when she scored off a Sarah Snyder assist late in the 22nd minute. But Bellefonte tied the game late in the 49th minute on a Madalyn Morelli tally.
Bellefonte outshot Clearfield, 15-10, but Hayley Moore made 14 saves to get the win for the Lady Bison. Cait Besch had eight saves for Bellefonte.
Both teams took four corner kicks.
KARNS CITY 6, FOREST AREA 1
KARNS CITY, Pa. – Hunter Dittman's hat trick to help Karns City knock off visiting Forest Area, 6-1.
Olivia Rumbaugh added a goal and three assists for the Lady Gremlins with Alyson Fennell and Rossi McMillen also scoring.
Shawna Pack had the lone goal on a penalty kick for Forest Area. Abby Gatesman made 16 saves.
REDBANK VALLEY 6, FRANKLIN 1
NEW BETHLEHEM, Pa. – Six different Redbank Valley players scored to lead the Lady Bulldogs to a 6-1 win over visiting Franklin.
Netting tallies for Redbank Valley were Molly Nolf, Brooke Eberle, Carley Schick, Abigale Downs, Alaina Hook and Gabby Dinger. Raegen Beamer had an assist.