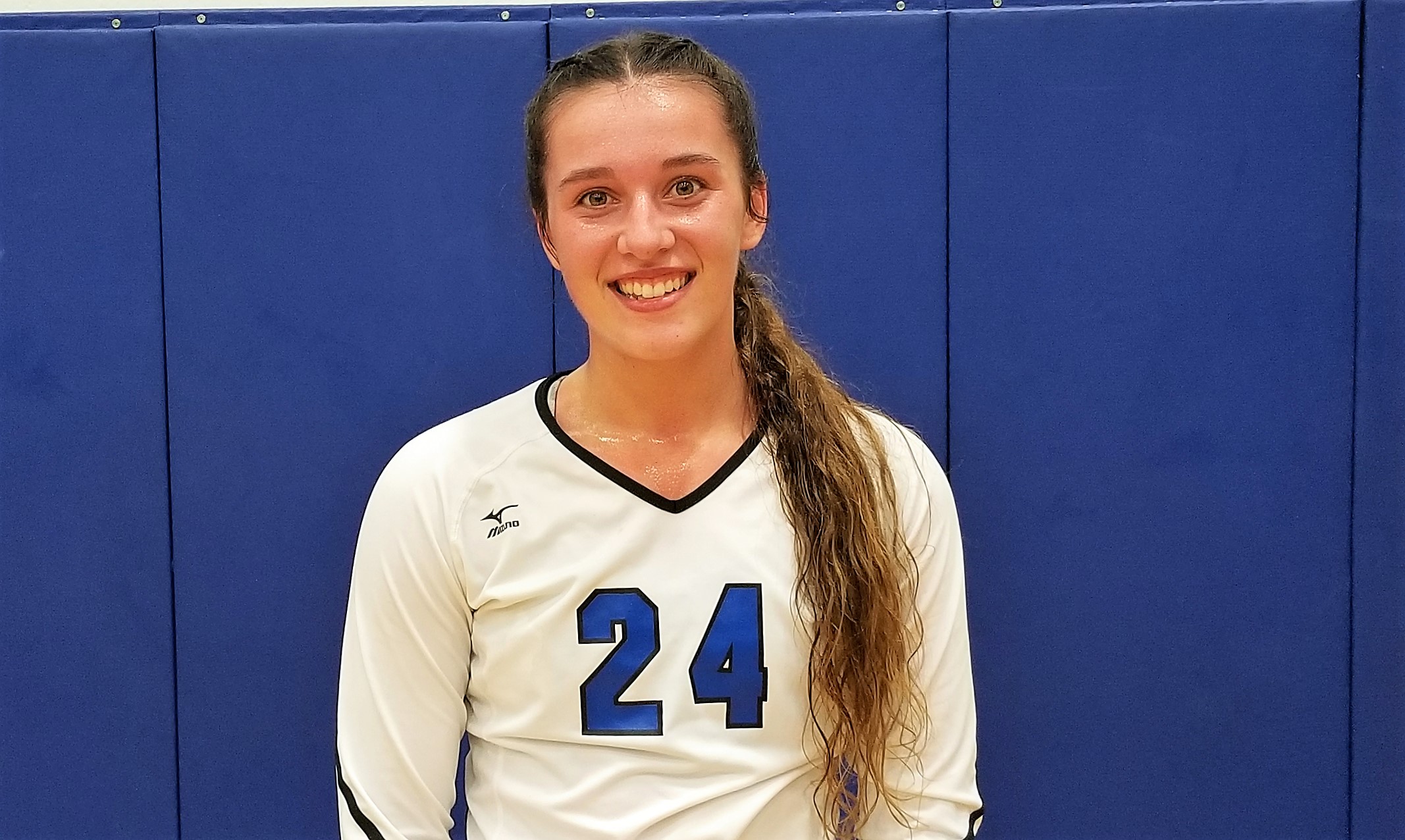 Sept. 19 volleyball and soccer recaps.
(Cover photo: Kylee Eaton, A-C Valley)
VOLLEYBALL
A-C VALLEY 3, CLARION 2
FOXBURG, Pa. – Kylee Eaton and Josie Terwilliger just weren't going to let another 2-0 lead against Clarion slip away.
Eaton recorded a kill and two aces in the fifth set while also playing exceptional defense on the match's final point, and Terwilliger had three kills and saw her push mishandled by Clarion for the final point, as A-C Valley held off the Lady Cats, 3-2 (25-20, 25-21, 20-25, 19-25, 15-11).
The win included the Lady Falcons rallying from an early 6-0 hole in the fifth set by reeling off 11 of the next 12 points to take an 11-7 lead on the way to the victory.
Watch the final point.
Eaton had a monster night for A-C Valley with 15 kills and 20 digs including six kills in a tone-setting first-set victory. Terwilliger took a bit longer to get going but still finished with eight kills to go with 30 digs, and Olivia Boocks chipped in seven kills and 35 digs.
Eaton talked about the victory.
Syd Rankin had a team-best 19 set assists, and it was her tip in the fifth set with A-C Valley down 6-0 that changed the momentum. Rankin also added 30 digs, while Emily Wetzel chipped in 10 set assists and 13 digs.
Clarion got a strong match from Mya Thornton, who had 19 kills, including 10 in the two set victories. She added 16 digs and two blocks. Lexi Lauer added six kills, 17 digs and three blocks and Hailey Sintobin chipped in five kills and seven blocks for the Lady Cats. Brenna Campbell had 36 set assists and 11 digs, Sydney Kiser chipped in 20 digs and Alexis Constantino had 22 digs.
SHEFFIELD 3, ELK COUNTY CATHOLIC 1
ST. MARYS, Pa. – Eliza Davidson and Lexi Lyon combined for 30 kills, as visiting Sheffield stunned Elk County Catholic, 3-1 (25-21, 25-21, 15-25, 25-22).
Davidson had 19 kills and Lyon 11, while Mya Grubbs ran the offense with 31 set assists.
OTTO-ELDRED 3, CAMERON COUNTY 0<s/trong>
EMPORIUM, Pa. – Camryn Thomas recorded 10 kills and three blocks to help visiting Otto-Eldred to a 3-0 (25-21, 25-8, 25-14) win over Cameron County.
Harlee VanScotter chipped in seven kills and seven aces for the Lady Terrors, while Emily Smith had 16 set assists and two aces.
REDBANK VALLEY 3, CLARION-LIMESTONE 0
NEW BETHLEHEM, Pa. – Emily Gourley, Torrilyne Nelson and Josie Rupp combined for 15 kills to lift Redbank Valley to a 3-0 (25-15, 25-8, 25-13) win over visiting Clarion-Limestone.
Gourley had a team-high seven kills with Nelson and Rupp each adding four. Rupp also had a pair of aces, while Nelson had an ace and nine set assists. Kristen Shaffer paced the defense with 17 digs, Jordan Milliron added two aces and two kills and Montana Hetrick had five aces.
Rachel Greeley had four blocks for C-L with Nikki Shumaker adding nine digs, Madison Craig six digs, a kill, a block and an ace and Erica Hetrick six digs.
BALD EAGLE AREA 3, CLEARFIELD 0
HYDE, Pa. – Despite five kills from Aspen Bishop and seven digs from Bella Spingola, Clearfield dropped a 3-0 (25-2, 25-14, 25-21) decision to visiting Bald Eagle Area.
Brianna Luzier added seven set assists for the Lady Bison.
COUDERSPORT 3, SMETHPORT 0
COUDERSPORT, Pa. – Thanks in part to 12 kills, four digs, two blocks and an ace from EmmaRae Easton, Coudersport rolled past visiting Smethport, 3-0 (25-12, 25-15, 25-7).
Shaelyn Black added seven kills, seven digs, two aces and two set assists for the Lady Falcons, while Haley Keck ran the offense with 23 set assists to go with four aces, 11 digs and three kills. Joplin Osgood paced the defense with 21 digs and also had three kills and two aces and Adrian Page added 14 digs, two aces and three kills.
Abbey Woodard had six kills, four digs, three blocks, three set assists and an ace for Smethport with Haleigh Larson chipping in four kills, six digs and two set assists, Emily Treat three kills and seven digs and Emily Gustafson 11 digs.
CRANBERRY 3, KARNS CITY 0
KARNS CITY, Pa. – Erin Merryman had 32 set assists, five kills, two aces and two digs to help visiting Cranberry to a 3-0 (25-16, 25-12, 25-11) win over Karns City.
Maliah Schreck had a team-high 10 kills for the Berries to go with 15 digs and two blocks, Lauren Conkle added nine kills and seven blocks, Natalie Barcinas had four kills and 10 digs, Ellie Kahle 12 digs and Abby Hanna five blocks and five kills.
Emily Hegedus had two kills and three blocks for Karns City with Alyssa Stitt adding four set assists.
DUBOIS CENTRAL CATHOLIC 3, CURWENSVILLE 1
DUBOIS, Pa. – Despite nine kills and nine digs from Elizabeth Mathews, Curwensville dropped a 3-1 (25-16, 21-25, 25-20, 25-8) road decision to DuBois Central Catholic.
Anna Hoover added five kills and seven digs for the Lady Tide with Tarah Jacobson added four kills and five digs and Raylee Sunderling five kills. Emma Caldwell had 13 set assists for Curwensville.
DCC stats were not available.
NORTH CLARION 3, FOREST AREA 0
MARIENVILLE, Pa. – Another big night from Tori Obenrader helped North Clarion to a 3-0 (25-12, 25-19, 25-12) win over Forest Area at East Forest.
Obenrader had 17 kills, four aces and three digs to lead the way for the She-Wolves, while Avari Schwabenbauer added 10 kills and two aces, Gena Caldwell nine kills and Paige Sherbine 22 set assists. And eight aces.
JOHNSONBURG 3, ST. MARYS 0
JOHNSONBURG, Pa. – Lindsay Kocjancic had six aces and four kills to help Johnsonburg to a 3-0 (25-11, 25-23, 25-18) win over visiting St. Marys.
Rylee Casilio added nine set assists for the Ramettes, while Skylar Sherry had eight kills and Jensen Furlong six kills. Dora Nelson added four st assists and Brianna Quiggle and Haylee Cherry each had three digs.
RIDGWAY 3, KANE 1
RIDGWAY, Pa. – Despite 15 kills, 16 digs, two blocks and an ace from Trinity Clark, visiting Kane dropped a 3-1 (25-22, 23-25, 25-20, 25-17) match to Ridgway.
Ella Marconi added eight kills and a block for the Lady Wolves, while freshman Audri Marconi had seven kills and two blocks. Hanna Buhl ran the offense with 30 set assists.
Ridgway stats weren't available.
KEYSTONE 3, UNION 1
KNOX, Pa. – Katie Brown recorded nine kills and two aces to help Keystone to a 3-1 (26-24, 25-16, 21-25, 26-24) win over visiting Union.
Makenzie Byerley had a double-double for the Lady Panthers with 10 set assists and 11 kills, McKenzie Hovis added seven kills, Danica Hurrelbrink had four kills and nine set assists and Jenny McConnell paced the defense with 40 digs.
Frankee Remmick had 15 kills for Union with Bryn Davis adding 13, Morgan Cumberland eight and Vanessa Reddick seven. Remmick also added 15 digs, while Marli Hawk had 12 digs. Hannah Atzeni ran the offense with 43 set assists.
MONITEAU 3, VENANGO CATHOLIC 0
OIL CITY, Pa. – Emma Bair had eight kills and three aces to help visiting Moniteau to a 3-0 (25-11, 25-11, 25-8) win over Venango Catholic.
Faith Kelly ran the Lady Warriors attack with 24 set assists, Cambrie Campbell chipped in seven aces, Madison Bresnehan had five aces and Carolyn Kelly five aces and two kills.
OSWAYO VALLEY 3, AUSTIN 0
SHINGLEHOUSE, Pa. – Thanks to 11 kills from Naomi Cook Oswayo Valley swept past visiting Austin, 3-0 (25-11, 25-8, 25-14).
Madison Miller set up the offense for the Green Wave with 26 set assists, Shayla Bickel added 11 digs and Karley Carpenter added six aces.
Taylor Brewer had a pair of kills and two aces for Austin.
PORT ALLEGANY 3, GALETON 1
PORT ALLEGANY, Pa. – Kenzier Burr and Hannah Lathrop each had 10 kills to lead Port Allegany to a 3-1 (23-25, 25-20, 25-21, 25-18).
Kayla Peacock, Kalyn Naylor, Maleah Danniel each added seven kills for the Lady Gators, while Jenna Sprankle had 36 set assists and Erin Stauffer had a monster game on defense with 77 digs.
Makaya Shadle and Rylleigh Rachiele had nine kills each for Galeton.
BOYS' SOCCER
BROCKWAY 7, KEYSTONE 1
BROCKWAY, Pa. – Anthony Esposito had two goals and an assist for Brockway in a 7-1 win over visiting Keystone.
Zane Puhala, Carter Adams, Angelo Inzana, Hunter Allenbaugh and Chase Azzato also scored for the Rovers with Azzato's being his first career tally.
Santino Inzana, Angelo Inzana, Allenbaugh, Adams, Nate Long and Puhala also had helpers.
PORT ALLEGANY 3, COUDERSPORT 2
COUDERSPORT, Pa. – Visiting Port Allegany scored three times in the final eight minutes to stun Coudersport, 3-2.
Netting goals for the Gators were Javon Stiles, Payton Caden and Shawn McNeil.
WELLSBORO 10, NORTHERN POTTER 0
ULYSSES, Pa. – Tanner Runyon netted the hat trick, as visiting Wellsboro rolled to a 10-0 win over Northern Potter.
John Rowland, Gabe Leach, Noah Fitch, Rudy Brett, Holden Kennedy, Conrad Becker and Joseph Grab also scored for Wellsboro.
GIRLS' SOCCER
CLARION 3, REDBANK VALLEY 0
NEW BETHLEHEM, Pa. – Behind a hat trick from Alexa Hannold, visiting Clarion topped Redbank Valley, 3-.
Wendy Beveridge got the shutout in goal for the Lady Cats.
BROCKWAY 6, KEYSTONE 0
BROCKWAY, Pa. – Chanell Britten netted a hat trick and added two assists and Morgan Lindemuth added a pair of goals to help Brockway to a 6-0 win over visiting Keystone.
Leah Lindemuth also scored for the Lady Rovers, while Emily Botwright and Taylor Little also added helpers.
Mackenzie Overbeck had the shutout in net.