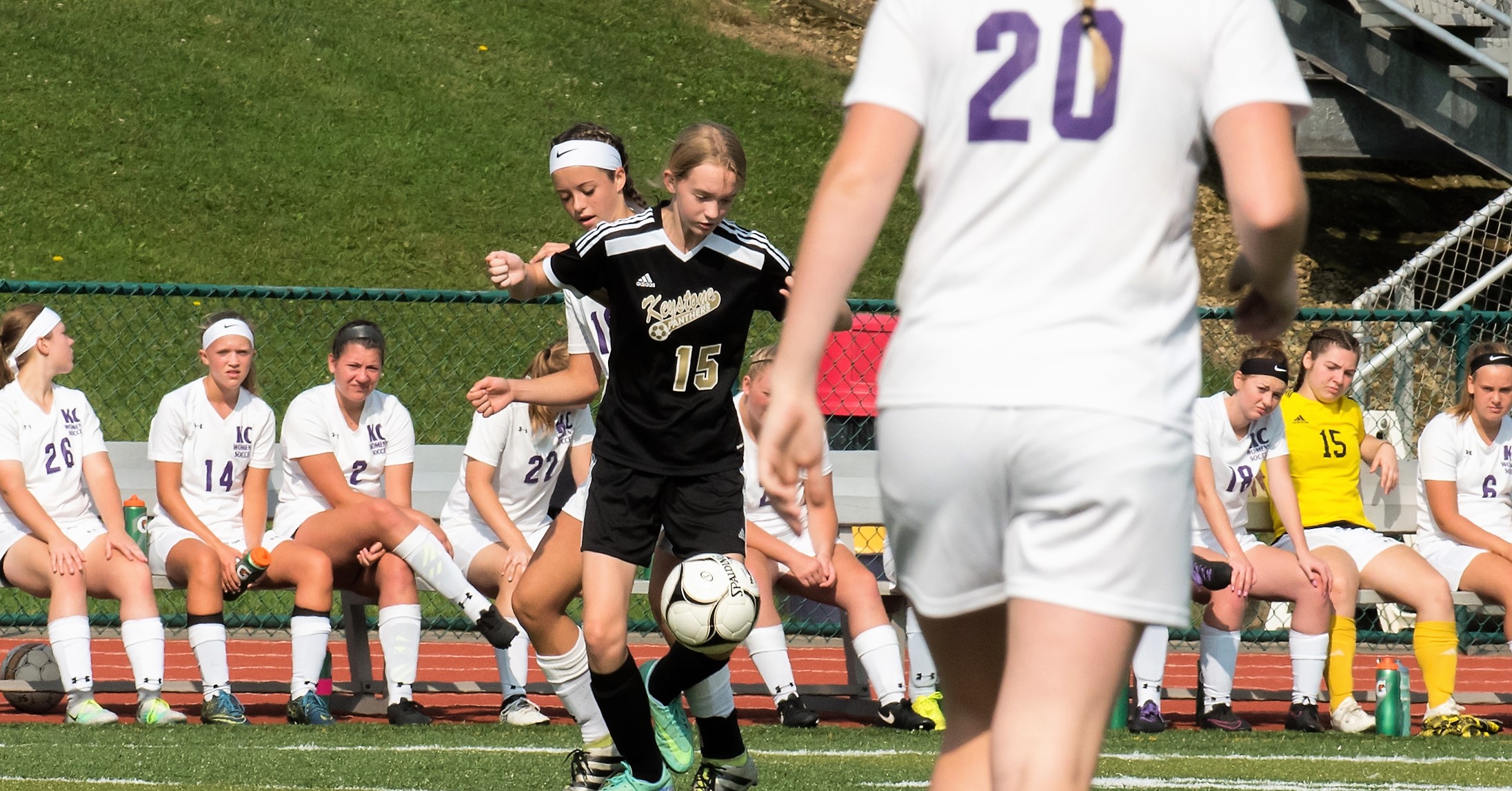 Sept. 20 soccer and volleyball recaps.
(Cover photo: Paige Henry of Keystone had a goal and an assist in the Lady Panthers 3-2, overtime win over Franklin. Photo by Howie Dittman)
GIRLS' SOCCER
FRANKLIN, Pa. – Jessica Cotton scored 58 seconds into overtime to lift Keystone to a 3-2 road win over Franklin.
It was Cotton's second goal of the game. Paige Henry also scored and had an assist for the Lady Panthers with Trinity Thompson and Kelsey Bish also getting helpers.
Carly Calderone and Bella Xiaolu Terman netted goals for Franklin.
Jessi Phillippi got the win in goal making three saves.
CURWENSVILLE 4, PUNXSUTAWNEY 1
CURWENSVILLE, Pa. – Despite a goal from Baylee Seeger assisted by Riley Cassiday, Punxsutawney dropped a 4-1 decision at Curwensville.
Curwensville stats weren't available.
VOLLEYBALL
UNION 3, MONITEAU 2
WEST SUNBURY, Pa. – Union rallied from 2-0 hole to beat host Moniteau, 3-2 (18-25, 25-27, 25-21, 25-9, 15-11).
Hannah Atzeni had a big night for the Golden Damsels with 38 set assists and seven aces.
Frankee Remmick was the recipient of many of those helpers and finished with 18 kills, five aces and nine digs. Bryn Davis chipped in with 12 kills and seven digs, Vanessa Reddick had six kills, three blocks and five aces, Marli Hawk added 17 digs and five aces and Morgan Cumberland had four blocks
For Moniteau, Emma Bair had a match-high 25 kills to go with 12 blocks. Cambrie Campbell added five kills and seven blocks, Madison Bresnehan had three kills and Logan Barnhart 31 set assists.
DUBOIS 3, BRADFORD 0
BRADFORD, Pa. – Thanks to 13 kills from Sydney Kaschalk and 12 kills and 24 digs from Danessa Allison visiting DuBois swept Bradford, 3-0 (25-18, 25-23, 28-26).
Lexi Ray chipped in five kills, five blocks and three aces for the Lady Beavers, while Kylee Bundy ran the offense with 41 set assists.