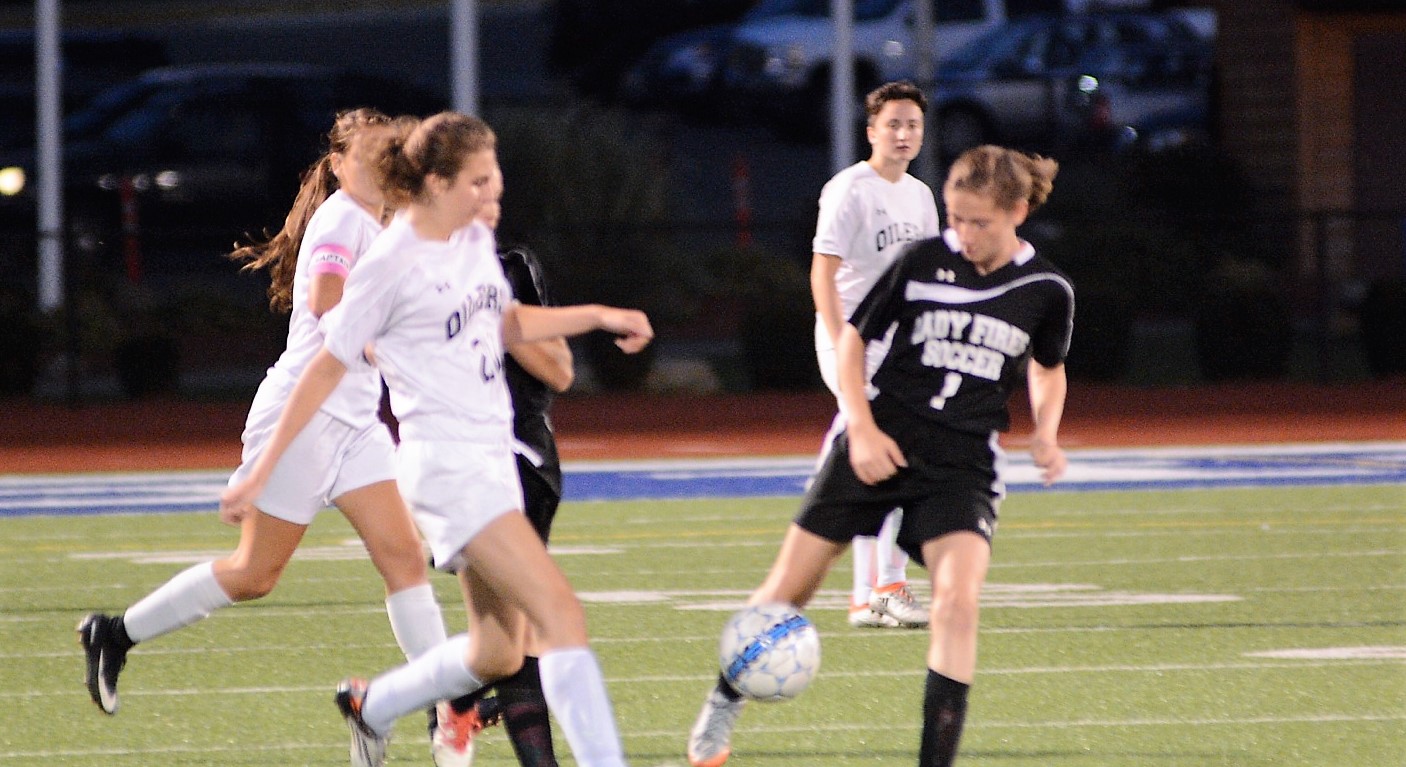 Sept. 21 volleyball and soccer recaps.
(Cover photo: MacKenzie Bauer of Forest Area had two goals during the Fires win over Oil City)
VOLLEYBALL
OTTO-ELDRED 3, OSWAYO VALLEY 0
DUKE CENTER, Pa. – Alyssa Shelander had nine kills and an ace to help Otto-Eldred to a 3-0 (25-16, 25-17, 25-10) win over visiting Oswayo Valley.
Camryn Thomas added eight kills, five aces and a block for the Lady Terrors, while Allison Cousin had six kills, 10 digs and three aces and Emily Smith 24 set assists, six aces and three kills.
KARNS CITY 3, CLARION-LIMESTONE 1
STRATTANVILLE, Pa. – Rayna Miller and Emily Hegedus combined for 20 kills to lead visiting Karns City to a 3-1 (23-25, 25-16, 25-16, 26-24) win over Clarion-Limestone.
Both players had 10 kills apiece while Makayla Waltman added four kills for the Lady Gremlins. Alyssa Stitt set up the offense with 28 set assists.
Erica Hetrick led C-L with 10 kills, eight digs and five aces, Madison Craig added six kills and Rachel Greeley three kills and five blocks and Keara Henry three aces, seven digs and 13 set assists. Madi Griffth chipped in eight set assists.
KANE 3, JOHNSONBURG 1
KANE, Pa. – After dropping the first set, Kane rallied to win the next three, including coming from behind in the fourth set, to gain a 3-1 win (22-25, 25-16, 25-23, 26-24) over visiting Johnsonburg.
In the fourth set, the Lady Wolves trailed 13-6, 19-16 and 24-20 before freshman Audri Marconi went to the service line and served up six straight points, including three aces. Ellas Marconi had a kill for a point and Trinity Clark two. Clark buried the match-ending attack untouched at the back line for the win.
Clark and Ella Marconi each finished with 12 kills. Clark added eight digs, three aces and a block, while Ella Marconi chipped in 12 kills, six digs and a block. Audri Marconi had five kills and three aces, Lexi Wood added 14 digs, Paige Niklas had eight digs and Hannah Buhl 27 set assists, 19 digs and four aces.
Brianna Quiggle led Johnsonburg with 16 digs and six kills. Jensen Furlong added 10 kills, Skylar Sherry had 13 kills, Jenna Morgan four kills and five blocks and Dora Nelson 14 set assists.
SMETHPORT 3, CAMERON COUNTY 0
SMETHPORT, Pa. – Behind 15 kills, seven digs and five blocks from Abbey Woodard, Smethport rolled past visiting Cameron County, 3-0 (25-4, 25-9, 25-15).
Emily Treat added four kills, eight digs, nine aces and an assist for the Lady Hubbers, while Haleigh Larson had eight kills, two digs and four set assists. Kiara Orner chipped in 14 set assists, two kills and four aces, Emily Gustafson had four kills, two blocks and five digs and Willow Lapp added four kills and seven digs.
Amily Schatz had four kills for Cameron County with Tapanga Allison chipping in four set assists and Mallory McKimm five digs.
DUBOIS 3, BROCKWAY 0
DUBOIS, Pa. – Sydney Kaschalk and Lexi Ray each had six kills to lead DuBois to a 3-0 (25-11, 25-7, 25-19) win over visiting Brockway.
Kaschalk added three service aces.
PORT ALLEGANY 3, AUSTIN 0
AUSTIN, Pa. – Hannah Lathrop had 12 kills to help visiting Port Allegany to a 3-0 (25-19, 25-15, 25-13) win over Austin.
Kalyn Naylor added five kills and Jenna Sprankle 22 set assists for the Lady Gators.
Jordan Brewer had 10 set assists and eight aces for Astin. Taylor Brewer added three kills and Cerissa Glover two aces and two kills.
BROOKVILLE 3, DUBOIS CENTRAL CATHOLIC 0
BROOKVILLE, Pa. – Olivia Pearson had 13 kills to lead Brookville to a 3-0 (25-14, 25-15, 25-13) win over visiting DuBois Central Catholic.
Lexis Hatzinikolas added six kills and five blocks for the Lady Raiders, while Kira Powell had four kills and Madison and Morgan Johnson five aces apiece.
Ashley Wruble had two kills, four aces and five digs for DCC with Alyssa Bittner adding four kills and a block.
CLARION 3, FOREST AREA 0
CLARION, Pa. – Lexi Lauer and Maya Thornton each had seven kills as Clarion had little trouble with visiting Forest Area sweeping past the Fires, 3-0 (25-5, 25-3, 25-2).
Twenty-seven Clarion points came on aces led by 11 each from Alexis Constantino and Brenna Campbell. Campbell also had 14 set assists and three digs.
A-C VALLEY 3, CRANBERRY 0
SENECA, Pa. – Olivia Bocks and Josie Terwilliger combined for 25 kills to give visiting A-C Valley a 3-0 (25-20, 25-14, 25-14) win over Cranberry.
Bocks led the Lady Falcons with 14 kills with Terwilliger adding 11. Kylee Eaton chipped in five kills and Cassie Schwalm four kills and four aces. Emily Wetzel had 10 set assists and Syd Rankin nine set assists.
Malliah Schreck had eight kills and five digs for Cranberry with Natalie Barcinas adding four kills and 12 digs and Ellie Kahle 11 digs. Erin Merryman had 14 set assists,
KEYSTONE 3, NORTH CLARION 1
FRILLS CORNERS, Pa. – McKenzie Hovis and Tessa Weaver each had nine kills to help visiting Keystone to a 3-1 (25-18, 25-22, 24-26, 25-23) win over North Clarion.
Hovis added four blocks and Weaver five blocks and an ace for the Lady Panthers who also got six kills and 11 digs from Makenzie Byerley, two kills and 32 digs from Katie Brown, 35 digs from Jenny McConnell and 22 digs from Sydney Easton.
Tori Obenrader had 16 kills, five blocks and nine digs for North Clarion. Gena Caldwell added eight kills, Avari Schwabenbauer had seven kills and Paige Sherbine 30 set assists.
BOYS' SOCCER
BROCKWAY 3, ELK COUNTY CATHOLIC 1
BROCKWAY, Pa. – Zane Puhala netted a pair of goals and assisted on a third to lead Brockway to a 3-1 win over visiting Elk County Catholic.
Hunter Allenbaugh also scored for the Rovers and added an assist, while Anthony Esposito chipped in a helper as well.
PORT ALLEGANY 8, KANE 0
KANE, Pa. – Payton Caden scored four times to lift visiting Port Allegany to an 8-0 win over Kane.
Tyler Lashway, Simon Burleson, Bryce Baker and Jesse Wright also scored for the Gators.
Josh Mealy made eight saves to record the shutout.
KARNS CITY 5, KEYSTONE 1
KNOX, Pa. – Behind a Clay Garin hat trick visiting Karns City cruised to a 5-1 win over Keystone.
Dakota King added a goal and two assists for the Gremlins, while Nate Rondinelli had a goal and an assist. Austin Rumbaugh and Eli Cowoski also had helpers for Karns City.
GALETON 5, NORTHERN POTTER 1
GALETON, Pa. – Four second-half goals helped Galeton to a 5-1 win over visiting Northern Potter.
The Tigers led 1-0 at halftime and then scored the first four tallies of the second half.
Isaiah Shuemaker scored twice for Galeton, while Joel Griffen added a goal and an assist. Julian Martinez and Dakota Wells also scored for the Tigers
Foster Kosa scored the lone goal for Northern Potter.
GIRLS' SOCCER
KARNS CITY 2, DUBOIS 2, DOUBLE OVERTIME
DUBOIS, Pa. – Two of the top-tier girls' soccer programs in District 9 played to a two-all draw in double overtime, as Karns City and DuBois couldn't decide a winner in 100 minutes of game time at the grass field near the DuBois Middle School.
Haley Scherer scored twice for the visitors, while Madison King and Reese Sayers netted goals for the Lady Beavers.
RIDGWAY 2, CLARION 0
CLARION, Pa. – Katie Dybowski and Rylee Casilio each scored to give visiting Ridgway a 2-0 win at Clarion.
FOREST AREA 4, OIL CITY 0
OIL CITY, Pa. – MacKenzie Bauer netted a pair of goals to help visiting Forest Area to a 4-0 win over Oil City.
Haley Sherman and Brooke Black also scored for the Fires, while Emily Everett made five saves to get the shutout.
REDBANK VALLEY 4, KANE 0
NEW BETHLEHEM, Pa. – Four different Redbank Valley players found the back of the net, as the Lady Bulldogs knocked off visiting Kane, 4-0.
Haley Minich, Zoie Stewart, Brooke Eberle and Teja Hageter all scored for Redbank Valley with Eberle adding a pair of assists and Minich one. Austin Kirkpatrick also had a helper.
CLEARFIELD 4, PENNS VALLEY 3
HYDE, Pa. – Alayna Ryan and Kylee Mitchell each had a goal and an assist, as Clearfield beat visiting Penns Valley, 4-3.
Brooke Cline and Mickey Landsberry also scored for the Lady Bison, while Hayley Moore got the win in goal.
BROCKWAY 4, ELK COUNTY CATHOLIC 0
BROCKWAY, Pa. – Chanell Britten scored four times to lift Brockway to a 4-0 win over visiting Elk County Catholic.
Britten now has 19 goals on the season.
Mackenzie Overbeck picked up the shutout in net.
WARREN 1, BRADFORD 0
BRADFORD, Pa. – Kyra Wotorson in the second half to lift visiting Warren to a 1-0 win over Bradford in a matchup of unbeaten District 10, Region 5 foes.