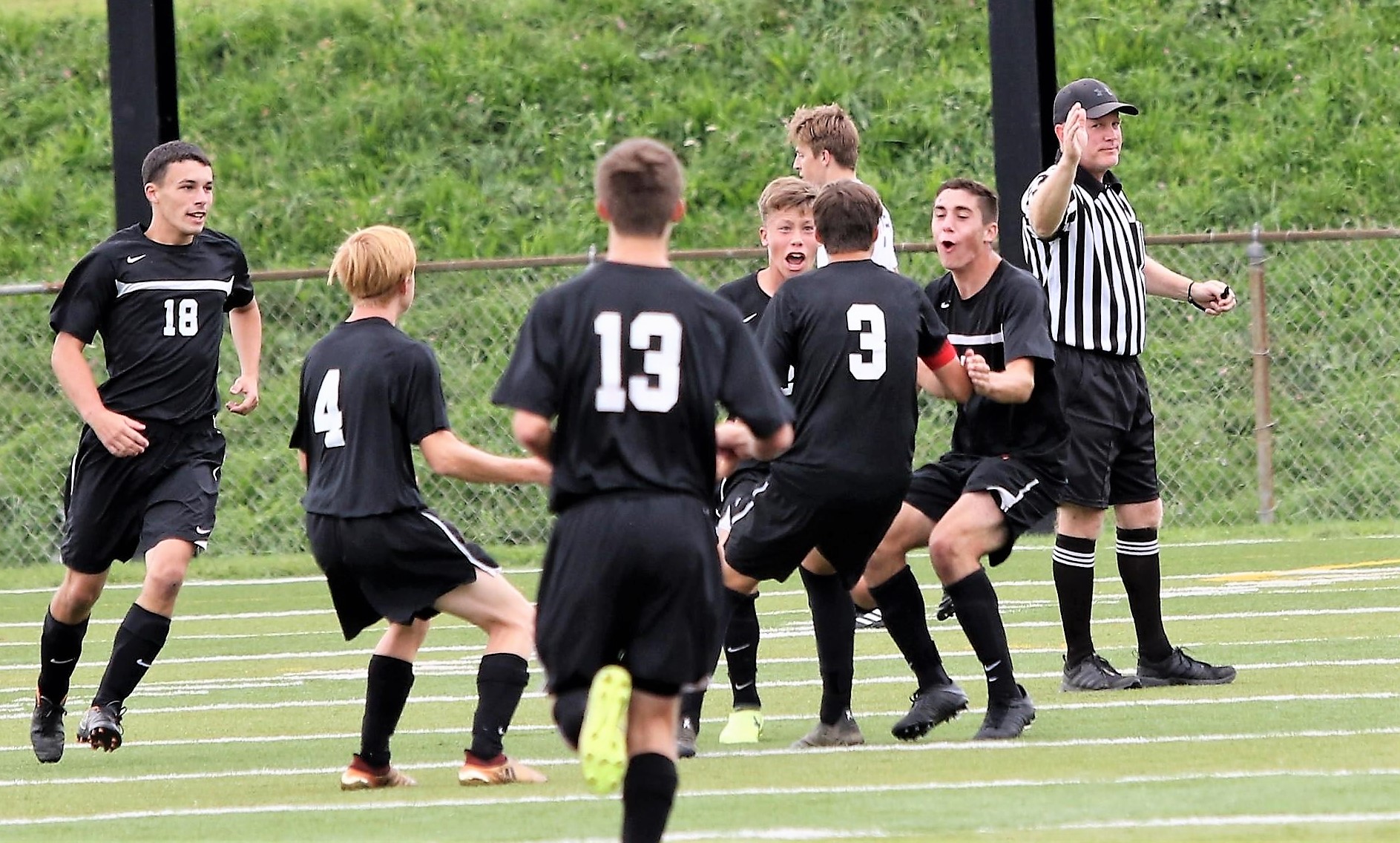 Sept. 21-22 Volleyball and soccer recaps.
(Photo: Brockway celebrates Zane Puhala's winning goal Saturday. Photo by Tom Weible)
BOYS' SOCCER
BROCKWAY 4, HOLLIDAYSBURG 3
BROCKWAY, Pa. – Zane Puhala scored with 1:35 left in the first overtime to give Brockway a 4-3 win over visiting Hollidaysburg Saturday.
It was Puhala's second goal of the game, and Hunter Allenbaugh also scored twice for the unbeaten Rovers. Marcus Bennett and Allenbaugh also had assists.
Garret Park picked up the win in net for Brockway.
KANE 1, ST. MARYS 0
ST. MARYS, Pa. – Brennan Shultz made five saves to help Kane to a 1-0 road win over St. Marys Saturday.
Mason Feikls scored the goal for the Wolves on a direct kick with 10:16 left.
Jonathon Chamberlain made four saves for St. Marys.
NORTHERN POTTER 9, TOWANDA 0
ULYSSES, Pa. – Foster Kosa recorded a hat trick to lead Northern Potter to a 9-0 win over visiting Towanda Saturday.
AJ Lehman added a pair of goals for the Panthers with Wyatt Kosa, Carter Anderson, Erza Sprow and Kasey Freeman also scoring.
Holden Cowburn made four saves to record his second shutout of the season.
Northern Potter outshot the Black Knights 24-4.
VOLLEYBALL
WELLSBORO 3, COUDERSPORT 0
COUDERSPORT, Pa. – Shaelyn Black had 13 digs and three blocks but Coudersport fell to Wellsboro, 3-0 (25-22, 25-15, 25-21) Saturday.
Mikayla Kavounas added 11 assists and Mikayla Gunn four aces for the Lady Falcons.
OLEAN (N.Y.) 3, PORT ALLEGANY 1
PORT ALLEGANY, Pa. – Olean (N.Y.) topped Port Allegany, 3-1 (28-26, 25-18, 19-25, 25-23), Saturday.
Jenna Sprankle had 18 assists for the Lady Gators with Kierra Keck recording seven kills and two blocks and Kalyn Naylor four kills and eight blocks.
PORTVILLE (N.Y.) 3, OTTO-ELDRED 0
DUKE CENTER, Pa. – Portville (N.Y.) swept Otto-Eldred, 3-0 (25-5, 25-16, 25-9) Friday.
Harlee Van Scoter had five kills for the Lady Terrors with Reilly Raught adding five blocks.
NORTHERN POTTER 3, AUSTIN 1
ULYSSES, Pa. – Savanna Herring and Madison Hoopes combined for 16 kills to lead Northern Potter to a 3-1 (19-25, 25-17, 25-21, 25-20) win over visiting Austin Friday.
Herring had a match-high nine kills to go with two blocks with Hoopes adding seven kills, eight digs and five aces. Also for NoPo, Courtney Martin had 12 digs, two kills and three aces and Mirissa Bliss added 19 assists, three digs and two aces.
Angelina Watson had five kills, nine digs, 17 assists and three aces for Austin with Taylor Brewer adding four kills, nine digs, two blocks and three aces.
GIRLS' SOCCER
BOLIVAR-RICHBURG 2, PORT ALLEGANY 0
BOLIVAR, N.Y. – Courtney Perkins and Maya Graves scored for host Bolivar-Richburg as it beat Port Allegany, 2-0, in the consolation game of the Bolivar-Richburg Tournament Saturday.