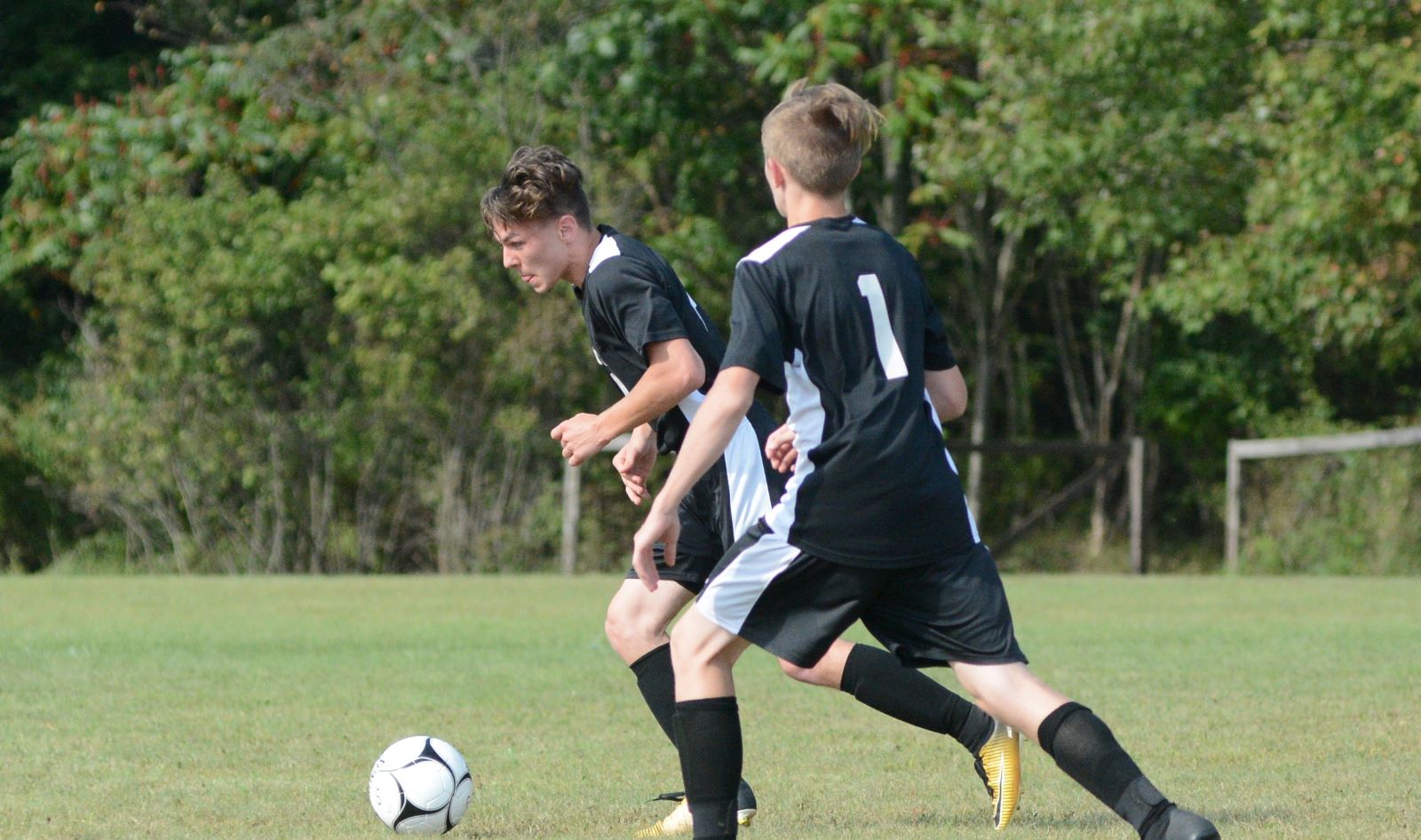 Sept. 23 soccer/volleyball recaps.
(Photo: Forest Area boys' soccer beat Keystone Monday, 5-3. Photo by Deb Arner)
BOYS' SOCCER
FOREST AREA 5, KEYSTONE 3
TIONESTA, Pa. – Noah Burke scored twice and assisted on two other goals to lead Forest Area to a 5-3 win over Keystone at West Forest.
Brandon Healy also scored twice for the Fires with Franklin Meals adding a goal an assist and Luke Cussins chipped in a helper.
Cameron Easton scored twice for Keystone with Tye Elder also scoring.
Braden Ochs recorded 17 saves in getting the win for Forest Area in goal.
KARNS CITY 9, REDBANK VALLEY 1
NEW BETHLEHEM, Pa. – Dakota King scored a hat trick to lead visiting Karns City to a 9-1 win over Redbank Valley.
Owen Collwell, Nate Rondinelli, Robby Rumbaugh, Kaden Scherer, Eduardo Herrero and Gage Cowoski also added goals for the Gremlins.
CLARION-LIMESTONE 5, ST. MARYS 4
STRATTANVILLE, Pa. – Beau Verdill had three goals and an assist to help Clarion-Limestone to a 5-4 win over visiting St. Marys.
Paul Leonhardt added a goal and two helpers for C-L with Cody Whitling also scoring. Ben Murtha and Bailee Verdill each chipped in assists for the Lions.
GIRLS' SOCCER
KARNS CITY 6, REDBANK VALLEY 1
NEW BETHLEHEM, Pa. – McKenna Martin scored twice to help visiting Karns City to a 6-1 win at Redbank Valley.
Ally Fennell scores a goal and added two assists for the Lady Gremlins with Paige Dodd and Brooke Stahlman both adding a goal and an assist. McKenna Lavella also scored for Karns City with Alexis Moore chipping in an assist.
Brooke Eberly scored for Redbank Valley.
CLEARFIELD 2, CENTRAL-MARTINSBURG 1
HYDE, Pa. – Elle Smith scored twice to lead Clearfield to a 2-1 win over visiting Central-Martinsburg.
Riley Ryen assisted on Smith's second tally.
Alyssa Bartley scored for Central-Martinsburg.
FOREST AREA 1, KEYSTONE 0
TIONESTA, Pa. – Mackenzie Bauer's first-half goal was enough for Forest Area to down visiting Keystone, 1-0, at West Forest.
Abby Gatesman made six saves to get the shutout for the Fires.
Natalie Bowser made six saves for Keystone.
BRADFORD 7, FRANKLIN 0
BRADFORD, Pa. – Regan Johnson scored the hat trick and Maddi Cowburn added two goals to lift Bradford to a 7-0 win over visiting Franklin.
Chloe Shaw and Emily Bosworth also scored for the Lady Owls.
ELK COUNTY CATHOLIC 3, BROOKVILLE 1
KERSEY, Pa. – Gina Carnovale scored twice to help Elk County Catholic past visiting Brookville, 3-1.
Caitlyn Vollmer also scored for the Lady Crusaders with Emily Wolfe picking up an assist.
All three of ECC's goals came in the final 20 minutes after Brookville had taken a 1-0 lead on a first-half goal by Madison McAninch.
VOLLEYBALL
OSWAYO VALLEY 3, CAMERON COUNTY 2
SHINGLEHOUSE, Pa. – Oswayo Valley rallied past visiting Cameron County, 3-2 (25-15, 20-25, 18-25, 25-14, 15-13).
Jordy Brabham led Oswayo Wally with 15 kills, 12 digs, five aces and two blocks with Aubrae Kellert adding 10 kills, 13 digs, five blocks and two aces.
Mikayla Bell chipped in 14 digs with Macy West adding five kills, four digs, three aces and six blocks.
Morgan Lorenzo paced Cameron County with 10 kills and nine digs, Hailey Hilfiger added seven kills, Mallory McKimm had six kills and three aces and Reggie Goodrow chipped in 12 set assists and eight digs.
KEYSTONE 3, VENANGO CATHOLIC 0
KNOX, Pa. -Jozee Weaver had seven kills, three blocks and two aces to help Keystone to a 3-0 (25-7, 25-17, 25-9) over visiting Venango Catholic.
Alexa Johnston added nine set assists and two aces for the Lady Panthers with Leah Exley contributing seven aces and five kills.
Hope Winger had three kills and for blocks for Venango Catholic with Chenia Rudder adding nine digs.
COUDERSPORT 3, AUSTIN 1
COUDERSPORT, Pa. – After splitting the first two sets with visiting Austin, Coudersport won the next two to pick up a 3-1 (25-9, 25-27, 25-5, 25-9) win over the visiting Lady Panthers.
Lauren Stimaker ran the offense for the Lady Falcons with 24 set assists while adding three digs and three aces, while Claudia Miller had a team-best six aces to go with seven digs.
Paige Watson paced the Coudy offense with eight kills and added three aces, four digs and two blocks and Sarah Antherholt had four kills and a block.
Taylor Brewer paced Austin with five kills and two blocks, Kylie Welsh had three kills and two blocks and Kendra Valenti had three kills and a block.
OTTO-ELDRED 3, SMETHPORT 0
SMETHPORT, Pa. – Haley Cousins recorded eight kills and an ace to help Otto-Eldred pick up a 3-0 (25-19, 25-11, 25-18) road win over Smethport.
Emmalee Sheeler ran the offense for the Lady Terrors with 20 set assists while adding two aces, and Kaylee Rhonehart had three aces.
Alexis Shall paced Smethport with three kills, 10 digs and an ace with Baylee Fitzimmons adding two kills and 19 digs.
REDBANK VALLEY 3, CLARION-LIMESTONE 0
NEW BETHLEHEM, Pa. – Thanks in part to seven kills from Lauren Smith Redbank Valley topped visiting Clarion-Limestone, 3-0 (25-20, 25-14, 25-21).
Taylor King chipped in five kills, two aces and a block for the Lady Bulldogs with Kianna Shreckengost adding three kills and Alivia Huffman three kills and three aces. Montana Hetrick also had two kills and four aces, and Smith added an ace as well.
Brooke Kessler led C-L with seven kills while Cassidy Makray and Bailey Smith each had two kills. Makray ran the offense with 12 set assists with Ruby Smith contributing six blocks and four digs and Emma Smith five blocks.
CRANBERRY 3, OIL CITY 0
SENECA, Pa. – Nine kills from Ava Ferringer helped Cranberry top visiting Oil City, 3-0 (25-6, 25-8, 25-14).
Maria Anderson and Abby Hanna each added five kills for the Berries with Maddie Cornelius and Jillian Plummer each recording seven digs. Emily Duncan ran the offense with 14 set assists and added eight digs.
GALETON 3, PORT ALLEGANY 0
GALETON, Pa. – Behind 10 kills and a block from Alli Macensky Galeton swept visiting Port Allegany, 3-0 (25-11, 25-14, 25-19).
Alexis Johnson added seven kills and a block for the Lady Tigers, while Kate Kulish had nine set assists, a kill, a dig and 10 aces. Cara Parsell also contributed seven kills, two aces, a kill and an assist in the victory with Makenna Shuemaker recording four kills, 11 set assists, four aces and two digs and Maddie Sauley three kills, two digs and an ace.
BROOKVILLE 3, CLEARFIELD 0
HYDE, Pa. – Using strong serving from Emaa Venesky Brookville picked up a 3-0 (25-18, 25-16, 25-10) road win over Clearfield.
The Lady Raiders scored 17 of their points off of Venesky serves.
Morgan Johnson led Brookville with five kills, Maggie Mackins added four kills and four blocks and Emily Steel and Leah Kammerdeiner each had two kills.
DUBOIS CENTRAL CATHOLIC 3, NORTH CLARION 1
DUBOIS, Pa. – Jordy Kosko had 10 kills and 18 digs to lead DuBois Central Catholic to a 3-1 (19-25, 25-14, 25-16, 25-12) win over visiting North Clarion.
Hannah Holdren added seven kills, three aces and three blocks for the Lady Cardinals with Bella Mangiantini chipping in four kills and two blocks. Maia Cogley's 20 set assists helped set up the offense while she also added 18 digs and three aces. Shay Gulvas paced the defense with 28 digs and added three aces with Avery Sickeri contributing seven aces.