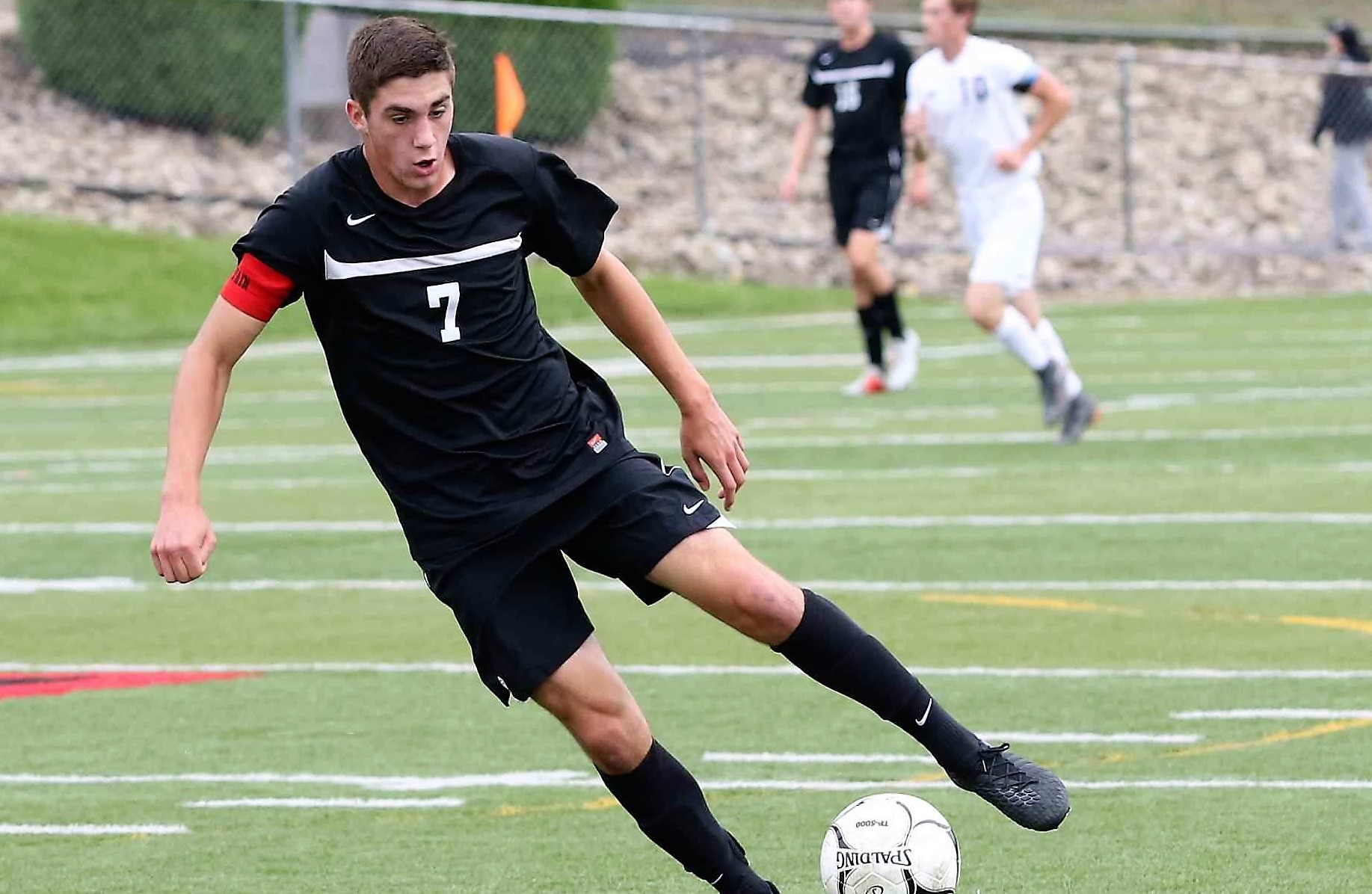 Sept. 24 soccer and volleyball recaps.
(Photo: Zane Puhala scored the winning goal with under a minute to play for Brockway. Photo by Tom Weible)
BOYS SOCCER
BROCKWAY 1, DUBOIS CENTRAL CATHOLIC 0
DUBOIS, Pa. – Zane Puhala's goal with 48 seconds left in regulation gave visiting Brockway a 1-0 win over DuBois Central Catholic.
The goal came unassisted after the Rovers had plenty of opportunities denied.
Garret Park got the shutout in net for Brockway.
KARNS CITY 2, KANE 1
KANE, Pa. – Two goals in a span of 23 seconds at the 27-minute mark from Dakota King was enough for visiting Karns City to get past Kane 2-1.
Clayton Detrick scored the lone goal for Kane off a penalty kick to give the Wolves a 1-0 lead.
Owen Callwell and Austin Fahlor assisted on the King goals.
KEYSTONE 1, FOREST AREA 0
KNOX, Pa. – Keystone scored late to defeat Forest Area 1-0.
Max Thompson scored the lone Keystone goal with 3:50 left in the second half.
Goalkeeper Daniel Schwab had 16 saves for the Fires.
GIRLS SOCCER
ST. MARYS 2, RIDGWAY 1, OVERTIME
ST. MARYS, Pa. – Jade Reynolds and Carlee Ginther tallied a goal apiece to help St. Marys defeat Ridgway, 2-1, in overtime.
Madeline Cowan tallied the lone Ridgway goal.
FOREST AREA 2, KEYSTONE 1
KNOX, Pa. – Forest Area was able to escape with a 2-1 victory at Keystone.
Shawna Pack scored off an assist from Mackenzie Bauer and Haley Sherman assisted the Jennifer Lander goal for the Lady Fires.
Abby Gatesman recorded seven saves for Forest Area.
Paige Cotton scored the lone goal for Keystone.
VOLLEYBALL
CURWENSVILLE 3, MOSHANNON VALLEY 1
CURWENSVILLE, Pa. – Curwensville was able to get past Moshannon Valley, 3-1 (25-20, 20-25, 25-19, 25-21).
Raylee Sunderlin recorded two kills and four blocks, Erica Buck had seven kills, four digs, one block and four aces and Liz Matthews chipped in for seven kills, one dig, two blocks and four aces. Emma Caldwell had a game-high 18 assists.
PORT ALLEGANY 3, OTTO-ELDRED 0
PORT ALLEGANY, Pa. – Jenna Sprankle had 15 assists and four aces to help Port Allegany defeat Otto-Eldred, 3-0 (25-13, 25-19, 25-11).
Kierra Keck recorded eight kills and three blocks for the Lady Gators. Erin Stauffer chipped in for four kills, four aces, and eight digs while Kayla Pesock tallied a game-high six aces.
UNION 3, EISENHOWER 0
RIMERSBURG, Pa. – Seventeen assists from Morgan Cumberland was enough to help lift Union over Eisenhower, 3-0 (25-16, 28-26, 25-8).
Bryn Davis had three aces and seven kills, Vanessa Reddick tallied two aces and Cumberland added five kills for the Golden Damsels.
OSWAYO VALLEY 3, SMETHPORT 0
SHINGLEHOUSE, Pa. – Behind five kills, seven digs and five blocks from Naomi Cook Oswayo Valley beat visiting Smethport, 3-0 (25-13, 25-14, 25-14).
Macy West added six aces for the Green Wave.
Alexis Shall had five kills, five blocks and seven digs for Smethport.
COUDERSPORT 3, CAMERON COUNTY 0
EMPORIUM, Pa. – Thanks to 14 kills, nine aces and two blocks from Shaelyn Black, Coudersport took care of Cameron County, 3-0 (25-15, 25-19, 25-22).
Dana Dubois had eight digs, two kills and an ace, while Mikayla Kavounas tallied two aces and a game-high 11 assists for the Lady Falcons.
Kaelee Bresslin paced Cameron County with three kills and five digs. Mallory McKimm chipped in for four blocks.
DUBOIS 3, ST. MARYS 0
ST. MARYS, Pa. – Led by 10 kills, four aces and 14 digs by Kelli Hoffner, DuBois cruised to a 3-0 (25-17, 25-14, 25-11) victory over St. Marys.
Kaylee Sadowski added 10 digs and four aces, Sydney Kaschalk had nine kills, and Cate Gregory led the Lady Beavers with 35 assists.
DUBOIS CENTRAL CATHOLIC 3, CLEARFIELD 0
DUBOIS, Pa. – Thanks in part to eight kills, a block and two aces from Alyssa Bittner, DuBois Central Catholic beat visiting Clearfield, 3-0 (25-18, 25-22, 25-22).
Shay Gulvas led the Lady Cards defense with 14 digs while adding two aces and Jordy Kosko had five kills.