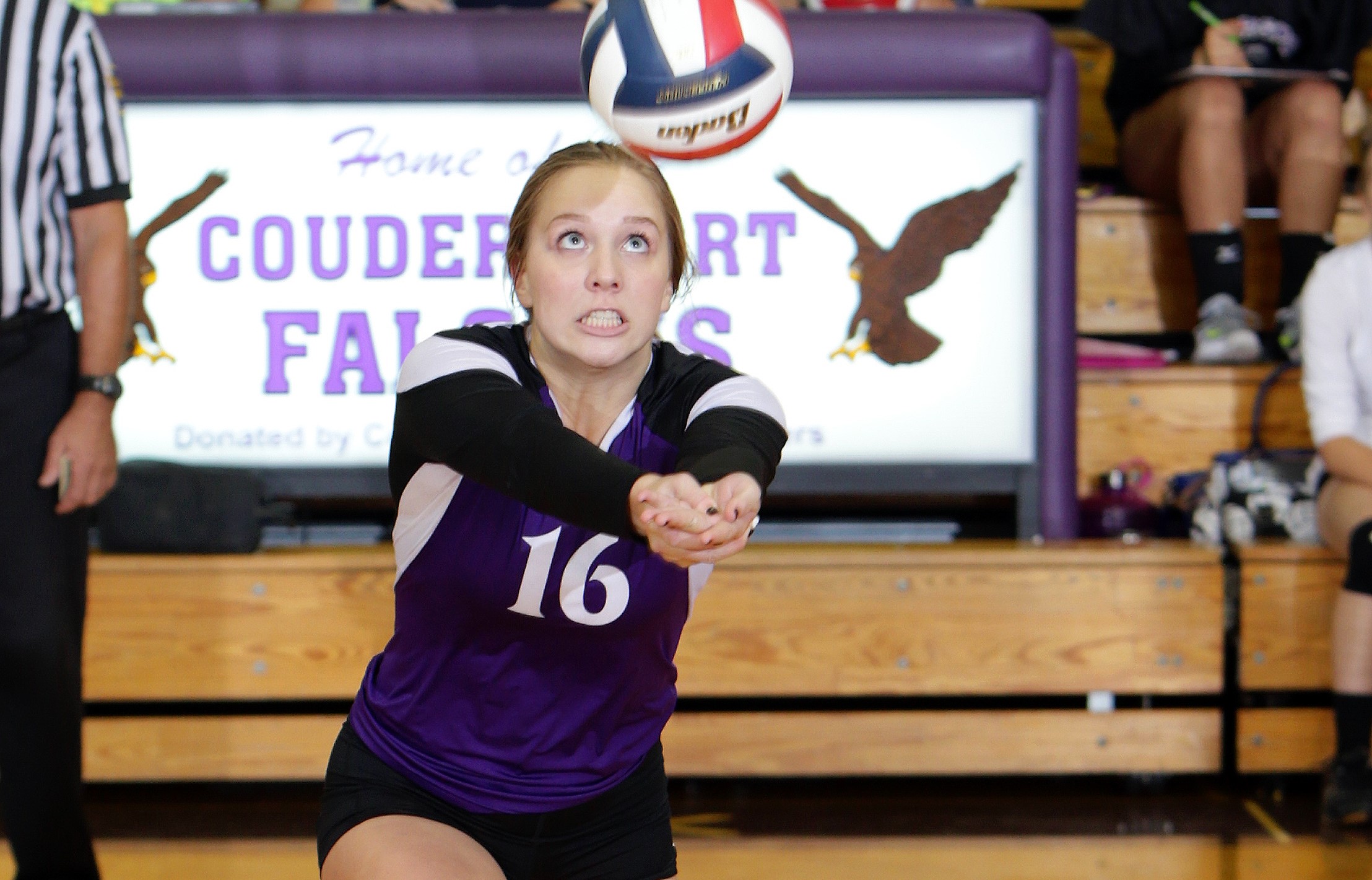 Sept. 26 soccer and volleyball recaps.
(Photo by Paul Burdick. Check out more of Burdick's work here)
VOLLEYBALL
COUDERSPORT 3, OSWAYO VALLEY 1
SHINGLEHOUSE, Pa. – Thirteen aces from Mikayla Gunn lifted Coudersport over Oswayo Valley, 3-1 (25-21, 22-25, 25-12, 25-12).
Shaelyn Black had three blocks, nine kills and a game-high 23 digs for the Lady Falcons while Hope Daisley tallied 22 digs. Mikayla Kavounas chipped in for five aces and 10 assists.
GALETON 3, AUSTIN 1
AUSTIN, Pa. – Austin fell to visiting Galeton, 3-1 (14-25, 25-14, 25-14, 25-11).
Angeline Watson paced Austin with three kills, two blocks and three aces while Kiley Welsh had four kills, one block and two aces.
Marika Lechler led Galeton with eight kills and five aces while Makenna Shuemaker had a game-high 12 assists.
PORT ALLEGANY 3, SMETHPORT 0
SMETHPORT, Pa. – Jenna Sprankle tallied 19 assists and four aces to help Port Allegany sweep Smethport, 3-0 (25-24, 25-7, 25-18).
Kayln Naylor recorded eight kills and four aces and Erin Stauffer had eight kills for the Lady Gators.
OTTO-ELDRED 3, NORTHERN POTTER 0
DUKES CENTER, Pa. – Behind Emily Reitlers 10 digs, 10 assists, three kills and five aces, Otto-Eldred took care of Northern Potter, 3-0 (25-20, 25-17, 25-8).
For the Lady Terrors, Reilly Raught had 10 kills and two blocks while Emmalee Sheeler had an ace and game-high 12 assists. Haley Cousins chipped in for five kills, nine digs and four aces.
BOYS SOCCER
BROCKWAY 4, BROOKVILLE 1
BROOKVILLE, Pa. – Zane Puhala and Hunter Allenbaugh led Brockway to a 4-1 victory over Brookville.
Pahala and Allenbaugh each netted a goal for Brockway with Noah Bash adding an assist.
Lewis Painter got the win in goal for the Rovers.
GIRLS SOCCER
BROCKWAY 5, BROOKVILLE 1
BROOKVILLE, Pa. – Thanks to four goals from Chanell Britten Brockway defeated Brookville, 5-1.
Morrigan Decker also tallied a goal and had two assists while Katie McMeekin tallied two assists for the Lady Rovers.
Cassidy Kemmer scored the lone Brookville goal that was assisted by Sara Muders.
Goalkeeper MacKenzie Overbeck made 12 saves for Brockway.