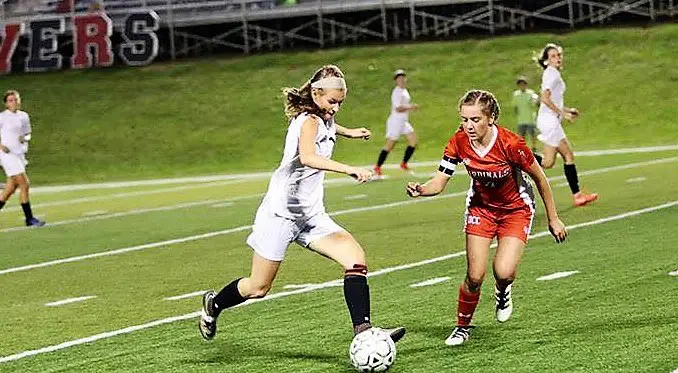 Sept. 26 volleyball and soccer recaps.
(Cover photo: Chanell Britten, Brockway)
GIRLS' SOCCER
BROCKWAY 4, CURWENSVILLE 1
CURWENSVILLE, Pa. – Chanell Britten scored four times to lead Brockway to a 4-1 win at Curwensville.
Katie McMcmerkin and Emily Botwright each had helpers for the Lady Rovers, while Mackenzie Overbeck got the win in goal.
RIDGWAY 3, KANE 0
RIDGWAY, Pa. – Cassidy King scored twice to pace Ridgway to a 3-0 win over visiting Kane.
Amanda Williams also scored for the Lady Elkers.
ELK COUNTY CATHOLIC 5, BROOKVILLE 1
BROOKVILLE, Pa. – Maddie Sorg scored five times to lift visiting Elk County Catholic to a 5-1 win over Brookville.
Megan Mealy had the goal for the Lady Raiders.
BOYS' SOCCER
BROCKWAY 9, BROOKVILLE 0
BROCKWAY, Pa. – Anthony Esposito, Zane Puhala and Linkin Nichols each scored twice to lead a 9-0 Brockway rout of visiting Brookville.
Hunter Allenbaugh, Dominic Inzana and Carter Adams also scored for the Rovers with Allenbaugh, Dominic Inzana, Adams, Puhala, Nate Long and Santino Inzana all contributing assists.
Lewis Painter got his first varsity win and the shutout in goal for Brockway.
ST. MARYS 1, DUBOIS 0, OVERTIME
ST. MARYS, Pa. – Nate Schneider scored on a penalty kick in overtime to give St. Marys a 1-0 win over visiting DuBois.
Schneider drew the penalty kick after being taken down by a slide tackle in the in the box.
KARNS CITY 5, REDBANK VALLEY 1
NEW BETHLEHEM, Pa. – Dakota King's hat trick helped visiting Karns City to a 5-1 victory over Redbank Valley.
Nate Rondinelli and Austin Rumbaugh also scored for the Gremlins.
Jordan Hicks had the tally for the Bulldogs.
PORT ALLEGANY 3, RIDGWAY 2
PORT ALLEGANY, Pa. – Payton Caden's second goal of the game with three minutes left helped Port Allegany top visiting Ridgway, 3-2, in a battle between two of the top-tier programs in District 9.
Tyler Lashway also scored the Gators, who got nine saves from Josh Mealy, while David Talkington had a pair of assists.
Lukas McClain scored twice for Ridgway.
WARREN 4, BRADFORD 2
WARREN, Pa. – Four different Warren players scored to lift the Dragons to a 4-2 win over visiting Bradford.
Connor Guffre, Bryce McCracken, Michal Shingler and Calen Lindell.
Ian Grady and Cadyn Sutherland each scored for Bradford.
VOLLEYBALL
AUSTIN 3, NORTHERN POTTER 2
ULYSSES, Pa. – Cerissa Glover had 10 kills, three digs and three aces to help visiting Austin to a 3-2 (25-20, 22-25, 25-21, 24-26, 15-4) win over Northern Potter.
Jordan Brewer added 12 set assists, four kills and four aces for Austin with Rylee Hooftallen contributing two kills and two aces.
Savannah Herring had 12 kills and five digs for Northern Potter with Emma Kosa adding five kills and three aces and Jenna Hyde three kills, five digs, five aces and 23 set assists.
BROCKWAY 3, CURWENSVILLE 0
BROCKWAY, Pa. – Maggie Schmader and Mikayla Duffalo each had five kills to lead Brockway to a 3-0 (25-22, 25-22, 25-23) win over visiting Curwensville.
Elizabeth Mathews led Curwensville with six kills and six digs with Annie Hover adding 13 digs and three kills.
COUDERSPORT 3, CAMERON COUNTY 0
EMPORIUM, Pa. – Emma Rae Easton had 11 kills, six digs, two blocks, two aces and a set assists to help visiting Coudersport vanquish Cameron County, 3-0 (25-10, 25-17, 25-15).
Jill Updegraff added six kills, a dig and two blocks for the Lady Falcons, while Shaelyn Black had five kills, three digs, three blocks, an assist and three aces.
Also for Coudy, Adrian Page chipped in four kills, 18 digs and four aces, Joplin Osgood had 17 digs, two aces and an assists and Haley Keck ran the offense with 26 set assists while adding two aces, seven digs and three kills.
CLARION 3, CRANBERRY 0
CLARION, Pa. – Behind 11 kills, six digs and two blocks from Maya Thornton, Clarion rolled past visiting Cranberry, 3-0 (25-11, 25-19, 25-18).
Kaitlyn Constantino added six kills and five digs for the Lady Cats with Brenna Campbell running the offense with 22 set assists and adding 11 digs. Alexis Constantino chipped in 10 digs.
Malliah Schreck had eight kills and six digs to pace Cranberry who also got four kills and nine digs Natalie Barcinas, 13 set assists and eight digs from Erin Merryman and 12 digs from Ellie Kahle.
JOHNSONBURG 3, ELK COUNTY CATHOLIC 2
JOHNSONBURG, Pa. – Lindsey Kocjancic and Jensen Furlong combined for 37 kills to help Johnsonburg hold off visiting Elk County Catholic, 3-2 (25-8, 11-25, 25-23, 23-25, 15-6).
Kocjancic led the Ramettes with 20 kills with Furlong adding 17. Skylar Sherry chipped in a kills-digs double-double with 12 kills and 10 digs, Brianna Quiggle had 10 digs, Jenna Morgan seven aces and Rylee Casilio 32 set assists.
Taylor Newton led Elk County Catholic with 12 kills with Josie Smith adding seven kills and six aces.
KARNS CITY 3, FOREST AREA 0
KARNS CITY, Pa. – Thanks in part to 16 set assists and five aces from Alyssa Stitt, Karns City swept visiting Forest Area, 3-0 (25-9, 25-13, 25-15).
Emily Hegedus added six kills and six aces for the Lady Gremlins with Makayla Waltman, Livia Andreassi and Rayna Miller each adding three kills apiece.
KEYSTONE 3, MONITEAU 0
KNOX, Pa. – Mandy Wingard had six kills and 12 digs to help Keystone improve to 6-1 on the year with a 3-0 (25-15, 25-20, 25-18) win over visiting Moniteau.
McKenzie Byerley and McKenzie Hovis each added four kills for the Lady Panthers with Jenny McConnell chipping in 24 digs and two kills and Danica Hurrelbrink two kills.
OTTO-ELDRED 3, PORT ALLEGANY 0
PORT ALLEGANY, Pa. – Thanks to 35 combined kills from Camryn Thomas, Ali Cousins and Alyssa Shelander visiting Otto-Eldred toppled Port Allegany, 3-0 (25-8, 25-19, 25-18).
Thomas had 14 kills, three blocks, three aces and 11 digs for the Lady Terrors with Cousins adding 12 kills and eight digs and Shelander nine kills.
Emily Smith ran the offense for Otto-Eldred with 29 set assists while chipping in three aces and seven digs.
REDBANK VALLEY 3, UNION 1
NEW BETHLEHEM, Pa. – Josie Rupp had 19 kills and two aces to help Redbank Valley top visiting Union, 3-1 (25-21, 25-22, 23-25, 25-18).
Emily Gourley added three aces, six kills and seven blocks for the Lady Bulldogs who also got seven kills and two aces from Torrilynn Nelson, eight kills from Jordan Milliron and four kills, five aces and three blocks from Kiana Schreckengost to stay unbeaten at 7-0.
Frankee Remmick led Union with 11 kills, seven digs and three aces. Vanessa Reddick chipped in four kills, Marli Hawk 10 digs and Hannah Atzeni 23 set assists.
RIDGWAY 3, SHEFFIELD 0
SHEFFIELD, Pa. – Despite six kills and seven digs from Eliza Davidson Sheffield fell, 3-0 (25-13, 25-22, 25-15), to visiting Ridgway.
Mya Grubbs added 11 set assists and five aces for the home team with Laurel Connolly coming up with three blocks and Lexi Lyon five kills and three blocks.
Ridgway stats weren't available.