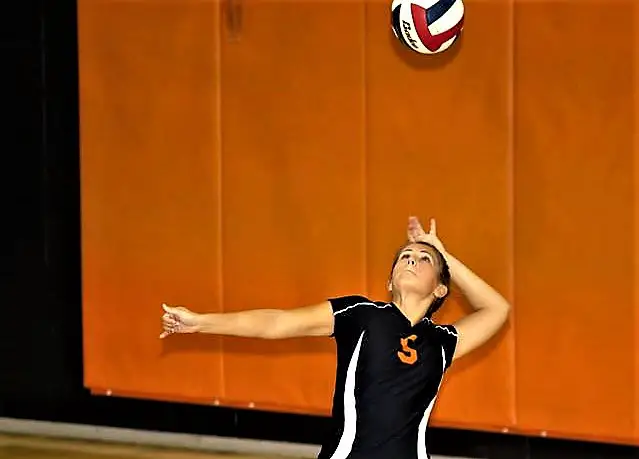 Sept. 27 volleyball and soccer recaps.
(Photo: Jenna Sprankle helped Port Allegany stay unbeaten in NTL play with a 3-0 win at Coudersport. Photo by Patrick Crants. View more of his work here.)
VOLLEYBALL
PORT ALLEGANY 3, COUDERSPORT 0
COUDERSPORT, Pa. – The balance of power in the NTL seems to have shifted towards Port Allegany after the Lady Gators went on the road and dumped Coudersport, 3-0 (25-22, 25-19, 25-7), giving Port Allegany wins over the two recent powers in the NTL – Coudy and Otto-Eldred – in the same week.
Jenna Sprankle ran the Lady Gators offense with 26 set assists while adding 12 digs.
It was a spread-out attack Sprankle fed with Kalyn Naylor, Kierra Keck, Erin Stauffer, Kayla Pesock and Maleah Daniels all recording six kills. Stauffer also added 14 digs and Naylor six kills.
The third set saw an impressive serving streak from Naylor, who served 17 straight points to put Port Allegany in complete command.
Shaelyn Black led Coudersport with seven kills, three blocks and two aces with Dana Dubots adding five kills, Hope Daisley five aces and Mikayla Kavounas 16 set assists.
Port Allegany is now 10-2 on the year and 9-0 in the NTL with two wins over Coudersport and one over Otto-Eldred.
CAMERON COUNTY 3, OSWAYO VALLEY 0
EMPORIUM, Pa. – Morgan Lorenzo had five aces and nine kills to help Cameron County sweep Oswayo Valley, 3-0 (25-22, 25-9, 25-20).
Kaelee Bresslin tallied five kills while Kaitlyn Burgett had six digs for the Lady Red Raiders. Reggie Goodrow chipped in for 11 assists.
RIDGWAY 3, CURWENSVILLE 1
CURWENSVILLE, Pa. – Ridgway rallied and defeated Curwensville, 3-1 (21-25, 25-13, 25-6, 25-15).
Liz Matthews paced the Lady Tide with an ace, three kills, two digs and four blocks while Raylee Sunderland tallied an ace, four kills and three blocks. Tarah Jacobson chipped in for an ace, two kills and six digs and Emma Caldwell had a game-high 13 assists.
Ridgway'ss stats were not available.
KEYSTONE 3, NORTH CLARION 0
KNOX, Pa. – Thanks to McKenna Kayes 10 assists, four digs and three kills, Keystone defeated visiting North Clarion, 3-0 (25-14, 25-15, 25-15).
Also for the Lady Panthers, Alyssa Dunlap had nine kills, one ace, and five digs and Mandy Wingard chipped in for a kill and 16 digs.
DUBOIS 3, BRADFORD 1
BRADFORD, Pa. – Led by 16 kills and 16 digs from Kelli Hoffer, DuBois defeated Bradford, 3-1 (25-21, 25-12, 21-25, 25-8).
Sydney Kaschalk had 15 kills and Kaylee Sadowski had 20 digs and two aces for the Lady Beavers. Cate Gregory led the team with 46 assists.
KANE 3, DUBOIS CENTRAL CATHOLIC 0
DUBOIS, Pa. – Behind 18 Ella Marconi kills visiting Kane took care of DuBois Central Catholic, 3-0 (25-17, 27-25, 25-8).
Hannah Buhl ran the Lady Wolves offense with 36 set assists and added five aces with Moira Stanisch chipping in five aces and Lexie Woods seven digs.
A-C VALLEY 3, CRANBERRY 1
FOXBURG, Pa. – A-C Valley rebounded from its first loss of the season Tuesday to knock off visiting Cranberry, 3-1 (25-19, 22-25, 25-12, 25-21).
Kylee Eaton led the way for the Lady Falcons with 19 kills and nine digs, Olivia Boocks added 12 kills and five digs, Emily Wetzel had 23 set assists, seven digs and three aces and Meah Ielase chipped in six kills.
Ava Ferringer led Cranberry with 11 kills and a block. Malliah Shreck chipped in eight kills and 11 digs, and Emily Duncan had 30 set assists. Ally Young also had 10 digs for the Berries.
BROCKWAY 3, SHEFFIELD 1
BROCKWAY, Pa. – Despite dropping the first set to visiting Sheffield, Brockway was able to secure a 3-1 (20-25, 25-19, 25-23, 25-18) win over the Lady Wolverines.
Kenzie Webster had a big match for the Lady Rovers with 14 kills, while Mikayla Duffalo added eight kills, two blocks and three aces and Abby Alford seven kills and eight digs. Jordan Faith ran the offense with 16 set assists.
KARNS CITY 3, CLARION-LIMESTONE 0
KARNS CITY, Pa. – Thanks in part to seven kills, five aces and three blocks from Emily Huff, Karns City swept visiting Clarion-Limestone, 3-0 (25-16, 25-13, 25-19).
Alyssa Stitt added four kills, four aces and 13 assists for the Lady Gremlins with Emily Wolfe chipping in eight blocks and eight digs, Mackenzie Dunn 19 digs, Emma Clark four kills and three blocks, Rayna Miller nine digs and three blocks and Kate Allen four digs, four blocks and three aces.
SMETHPORT 3, NORTHERN POTTER 1
SMETHPORT, Pa. – Alexis Shall had eight kills, five blocks and an ace to lift Smethport to a 3-1 (25-20, 12-25, 25-21, 25-23) win over visiting Northern Potter.
Willow Lapp added eight aces, three kills and 17 digs for the Lady Hubbers with Mikayla Deyarmin chipping in five aces, eight kills and nine assists.
Mirissa Bliss had four aces, four kills, 11 assists and nine digs for Northern Potter with Courtney Martin chipping in eight aces, three kills and three digs and Savannah Herring eight kills and a block.
UNION 3, VENANGO CATHOLIC 0
OIL CITY, Pa. – Dominika Logue contributed eight kills and five digs to help visiting Union to a 3-0 (25-9, 25-14, 25-17) win over Venango Catholic.
Vanessa Reddick and Emma Pritchard each added four kills, Bryn Davis had two kills and seven aces and Marli Hawk 17 digs for the Golden Damsels. Morgan Cumberland ran the Union offense with 20 set assists.
Kelsey Kresinski had four aces, two digs and four assists for Venango Catholic with Chenoa Rudder chipping in two aces, two assists and seven digs.
REDBANK VALLEY 3, MONITEAU 0
NEW BETHLEHEM, Pa. – Josie Rupp had a match-high 12 kills and added five aces to lead Redbank Valley to a 3-0 (25-10, 25-11, 25-16) win over visiting A-C Valley.
Taylor King added five kills for the Lady Bulldogs and Becca Kunselman three kills and two aces.
Samantha Broerman had three kills for Moniteau with Logan Barnhart adding five assists.
CLARION 3, FOREST AREA 0
MARIENVILLE, Pa. – Clarion had no trouble at all sweeping past Forest Area, 3-0 (25-7, 25-2, 25-1) at East Forest.
The Lady Cats had 31 aces in the match led by 11 from Brenna Campbell, who added 10 set assists and a dig, and eight from Maddie Schill, who also had two kills and a block.
Korrin Burns had a match-best six kills for Clarion.
OTTO-ELDRED 3, GALETON 2
DUKE CENTER, Pa. – Otto-Eldred rallied from a two-set deficit to beat visiting Galeton, 3-2 (15-25, 19-25, 26-24, 25-22, 15-9).
Reilly Raught led the way for the Lady Terrors comeback with 20 kills, 21 digs, two blocks and two aces. Jade Spinney added nine kills, 26 digs and a block. Emmalee Sheeler ran the offense with 17 set assists and added three aces and Morgan Dalton had 20 digs and two aces.
BROOKVILLE 3, ST. MARYS 2
BROOKVILLE, Pa. – Thanks to 13 Mikayla Aikens kills, Brookville beat visiting St. Marys, 3-2 (25-12, 23-25, 25-19, 21-25, 15-6).
Lauren Hergert added nine kills and two blocks for the Lady Raiders who also got eight kills and two blocks from Lexis Hatzinikolas. Madison Johnson had nine aces, all in the first set, for Brookville.
BOYS' SOCCER
CLARION-LIMESTONE 5, FOREST AREA 3
TIONESTA, Pa. – Isaac Kim scored two goals to help visiting Clarion-Limestone to a 5-3 win over Forest Area at West Forest.
Johannes Kuehn and Kyle Schonbachler each added a goal and an assist, while Austin Coull also scored for the Lions.
Ben Murtha and Coull each played in net with each making four saves.
Noah Burke scored twice for Forest Area with Ryan Parrett also adding a goal.
Dan Schwab made 14 saves in net for the Fires.
BROCKWAY 3, KANE 0
BROCKWAY, Pa. – Zane Puhala scored twice to lead Brockway to a 3-0 win over visiting Kane.
Nolan Swanson also scored for Rovers who got helpers from Clayton Heckman, Linkin Nichols and Hunter Allenbaugh. Garret Park recorded the shutout.
KARNS CITY 2, PUNXSUTAWNEY 0
PUNXSUTAWNEY, Pa. – Second-half goals from Nate Rondinelli and Dakota King and strong goaltending from Jake Weckerly led unbeaten Karns City to a 2-0 road win over Punxsutawney.
After a scoreless half, Rondinelli broke the ice in the 60th minute on a penalty kick before King added an insurance helper at the 85-minute mark. Weckerly made 14 saves to help the Gremlins improve to 11-0 on the year.
DUBOIS 2, HOLLIDAYSBURG 1
DUBOIS, Pa. – A late goal from Nolan Bussell helped DuBois top visiting Hollidaysburg, 2-1.
GIRLS' SOCCER
BROCKWAY 7, KANE 2
BROCKWAY, Pa. – Getting two goals apiece from Morgan Lindemuth, Morrigan Decker and Chanell Britten, Brockway rolled past visiting Kane, 7-2.
Maggie Schmader had the other goal for the Lady Rovers, while Katie McMeekin had three assists and Britten had one helper. Mackenzie Overbeck and Danielle Wood combined for 11 saves in net.
KARNS CITY 8, CLARION 0
CLARION, Pa. – Lex Moore and Olivia Rumbaugh each scored twice to lead visiting Karns City to an 8-0 win over Clarion.
Rossi McMillen, Brooke Stahlman, Hunter Dittman and Maura Patton also scored for the Lady Gremlins.
RIDGWAY 2, PORT ALLEGANY 1
RIDGWAY, Pa. – Madeline Cowan and Amanda Williams both scored to lead Ridgway to a 2-1 win over visiting Port Allegany.
Port Allegany's goal came on an own goal by the Lady Elkers.